UPDATE: Lots of sport returning to Superbru in coming weeks
Following the
article
I wrote a few weeks ago regarding the expected return dates of various tournaments, it's time for another update! Looking back at the situation then and comparing it with now, it's very encouraging to see a massive amount of progress has been made around the globe in terms of handling the pandemic and we now have many confirmed return dates for lots of events.
Lots of you have already been back on Superbru playing the tournaments that were the earliest to return, the Bundesliga predictor and our NRL tipping game, and we now expect there to be a lot more action to enjoy from June 11th. Here's a chronological look at the tournaments we have concrete dates for followed by some information on other sports.
It was always likely that the AFL wouldn't be far behind the NRL in terms of a return date and the Aussie Rules action is set to return on Thursday (11th June). Only 1 round was possible before the season had to pause meaning it's definitely not too late to join our tournament now if you're keen to make some picks! The season will resume with Collingwood v Richmond at the MCG.
Once you've finished watching the AFL, there's only a few hours to wait until top flight football returns in Spain. LaLiga have announced that their season will resume on that Thursday evening with a Seville derby first up! There are still 11 rounds still to play in LaLiga, yet the league are aiming to complete the campaign by July 18th/19th! That means the action will essentially be daily. We like to think our recent Virtual Premier League format has inspired a lot of the schedules these top European leagues are now adopting.
An exciting one is up next - an all new Super Rugby tournament! As has been explained in
a separate piece
, our Super Rugby Restart predictor game will include the fixtures planned for New Zealand's 'Super Rugby Aotearoa' tournament and Australia's 'Super Rugby AU' competition. The Australian action likely won't start until July but we'll have 2 Kiwi derbies every weekend up until then which should be very exciting - even Dan Carter is back and will be playing for the Blues!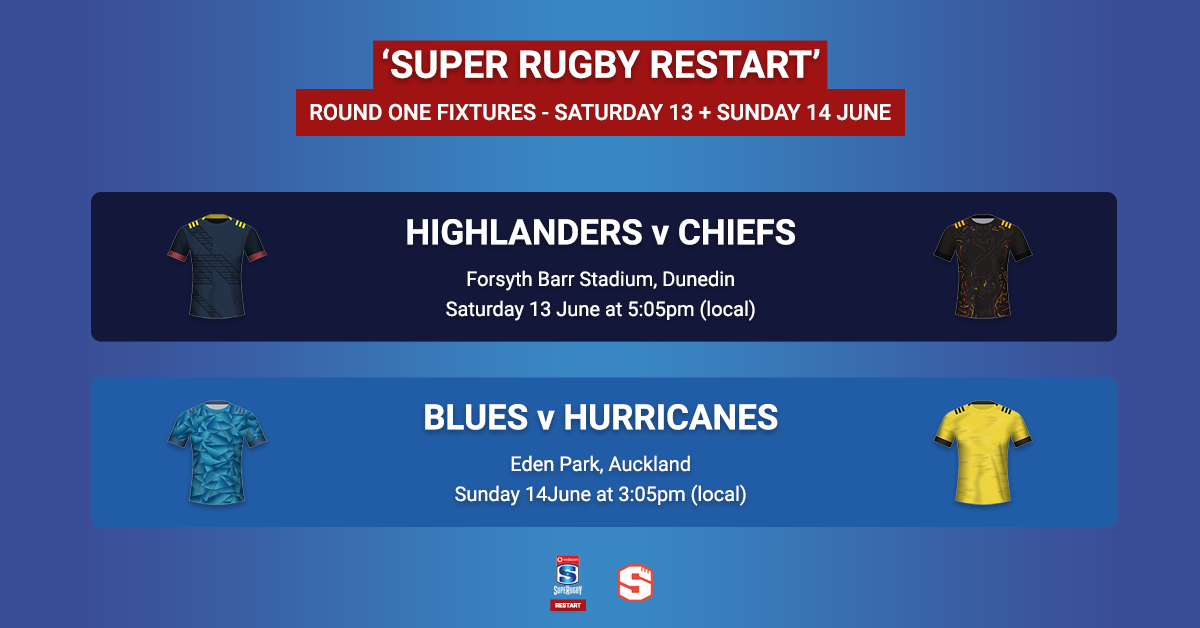 Again, there's another separate
article
for you to read outlining the return of the Premier League on Superbru in full. England's top flight will return with Aston Villa v Sheffield United and Manchester City v Arsenal on Wednesday 17th June. Those matches will be a followed by a 'full round' of fixtures starting on Friday 19th, though we will be grouping the Wednesday matches together with that first full round on Superbru. It is expected that teams will play every 3 days or so with continuous midweek and weekend rounds planned.
The last of the top European football leagues we cover to return will be Italy's Serie A on June 20th. Again, fixtures will be very frequent. The league is aiming to complete the season in a 44-day window with games expected to be played on all but 5 of those days.
June 28th - FA Cup
The FA have outlined their provisional dates for all of the remaining matches in this season's FA Cup. The quarter-finals are set to take place on the 28th and 29th of June, the semi-finals on the 18th and 19th of July and the Final on August 1st. Fixtures will be updated on Superbru to reflect this once specifics are confirmed.
Since the 2020 season was never able to even start, Formula 1 has now released the first part of a revised schedule. They've announced details for the opening 8 races of the campaign, the first of which will take place in Austria over the weekend of the 3rd-5th July. The schedule includes some 'double headers' due to the difficulty in finding race locations that are considered viable. The second race of the campaign will also be in Austria while the UK is the other country currently set to host back-to-back races. Our tournaments will be updated to reflect this new schedule very soon.
As those of you who have played our Test Cricket Fantasy games before will know, the length and dates of our tournaments vary a fair bit to match the ICC calendar. Broadly speaking, we run a tournament for the Northern Hemisphere summer and then a separate tournament for the Southern Hemisphere summer each year.
The calendar is naturally more complicated and 'subject to change' than ever this year but we're keen to start a game for you all that will begin with England's rescheduled series against the West Indies. Dates and venues have been announced for 3 matches behind closed doors. WI have also already announced their squad which does not include Darren Bravo, Shimron Hetmyer or Keemo Paul as those three players don't feel safe touring at this time. We're unsure exactly when the Test Cricket tournament will end but as always it's wise to act as if each round is the last round just in case!
We expect England to follow that series with another home series against Pakistan and it's possible that other series are rescheduled in time to also be a part of this tournament. The estimated 'cut-off' point where we expect the fresh Test Cricket Fantasy 2020/21 tournament to start will be with Australia's home matches in November.
August 15th - Gallagher Premiership
Northern Hemisphere rugby is considerably further behind football in terms of return dates but the Gallagher Premiership has just this morning announced the 15th of August as the date they're aiming for. The Pro14, Champions Cup and Challenge Cup also all remain committed to getting their respective tournaments finished. The Six Nations also still intends to complete the 2020 Championship.
Champions League
: As mentioned several times above, the major European leagues are putting together incredibly tight schedules in order to complete their domestic fixtures by August. UEFA's plan is to then complete the Champions League and Europa League campaigns afterwards. It's unknown whether or not home/away travel will be possible, particularly over two legs, meaning a country might be chosen to host all remaining matches.
IPL
: Cricket's busy calendar means it's still unknown when or if this year's IPL will take place though most reports suggest it will fill the gap that is likely to be left by the T20 World Cup being postponed later this year. Australia is scheduled to host that tournament in October but severe doubts remain about whether or not an international tournament of its kind will be possible. If it is postponed, the IPL might happen instead.
South African Sport
: This is a similar story to Northern Hemisphere Rugby. There remains a clear intention to complete tournaments such as the PSL but we're unsure if there'll be any action involving SA's Super Rugby teams as there is in NZ and Australia. In the unlikely event that fixtures involving those SA SR teams do appear before September, they'll be added to our 'Super Rugby Restart' predictor.
World Sevens
: We're still waiting to hear what will happen with the various postponed events on the Sevens calendar. Currently, the World Sevens site suggests we won't see any action until October which is when both the Singapore 7s and the Hong Kong 7s are set to take place.
USA
: Plans for the return of the MLS are expected to be announced on Monday. Reports suggest the tournament will resume in July with all teams travelling to one location where games can get going again. The NFL is expected to start in September as planned though more details will naturally emerge about the actual logistics of that nearer the time.
So, overall, things are going to be pretty busy again at Superbru in the coming weeks! As was always likely following the global pause, we're set to go from one extreme to the other and there'll be more football picks to make than ever before throughout the second half of June and late July.
To ensure you avoid missing picks, we
strongly recommend downloading the Superbru app
if you haven't already so that push notifications can warn you about any picks you're about to miss. Since European football is set to be daily, it'll be worth quickly checking the app each morning to make your picks and then again in the evening to see how many Yellow Caps (or perhaps wooden spoons) you've picked up.
We can't wait to welcome you all back!