Superbru is an outstanding platform for engaging with sports fans
Superbru players are highly engaged, visiting our website and app multiple times per week, with their usage shaped around the natural sporting lifecycle phases of build-up, pre-match, live game, post-match and post-round. Traffic to our website and app often rockets 5x in the space of a minute after full time of a big match, because the first thing our players do after the referee has blown the whistle is check their Superbru points.
You can benefit from these high levels of engagement, whatever your size. We cater for all sizes of business, ranging from top global brands to small, local enterprises.
Our solutions meet a wide range of needs including advertising, sponsorship activation and lead generation. We can create bespoke campaigns that will meet your specific objectives and deliver the most effective exposure for your brand.
Read more below or get in touch on sales@superbru.com.
The power of first and second party data
Global privacy laws are impacting digital marketing strategies that rely on third party data. This makes a platform like Superbru more valuable, because we are able to gather data directly from our users, with their clear consent. We can even ask them customised questions based on your requirements, then ask their permission to share their answers with you. Combine this with Superbru's high engagement levels and you have a brilliant way of gathering actionable marketing data from users who want to share it with you.
Contact sales@superbru.com with details of your objectives.
Advertising
Add Superbru to your mix for access to our large, sports-mad audience. Formats:
Desktop top banner: 970x250 / 970x90 / 728x90
Desktop side banner: (fixed for high viewability, no scroll) 300x600 / 160x600 / 300x250
Mobile & app banner: (fixed for permanent visibility) 320x50
For rates, please contact sales@superbru.com with details of your campaign and what you'd like to achieve. We'll put together a custom package for you to suit your needs.
Megapools (branded competitions)
Ever thought you'd like your own prediction or fantasy game, but been daunted by the costs, logistics, or the implicit need to build your own audience?
A Megapool is your branded section within the Superbru site in which to build and engage with staff or customers, through one or multiple tournaments. You can also open your megapool to the wider Superbru audience if you are looking to increase exposure. Leave it to us to handle all the operational aspects like gaming and support.
An entry gateway into your Megapool can be used to gather data sharing consent, or enforce requirements like an age gate.
Contact sales@superbru.com with details of your objectives.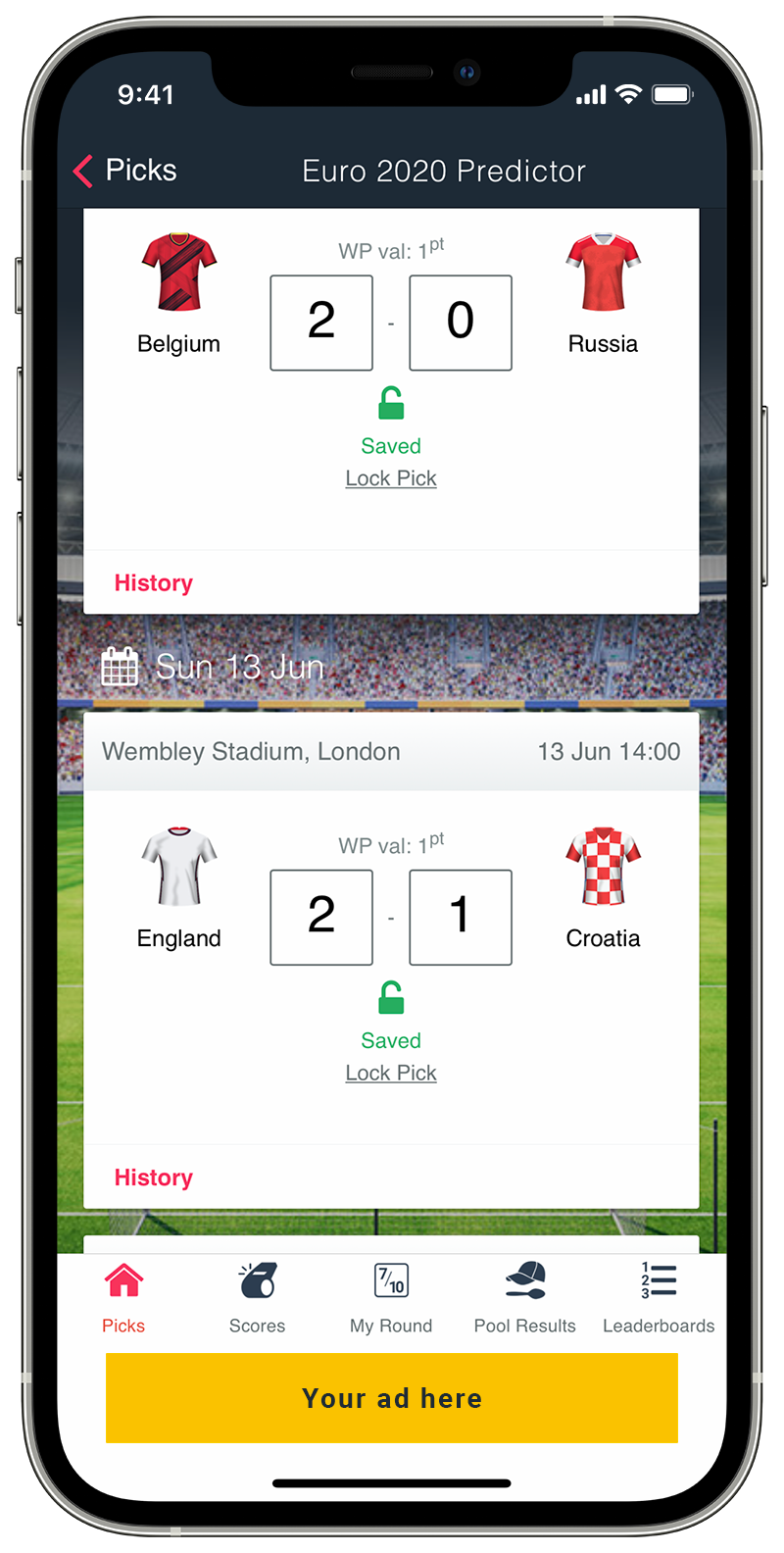 Tournament or App Sponsorship
Sponsor a tournament on Superbru to benefit from a comprehensive package of exposure and engagement including advertising banners, site theming, custom data gathering, email marketing, bespoke features and more.
Given Superbru's high levels of engagement, it is ideal for sponsorship activation. There's no need to brainstorm a sticky product or come up with your own games: trust in our proven products to entertain your target audience, and instead focus on leveraging the exposure.
Contact sales@superbru.com with details of your objectives.
Selected Clients