Premier League to return on June 17th
In news that is very exciting for all football fans (especially Liverpool fans!), the Premier League WILL return with the season set to resume on Wednesday 17th June. We're buzzing about this here at Superbru HQ and we're sure lots of you are just as keen to get back to making some PL predictor and fantasy picks!
To make things clear before we get back underway, here's all you need to know about the season return and how things will go on Superbru.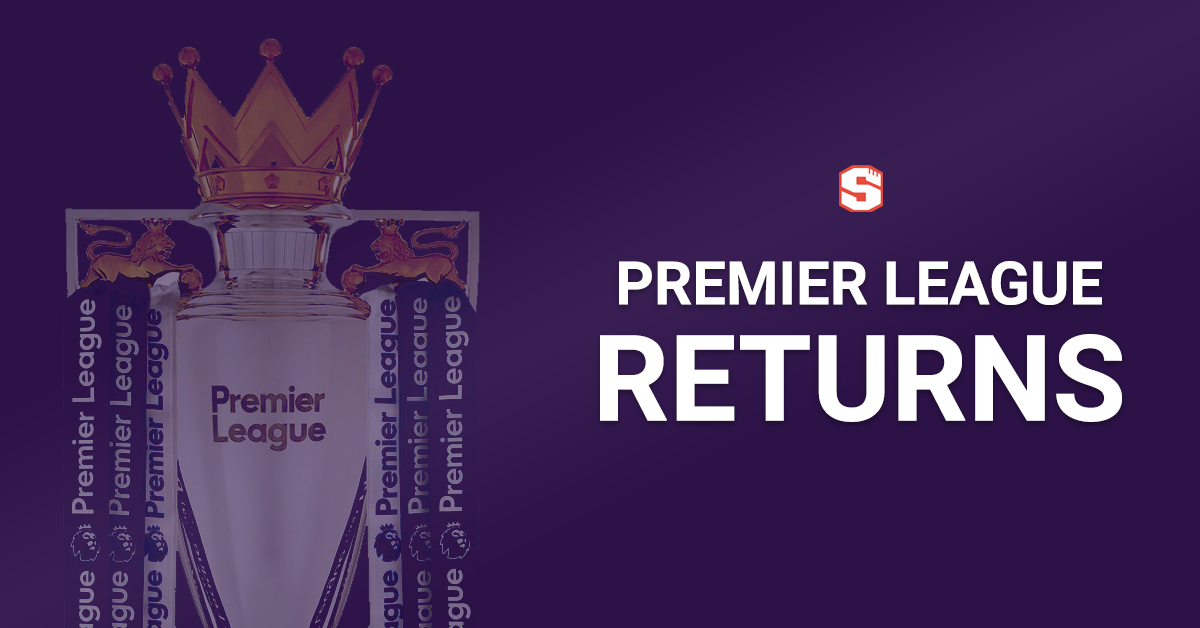 The planned schedule
As you can see when you look at the current league standings, there are two outstanding 'games in hand' that mean not all teams have played the same number of games. Aston Villa vs. Sheffield United and Manchester City vs. Arsenal were both rescheduled due to the Carabao Cup final between Villa and City. As a result, these two matches will be the first fixtures played when the Premier League resumes in order to ensure that all clubs have then played the same number of games as we move forward.
Though it's possible there might be other league fixture changes due to the FA Cup also returning soon (we'll get to that later), it seems apparent that a good reason for getting those games in hand played first is that the standings are more 'fair' if the season has to be stopped again. We obviously all hope it doesn't come to that, but if the season was to be stopped for a second time due to the pandemic with standings decided on Points Per Game or an equivalent measure, the honours and standings at Superbru at the time of the season stoppage
would
count as final because more than 50% of the season has been completed.
Following those two fixtures on June 17th, a full round of 10 games will then be played starting Friday 19th June. At Superbru, these fixtures will form a single round meaning 'Round 30' will consist of 12 games and see Villa, Sheffield United, Manchester City and Arsenal play twice.
The Premier League have also released a list of the kick-off slots that will be used for the remainder of the campaign, though not all of them will necessarily be used in every round. Every single one of the 92 remaining matches will be available to watch on TV in the UK.
Kick-off times (all UK):
Fridays 20:00, Saturdays 12:30, 15:00, 17:30 and 20:00, Sundays 12:00, 14:00, 16:30 and 19:00 and Mondays 20:00.
Midweek:
Tuesday, Wednesday, Thursday 18:00 and 20:00.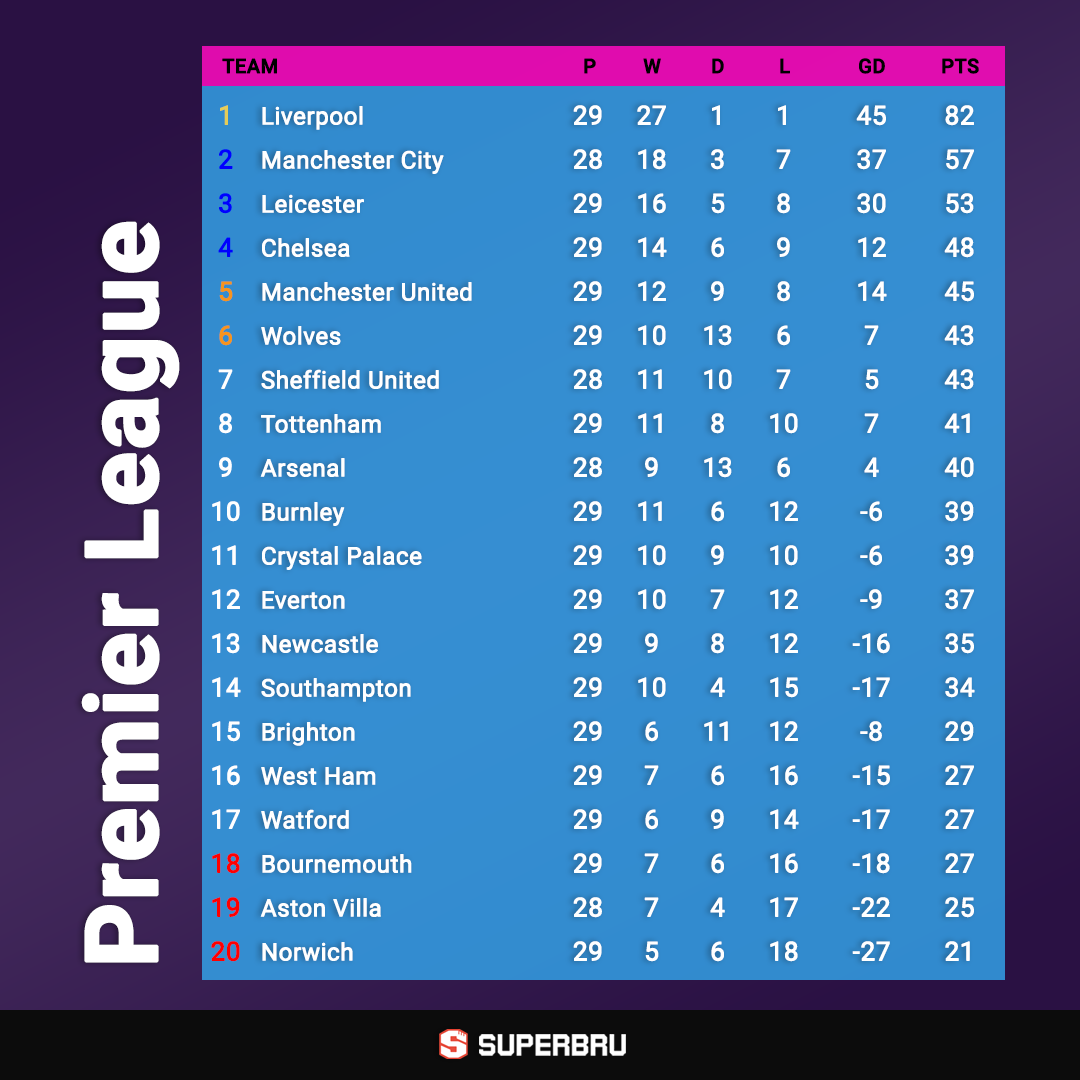 Current Premier League standings
Predictor game
As usual with rescheduled fixtures, nothing really changes for our predictor game despite the lengthy pause in the season. There'll be 12 fixtures to pick in Round 30 as I have said and it'll just be worth making sure that you've always looked ahead to see when the next round of fixtures begins since it won't be the standard Friday/Saturday starts for all rounds.
Crucially, though you may well already have some picks saved for some of the games in the first round back (that you will have made back in March),
you will not have picks saved for the first two rescheduled matches in Round 30
. So make sure you and your pool mates are all back making picks before June 17th!
Many other midweek rounds are expected. This also applies to European leagues such as Serie A and particularly LaLiga when they eventually return - plans in Spain are for 32 consecutive days of action!
As we hope you'll all understand, we are suspending our 'Exact Score Challenge' that offers prizes within our Premier League predictor game for the remainder of the season. The last few sport-less months have naturally caused financial difficulties, difficulties that many of you have generously been helping us solve with some donations. As a result, it's neither appropriate nor possible to provide prizes for the rest of this campaign but we remain hopeful of bringing back the Exact Score Challenge for the 2020/21 season.
Fantasy games
It's very much 'as you were' in our daily fantasy game given the format, but the effect of this pause in the season and slight change in fixtures is a little stronger on our full fantasy game. The 12-game round we'll be starting with means there are 'double fixture teams' involved and also means that we'll be selecting our teams without much knowledge of team news for the weekend games.
Such a long break has actually brought a few positives for Premier League managers, such as the return to fitness of the majority of injured players. Jose Mourinho in particular will be delighted to have some key players back available! There's also been a change to the rules that will now allow 5 subs per game rather than 3 in order to try and prevent injuries during what will be a frantic period.
This combination of many factors has led us to decide to remove the cap on the number of fantasy transfers you are permitted ahead of Round 30.
You'll be able to enjoy building a 'fresh team' for the summer run-in with unlimited transfers ahead of the big return
. After Round 30, we'll be back to normal with a max of 3 transfers between each round.
This change also provides some flexibility since we have to acknowledge that the season return date is 'provisional'. If the fixture schedule is changed at any point ahead of the planned return due to a 'second wave' of the pandemic or otherwise, unlimited transfers will mean you can continue to change your team and react to whatever comes our way.
Other things to consider
As the Bundesliga is currently proving, games being played behind closed doors may well trigger some unusual results! The likely effect, which we are seeing in Germany, is that 'home advantage' is significantly reduced. All remaining games in the Premier League will be played behind closed doors.
There are also still reports that the PL is planning to play some fixtures at natural venues due to fears of fans congregating outside stadiums. The fixtures in question are reportedly 'big derbies' and many Liverpool fixtures where the Reds have a chance to finally seal the title. Nothing is confirmed, but make sure you keep an eye on the venues for each game and the 'behind closed doors' and 'neutral venue' markers we've recently added to our predictor games.
The FA Cup is also set to return in the coming weeks and we're not yet sure if that will affect Premier League scheduling. The FA have announced that the quarter-finals are set to be played on the 28th and 29th of June, semi-finals will be on the 18th and 19th of July and the final will be played on August 1st. The Premier League is aiming to finish the season before the FA Cup final takes place.
Hopefully this all makes sense and keep in mind that is all provisional! Nevertheless, we hope you're as excited as we are to return to some Premier League fun on Superbru. Let me know any questions you have in the comments and I'll respond to anything that needs more clarity.