Coming up this month on Superbru: September
Just as we did in August, we're set to have plenty of new Superbru tournaments this month as standout events such as the Ryder Cup are coming up as well as the beginning of several new rugby seasons.
The opening round of the 2021/22
Top 14
campaign took place at the weekend to kick-off September's fresh action on Superbru and here's what else we have coming up this month.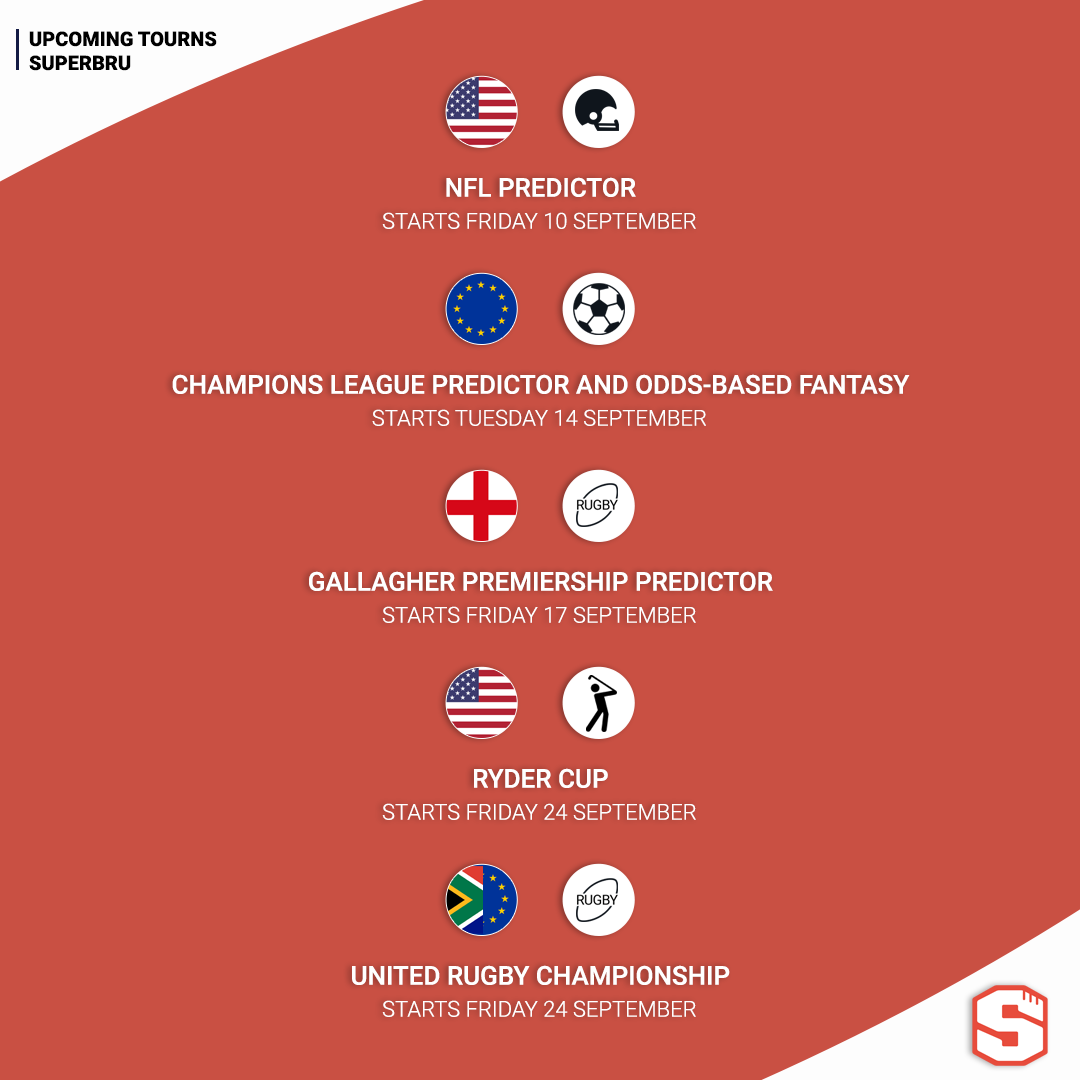 Before we get into the totally
new
tournaments beginning in the coming weeks, a reminder that the IPL resumes this month in the UAE after that event had to be postponed midway through due to Covid cases in India. Both our
Indian T20 League Predictor
and
Fantasy
games have been updated to reflect the new schedule so make sure that's back on your radar! The remainder of the tournament falls between the ongoing Test series between England and India, and this year's T20 World Cup which will also take place in the UAE shortly after the IPL final.
Thursday 9 September: NFL
This year's NFL season begins on Thursday the 9th (or Friday 10th depending on where you are in the world) with last year's winners the Tampa Bay Buccaneers taking on the Dallas Cowboys.
Tuesday 14th September: Champions League Predictor and Odds-based Fantasy
Shortly after this international break is complete, the Champions League group stage begins and as you may have seen in our
recent article showing this year's group stage draw
, we're set for some excellent ties.
As well as our Predictor game, we're running an Odds-based Fantasy game again where you can pick 3 players to score and a goalkeeper to keep a clean sheet for each day of action. PSG have a few more decent players this season that may prove popular in that...
Wednesday 15th September: Europa League
As was noted in that same
article showing the UEFA group stage draws
, our Europa League Predictor game will include the group stage fixtures for the first time this season as the number of teams involved in the group stage has reduced considerably following a format change (16-match rounds are far less exhausting to pick than 24-match rounds would have been).
There's a good chance the winner of this tournament isn't yet in it as the teams that finish 3rd in their Champions League group will be relegated to this tournament but before that fun begins in the knockout stages there are 6 group stage rounds with lots of Superbru points available!
Friday 17th September: Gallagher Premiership
Next up is the Gallagher Premiership which begins on Friday the 17th when Bristol Bears take on Saracens who are now back in the top flight. Harlequins were last year's Champions after they won an incredible final against Exeter Chiefs at Twickenham.
Saturday 18th September: World Sevens
As you might expect given the travel involved, World Rugby are still struggling to put World Sevens series events together because of various travel restrictions around the world and there was an update on their plans for 2021 late last week when it was announced that the Singapore Sevens and Cape Town Sevens have been cancelled.
Instead, there will now be only 2 events in Canada that make up the 2021 series with a fresh '2022' series (which will hopefully have a far more 'normal' schedule) now set to start with the Dubai 7s in late November/early December this year.
UPDATE: Due to the 2021 series consisting of only 2 events and fixtures/participating teams only being confirmed at fairly short notice, there won't be a Predictor game for the Canadian events and our next Sevens Predictor will begin with the Dubai 7s later this year.
Friday 24th September: Ryder Cup
A big one next as the 43rd Ryder Cup will finally take place later this month from the 24th-26th September. The event will take place at Whistling Straights in Wisconsin.
On Superbru, our Ryder Cup game is a bit different to our other golf tournaments due to the unique format of the event. Each session is an individual round (meaning morning and afternoon rounds) and the players you pick will receive points if they win their match as well as extra points depending on the winning margin.
The tournament is already setup for you to join where you can see the round structure and there will be further details on our tournament in a separate article once teams have been picked and our setup is complete.
Friday 24th September: United Rugby Championship
Friday 24th will be a big day as the brand new United Rugby Championship will also start that evening! This tournament is set to be the 'new normal' in place of Super Rugby for South Africa's major franchises and their fans as they battle the former 'Pro14' teams from the Northern Hemisphere. Qualification for the Heineken Champions Cup will also be on the line in this tournament meaning an opportunity for the South African sides to also take on the best that England and France have to offer in future seasons.
The inaugural campaign begins with a clash in Italy between Zebre and the Lions with the headline Round 1 game being Leinster v Bulls in Dublin. You can learn much more about this new tournament by reading
this article posted shortly after the United Rugby Championship was unveiled
, while fixtures for the opening rounds are already visible in our Predictor game.
We also hope to run a fantasy game for the United Rugby Championship but we're still trying to sort out access to match data for the new competition at the moment.
Go well with your picks this month!