New 'United Rugby Championship' to begin this September
It's been quite some time now since the world's rugby calendar has felt 'normal'. When sport has been possible, we've seen some temporary competitions, newly formed tournaments and a
lot
of derbies but with a bit of luck, the future is now finally starting to look slightly more clear and stable.
Last week, the
PRO14
announced that they will be rebranding as the 'United Rugby Championship' (URC) later this year - a tournament that will include the existing PRO14 teams plus South Africa's 4 ex-Super Rugby franchises: the Bulls, Lions, Sharks and Stormers. This means the URC will be the new permanent home for South Africa's franchises following the breakup of
Super Rugby
.
For various reasons, a major one simply being geographical location, South Africa has suffered more than most rugby nations during this pandemic but the Springboks will finally return to action next week as world champions for the first time since lifting the Webb Ellis Cup back in 2019. This new United Rugby Championship provides further great news, as we can now see what is set to be the future for South Africa's franchises after the upcoming
British & Irish Lions tour
.
We realise there's quite a lot to take in following the various temporary tournaments teams have been involved in throughout the pandemic, so here's all you need to know about the newly announced United Rugby Championship which is set to be far more permanent.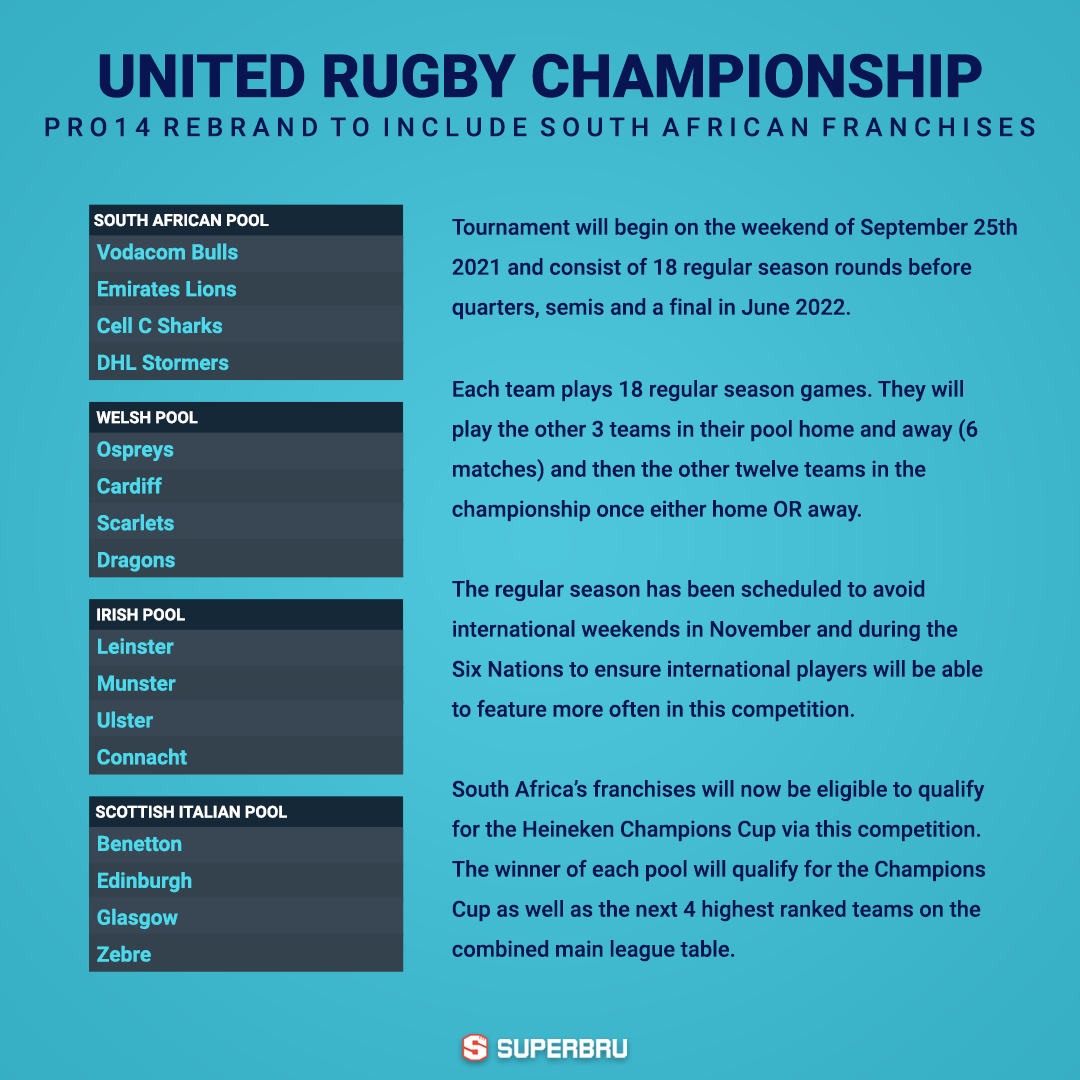 United Rugby Championship: What is it?
The United Rugby Championship (URC) will be a new 16-team league featuring the PRO14 clubs and South Africa's former Super Rugby teams. Named this way because it is uniting teams from the two hemispheres, the URC is set to adopt a format that isn't too dissimilar from previous Super Rugby tournaments and that will remain in place for 'at least the next 5 years'.
What is the format?
The URC will consist of a regular season of 18 rounds before quarter-finals, semi-finals and a final. Each team is therefore guaranteed to play 18 games in each season. As you can see in the graphic above, there will be 4 regional pools - a South African pool, a Welsh pool, an Irish pool and a Scottish Italian pool. Each team will play the teams they share a pool with home and away every season (so that's 6 matches) while they'll play the other 12 teams from different pools once per season either home
or
away.
This means every team will play each other at least once per season. As well as having the regional pools, all teams will be ranked on a main table of all 16 teams and the top 8 will progress to the quarter-finals where 1st will play 8th, 2nd will play 7th and so on.
Heineken Champions Cup qualification
Of course, a big question for the existing PRO14 teams is that of how qualification for the
Champions Cup
will be affected, and the big news for South Africans is that the SA franchises are set to be able to qualify for the Champions Cup via the URC. Each season, a total of 8 teams will qualify for the Champions Cup. These teams will be the 4 regional pool winners plus the other 4 highest ranked teams on the main table (that aren't regional pool winners).
This means that at least one South African team is guaranteed to qualify and participate in the 2022/23 Heineken Champions Cup.
Cross-hemisphere fixtures
In addition to the derby matches taking place in South Africa, every team from the 'North' will play 2 away games in South Africa each season. It is expected that these fixtures will be played back-to-back so that there's just one tour per season for each team. Each South African team will play six fixtures in the North which are likely to be made up of two 3-game tours.
When does it start and what's the schedule like?
The first ever URC season is set to begin on the final weekend of September with the finals to be played in June 2022. A notable thing about the schedule is that rounds will be played
around
the international windows during November and the Six Nations rather than during said windows meaning international players are likely to be available for a greater number of URC matches.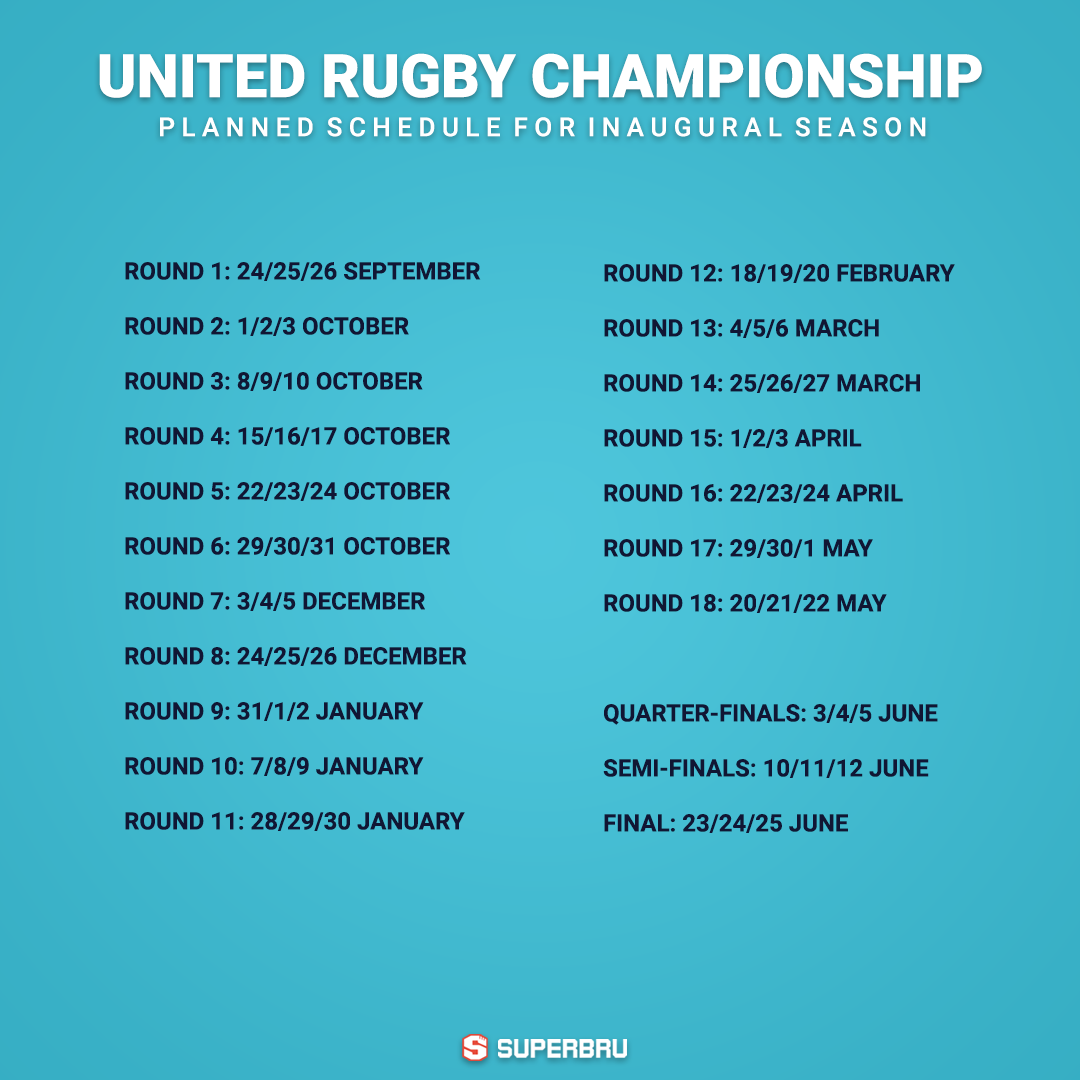 Can I join a predictor game and get cracking on Superbru?
It's still a little early for that but while we're busy making plans for this tournament behind the scenes, we've set up this pre-register page. By clicking
'pre-register' on our URC tournament page
, you'll be automatically added to our game once everything is ready and you'll receive an email from us once we're live!
We hope that like us, you're excited for this new tournament which should provide some 'normality' for the teams and fans involved even though it will take some getting used to. If you have extra questions, let us know in the comments and we'll do our best to answer, or you can check out the new site that the URC have launched themselves at
unitedrugby.com
.