2022 World Cup: Round 1 Predictions
The biggest sporting event of the year is here and though it feels like it's arrived fairly quickly given the short gap between club football and the start of this tournament, it's impossible not to be excited for a
World Cup
and I'm really looking forward to the next month!
Will the
World Cup
being played at this time of the year benefit some nations more than others? Can Brazil and Argentina live up to expectations? Are France able to break the defending champions curse?
It's time to make some Round 1 predictions in our
World Cup Predictor
! Feel free to leave your own thoughts in the comments.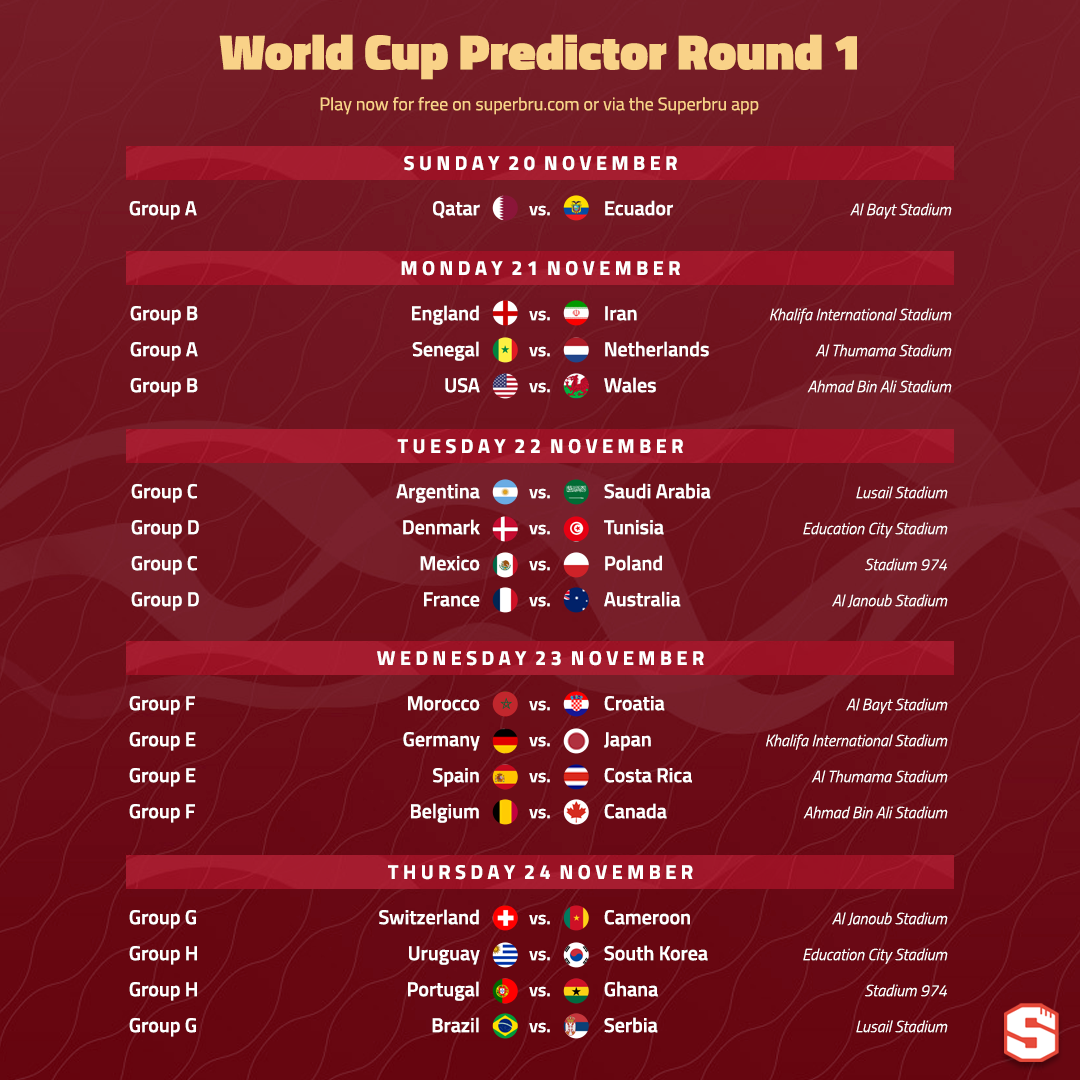 Qatar vs. Ecuador
A very tricky one to start with and though the first game is always eagerly anticipated, I think this is unlikely to be a classic. Qatar are a better side than you may expect and I think they can manage a result here despite Ecuador probably being slight favourites. Neither are likely to score many goals in this tournament but it feels boring to go 0-0 first up so let's go 1-1.
Qatar 1-1 Ecuador
England vs. Iran
Iran have an excellent coach in Carlos Queiroz and won't make life easy for England but I think you have to go with the Three Lions here. Again, we're unlikely to see free flowing, attacking football but England have been strong at recent major tournaments and I think they'll start with a win.
England 2-0 Iran
Senegal vs. Netherlands
I'm gutted for Sadio Mane and Senegal that he'll be unable to feature in this tournament at all and while it would be quite disrespectful to suggest the AFCON champions now have no chance just because of one player being out given how many other talented players they have in their squad, Mane is a very influential presence for them who will be sorely missed. I think the Netherlands will be strong in this tournament and should edge this.
Senegal 1-2 Netherlands
USA vs. Wales
This should be a very interesting clash as Group B looks quite open. USA are the younger, probably slightly more talented side if on form but Wales will be right up for this and have a genuine big game player in Gareth Bale. I reckon the Welsh are slightly more likely to win but I'm going with a draw.
USA 1-1 Wales
Argentina vs. Saudi Arabia
The first easy one of the round as anything other than a comfortable Argentina win here would be a huge upset.
Argentina 4-0 Saudi Arabia
Denmark vs. Tunisia
I put Denmark as my dark horses in our
outright predictions article
and I think they can win Group D if they perform well so I certainly expect them to start with a win here. Tunisia will be fairly stubborn defensively but are unlikely to offer much in attack.
Denmark 1-0 Tunisia
Mexico vs. Poland
This is a huge match in Group C as the winner will have a great chance of progressing to the knockouts. I think it will be a tense game but there might not be many goals? It feels brave to pick a 0-0 with Robert Lewandowski involved but I think both sides will be really eager to avoid defeat here.
Mexico 0-0 Poland
France vs. Australia
I think France will really struggle without their first choice central midfield pairing but surely they can win this opening game regardless? I'm really interested to see how they start this tournament after such a poor Nations League campaign but Australia look quite weak and it's hard to see that French attack not scoring a goal or two.
France 2-0 Australia
Morocco vs. Croatia
There's potential for an upset here but you can't not love Croatia's midfield and I reckon they'll just about come out on top. As I said in my
tournament preview
, I think Group F might be quite fun throughout.
Morocco 1-2 Croatia
Germany vs. Japan
This is another very interesting fixture as Japan are capable of a result but I think Germany might have a good first tournament under Hansi Flick. As well as the experience provided by the likes of Muller and Kimmich, there are some very good young German players in that squad.
Germany 2-0 Japan
Spain vs. Costa Rica
Spain's passing and possession stats will be incredible in this game but that doesn't always translate to lots of goals for them so I'm slightly hesitant but you'd certainly think they can manage at least one. If they find the net early, this could easily be 3+ but based on how they started last year's Euros, I think this might be nervy.
Spain 1-0 Costa Rica
Belgium vs. Canada
I'm not really sure how I feel about Belgium going into this tournament so this will be an interesting first match as Canada will be very motivated and will look to have a go in their first World Cup game since 1986. I'm excited to see how Canada get on as I must admit to not having seen too much of them but the safe pick is definitely Belgium.
Belgium 3-1 Canada
Switzerland vs. Cameroon
Cameroon have some decent forwards who might cause some trouble in this group but I'm not as convinced by what's behind them and Switzerland look the more balanced side. Switzerland took a while to get going in the Nations League this year but then managed some really good results.
Switzerland 2-1 Cameroon
Uruguay vs. South Korea
They're slightly reliant on fairly old players in a few positions, but the Uruguay squad still looks a strong one and I think they'll have too much for South Korea. Son appears to be fit after training in a mask so that's a big plus for the Koreans but Uruguay tend to perform well at World Cups.
Uruguay 2-0 South Korea
Portugal vs. Ghana
Portugal have a really strong squad but as usual, much will centre around Cristiano Ronaldo who has managed to ensure he's dominating the media headlines even more than usual in this build-up week after that interview. Just like Erik ten Hag at Manchester United, Fernando Santos will have to deal with the Ronaldo dilemma in this tournament - dropping Portugal's greatest ever player and ultimate big game star feels crazy, but there's certainly an argument that the rest of the team could function more effectively without him.
I think Ronaldo will play, and I wouldn't bet against him having a good tournament after all the drama this week, but either way Portugal should have a bit too much for Ghana. There's certainly potential for Ghana to cause some upsets in this tournament with Inaki Williams and Mohammed Kudus particularly dangerous, but I'm not brave enough to pick one here.
Portugal 2-0 Ghana
Brazil vs. Serbia
Finally, we have the tournament favourites Brazil who should begin with a win despite Serbia having quite a few good players. I think Brazil will put a marker or two down in this group stage as they look full of goals so it should be an entertaining watch!
Brazil 3-0 Serbia
Best of luck to you all with your own Round 1 picks!