2022 World Cup Preview
It still feels strange to say in the middle of November, but it's officially World Cup week! The 2022 tournament begins this Sunday in Qatar when the hosts will face Ecuador in the opening Group A game.
Ahead of the weekend, here's a quick preview of each group to set the scene and give you a vague idea of what the pre-tournament expectations are.
Before we get into it though, since Superbru is all about Predictor and Fantasy games, here are the tournaments we have on offer for this World Cup as well as an explainer of what they are and how they work.
World Cup Predictor
Our headline game of the year, in our World Cup Predictor you make a score prediction for each of the 64 matches in the tournament. Setup a pool, invite your friends, and see who finishes with the most points. You receive 1 point for getting a result correct, 1.5 points if you're also 'close' to the exact scoreline, and 3 points if you get the scoreline spot on.
World Cup Odds-based Fantasy
If you enjoy picking the players you think will perform strongly as well as scorelines, our Odds-based Fantasy game gives you a chance to do that while providing a unique tactical element where the challenge is to balance risk and reward.
For each day of action, you select 4 players (3 'goalscorers' and 1 goalkeeper) and the number of points you receive for a goal, or a clean sheet in the case of the GK, vary depending on the odds of that player scoring. For instance, you can play it safe and pick someone like Lionel Messi when Argentina are playing since he's likely to be involved in goals, but if you choose to risk it and select a defender rather than Messi, you'll be rewarded with a lot more points if they do indeed find the net.
You can find out more about both games within the scoring and other info sections in the tournaments after joining.
The 2022 FIFA World Cup
On to a preview of the tournament itself then and though the format will be changing for the next World Cup, we have the usual 8 groups of 4 teams for this year's tournament with the top two teams in each group progressing to the knockout stages.
As hosts, Qatar are in Group A and they'll be alongside Ecuador, Senegal and the Netherlands, while holders France have been grouped with Australia, Denmark and Tunisia.
Here's the full group stage draw: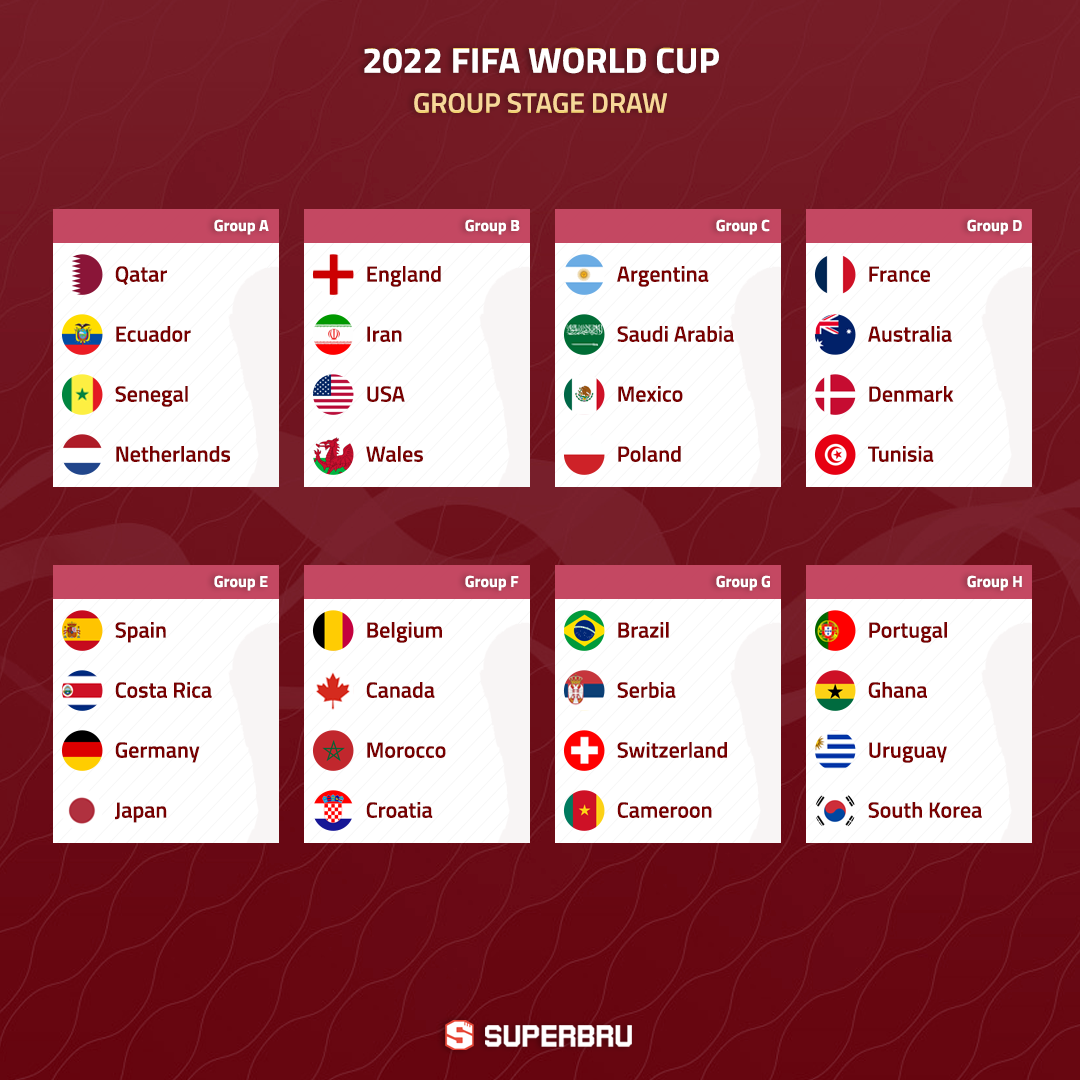 For extra insight into every match at the tournament that is accessible right from our picks pages, you can upgrade to
Superbru Premium
- Superbru Insights is one of the features you gain access to with that subscription and the Insights content will be available very soon. In the meantime, as a quick guide to provide you with a more brief overview of what we can expect in this World Cup, here's a preview of each group.
Group A

This has the potential to be a very intriguing group because though the
Netherlands
are favourites as the highest ranked nation with considerable prestige on the world stage, they're unlikely to have any easy games against AFCON champions Senegal, an awkward Ecuador side and hosts Qatar.
Qatar
will be fairly unknown to most football fans but ever since being controversially awarded this tournament, they've been investing a lot of money to ensure they have a team that can compete and having won the Asian Cup in 2019 and climbed to 50th on the world rankings, they're clearly making progress.
African champions
Senegal
are perhaps the most likely to join the Netherlands in the knockouts as they're a strong side, particularly defensively, but from an attacking point of view Sadio Mane's recent injury is a concern so keep an eye on that.
Ecuador
are also good at making themselves tough to beat but they don't have as much attacking talent as Senegal so may struggle to score enough goals to progress.
Group B

All four of these nations are in the top 20 on the FIFA rankings which demonstrates how competitive many of the fixtures in this group should be, but it's
England
who stand out as group favourites given their strong tournament performances under Gareth Southgate so far. The Three Lions reached the semi-finals in 2018 and were runners-up at last year's Euros.
Behind them, all 3 teams will be hopeful that they can progress, and it might be fair to expect some low-scoring, tense matches in this group given England's fairly safe playing style and the fact that the other teams can hardly be described as prolific. That said, in Gareth Bale,
Wales
do of course have a superstar capable of winning any game and they did well to qualify ahead of a decent Ukraine side. In Round 3, we could well see a huge game between the Welsh and neighbours England, particularly if qualification is on the line for one or both of them.
The
USA
have a very young side meaning consistency is an issue (they won half of their 14 qualification matches) but Premier League fans will be aware of the threat Christian Pulisic and Brenden Aaronson can pose when running in behind and they are two of the strongest players in a fairly talented squad.
Iran
are the highest ranked Asian side in this tournament so shouldn't be underestimated and will prioritise defence while being fairly smart on the counter under experienced manager Carlos Queiroz. Queiroz was in charge of Iran in the 2018 World Cup as well where they managed a win over Morocco and a draw against Portugal in the group stage, but it's worth noting he left his position in 2019 and only returned a couple of months ago meaning he hasn't had much time with the squad ahead of this tournament.
Group C

Argentina
are the clear favourites in this group and they're in incredible form at the moment. Currently on a run of 35 games without defeat, there's a feeling that there's a genuine chance of Lionel Messi getting his hands on the World Cup trophy in what will be his fifth and likely last tournament appearance, having won the Copa America last year.
Saudi Arabia
are the clear underdogs in this group and are likely to be weak defensively despite considerably improving their ranking in recent years, which leaves Mexico and Poland as the likely challengers for 2nd place.
Mexico
are a decent team that is good in possession but the absence of Jesus Corona due to injury is a considerable blow to their attack, particularly since Raul Jimenez has been also struggling for fitness for a long time and goes into this tournament having hardly played for Wolves this season.
There's a considerable contrast between Mexico and
Poland
who don't tend to have nearly as much of the ball in their matches, but when they do manage to create a chance or two they have one of the very best in the business when it comes to scoring goals in Robert Lewandowski. Before a ball is kicked, Mexico are probably favourites to progress behind Argentina, but the Round 1 fixture between them and Poland is a very significant one.
Group D

As the current champions who have a very strong squad despite some very notable injuries including Paul Pogba and N'Golo Kante,
France
are the team to beat in this group and then when you consider that
Denmark
are another very strong side who actually beat France twice in the recent UEFA Nations League campaign, it's clear that Australia and Tunisia have it all to do if they're to qualify for the knockout stages ahead of one of the European nations.
Australia
, France and Denmark were actually grouped together in the 2018 World Cup as well and though the Socceroos are fairly experienced in terms of qualifying for World Cups, the fact that they finished bottom of that group 4 years ago isn't a great sign when you consider they're probably weaker this time around with some of their key players no longer around such as Mile Jedinak and Tim Cahill.
Australia are unlikely to be good enough defensively to get a result against France or Denmark but we can expect
Tunisia
to be slightly better in that regard. The Tunisians aren't going to Qatar to entertain you or to try and top any xG charts, they'll make themselves as tricky to beat as they can and hope to grind out a result, just as they did against Mali in order to qualify for this tournament with a 0-1 aggregate win over two legs.
Group E

This is another group where the European teams are the ones to beat as both Spain and Germany are of course very strong sides who have each won a World Cup in the last 12 years, but keep an eye on
Japan
who are a very capable team that managed to reach the knockouts in 2018 after beating Colombia and drawing with Senegal before being eliminated by Belgium 3-2.
Considering they controlled most of their matches against opposition during qualification, Japan should probably score more goals than they do and that can certainly also be said for
Spain
who are almost guaranteed to have over 60% of the ball in every match they play but regularly fail to score enough goals. Spain lack a clinical centre forward but it's not an easy role to play as space is often limited among a sea of defenders who are camped in their own box because they can't get the ball.
If you're now picturing that situation,
Costa Rica
are the team camped behind the ball. The complete opposite of Spain, Costa Rica aren't going to be worried about possession, especially given their opposition in this group, so as the underdogs it will be a case of trying desperately to keep the ball out of their own net and then hoping for a chance to present itself on a rare counter-attack or set-piece.
That leaves
Germany
who for the first time in a long time, head to a World Cup without Joachim Low in charge. After a successful spell with Bayern, Hansi Flick is the new man in charge and we've seen Germany's possession stats and chance creation improve since his appointment. As the recent Nations League proved, Germany are still far from perfect but it will be interesting to see how they fare in this tournament and they should progress alongside Spain so long as they can avoid an upset in Round 1 against Japan.
Group F

This group has the potential to be quite a lot of fun, as the two European sides are favourites but both seen as teams that are potentially just past the peak of their powers, and the two underdogs are fairly attacking teams that will have a go...
Belgium
and
Croatia
will expect to progress as they both enjoyed a great 2018 tournament, finishing 3rd and 2nd respectively, and both still have numerous world class players despite it being true that they are each perhaps slightly weaker than in 2018.
For Belgium, Thibaut Courtois and Kevin De Bruyne are at their peak and will be looked to as the main men rather than Eden Hazard and Romelu Lukaku who are each struggling for fitness and form. Croatia lack a clear goal threat and are probably more likely to only reach the first knockout round as they did in the Euros than they are to reach a World Cup final again, but you'll struggle to find a better midfield than Luka Modric, Mateo Kovacic and Marcelo Brozovoic.
So can the other two cause an upset?
Canada
have improved incredibly well under John Herdman and have nothing to lose in their first World Cup since 1986, meaning we can expect them to be dangerous having scored more goals in CONCACAF qualification than any other side with a squad packed full of pace - not least Bayern's Alphonso Davies.
Morocco
, meanwhile, are also likely to try and attack and they too have plenty of pace with PSG's Achraf Hakimi and Alphonso Davies' Bayern teammate Noussair Mazraoui both excellent fullbacks. When you also consider new manager Walid Regragui has brought Chelsea's Hakim Ziyech back into the fold, it will be fun to see if Morocco and/or Canada can pull off a shock in this group.
Group G

Most people's favourites to win this tournament,
Brazil
are the clear front runners in this group. As those of you that have seen the
squad Tite has selected
will know, Brazil have a ridiculous amount of attacking talent and score a lot of goals. Despite so many other top players, Neymar remains their main man and given how well he has been playing for PSG so far this season, we could well see him score the 3 goals he needs to surpass Pele and become Brazil's all-time top scorer in these coming weeks.
But who will progress with them? Well, that's where this group gets interesting. Cameroon, Serbia and Switzerland are all quite good.
Cameroon
are a strong attacking side with some strikers who are very capable of scoring goals in Vincent Aboubakar, Karl Toko Ekambi and Eric-Maxim Choupo Moting who is enjoying a great season with Bayern. Though they're likely to concede a fair few as well, particularly against Brazil, Inter's Andre Onana is a great goalkeeper who could keep them in games.
In
Serbia
and
Switzerland
we have two European nations that qualified for this World Cup without losing a game as they managed to avoid the play-offs by qualifying ahead of Portugal and Italy respectively (the latter did of course miss out altogether).
Both teams also showed their quality in this summer's Nations League as Serbia won 5 of their 6 games in League B and Switzerland managed wins against Portugal and Spain. We can expect the matches between these teams and Cameroon to be fairly even, so it will be worth paying attention to the small details before making your picks nearer kick-off, not least the fitness status of Aleksandar Mitrovic (Serbia) and Granit Xhaka (Switzerland).
Group H

Finally, we have Group H. It'll be worth the wait I reckon. 4 very capable sides and then you throw in a rematch between Uruguay and Ghana after what happened in South Africa? Excellent.
Portugal
have an excellent squad on paper and should be the strongest team in the group. Cristiano Ronaldo ought to have a good tournament to convince clubs he's still worth paying now that he's dropped an interview that is presumably an attempt to get himself sacked by Manchester United, but he is of course very capable of doing just that and he's far from the only quality attacker that Portugal have available.
Ghana
, as the lowest ranked team in the tournament, have to be considered underdogs but there are a number of players that have recently switched allegiance to join them which makes things interesting. Most notably, Athletic Bilbao's Inaki Williams is in the squad (his brother is in the Spain squad!) while Brighton's Tariq Lamptey and Southampton's Mohammed Salisu are also included after making debuts for Ghana in September.
Heung-min Son is of course the big name in the
South Korea
squad and though Korea tend to like to play possession football, a switch to a slightly more counter-attacking approach against the stronger teams in this group may actually work well for them and particularly Son given how effective he is in that style at Tottenham. Portugal and
Uruguay
are both stronger than Korea on paper but it will be interesting to see how Uruguay fare given their squad is a fairly old one.
Luis Suarez remains their key man at the age of 35 while Edinson Cavani (35) and Diego Godin (36) are also still around so it's a good job that Real Madrid's Fede Valverde is available to do what he does best which is cover an insane amount of ground while providing real quality all over the pitch. Uruguay's experience and sheer competitive spirit makes them the most likely side to qualify alongside Portugal, but there aren't any easy games in this group.
For more World Cup content throughout the tournament, follow our main social media pages on Facebook, Twitter and Instagram and feel free to join our Facebook group for Superbru Football Fans here.