Premier League Predictor: Round 21 Predictions Part II
Since I wrote my predictions for Round 21 of the Premier League Predictor
in this article
, there have been some rescheduled matches added to the round which many of you will have already noticed on our site and app last week.
With so many postponements in recent months, we can expect plenty more instances of this kind of thing as the PL aim to get matches played whenever they can. In addition to the new fixture dates shown below, Everton v Leicester had also been rescheduled for Tuesday but that has since been postponed once again due to Leicester reporting that they are short of players because of covid cases, injuries and AFCON.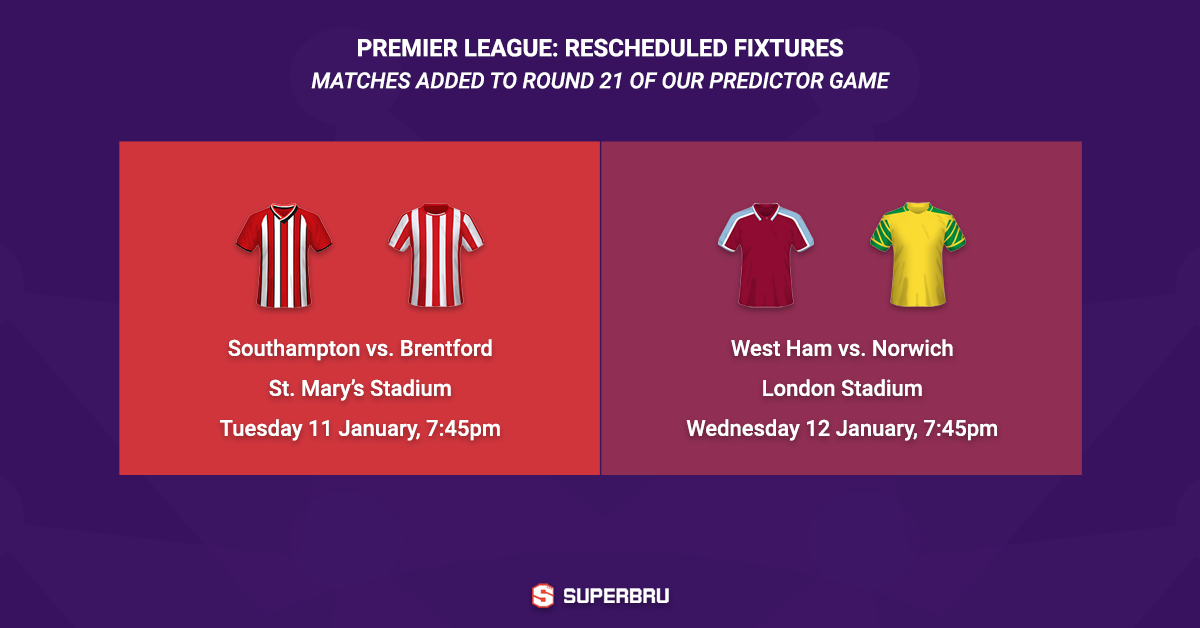 Note:
All predictions that have previously been made for Premier League fixtures that end up postponed are still saved on Superbru. When we re-add fixtures to the tournament like this, your original picks will remain but you will of course be able to edit them if you wish given the context surrounding the match will have changed in terms of form, team news etc. All picks that were previously locked for a rescheduled fixture are unlocked when we update the schedule.
As well as this article serving as a reminder/explainer for this week's extra games, I thought I'd add my predictions for them too. On paper, one is far more straightforward than the other...
Southampton vs. Brentford
This isn't an easy pick as though Saints have been solid at home, they've been drawing more often than winning and Brentford will certainly feel as though they have a chance of a point or 3. Covid/suspensions mean Southampton are a bit short at right-back and I think we could see James Ward-Prowse have to fill in there as a result (he has done so previously) which would be a shame given his current form in midfield. Nevertheless, my pick is for Saints to just edge it.
Southampton 2-1 Brentford
West Ham vs. Norwich
You'd have to be a very brave bru to back Norwich here. The Canaries just look so toothless in attack and since they're hardly strong defensively either, that's a huge problem. West Ham should find this fairly comfortable.
West Ham 3-0 Norwich
.