Premier League Predictor: Round 21 Predictions
Like many others, I could only manage 4/7 in Round 20 of the Premier League Predictor with big upsets at Stamford Bridge, the King Power and to a lesser extent, St Mary's.
In this round, we're currently set to have 8 matches as Southampton v Newcastle has just become the second postponement of the round as I write this. I think the break after this round for the FA Cup 3rd round next weekend will be good for us all!
Here are my picks for Round 21.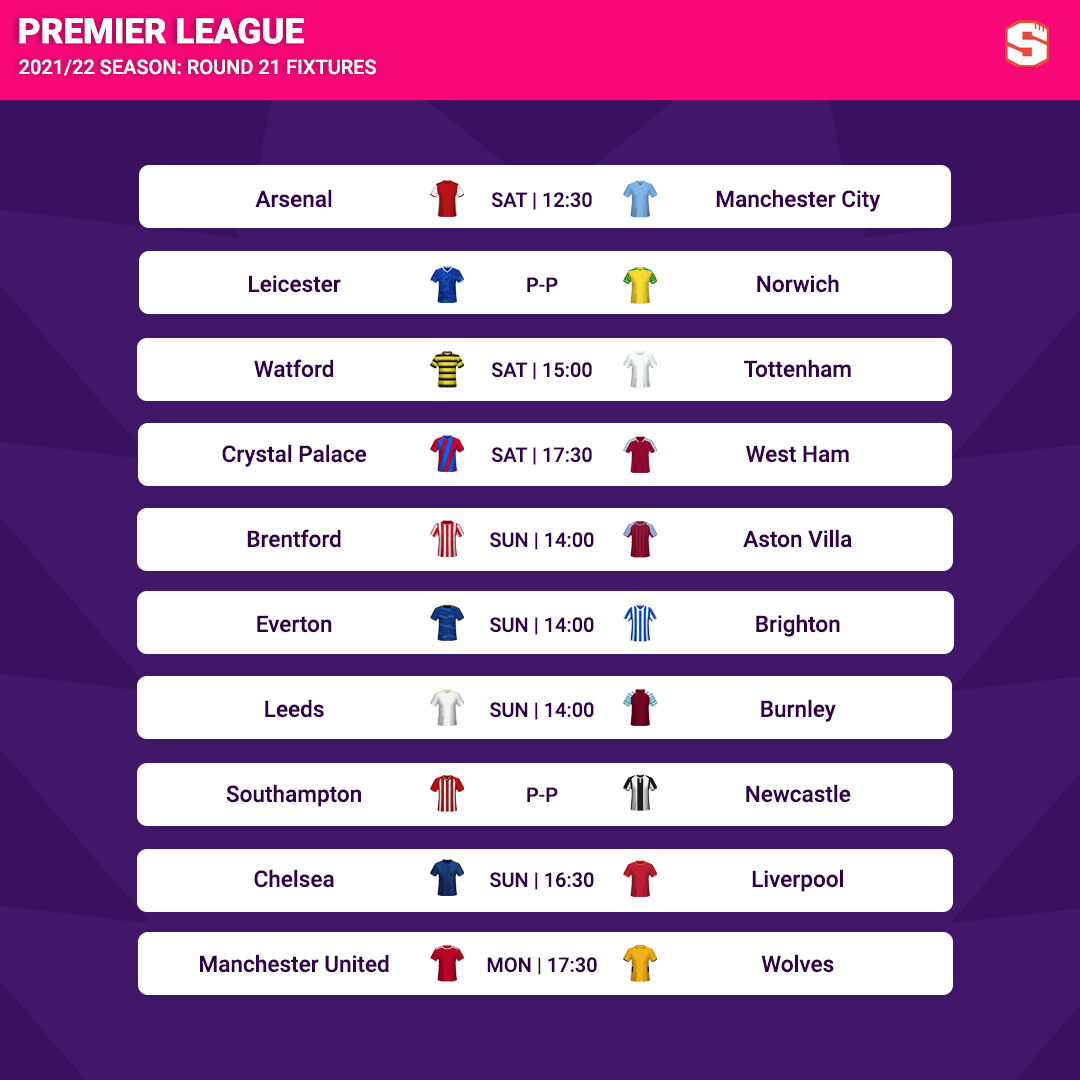 Arsenal vs. Manchester City
This is the big test for Arsenal - after looking good for a while against the weaker clubs in the league, can they actually compete against the best team in the league? I'm still not sure they can and Mikel Arteta's absence is a considerable blow.
Prediction: Arsenal 0-2 Manchester City
Watford vs. Tottenham
Watford continue to concede far too many so Tottenham should win this despite slipping up at Southampton - I think I mentioned ahead of that round that away fixtures will be much more of a test for Conte than their recent home wins.
Prediction: Watford 1-3 Tottenham
Crystal Palace vs. West Ham
Palace were fortunate they were playing Norwich in Round 20 given how weak their team was due to absentees but if they have a similar squad for this game they'll probably struggle. Zaha will be back but Gallagher will presumably remain out if the issue is covid and he's a massive loss.
Prediction: Crystal Palace 1-2 West Ham
Brentford vs. Aston Villa
Brentford are another team who remain short of a few key players and I think Villa should edge this. Brentford are still competitive in the majority of their games but they're obviously losing far more than they were at the start of the season and Villa have had more time to prepare for this fixture than they have.
Prediction: Brentford 0-1 Aston Villa
Everton vs. Brighton
Brighton have had two really good results in recent weeks so can they continue that in their first game of 2022? Quite possibly but it's so hard to tell how Everton will perform and even who will be playing for the Toffees. With so much uncertainty and Brighton often failing to capitalise on their dominance anyway, let's go with a draw.
Prediction: Everton 1-1 Brighton
Leeds vs. Burnley
Leeds are back in action and finally have a few notable players returning but Phillips is still out and it sounds as if Bamford will be lacking sharpness if he's able to feature at all. For those reasons, I'm still not sure Leeds will quite manage a win even though they probably are favourites with home advantage and Burnley also missing quite a few matches before their loss at United on Thursday.
Prediction: Leeds 2-2 Burnley
Chelsea vs. Liverpool
The injury to Reece James in Chelsea's draw against Brighton in midweek is a massive blow. Without both of their first-choice wing-backs, I struggle to see how Chelsea will compete in a game like this against quality opposition because so many of their goals have come from Chilwell and James this season. With all of the Lukaku noise in the media in recent days too, I think Liverpool are favourites but it's interesting that Klopp has also mentioned a fresh number of covid cases in their camp. Unless those cases happen to be to players as important as Salah, van Dijk and Alisson for instance, I think I'm going for a narrow away win.
Prediction: Chelsea 1-2 Liverpool
Manchester United vs. Wolves
Even with Wolves' recent postponements in mind, this will be tough for United I think as they've been struggling to create and the visitors are excellent defensively. This is another match where it's all about the teamsheets though. Wolves could easily manage a point if they have a strong team out but I think United are slight favourites for the moment.
Prediction: Manchester United 1-0 Wolves
Best of luck to you all with your own Round 21 predictions and Happy New Year!