NEW: Introducing Superbru Rugby
As
announced last month
, we've been working away on some brand new apps this summer and with
Superbru Football
already launched, we're now excited to share much more detail about Superbru Rugby which will be available to download from both the App Store and the Play Store in the coming days.
UPDATE: iPhone users can download Superbru Rugby from the App Store by clicking here.
UPDATE: Android users can download Superbru Rugby from the Play Store by clicking here.
We've worked hard to ensure Superbru Rugby is available in time for the
Rugby World Cup
and the new app will give you the best predicting experience for this year's main event regardless of whether you're new to Superbru or a well-capped veteran.
Those of you who have either read our previous articles regarding the new apps or downloaded Superbru Football will be familiar with some of the new features outlined in this piece, but in case you haven't, here's all you need to know about our fresh rugby-specific platform.
Superbru Rugby
Our brand new Superbru Rugby app will be an app dedicated only to rugby, housing our Predictor and Fantasy tournaments as well as news and stats to become a hub for all rugby fans. The clarity of focus around a single sport and game format will enable us to deliver the best experience we can, with appeal to existing and new users alike.
This means there's a fair number of changes from our current mutlti-sport app, which the General has explained a bit (since he's the one that has built Superbru Rugby!):
"We have redesigned the app navigation and user experience from the ground up. This means some things will be in different places from what you're used to, and at first that might feel strange, but please keep exploring because we think it'll all make sense and become familiar very quickly. Being able to focus on a single sport means we've been able to make a lot of things feel more intuitive than in the multi-sport app, where we have to cater not just for rugby but also sports as diverse as motorsport, golf and tennis."

"We have re-oriented the navigation tabs away from the rather specific needs seen in the multi-sport app (Picks, Pool Results, Leaderboards etc) towards more high-level "objects" from the game (Matches, Leagues, Profile), which enables us more elegantly to present all the relevant content and features about each of these in their own, logical spaces. Each screen is really a Version 1.0, and based on feedback and our own plans we will continue to evolve and improve them over the coming weeks and months."
A key thing to note from this quote is that Pools have been renamed as Leagues on the new app. We are aware that this may cause minor confusion during the first couple of uses for those of you that have played Superbru for many years, but this makes no difference at all to how they work, and is more a reflection of what we've noticed many new users calling them anyway. We like 'Leagues' as a more obvious place to find leaderboards, as well as the fact that it's a move away from the slight betting connotations that the word 'pools' can carry since we're a totally free-to-play platform.
Though I'll now be breaking Superbru Rugby down by going through each of the major tabs on the app as a way of providing order to this explainer article, it's important to note that the new app is intended to be very fluid meaning you can access lots of different areas of Superbru regardless of which tab you are on. This will make more sense as we go on!
Home
After initially opening the app and either signing up as a new user or logging in with your existing Superbru profile, you'll be met with a new 'Home' tab, consisting of a range of widgets that will vary between showing upcoming predictions that you need to make, recent news articles, graphics to engage with and discuss, information about upcoming fresh tournaments, or the live status of an important ongoing match depending on when you login.
Your home tab is specific to you, meaning alerts/reminders will be tailored to your pick status. Articles and graphics that are often posted on our social media channels will be integrated into the app, and the ability to engage and comment on these features will give you a chance to interact with others in our community.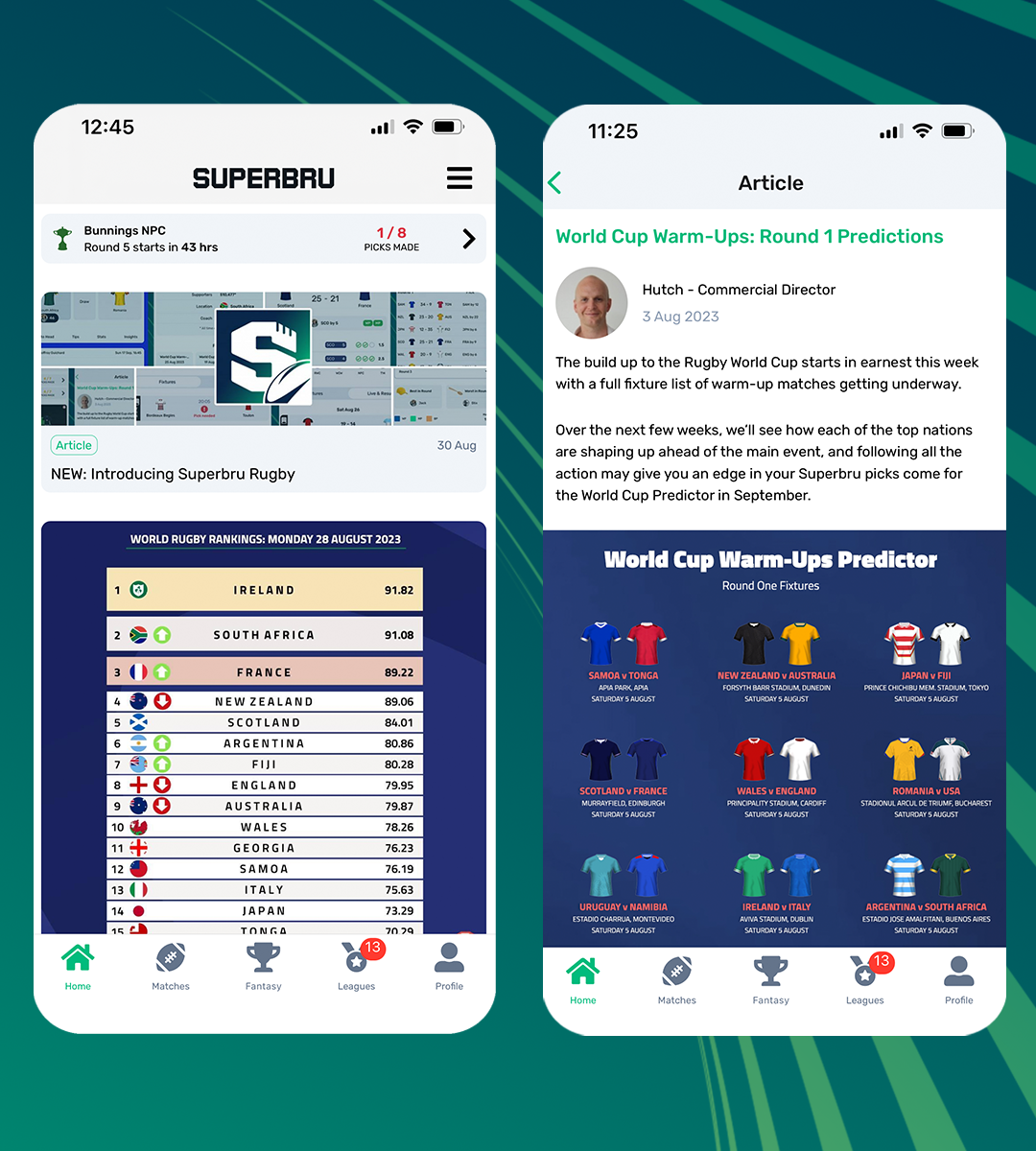 Matches
The matches tab will be slightly more familiar to those of you that use our current app, though there are a number of significant changes. Matches houses both upcoming fixtures and live scores/results, and you can filter your view of the fixture lists to either show all of the tournaments you are playing or to focus upon a specific tournament we cover that you may or may not be playing via the trophy icons at the top of the screen.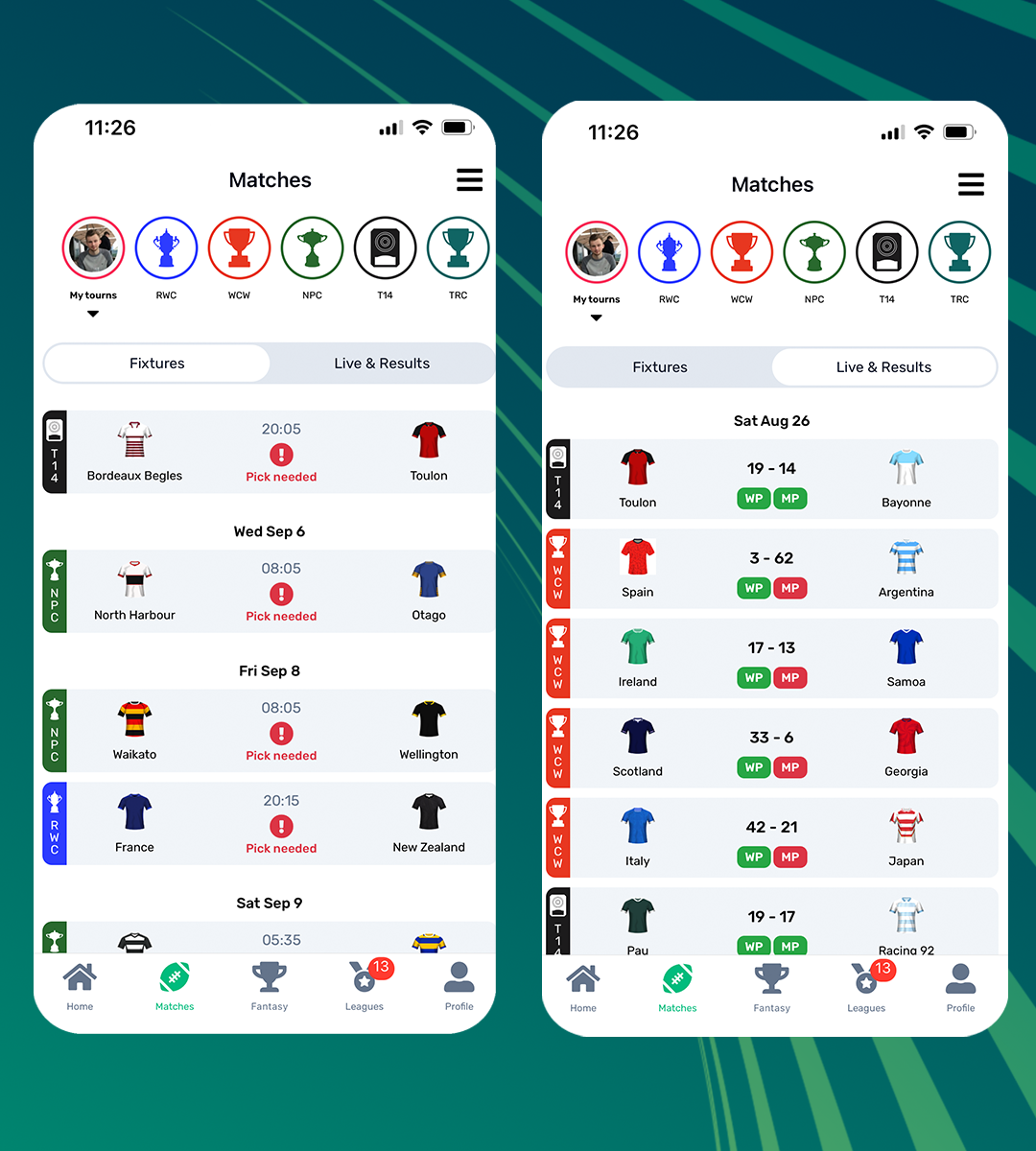 From the fixture list of upcoming matches, you tap on a specific fixture to be taken to the predictions page for the tournament where you can make your picks. Note: If while on the Home tab you selected a 'Predictions Needed' widget, you would of course be taken straight through to the predictions page without needing to go to the Matches tab at all.
When it comes to making a prediction, we've kept things as straightforward as possible since it's the primary function of Superbru. You simply select the team you think will win and you'll then be met with a scrollable pop-up to select the number of points you believe they will win by. If you're brave enough to predict a draw, simply tap 'Draw'.
Each match prediction area is surrounded by information that can help you with your pick. By tapping the name of the stadium the match is taking place at you can view data including recent results for that venue, and by tapping head-to-head you can view all previously covered results between the two teams on Superbru.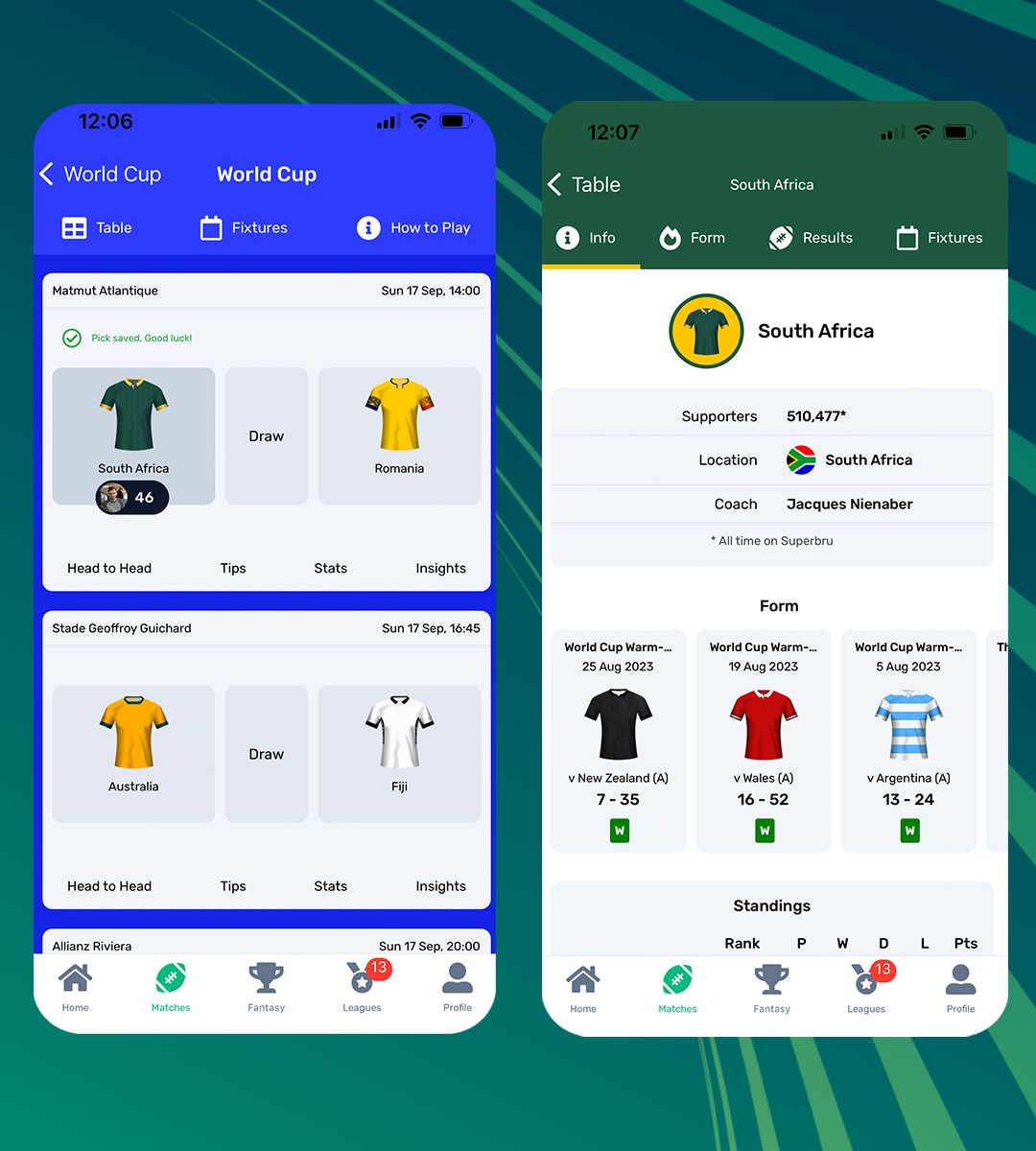 This head-to-head feature is now fully interactive, meaning that if you tap on any of the results, you are taken to a specific result page for that game showing the predictability of the outcome and what you and your friends predicted if you were playing Superbru at the time.
From here, you could tap on either of the team's jerseys to view a full team profile which includes lots of data including their results across all tournaments in the past 12 months, or you could select the name of one of your pool mates next to their prediction to view their Superbru Rugby profile - we'll come back to profiles a bit later!
Other tabs on the picks page include the ability to view team lineups and Superbru Insights in certain tournaments such as the
Rugby World Cup
, United Rugby Championship, Gallagher Premiership, Super Rugby, Rugby Championship and Six Nations (Insights are a Superbru Premium-only feature providing information such as referee, team news and other relevant context to ensure you have the lowdown before making a prediction).
Fantasy
I'm afraid you'll need to wait a little longer for a more detailed fantasy rugby article outlining specific upgrades, but we're excited to share that a fantasy rugby tab featuring an improved game model based on your feedback will be a key part of Superbru Rugby.
Our
Rugby World Cup Fantasy
game that is already available to join is playable on our website and multi-sport app, but our new-look fantasy rugby offering will arrive on Superbru Rugby for the 2023/24 club rugby season with official United Rugby Championship and Gallagher Premiership tournaments.
For now, the Fantasy tab simply advises you of this news, but work is ongoing to deliver those new tournaments to you soon. Screenshots and further details will follow nearer launch!
Leagues
In the same way the Matches tab includes both upcoming fixtures and previous results/live scores, we've merged all aspects of Leagues into a single tab meaning this is the place to come to view what is divided into Pool Results and Leaderboards on the multi-sport app.
After selecting 'Leagues', you'll be met with a screen where you can select the relevant tournament (if you're playing more than one) and it will then show a list of your leagues as well as options to create/join new ones. This is also the place where your league invitations will appear - meaning you can accept/ignore invitations in this area as well as sending them out and managing your league if you're a captain.
Once you select a league, you can then choose to view individual
match results
which show what everyone predicted for a certain scoreline,
round standings
which show the number of points each player has managed in a certain round (formerly pool results), or
leaderboard
to view the all-important current overall standings.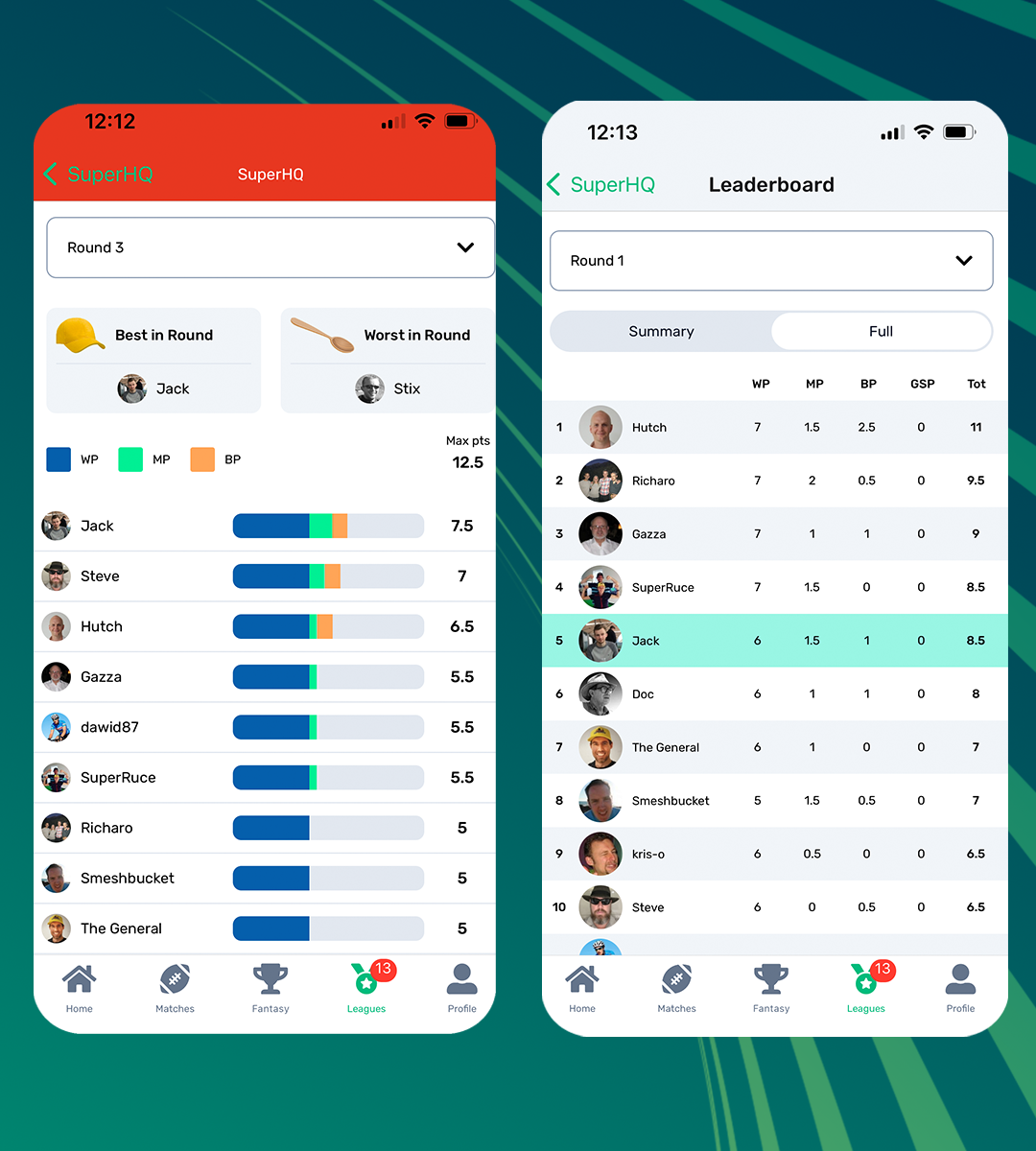 By selecting a player's name within round standings or matches, you can view a summary of their picks for the ongoing round, while selecting a player's name on an overall leaderboard will give you a view of their performance throughout the tournament as a whole including their rank in each of the leagues they are competing in.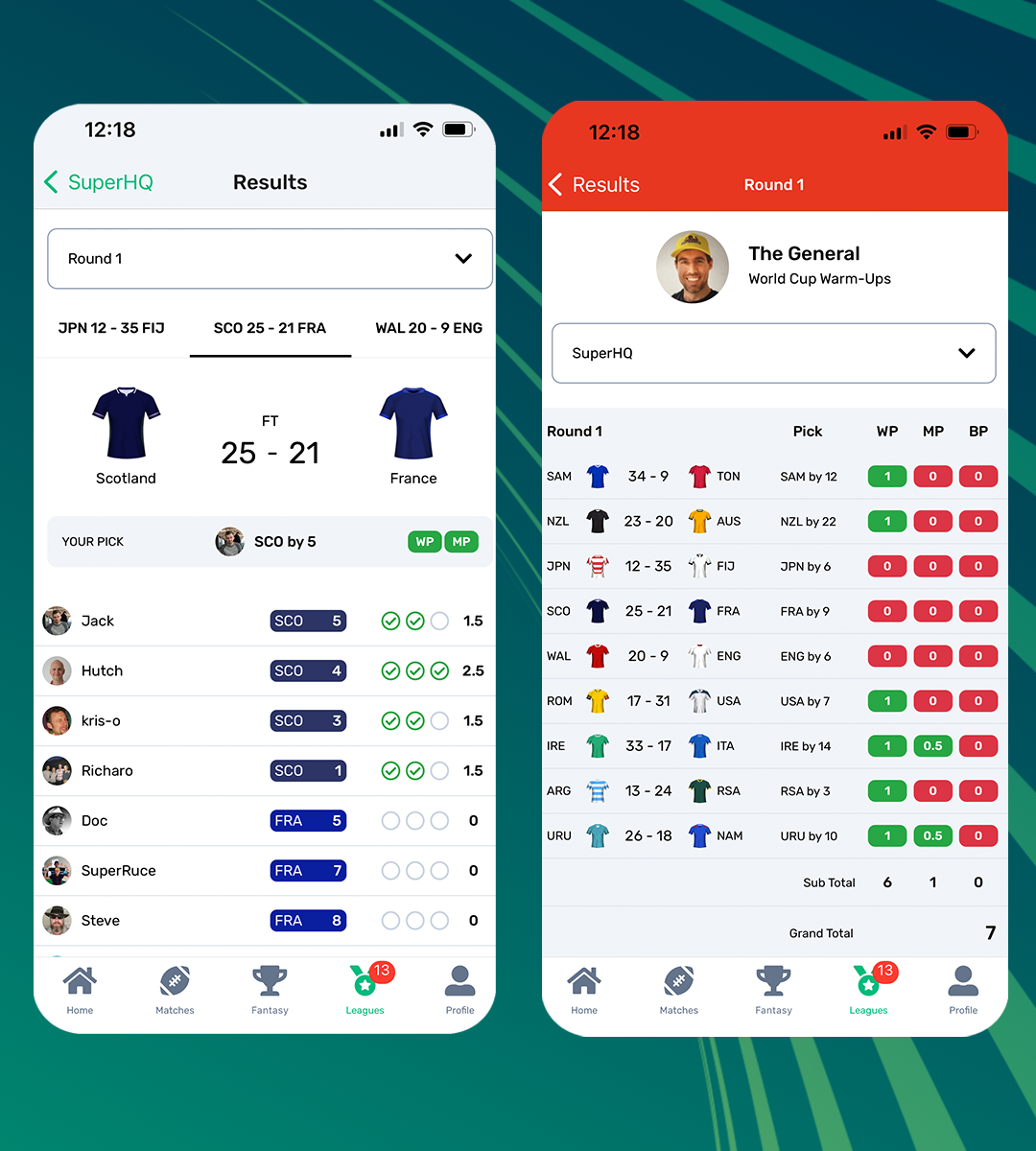 From any of these screens, tapping on a player's name/picture for a second time will take you to their main Superbru Rugby profile, which brings us to the 'Profile' tab on the app.
Profile
When visiting the Profile tab, or after tapping on your own/anyone else's profile from anywhere else in the Superbru Rugby app, you can find a detailed history of prediction performance.
In addition to the headline data which shows your overall rugby prediction accuracy in your Superbru career (which serves as a great marker to compare with mates if you're looking to prove you know more about rugby 😉), tournament-specific data is also available to show you which competitions you have performed best in. A detailed summary of your Superbru Rugby 'CV' allows you to view how many seasons you've played in each of the tournaments we run, how many picks you've made and what your accuracy % has been, with a more detailed breakdown of your league performance in those tournaments also visible once you select them.
Over time, we'll be looking to add more features in this brand new area including a 'trophies' element to reflect league successes over time, but this very first version of Superbru Rugby already provides a full breakdown of your performance.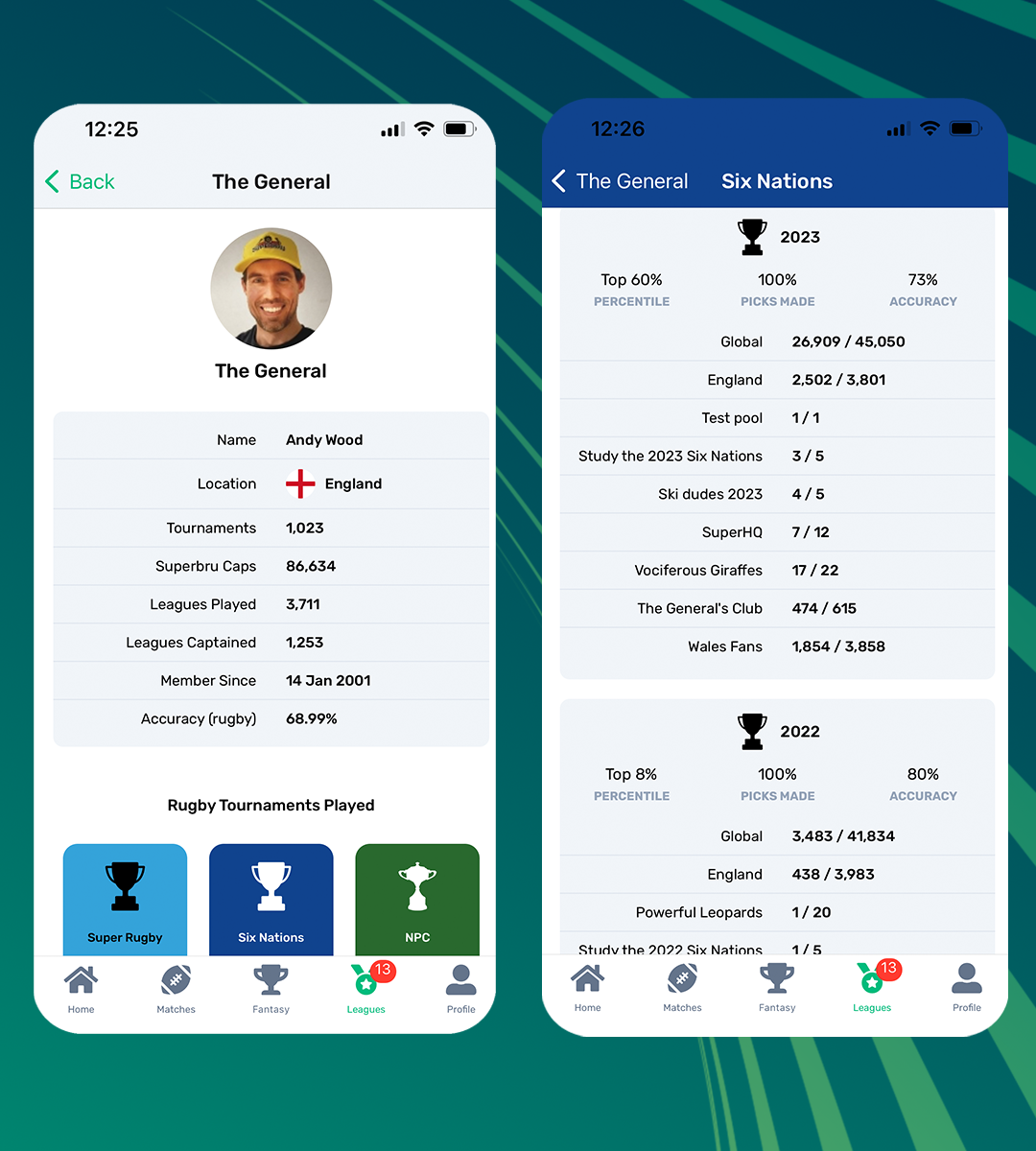 Superbru is all about competition and we hope that these profiles will provide a fresh way in which to compete against your friends or even just against yourself, as making predictions in various rugby tournaments provides you with a challenge to try and improve your overall accuracy percentage and collect trophies.
As you can see in the screenshots above, core Superbru stats such as your number of caps and the number of tournaments you have played across our entire platform in multiple sports remain as another measure of your wider predicting career.
Other Features
Premium
Those of you who support Superbru with a
Premium subscription
will continue to enjoy the Premium experience on our website and app as well as on both of our new apps - Superbru Football and Superbru Rugby.
As mentioned above, this will include Superbru Insights for a number of major tournaments, as well as an ad-free experience.
Initially, until we've had additional time to integrate the feature and gain app store approval, upgrading to
Superbru Premium
will not be possible within the new Football and Rugby apps meaning if you are keen to become a
Superbru Premium
user, the best way in which to do so is via our website
here
.
We've avoided raising the monthly subscription fee for
Superbru Premium
for a number of years now despite the current economic climate, but a small increase is expected in the coming months. With that in mind, now is a good time to upgrade to a monthly or annual subscription at the current rate, which represents excellent value ahead of the new 2023/24 seasons as well as the Rugby and Cricket World Cups.
Miscellaneous
This article is probably already long enough for you all so I'll leave you to explore the app yourselves as soon as it's available (the roll-out will be gradual) but you will hopefully find Superbru Rugby to be a generally smoother, faster experience than the original Superbru app.
League creation is easier than ever and sharing said league via whatsapp or other such methods is also nice and simple, while other previously web-only features such as editing your profile photo will also be available in the new app directly from your camera roll or even from your camera itself for those that are confident enough to pop a selfie and instantly upload.
We hope Superbru Rugby improves your experience on our platform throughout the 2023/24 season and beyond!
UPDATE: iPhone users can download Superbru Rugby from the App Store by clicking here.UPDATE: Android users can download Superbru Rugby from the Play Store by clicking here.Please note
: Should you have any issues with this inaugural version of Superbru Rugby, please provide feedback to support@superbru.com or via the dedicated feedback tab we have built into the side menu section of Superbru Rugby for the first few weeks so that we can ensure the updates that we already plan to drop in the following weeks with further improvements can also include fixes to any problems you have found.