Euros Predictor: Round 1 Predictions
Euro 2020 finally gets underway tomorrow and after having to wait so long for this tournament, it's fair to say I'm quite excited! I'm not going to spend long chatting about the tournament as a whole because we've got lots of Round 1 matches to discuss and I've already joined other members of the team in giving some
outright predictions which you can find in this article
.
As the comments on that piece reflect though, France are widely considered to be the team to beat. There are several other very strong nations but the strange format of the group stage with a number of 3rd placed teams also progressing to the knockouts means that every match is going to be vital in this tournament. If you win your Round 1 match, there's a very good chance that you'll make it to the Last 16.
I'll be sharing my picks with you all ahead of each round and feel free to tell me in the comments which ones I've got wrong. I hope you all enjoy watching the games as much I will and make sure you've joined our
Euros Predictor game
and/or our
Euros Odds-based Fantasy tournament
and sent our your invites to friends and family before Turkey v Italy kicks-off tomorrow night!
Here are my picks for each of the Round 1 fixtures shown below.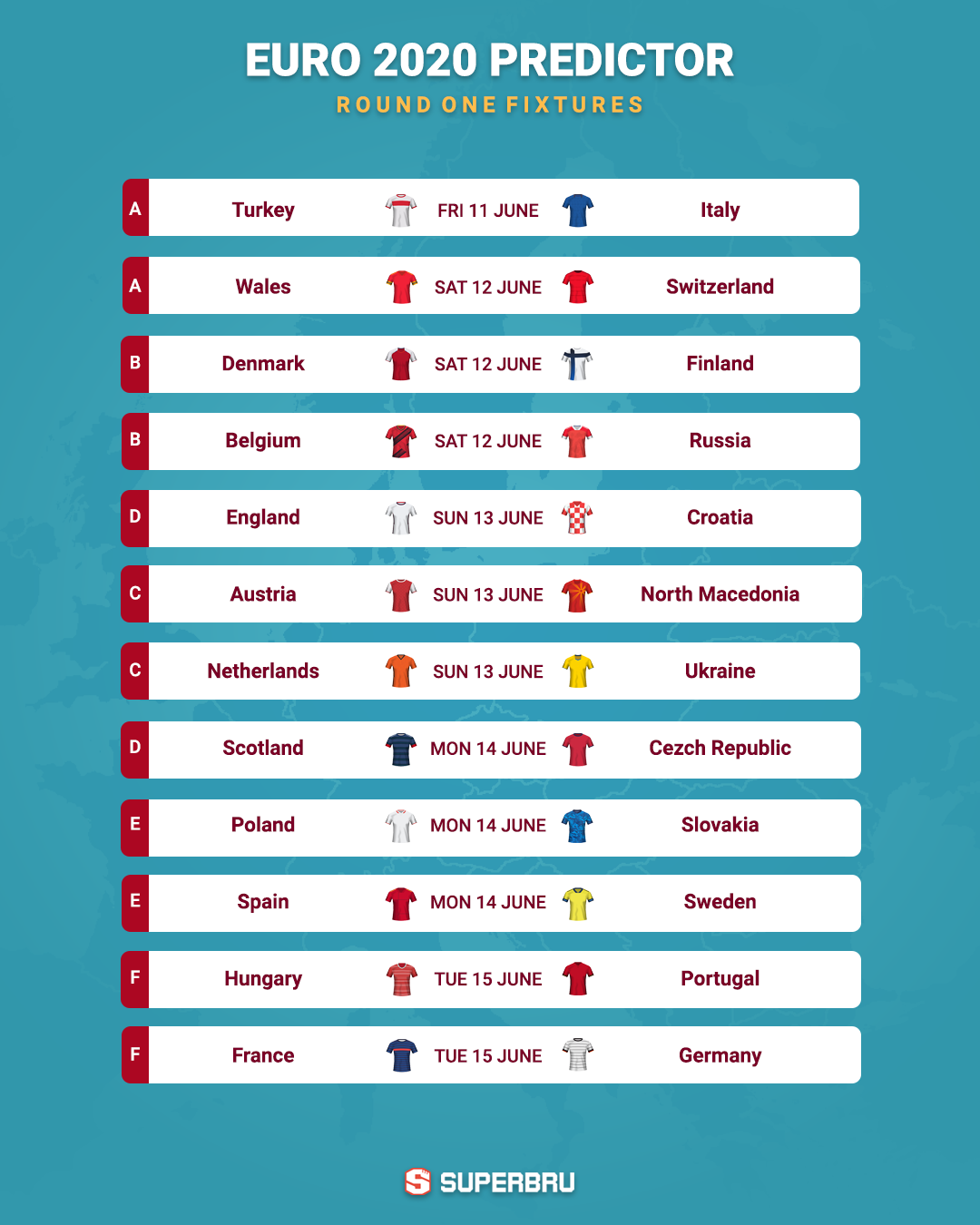 Turkey vs. Italy
This should actually be a really good opening game because Italy look like a strong side and Turkey definitely have the ability to surprise a few. Particularly since the game is being played in Rome, it's hard to go against Italy first up, though I am tempted by a draw. I can see Turkey scoring through either Yilmaz or a set piece thanks to the quality of Calhanoglu but Italy's midfield is absolutely packed with talent and they should control the majority of the game.
Prediction: Turkey 1-2 Italy
Wales vs. Switzerland
These two will both feel they can challenge Turkey for second spot in Group A and I'm interested to see how this one goes because both have some good players but are also likely to play quite cautiously. On paper, it's Switzerland who have the better squad in my opinion and I'm wondering if one goal will be enough for them. Bale is obviously a threat for Wales but I think the Swiss will make themselves tough to score against with a decent back three.
Prediction: Wales 0-1 Switzerland
Denmark vs. Finland
Denmark really ought to win this game. Finland have done incredibly well to qualify for their first major tournament but are very reliant on Teemu Pukki for goals and I'm not sure he'll get much supply as Denmark's midfield options are excellent.
Prediction: Denmark 2-0 Finland
Belgium vs. Russia
In my outright predictions I had Belgium to flop but Lukaku as top scorer which I know seems quite contradictory but my thought process is that they could really hurt some of these Group B teams before struggling against a stronger opponent in the Last 16 or quarters. For games like this where they're clearly superior, Belgium have a lot of very good attacking players. I'm a little unsure about Russia for now and though they'll have home advantage like they did in the 2018 World Cup where they performed well, I don't think they'll be able to cope with Belgium.
Prediction: Belgium 3-1 Russia
England vs. Croatia
England games will obviously be heart against head for me throughout this tournament and while I'm more optimistic than I have been for a long time about England's chances in a major tournament, I think this is quite a tough start. I see England as being far more likely to win this game than Croatia but my pick is a draw. Though they can't match England's attacking quality, Croatia's midfield options of Modric, Brozovic, Kovacic and Pasalic are excellent and you'd expect this to be very tight. As many are pointing out, you might well be better off finishing 2nd rather than 1st in this group but I don't think we'll see the kind of tactical results in the opening round of matches that we perhaps did towards the end of the World Cup group stages.
Prediction: England 1-1 Croatia
Austria vs. North Macedonia
I'm not expecting too much from either of these sides but North Macedonia are the famous 'underdog' in this tournament having qualified through the lowest Nations League pathway. Austria have a lot of good Bundesliga players with the likes of Marcel Sabitzer, Konrad Laimer, Stefan Lainer and obviously David Alaba (technically now LaLiga) but I don't know much about how well things come together on the international stage so I'm interested to see how they play. North Macedonia have a couple of notable names including Goran Pandev and Leeds' Egzijan Alioski and they'll surely just have a go in this tournament but I expect Austria to win.
Prediction: Austria 2-1 North Macedonia
Netherlands vs. Ukraine
These are the two teams I expect to progress from Group C but before a ball is kicked you'd say the Netherlands are the favourites to finish top. It will be great to see the Dutch back at a major tournament (first since 2014) but they're a bit of a question mark heading into this tournament, particularly now that Frank de Boer has taken over from Ronald Koeman since the Euros were pushed back last year. Van Dijk is obviously a big loss and the Netherlands have also now lost van de Beek to injury. They've plenty of other good players but Ukraine are often awkward opponents and I think they might be able to get a point out of this. The fact this is in Amsterdam and the quality of Memphis Depay has me hesitant about going with this upset but for now I'm sticking with it.
Prediction: Netherlands 1-1 Ukraine
Scotland vs. Czech Republic
Talking of awkward opposition, I think both of these teams will fall into that category in Group D, particularly the Czech Republic who won't be as good as Scotland tactically I don't think but there's plenty of physicality and experience there. Scotland have a good coach in Steve Clarke and plenty of talent in their squad but they definitely lack a goalscorer up front unless Che Adams can deliver the goods now that he's joined them. Given the lack of a quality striker to finish chances created, I can just see the Czechs winning this with a Soucek header or something but maybe that's just because I've seen it so often in the Premier League this season! Let's go for a draw instead.
Prediction: Scotland 1-1 Czech Republic
Poland vs. Slovakia
Poland probably have the greatest striker in the tournament but Lewandowski hasn't scored too many at major international tournaments, mainly because Poland (understandably) struggle to produce players of a similar quality. That said, I think they should win this game because Slovakia look quite weak on paper and very short of goals. I expect Poland to be fairly solid in this group stage and perhaps finish just ahead of Sweden though it'll be interesting to see how the Swedes get on against Spain...
Prediction: Poland 2-0 Slovakia
Spain vs. Sweden
After slightly controversially only naming 24 players for this tournament rather than 26 (the fact that there's no Real Madrid players was especially controversial in the Spanish capital), Spain have also now struggled with a couple of players testing positive for coronavirus. Preparations will no doubt have been at least slightly affected but you'd still expect them to find 3 points in this opener even though this isn't a Spain side that's as strong as in previous Euros tournaments. Sweden are always fairly solid but might struggle in attack I think, particularly now that Kulusevski is also out with a positive test. There's some young players with real quality in this Spanish squad such as Ferran and Pedri so I'm excited to watch them and think they'll start off alright here.
Prediction: Spain 2-0 Sweden
Hungary vs. Portugal
Finally, we reach the 'Group of Death' which for poor Hungary really does look scary. Dominik Szoboszlai, probably their best player (certainly in attack), is out of the tournament injured and despite having home advantage and apparently a full stadium, Hungary are very unlikely to manage a point in this group. Portugal are obviously the current holders and will be tough to stop again given both their technical quality and their ability to soak up pressure and counter.
Prediction: Hungary 0-3 Portugal
France vs. Germany
Like the first match of this tournament, this is slightly confusing because Germany are at home for this fixture despite being listed second. Playing in Munich definitely does make this match a slightly tougher call in my opinion as they're obviously two very good teams but it's so hard to look beyond France when their squad is of such a high quality. German fans will be hoping things click at the right time this summer but the recent loss against North Macedonia and the 6-0 defeat in Spain raise alarm bells and I think you have to go France.
Prediction: France 2-1 Germany
Good luck to you all with your opening picks!
If you'd like to enjoy Superbru ad-free on both our site and app throughout the Euros then you can support us by going Premium. Premium users can also access Superbru Insights for the Euros - a feature that provides a match preview, team news and other useful data for each fixture on the picks pages. Click here to learn more.