Coming up this month on Superbru: August
We still have the final stages of a few major July events to enjoy - including the remaining rounds of our Tokyo Games daily fantasy tournament and a decisive final Test in the Lions series against the Springboks - but we've now reached August and that means the start of a fresh football season!
As you can see from the graphic below, this monthly update will mostly be focused upon the other tournaments we'll be running this August as I have already published a different
article focusing specifically on the football leagues we are running games for this season which you can find here
. The Scottish Premiership kicked-off last weekend while the first fresh football predictor tournament beginning this month on Superbru is the
Championship
which begins on Friday night when Bournemouth host West Brom.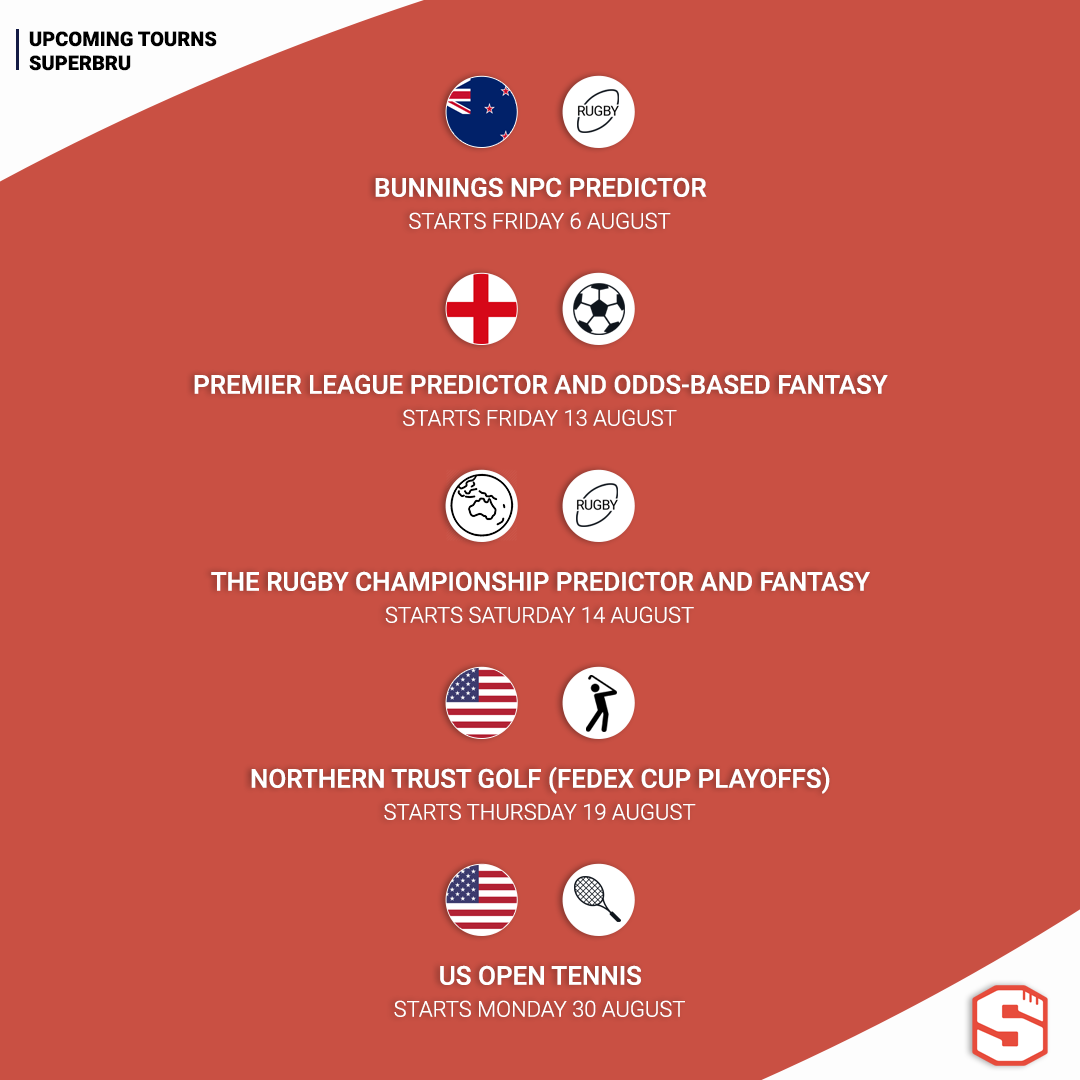 Before I go through things one by one as usual with links to each game, the tournament lots of you have asked us about in recent days is a
fantasy game for the Rugby Championship
and again, as you can see on the above graphic, we now have that fantasy tournament live and available for you to join in addition to the predictor which was launched a little while ago. SANZAAR only released their revised schedule for the tournament yesterday and the opening weekend will now see a New Zealand v Australia fixture in addition to South Africa v Argentina. Fingers crossed the new schedule can go ahead smoothly and we don't see further issues caused by changes in restrictions and the trans-Tasman travel bubble!
A few of you have also asked us about this month's Vuelta a Espana but unfortunately, as was the case for this year's Giro d'Italia, we won't be running a fantasy game for that event. As I mentioned back in May, cycling tournaments require more work from our side than almost any other sport but are played by fewer people than most of our games. We did of course still run a Tour de France game as planned in June and we hope to cover more Grand Tour events again next year once we've (hopefully!) had a lot more months of continuous sport between now and then.
On to the first tournament starting this month then and we have some rugby in New Zealand to kick us off.
Friday 6 August: Bunnings NPC
Formerly the Mitre 10 Cup, the Bunnings National Provincial Championship is the professional rugby tournament for New Zealand's provincial unions and gets underway this Friday when Manawatu take on Counties Manukau in the Championship Division (our game covers both that and the Premier Division). Last year, Tasman won the 'Mitre 10 Cup' with a 1-point win over Auckland in the final, retaining their title from 2019.
Friday 13 August: Premier League Predictor and Odds-based Fantasy
As previously mentioned, I won't be going through every single new football tournament we'll be running having already done so, but our main game for the 2021/22 campaign is the Premier League Predictor which begins on Friday the 13th when newly promoted Brentford face Arsenal.
In addition to making your score predictions each week, our Odds-based fantasy game is a daily fantasy tournament that requires you to pick 3 goalscorers and a goalkeeper for each day of PL action. The number of points you receive for a goal scored (or clean sheet in the case of the GK) is dependent on the odds of them finding the net meaning that rather than receiving a set number of points for a goal, you'll receive far more points if you correctly back a defender of midfielder to score than you will if picking a team's main goalscorer such as Harry Kane or Mohamed Salah. You will be able to make your selections for the opening night fixture as soon as odds are available.
Saturday 14th August: The Rugby Championship
The day after the Premier League begins we have another major tournament starting as the Rugby Championship begins in New Zealand where the All Blacks will take on Australia. Just a week after their decider against the British & Irish Lions, South Africa will take on Argentina the same day in Port Elizabeth.
After that opening round and the second match between the Springboks and Argentina a week later (also at Nelson Mandela Bay Stadium), the action shifts to Australia where New Zealand will take on Argentina in back-to-back games and South Africa will face the Wallabies. The All Blacks will only return to NZ for their matches against South Africa in late September and early October.
As I said near the start of this piece, we have both a predictor game and a fantasy game available for you to play.
Thursday 19th August: Northern Trust
As usual, the FedEx Cup Playoffs begin with the Northern Trust and this year it starts on August 19th at Liberty National. Last year, Dustin Johnson won this event (by miles) at TPC Boston.
Monday 30th August: US Open Tennis
Lastly, the final tennis major of the year gets underway right at the end of this month. Novak Djokovic will be aiming to complete the set and win his fourth major of the year at Flushing Meadows. If fit, it's hard to see anyone stopping him, though he has had just had a rough time at the Olympics where he was defeated by Zverev in the semi-finals before losing the Bronze medal match against Carreno Busta and withdrawing from the mixed doubles. Dominic Thiem is the men's US Open defending champion.
In the women's tournament, Naomi Osaka was the 2020 winner and she could return for this tournament after withdrawing from the French Open and missing Wimbledon, having just competed in Tokyo at the Olympics.
Other bits
After a break of about a month, our
Test Cricket Fantasy
tournament resumes today as England take on India in the first of their 5-Test series. That match is the start of a new World Test Championship cycle after New Zealand defeated India in the final of the inaugural campaign.
We also now finally have a concrete date for the IPL's return after the 2021 season was suspended midway through due to COVID-19. The tournament has been moved to the UAE and will resume on September 19th - our predictor and fantasy games will be updated to reflect this soon. There's still a long way to go in this year's tournament as 27 group stage games still remain before the play-offs take place in October. This year's Caribbean Premier League looks set to take place just before this remainder of the IPL begins in order to avoid a clash.
Finally, as you may have already seen through the tournament menu/pool invitations, our predictor game for the new
United Rugby Championship
is now available to join properly. The 'URC" is the successor to 'PRO14' which will also feature South Africa's ex-Super Rugby franchises. We're yet to have fixtures for that tournament, but we've already released
this article that you can read to find out all about what the 'URC' is and how things will work
.
Go well with your picks this month!