Coming up this month on Superbru: April
With March now nearly complete where we've seen Wales win the Six Nations, the Champions League and Europa League Quarter-Finals draws made and Justin Thomas win the Players, it's time to look ahead to April.
In addition to providing a quick run-through of the tournaments that are starting each month in these articles, the aim is to also provide you with a general update on notable things that are/have been going on in the world of Superbru such as format changes, app updates etc. as and when they come.
This month is the first in which I have such news to share, as we have a little news update to kick things off relating to one of this month's fresh tournaments.
NEWS: Tweaks to the scoring system for our T20 fantasy cricket games
This is a big year for T20 cricket with the World Cup due to take place in India in October. Though not as significant/noticeable as other recent scoring changes we have made in various tournaments, it's important to draw attention to some updates we have made to our fantasy cricket scoring system for those of you that will be playing IPL fantasy this April.
In order to keep up with the T20 game and how many runs are often scored nowadays, we've looked to slightly increase the number of points on offer for bowlers to ensure that bowling points remain a good motivation when selecting players as well as the points for runs with the bat and hitting sixes.
As always, you can
check out the scoring system in full by heading to the scoring info section within the tournament
. When you do, you'll see that we have tweaked the economy rates required for bowlers to pick up points for keeping things relatively tight in the upcoming IPL while also increasing the points received for wickets (now 3 pts) and maidens (now 2 pts) by a point each.
Partly as a consequence of this change but also because of T20 stats now often being recorded with '4-wicket hauls' and '5-wicket hauls' as recognised measures, bowlers will now only receive a bonus point for 4 wickets in an innings rather than 3 wickets - 5 wickets in an innings will still be rewarded with 2 bonus points. These changes have been made for T20 tournaments only. No changes have been made to Test Cricket Fantasy or upcoming ODI fantasy tournaments.
As with everything else in this article, feel free to ask any questions you might have in the comments and I'll do my best to answer them.
Right then, let's move on to what's coming up in April and in addition to the European knockout stages in both football and rugby, we have plenty of brand new tournaments ready for you to join.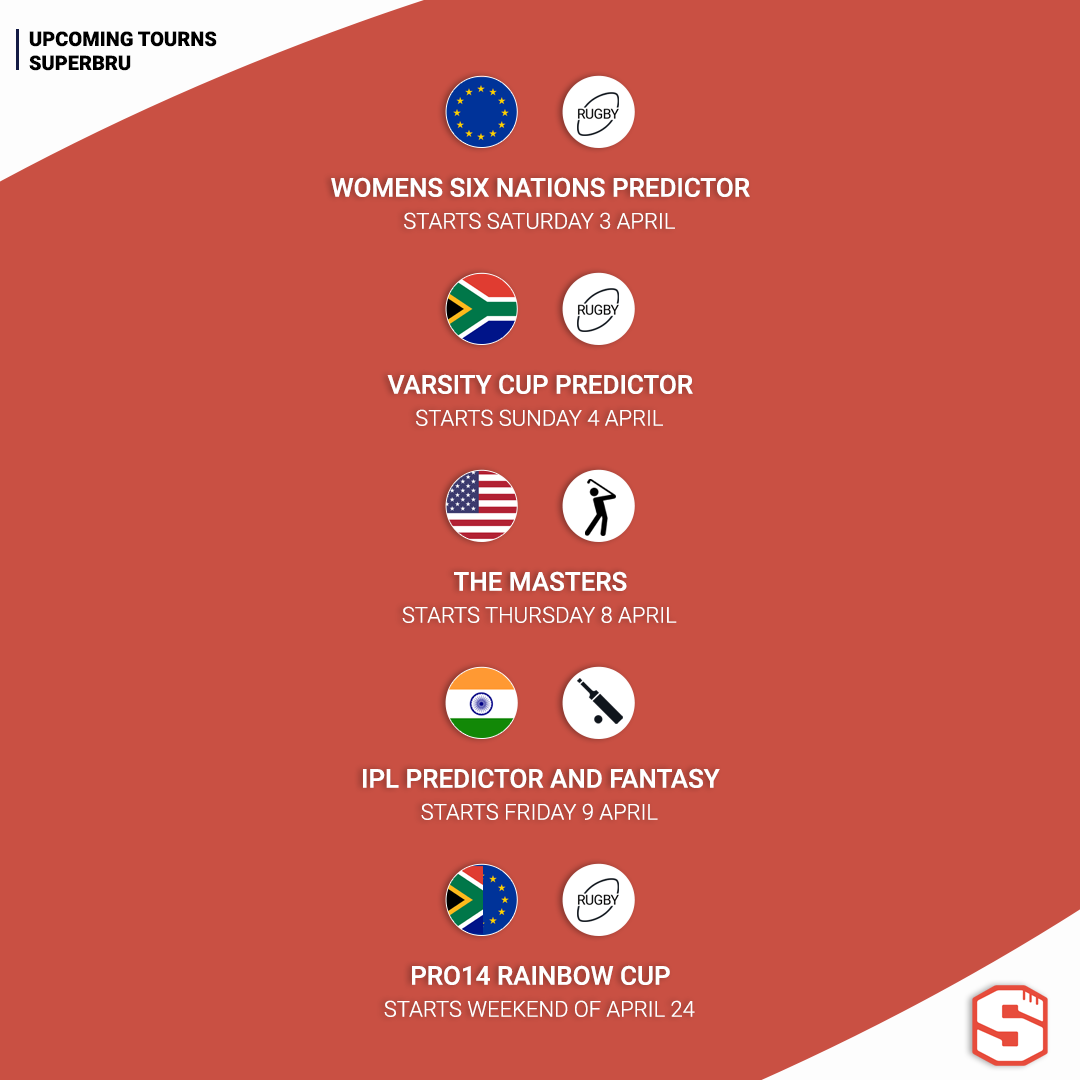 Saturday 3 April: Women's Six Nations
First up this month we have the Women's Six Nations which this year will be adopting a slightly different format to the usual. Due to changes in the calendar because of coronavirus and the RWC (which as it turns out, is actually no longer happening this year), we'll see the 6 teams divided into two pools of 3 teams.
After 3 rounds that see each team play the other in their group, there will then be a final round that will be similar to what we saw in the Men's Autumn Nations Cup last year with 1st v 1st, 2nd v 2nd and 3rd v 3rd across the groups. England are the current holders.
Sunday 4 April: Varsity Cup
Next up we have the Varsity Cup which starts the day after the Women's Six Nations. This year, the tournament will be played in a bio-bubble in Pretoria with only 3 venues set to host matches.
Varsity sport in South Africa was suspended last year before a 2020 winner could be crowned in this competition as just 6 rounds were played so it'll be interesting to see how things play out in 2021 and which teams can get off to a good start.
Thursday 8 April: The Masters
After last month's Players Championship, we now have one of the biggest golf tournaments on the calendar coming up in April as the Masters returns to its usual slot. In 2020 we saw the world's top players compete at Augusta in November rather than April due to coronavirus but we're back to normal (at least in terms of the schedule) for 2021.
Dustin Johnson won his first Green Jacket in the 2020 competition with a ridiculous record score of -20.
Friday 9 April: IPL
Masters week will be made even better for sports fans by the start of the IPL which begins on Friday April 9th. This is another tournament that was played later than usual in 2020 so it doesn't feel too long ago that Mumbai Indians lifted yet another title in the UAE but the tournament is back in India this year and, as we saw in the recent Test series between India and England, there's hope that fans might be able to attend for at least some of the matches.
In our predictor game, you simply pick a winner for each match as well as a margin category that estimates how close the result will be based on runs, wickets and balls remaining:
In our fantasy game, you select a 4-man team for each and every day of action - most rounds are therefore based on a single match though there are occasionally double-fixture days. Your 4-man team consists of 2 batsmen, an all-rounder and a bowler with points awarded for a variety of things that you may well have already read up on after seeing the news update at the start of this article.
Saturday 17 April: MLS
The new MLS season has a later than usual start this year and will eventually get underway on April 16th/17th depending on where you are in the world. The schedule has only recently been released and our predictor game is now available for you to join.
After a very disjointed season in 2020 that was broken up with a separate 'MLS is back' tournament midway through, let's hope for a smoother campaign this time around!
Saturday 24 April: Rainbow Cup
Finally, we have the Rainbow Cup. We've been very excited for this event as it'll be awesome to see South Africa's ex-Super Rugby franchises take on the Pro14 clubs and it should make for a great Superbru tournament.
In case you missed it,
you can read a more detailed piece that was posted a couple of days ago on the Rainbow Cup, here.
I hope you're all well and enjoy the sport that April has to offer. It's set to be a busy one!