NEW: Rainbow Cup tournament now on Superbru
In news that is exciting for all rugby fans but especially those in South Africa, Pro14 have now officially confirmed that their new 'Rainbow Cup' tournament will begin on the 24th April.
The Rainbow Cup is essentially set to be a curtain raiser for next season where the Pro14 is set to become 'Pro16' as the four South African franchises that had been competing in Super Rugby head north to Europe. This means the Rainbow Cup will be an exciting first chance to see some Northern Hemisphere v Southern Hemisphere club rugby as the Bulls, Lions, Sharks and Stormers prepare to take on some of Europe's top clubs including Leinster, Munster, Scarlets and Glasgow. Leinster will be the team heading into this new event with the most momentum after defeating Munster in Saturday's Pro14 final to win a fourth consecutive title.
As was perhaps inevitable given the times we are in, Pro14 have had to slightly alter their initial plans for this tournament that some of you will no doubt have read about when the Rainbow Cup was first announced. Here's all you need to know about how the event will actually play out.
Rainbow Cup: The Format
The Rainbow Cup will be made up of 6 'regular season' rounds and a final. All teams will be ranked on a single league table. It's a nice and simple format that will see the top two teams on the table compete in the Rainbow Cup final on June 19th.
Due to the number of travel restrictions still in place because of the coronavirus, the first three rounds of the tournament will be made up of derbies (yep, we know, plenty of recent 'Historic Results' to go off when making those picks!). However, Pro14 have confirmed that the games in Rounds 4-6 will see the South African franchises play away games in Europe against Pro14 sides for the first time.
It's not yet known exactly what those fixtures will be but we do now have fixtures for the opening 3 rounds. Exact dates and kick-off times are still to be confirmed but you can view the schedule in our Rainbow Cup predictor game which is already live and available for you to join:
You can join our Rainbow Cup predictor now by clicking the + icon in the top right corner of our app's home page and selecting 'Join a tournament'.
In addition to the derbies taking place across Ireland, South Africa and Wales, we will see a couple of 'Scotland v Italy' matchups in Round 1 before the Scottish and Italian clubs meet in back-to-back domestic derbies across Rounds 2 and 3: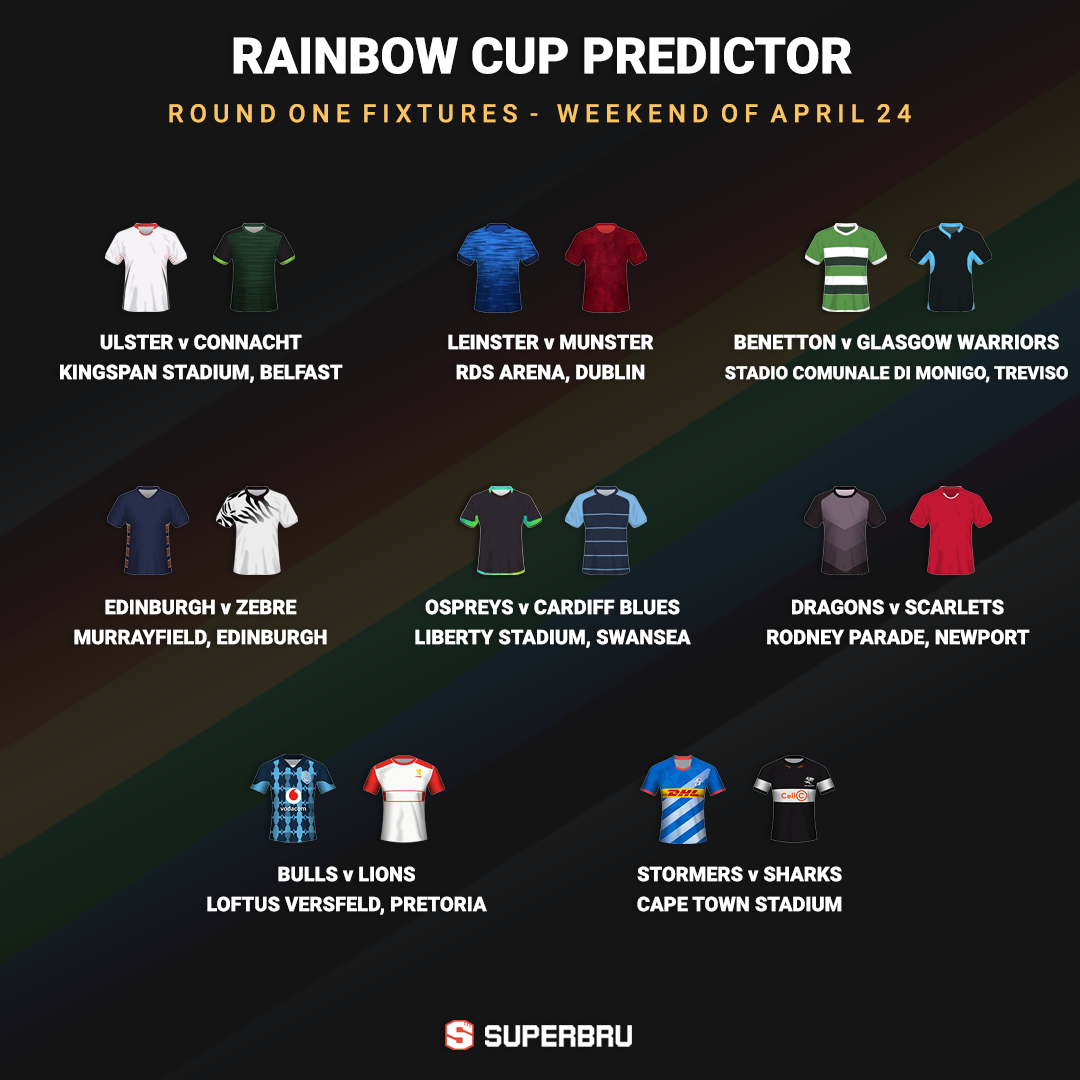 The Rainbow Cup on Superbru
You'll notice when joining the tournament that the opening 3 rounds of fixtures are actually 4 rounds on Superbru but this is just to ensure that the weekly structure is maintained so that it's easier to keep up with your picks - the South African sides are playing their 'Round 2' fixtures a week earlier than everyone else when some Pro14 teams are busy with European fixtures. The schedule has been created in this way to allow the SA teams time to travel to Europe and quarantine when their opposition are completing their Round 3 fixtures.
This Superbru tournament should be a great opportunity to reignite the pool rivalries many of you will have last enjoyed during Super Rugby. We're excited to see how South Africa's teams fare in Europe and it will of course also be very interesting to see some early Lions v Springboks individual clashes in certain games ahead of the tour of South Africa that will start shortly after this tournament.
The predictor game will work just as you're used to in our existing Super Rugby/Pro14 games. GSPs will be in place for each regular season round aside from the 2-match round on May 1st where only South African teams are in action. Superbru Insights will be available in this tournament for
Premium brus
.
So make sure you join our tournament nice and early and get your friends/pool mates/fierce rivals invited to a pool ahead of kick-off on April 24th. We hope you're as excited as we are to see how this plays out!
You can join our Rainbow Cup predictor now by clicking the + icon in the top right corner of our app's home page and selecting 'Join a tournament'.
Feel free to leave any questions in the comments section. Please note that we will not be running a fantasy game for this tournament but hope to do so for the new 'Pro16' season if and when confirmed.