A New Football Season on Superbru
The crazy football calendar that we find ourselves following in this 'new normal' gave us just a week off between the 2019/20 Champions League final and the Community Shield that represents the start of the new football campaign here in England.
While players and managers of some clubs were squeezing in a short holiday to one of the few countries that don't require you to quarantine when returning for 'pre-season', others were doing battle in the closing stages of the UEFA competitions in either Germany or Lisbon. This means we're now left with an unusual staggered start to many league seasons in order to ensure that those who were competing in the Europa League and Champions League knockouts also have a week or so to rest up for what is set to be a hectic 2020/21.
Here, I'll be getting you up to speed with what's what in each of the top football leagues we cover here on Superbru. Make sure your laptop/app is ready for some serious pick-making because there aren't many days off between now and May!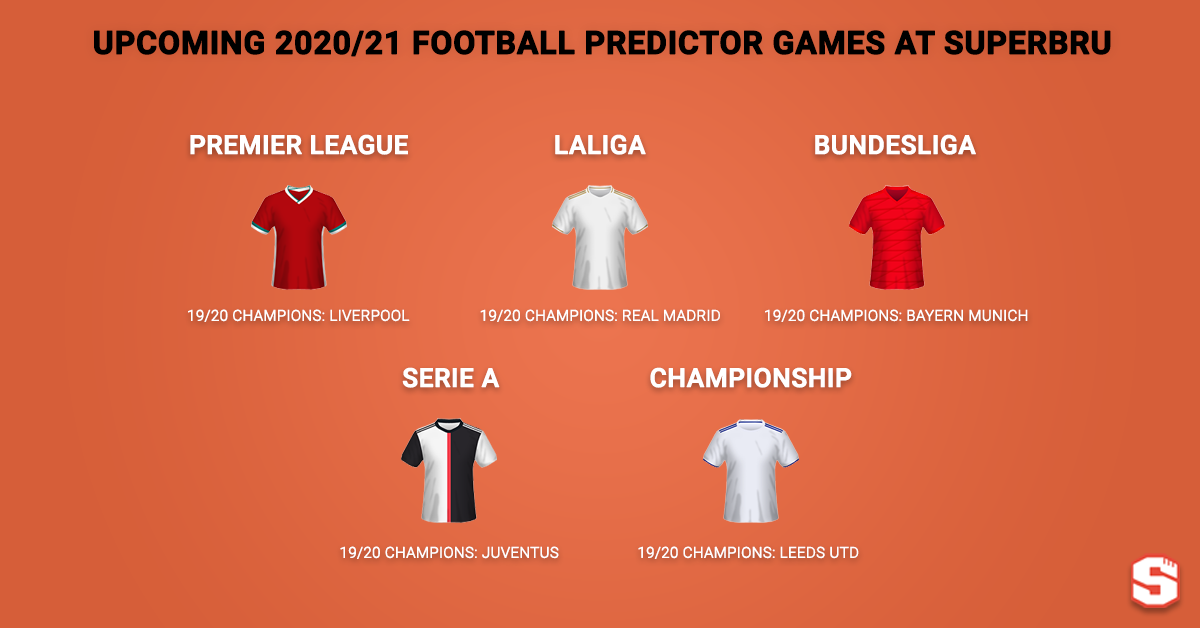 Premier League
Let's start with the big one then and as lots of you have already read
in this article
, we'll be running a new odds-based fantasy game alongside our popular predictor tournament in the 2020/21 Premier League season.
England's top flight begins on Saturday September 12th with Fulham vs. Arsenal at Craven Cottage. Round 1 will include 8 games rather than the usual 10 because the Manchester clubs have been given an extra week to prepare after they were involved in the latter stages of the UEFA competitions. This means Burnley vs. Manchester United and Manchester City vs. Aston Villa have both been postponed and the difficulty of rescheduling each game demonstrates just how packed this season's calendar is.
Burnley and Villa are both playing in the Carabao Cup during the first midweek of the season before the Manchester clubs join that same tournament in the Round 3 midweek slot. If, as expected, both City and United make it to the quarter-finals of the Carabao Cup at least, they won't have a spare midweek in which they can play a rearranged game until 2021.
In total, there are just 4 'blank' midweeks that don't contain any football (League, Cup, European or International fixtures) between KO in the PL and the Champions League final at the end of the season. All 4 will undoubtedly be needed for rearranged games and there are of course concerns that even these won't be enough given the ever-changing global situation we are in. Each of the top European leagues are naturally running similarly hectic schedules to the Premier League.
So what can we expect to see on the pitch? Well, most are in agreement that for the third season running, we'll be seeing a two-horse title race between Liverpool and Manchester City. In fact, it would be impressive if a fresh team manages to break into the top four this year with Chelsea and Manchester United the most likely teams to stand a chance of challenging the top two. Chelsea have been particularly active in the transfer market bringing in several stars including Timo Werner, Hakim Ziyech, Thiago Silva and Kai Havertz. That makes them the winners of this transfer window in almost everyone's eyes, barring a late mega-deal elsewhere.
The new boys this season are Leeds United, West Brom and Fulham and all three will fancy their chances of survival given their squads. Each of them are arguably 'Premier League size' clubs so it'll be fascinating to see who loses out this year. With other famous clubs such as Newcastle United and West Ham tipped by many to struggle, we could well see some big fish dropping to the Championship next summer.
My predicted Premier League winner: Manchester City
Just. I'm interested to see if Liverpool can maintain their remarkable energy and intensity now that they're not chasing a first league title in 30 years. Can their front 3 really go another entire (very busy) season without injury? They're yet to invest in the necessary depth if not.
LaLiga
Unless you don't follow football at all, you'll know that the build-up to the new season in Spain has been dominated by media coverage of just one man. Lionel Messi appears to have finally lost patience with Barcelona's humiliating Champions League eliminations and was locked in negotiations with the Club as he attempted to escape his contract on a free. Now that this hasn't proved possible and he's admitted he'll have to stay, it remains to be seen what his mindset is like for the upcoming campaign. It's very hard to see new manager Ronald Koeman finding a quick fix at the Camp Nou with several players admitting a total reset is required in Catalonia, but now that they have an extra few months to try and convince Messi they can return to the top quickly, there's perhaps more chance of seeing some big business from Barca.
Just as they did post-lockdown last season, Real Madrid are likely to take advantage. Zinedine Zidane's men are strong favourites for another league title and for Real's standards, it's been a very quiet summer which probably suits them while the media focuses on Barca's attempts to avoid entirely imploding. Madrid are yet to make any notable signings but they have a large number of quality players returning from loan - some of whom have been sold (such as Achraf Hakimi) but others could find themselves competing in the first-team squad this season.
If you're looking for an outsider that could provide some entertainment this year, look no further than Villarreal. After already managing a very respectable 5th-place last season to qualify for the Europa League, Villarreal have now hired former PSG and Arsenal manager Unai Emery and brought in several new faces. The 'Yellow Submarine' have been the main beneficiary of the absolute chaos that is happening at Valencia who look to be falling to pieces and selling their players for prices well below their market value. Villarreal have picked up Valencia's central midfield pairing of Francis Coquelin and captan Dani Parejo for a combined £6m.
LaLiga begins this Friday and like the Premier League begins with a round that doesn't include Clubs who were involved in the latter stages of European competitions.
My predicted LaLiga winner: Real Madrid
Bundesliga
Last season, like many, I thought there was a real chance that Bayern might struggle to maintain their dominance in Germany. Given that they were in a group of four teams that were all virtually level at the top of the the Bundesliga around Christmas, this was perhaps a a fair opinion. However, Hansi Flick took the reins for the second half of the campaign and now Bayern look more dominant than they have for six or seven years.
Flick's side were deservedly treble winners in 2019/20 and with Leroy Sane arriving for this fresh season, it's hard to see Bayern turning down the heat anytime soon. Some of the league's biggest non-Bayern players have now departed elsewhere, such as Timo Werner and Kai Havertz joining Chelsea from Leipzig and Leverkusen respectively, meaning it's Dortmund who are once again the only real possible challengers to Bayern's crown and despite some good additions in Meunier, Bellingham and Reinier to join Haaland and co., it would be a huge surprise to see BVB top Bayern.
The Bundesliga begins on Friday 18th September when defending champions Bayern host Schalke.
My predicted Bundesliga winner: Bayern Munich
Serie A
Now here's the league that could just have the most exciting title race of all this season. After unconvincingly (in comparison to some of their previous Scudetto's) winning Serie A last season and being knocked out of the Champions Legaue by Lyon, Maurizio Sarri was sacked as Juventus Head Coach. His replacement, which is particularly exciting if you love the midfield maestro as much as I do, is Juve and Italy legend Andrea Pirlo.
Pirlo is a complete unknown as a manager making this a huge gamble for Juve and he's up against the complete opposite of a gamble in Antonio Conte when it comes to winning league titles. Conte's Inter should improve on the progress they made last season and are serious Serie A contenders if they manage to keep hold of Lautaro Martinez to partner Romelu Lukaku. Achraf Hakimi has come in and he looks absolutely perfect for Conte's wing-back system but as with all other leagues, we'll have to wait until the window ends next month before making total judgements on each team's squad. Luis Suarez is heavily rumoured to be joining Juventus.
Outside of the big two, Lazio might well be there or thereabouts again thanks to goal machine Ciro Immobile while Atalanta should still be a lot of fun to watch as everyone learned during last season's Champions League. Milan also appear to be heading in the right direction and have extended Zlatan Ibrahimovic's contract by another year.
My predicted Serie A winner: Inter
As much as I want Pirlo to have a successful career as a manager, a different Serie A winner would be very welcome and he'll be right up against it vs. Conte. Inter have the manager, goals and tactical system to win this title if Juventus aren't playing to their full potential.
Championship
Rightly known as the most unpredictable league there is, making a prediction as to who will win the Championship is usually a pointless exercise because anyone can beat anyone and a team that is struggling in the lower half in March often goes on to make the playoffs.
In terms of the teams that have just been relegated to the Championship, I feel Norwich are best placed to come straight back up. That may seem strange when they were comfortably the worst team in the PL last season, but the main reason for that is that they never really made an attempt to stay up in the transfer window after their surprise promotion and have instead ensured they should be very competitive in the Championship again this season with the same manager and many of the same players. Middlesbrough are a good outside bet for promotion now that Warnock is in charge and I think Nottingham Forest will be there or thereabouts despite their horrendous final day of the 2019/20 campaign!
The Championship begins on Friday night when Watford host Middlesbrough.
Best of luck to you all in the various upcoming tournaments! Let's hope we have a full, safe season that goes as planned ahead of the Euros next summer.