NEW: A change to our Premier League fantasy format
Ahead of the 2020/21 Premier League season, we're making a fairly significant change to the format of the fantasy football we have on offer. For several seasons now we have enjoyed providing you with two different tournaments - a 'full' Premier League fantasy game and a daily 5-a-side fantasy game - but we're now excited to update and replace those tournaments with a new, totally unique game.
This season, alongside our popular
Premier League Predictor
, we're introducing our brand new Odds-Based Fantasy game.
Odds-Based Fantasy
Odds-based fantasy is a fresh format we've created that has never been introduced on Superbru before. As always, it is of course totally free to play. A game that we're confident will bring fun, lots of pick variation and reward tactical thinking, odds-based fantasy is something we've been playing among ourselves at SuperHQ and now feel excited to launch on the Superbru website and app for everyone to enjoy.
The game will run as a daily fantasy tournament like our 5-a-side fantasy game for the 2019/20 season and require you to pick 4 players for each day of action. 1 of those players will be your goalkeeper with the other 3 outfield players your 'goal scorers'.
The reason we're referring to those outfield players as goal scorers rather than strikers, midfielders etc. is because aside from your GK pick, this game is all about goals. Though the scoring system will still reward/punish other in-game actions such as assists and cards (more on that later), it's the likelihood of a player scoring that you will need to consider most as that's where the 'odds-based' bit comes in.
How it works
Using anytime goalscorer odds from markets that are of course tailored to each specific player, you can earn varying amounts of points for the goals your players score. As most of you are already familiar with in many of our fantasy games, picks will open around 5 days before each round with a set list of players dedicated to each pick slot. These lists will not only show you the available players to pick but also the anytime goalscorer odds for each player which dictates how many points you will score if they manage a goal. Once picks are 'opened' ahead of each round and you are able to make your selections,
the odds will not change
.
The pick deadline for each round will remain as kick-off in the first match that is taking place on a given day. Up until that deadline, you can update/edit your picks and backups as much as you like.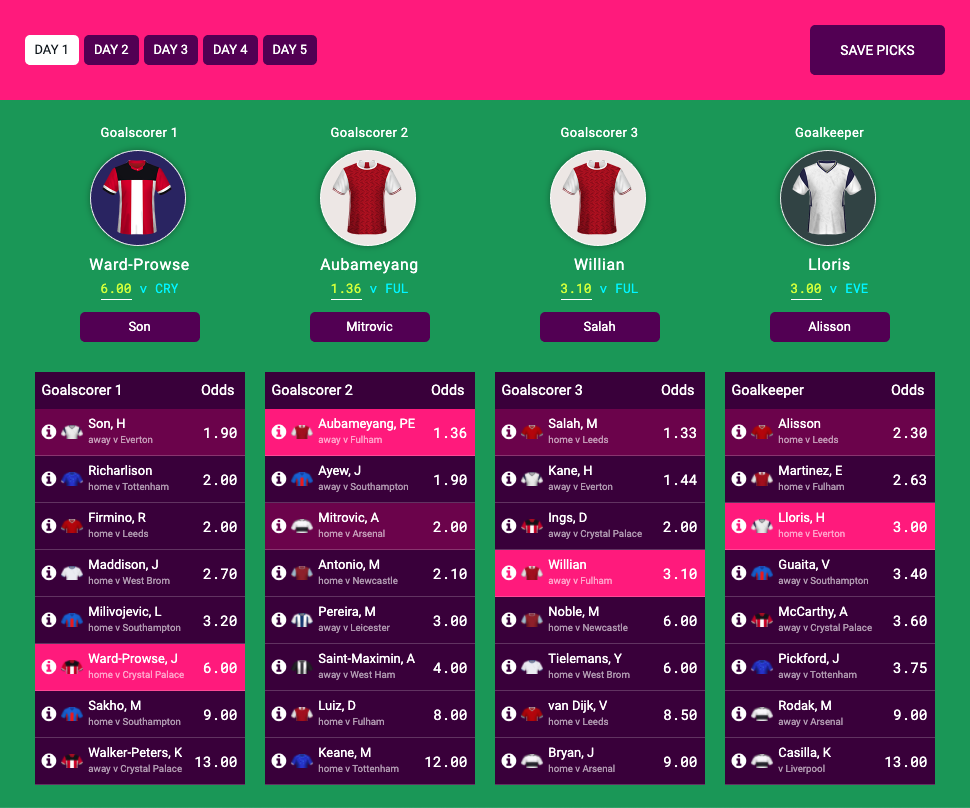 For example, the above shows a mock-up of what this new game will look like on our website (the players and odds listed are simply hypothetical and not the actual Round 1 options). As you can see, Heung-min Son is in Band 1 with hypothetical odds of 1.9 ahead of lining up to face Everton at home. However, his odds will likely stretch out to a larger number in a different round when faced with a tricky away game against a 'Big Six' club. The key to this game is therefore to assess the value of Son in each individual round when compared to the other available players on the pick list. The lists of players that are available to select will vary in each round. Each band will typically consist of 8-12 players though single-fixture rounds will naturally sometimes have fewer options.
As you can see on the scoring graphic further down this article, the number of points players will score for a goal will be 2 x their odds in each specific round. Using the example of those odds of 1.9 again and they may not seem worthwhile when a goal is worth just 3.8 points, but there is of course a chance that Son scores more than once against Everton with his two goals then more valuable than 1 goal from Milivojevic who has hypothetical odds of 3.2 to score. Of course, you can pick up far more points by successfully backing a defender such as Kyle Walker-Peters to score, but the likelihood is that he won't and you can be left with very few points at all when consistently backing outsiders while other brus continue to correctly pick goalscorers.
There is of course also a far bigger picture to look at tactically as there's not just one but three 'goal scorers' to pick. As the above screenshot shows, the game is displayed in a way that lets you review your overall risk across the 3 bands as the players are listed from lowest odds to largest. Some brus may choose to go all out with unlikely scorers in each band, some may prefer a balance and some may opt to stick with the most prolific players and play the long game! Your goalkeeper will also be a tough decision each day as their clean sheet points will be determined by the odds of their team managing a shutout.
Other ways to score points
Though the emphasis is on goals, many of the other scoring actions that were included in our previous fantasy games are still in play. As you can see from the list below, points will also be awarded/lost for minutes played, assists, penalties missed and yellow/red cards. Goalkeepers can pick up points for penalty saves as well as their odds-based clean sheets but will lose points for conceding goals. This adds to the risk of picking a goalkeeper who is highly unlikely to keep a clean sheet - though the potential reward is huge, you could end up with minus points if lots of goals are conceded.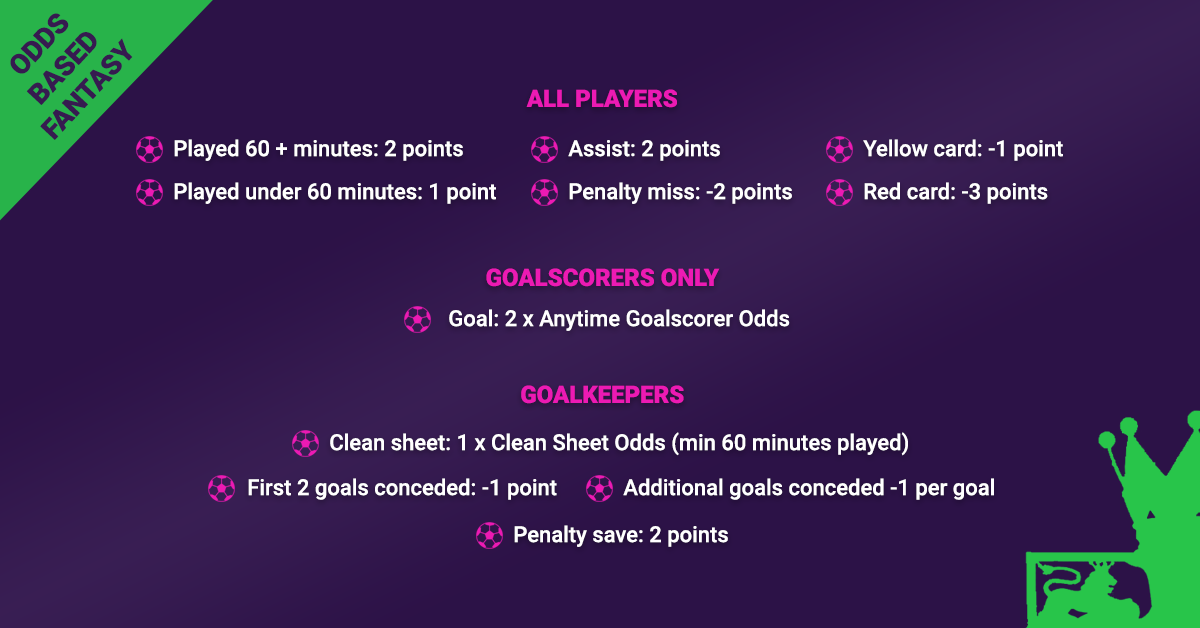 You'll also need to continue picking a bench in the form of 'backups' in this new game. You will pick a backup for each specific first-choice player meaning your substitute for your 'Goalscorer 1' pick can only replace that player. As always, backups only come into play when your first-choice pick doesn't appear for a single second in a game. Players who do play but score 0 points or even minus points are not replaced.
Why the change?
We've been keen to introduce something that is unique in the world of fantasy football. Though we had been working on this format before we even knew what coronavirus was, the recent crisis has forced a review of every tournament, and with declining numbers in our fantasy that competes with the official Premier League game, the need for change became clearer.
A common theme among existing fantasy games (such as those we were running last season) is that many users select very similar teams due to several stars being 'must-pick' players. For example, after a few rounds of our full fantasy Premier League tournament last year, an incredibly high percentage of players selected the likes of Trent Alexander-Arnold, Kevin de Bruyne and Mo Salah. Of course, such players will remain strong options in our new odds-based format, however, we believe that by attaching relative value to each specific player in the form of odds to dictate how many points they receive for a goal, the reward for clever tactics and risk-taking is greatly increased.
Depending on your Superbru pool's standings, the fixtures taking place on each given day and the players we make available for selection, each round of this new game will paint a different picture. Your pool leader may well opt to stick with fantasy favourites such as Aubameyang and Mane to 'play safe' and maintain their lead, but it will be tough to build an unassailable lead early in the season given the amount of points that can be gained when a risk comes off.
Launch info
Though it's not yet possible to make picks, you can join our new
Premier League Odds-Based fantasy game by clicking the + in the top right corner of the app home screen
We've launched the tournament with some information and a screenshot in place of the picks area so that you can still sign up and get your pools ready for kick-off. Things will of course be complete very soon and we expect to be able to open picks for Round 1 around 5 days before kick-off.
We hope you're all excited for this new format! We'd love you to get involved, tell your mates about it and see how our debut odds-based fantasy season plays out! As always, if you have any questions about the new game, feel free to comment below or message us on support@superbru.com.
Please note: Our new odds-based fantasy game includes new code that might not work for those of you who are trying to access the tournament on fairly old devices/internet browsers. If your browser or device is quite dated, you may be left with a blank screen/error message when attempting to play this tournament. We're working to try and improve this so that older devices can also run the game.