2022 World Cup: Round 2 Predictions
Given the tight turnaround, Round 1 isn't quite over as I write this but there's already been plenty of upsets!
All things considered, I'm fairly pleased with 8/13 so far. I'm annoyed at myself for overestimating Qatar and not picking Ecuador, but I never seriously contemplated going against Argentina, Croatia, Denmark or Germany.
On to Round 2 then as the pressure grows on those nations that failed to win in Round 1!
Here are my Round 2 picks for our
World Cup Predictor
. Feel free to leave your own thoughts in the comments.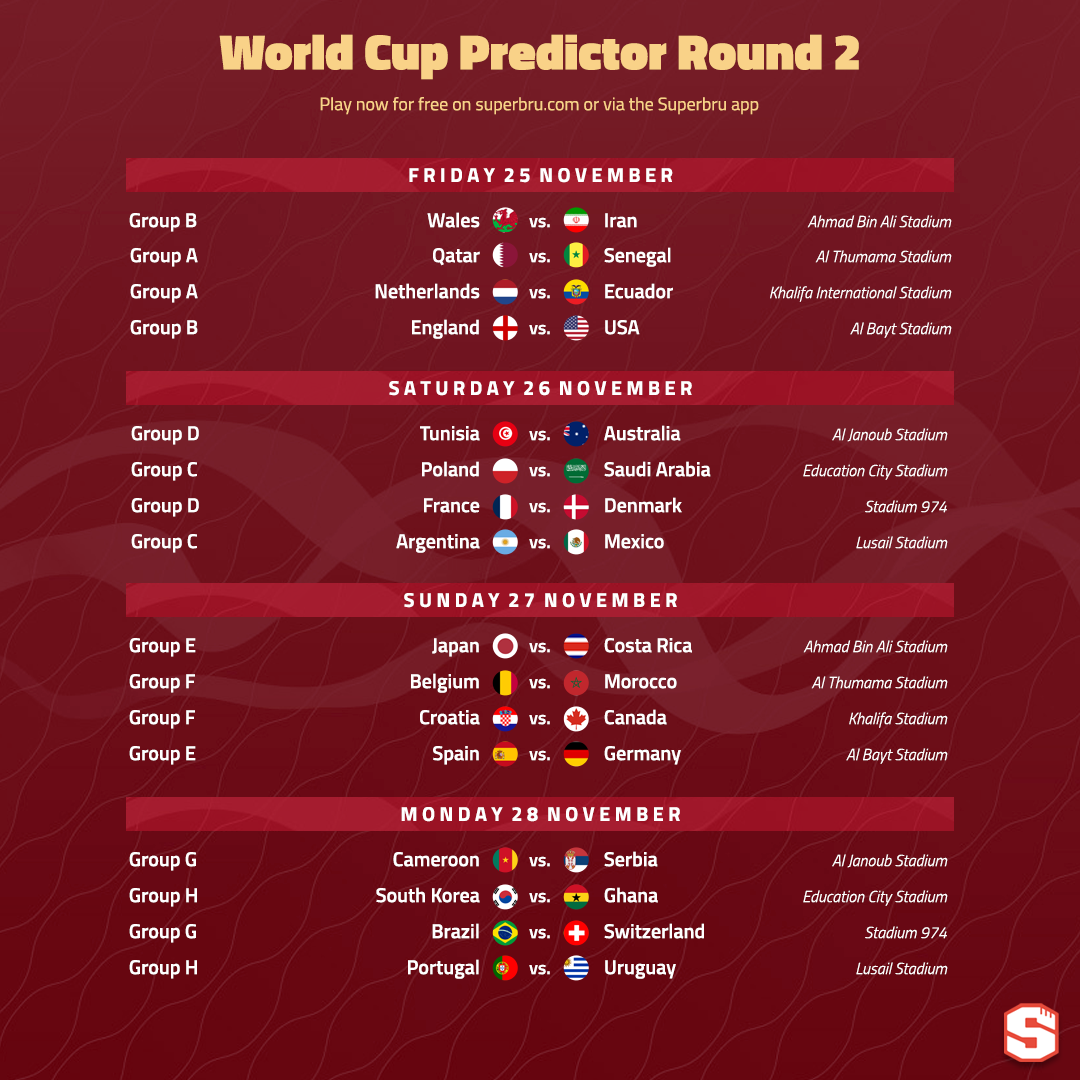 Wales vs. Iran
Based on Round 1, Wales are the team to pick here but I expect Iran to put in a much better display than they did against England. Both teams have players capable of scoring goals so I think we might see a few but I think Wales should just about edge it if they start with Moore up front this time given how much he improved them vs. USA.
Wales 2-1 Iran
Qatar vs. Senegal
Qatar were absolutely dreadful in that opener so Senegal are the team to pick here despite goals looking like they might be a bit of a problem without Mane. The likes of Dia, Sarr and Diatta are capable of finishing if the chances come along and you'd think there'd be a few against Qatar.
Qatar 0-2 Senegal
Netherlands vs. Ecuador
I'm interested to see how Ecuador perform in this one as they looked strong in the tournament opener but as I've just said, Qatar were terrible. The Dutch are obviously favourites and they should only improve on that Round 1 win as they find their feet and Depay improves his fitness.
Netherlands 2-0 Ecuador
England vs. USA
It was great to see England play an attacking formation in Round 1 and take their chances so well - the final ball from both sides of the pitch was excellent. I think Southgate might revert to 5 at the back if and when England reach the knockouts but I'd like to think he'll stick with the 4-3-3 for this game as the Three Lions should have too much for this young American side despite the threat the US possess on the counter.
England 3-1 USA
Tunisia vs. Australia
I can't imagine this will be game of the tournament but Tunisia were impressive against Denmark so I'm leaning towards them to narrowly win this game I think. A draw feels possible but it wouldn't be much use to Tunisia as they have France in Round 3 so I think they'll have to go for it.
Tunisia 1-0 Australia
Poland vs. Saudi Arabia
Whatever happens from here, Saudi Arabia have had an excellent tournament as that win over Argentina really is one for the history books and it even resulted in a national holiday in Saudi Arabia the following day! Can they follow it up again here? They took their goals really well in that match so it's definitely possible and their bold high line was refreshing to see but it does feel incredibly risky. I still can't believe they got away with it so many times in that first half and surely this is a golden chance for Robert Lewandowski to find himself a first World Cup goal or 2?
Poland 2-0 Saudi Arabia
France vs. Denmark
I told myself before this tournament that I'd be picking Denmark here and that they'd top the group ahead of France but having now watched each of these teams' Round 1 games, I'm doubting myself! Denmark have a great recent record against the French but looked very blunt in attack against Tunisia whereas France looked sharp despite all their injuries. It should be a great watch but I've chickened out of going for an upset and picked France.
France 2-1 Denmark
Argentina vs. Mexico
There were Argentinian journalists in tears after that defeat against Saudi Arabia which demonstrates just how much pressure there now is on Argentina to put things right in their final two group games so it's all about whether or not they can cope with that. In a strange way, now that their streak is over, the defeat may actually make them stronger for the rest of the tournament
if
they can now bounce back with two wins and progress. I'm siding with their form over the last 3 years rather than Tuesday's shock defeat when making this pick.
Argentina 3-0 Mexico
Japan vs. Costa Rica
It's fair to say one of these teams will have enjoyed Round 1 slightly more than the other. I appreciate it's very difficult to get the ball when you're playing against Spain but conceding 7 goals against that team and failing to even have a shot yourself is really poor. This is a great chance for Japan to put themselves in an excellent position in Group E and I think they'll do so after a really good second half display against Germany.
Japan 2-0 Costa Rica
Belgium vs. Morocco
Belgium were very ordinary against Canada and I'm tempted by an upset here. I'll probably wait for the lineups, as Martinez has the chance to freshen things up with some younger players which would give much needed energy and pace, but if it's a similar team to Round 1 I think Morocco can get a draw or potentially even win this. They were steady rather than amazing against Croatia but in the likes of Hakimi, Ziyech and Boufal you have players capable of a match winning spark and they may only need the one based on how Belgium played on Wednesday.
Belgium 1-1 Morocco
Croatia vs. Canada
I said in my
full tournament preview
that the underdogs might create some chaos in this group and is this the round where we see that based on what I've just picked for Morocco? Quite possibly. Croatia are obviously favourites in this game but Canada were really good outside of finishing against Belgium and we could well see a similar type of match here.
I'm doubting myself because Croatia's midfield should control things, but I think I'm going all out for a Canada win. They'll play with more energy than Croatia and Jonathan David can finish far better than he showed in Round 1 so let's back them to finally find a World Cup goal or two and maybe even a victory.
Croatia 1-2 Canada
Spain vs. Germany
What a huge match this has become. Unlike the Japan v Costa Rica game in this round, I don't think the Round 1 results are quite as significant here - I don't think Spain are as good as their 7-0 win would suggest and I don't think Germany were that bad against Japan despite the defeat.
That said, I was planning on picking Germany to win this game but I'm obviously slightly less sure after how things have played out! It seems silly to say Spain are short of goalscorers after that Round 1 scoreline but it is hard to take too much away from that game given how bad Costa Rica were and I think Germany will really test them. It feels like this might be a classic between two former champions so let's go for an entertaining draw.
Spain 2-2 Germany
Cameroon vs. Serbia
Serbia are yet to play as I write this but I think they'll be too strong for Cameroon. The African teams are struggling for goals in this tournament whereas Serbia look as if they should be dangerous in attack given the talented strikers they have available.
Cameroon 0-2 Serbia
South Korea vs. Ghana
I'm currently watching Korea perform fairly well against Uruguay (0-0 after an hour!) but I've no idea how good Ghana will be with their new players so I'm waiting for their match against Portugal before locking this one in. I don't think there'll be much between them, so let's go with a draw as a provisional pick.
South Korea 1-1 Ghana
Brazil vs. Switzerland
Switzerland weren't amazing against Cameroon but they'll have to be to stand a chance in this one. Brazil should have too much.
Brazil 3-0 Switzerland
Portugal vs. Uruguay
Again, I'll wait to see how Portugal fare in the current round but based on what I've seen of Uruguay so far, Portugal should feel fairly confident. This is another one that could easily finish level though, particularly since Uruguay are so good at grinding out a result when needed.
Portugal 1-1 Uruguay
Best of luck to you all with your own Round 2 picks!