World Cup Fantasy: Tips and Tricks
Rugby World Cup 2023 is now just 2 days away which means we already have lots of you tinkering with
fantasy
squads for the tournament! In case you're new to the game but also for those of you that have been playing Superbru for a while, here's how our
fantasy
tournament works along with some tips specific to the World Cup format.
Click here to play World Cup Fantasy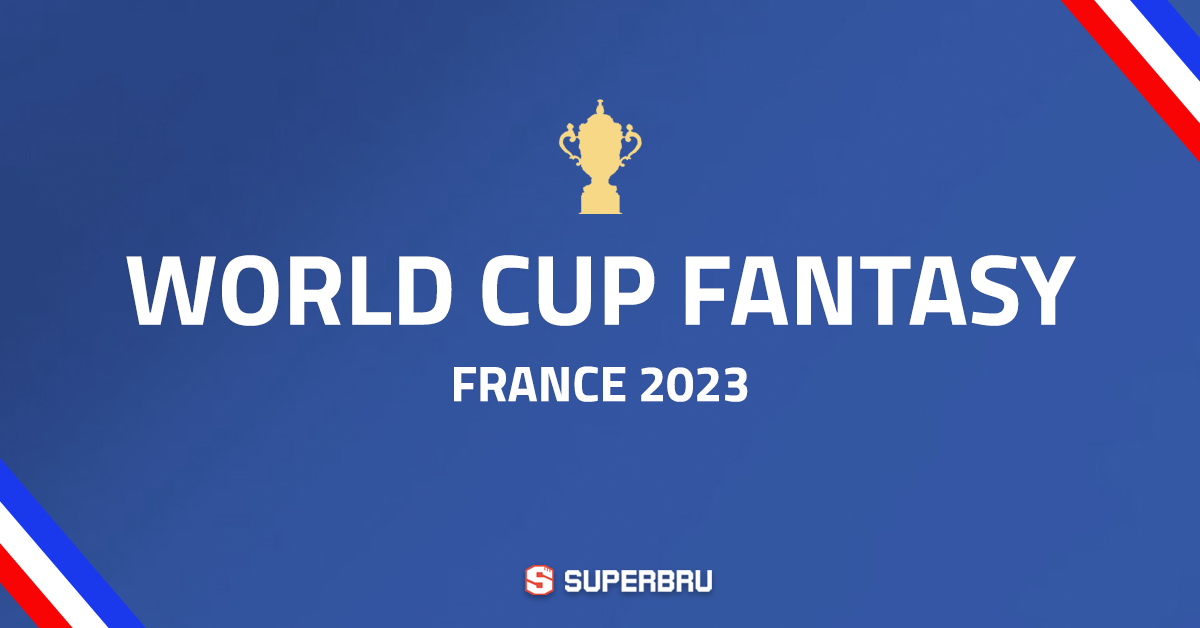 Please note: World Cup Fantasy is not available on the Superbru Rugby app. The tournament is playable on our website and the original Superbru app, with fantasy rugby set to arrive on the new Rugby app in time for the start of the 2023/24 club rugby season.
How to play
Much of this information is already available on the info pages within
World Cup Fantasy
, but as a general summary, in our game you build a squad of 23 players which gives you a starting 15 and an 8-man bench for each round of the tournament.
Before the tournament begins, you are of course free to make as many changes as you like, but you can only have up to 4 players from a single nation. This encourages team variation, and prevents people from just picking a full squad from the same country.
Once we get into the tournament, you are provided with 6 free transfers between each group stage round. If you wish, you can make more than 6 transfers, but each additional transfer will cost you 6 fantasy points which means you need to make a decision as to whether or not the player you are bringing in is likely to score more than 6 points and make the transfer worthwhile.
Once we reach the knockout stages, since fewer teams remain in the tournament, the number of free transfers increases to 8. You are also able to select more players from a single nation and eventually, in the final round, you can select an unlimited number of players from the same country.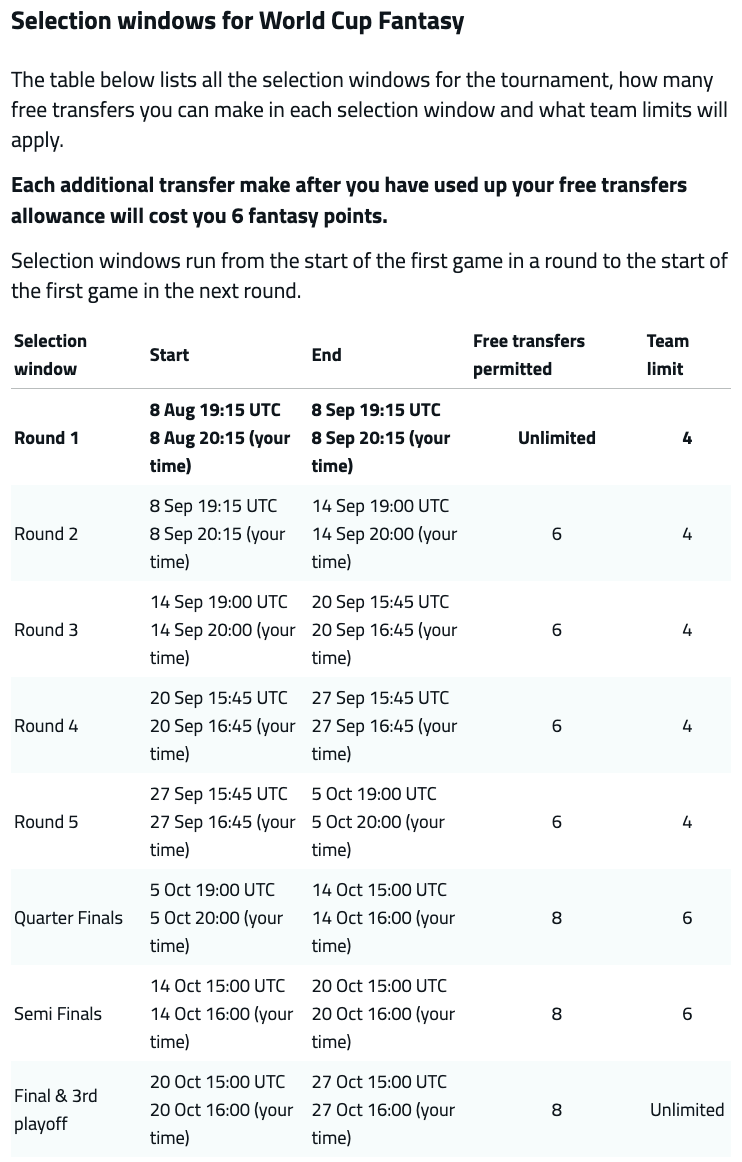 Starting 15 and bench
Once you've built your squad, you must select a starting team with the other remaining players making up your bench. Benched players will not receive points unless they are auto-subbed in at the end of the round for a starting player that does not feature at all in their team's match.
This means that it's wise to use your bench as tactically as you can. If you're unsure whether or not one of your starting players will feature in their match, then it's advisable to have a strong replacement on the bench, but in other cases it's smart to fill your bench with players you believe you will want in the following round as this will then save you a free transfer when you come to build your Round 2 side.
Once you've selected your starting 15, you also need to pick your captain and a kicker, as well as back-up players for these two roles. Your captain scores double points so it's a very important decision, while your kicker is the only player that will be able to receive points for penalties and conversions (all players receive points for any drop goals) so it's important that you select a player that you're confident will play that role for their team.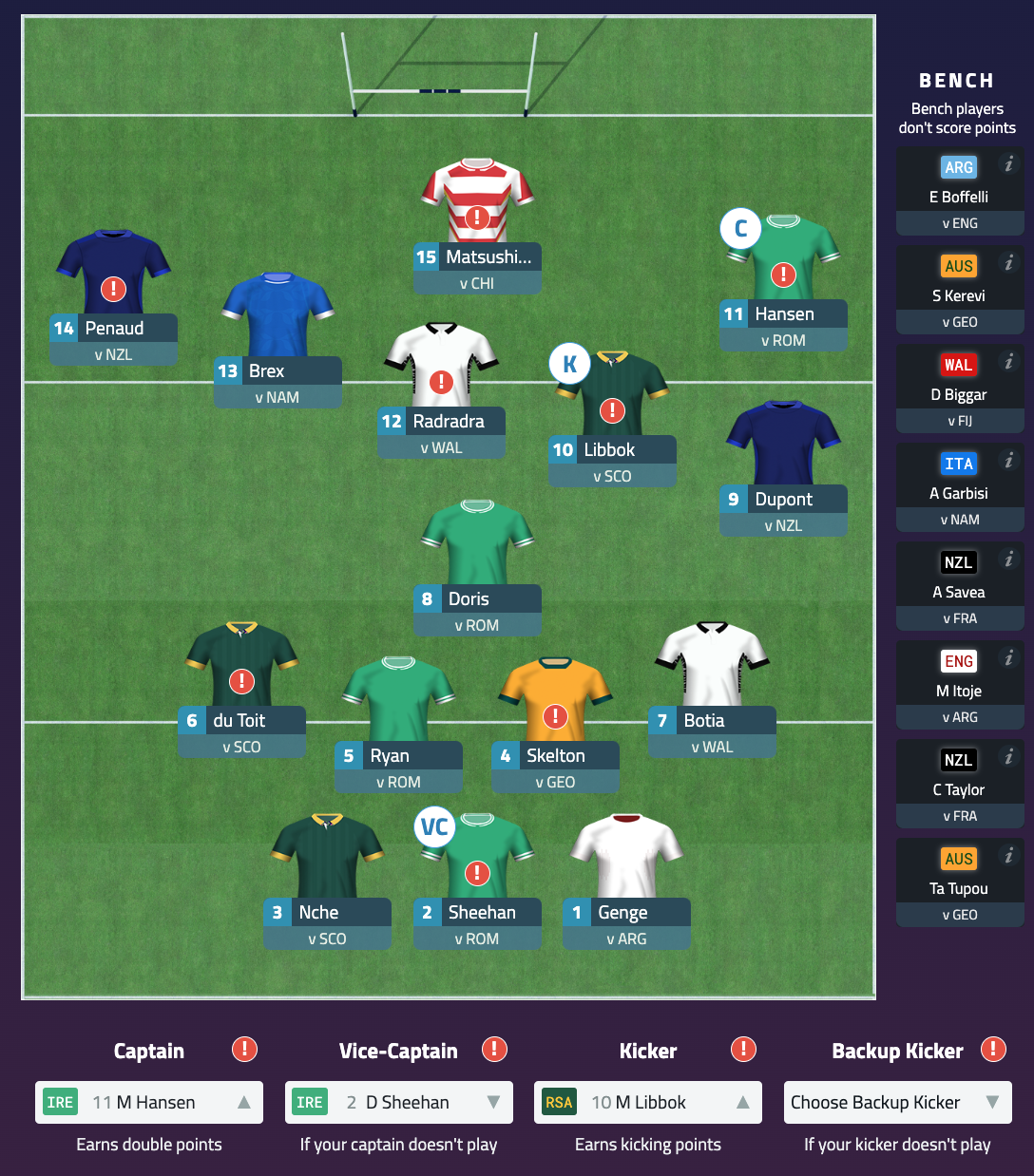 Your vice-captain and back-up kicker will only replace your first-choice options if the latter play no part at all in a match. Keep in mind that your back-up kicker can be on your bench, so it's often wise to select your benched fly-half as your back-up kicker unless you have a player in a different position within your starting lineup who is also a regular goal kicker.
The schedule
So this a very important thing to take note of for this World Cup regardless of how long you have been playing Superbru. Fantasy rugby players tend to be very used to having all starting lineups available before a round begins, and waiting to finalise your team until this is the case for Round 1 is a very logical move as we will almost certainly have all 16 lineups confirmed, but in later group stage rounds we are highly unlikely to have all starting lineups available before the fantasy deadline.
The expected lack of starting lineups and the fact that 4 teams will be on a bye in each group stage round are two very important factors to consider when building/managing your squad throughout the tournament.
The timing of team announcements can vary, but the general rule that we believe to be in place for the RWC too is that nations must provide their starting lineup 48 hours before kick-off. Therefore, when the fantasy deadline is more than 48 hours before a fixture's scheduled kick-off time, we sometimes won't have lineups.
For instance, in Round 4, Uruguay v Namibia is the first game in the round on a Wednesday evening so our deadline has to be kick-off in that match but since there are 5 matches taking place across Saturday and Sunday in that round, we may not have starting lineups for those 5 before the deadline. To make things even more tricky, France, Ireland, Wales and England are all on a bye in Round 4 meaning they won't play.
However, this information is all known well in advance and all fantasy players are in the same boat, so this is where the challenging and tactical element of our tournament comes into play. Those that plan well long-term are likely to be rewarded. Continuing with the Round 4 example, if you prepare by ensuring you don't have a squad packed full of French and Irish players by the time we reach the round, and that you've left yourself enough transfers to bring in players who are known to be starting ahead of the deadline, you can get the edge on those you are competing against in your leagues.
Teams on a bye in each group stage round:
Round 1: Uruguay, Tonga, Portugal and Samoa
Round 2: Argentina, Italy, Scotland and Georgia
Round 3: Fiji, Japan, New Zealand and Romania
Round 4: England, France, Ireland and Wales
Round 5: Australia, South Africa, Namibia and Chile
The schedule is also the reason we have allowed up to 4 players from a single nation rather than 3 players as we did in the last World Cup, as this extra player gives you slightly more flexibility to cover a player in a certain position with another player from the same nation if you're unsure which of them will feature.
Selecting your captain
As previously mentioned, your captaincy selection is one of the most crucial decisions to make in each fantasy round and this is where you want to be thinking short-term rather than long-term as you can of course change your captain each round.
In the World Cup group stage, there tends to be plenty of one-sided games so you are course best off picking a player for a strong team against one of the weaker sides.
The full scoring information can of course be found in-game but since ball carries are well rewarded (0.5pts per 5 metres carried), Loose Forwards and particularly Outside Backs tend to score well meaning selecting a full back or a winger for a top nation against a weak side is often the most logical captaincy pick.
Keep in mind that you cannot select the same player to be both your captain and your kicker, but you should have a similar mindset when selecting your kicker as you want to ensure that the player you pick will have lots of opportunities to kick conversions and penalties in a high-scoring match.
Points
Once a round begins, provisional points totals will be shown at the end of each match but please note that these are always subject to change in rugby as the data relating to stats such as metres carried are often only finalised by data providers a number of hours after a match is complete.
When the round is complete and scoring has been completed and verified, indicators within our game will update to reflect that this is the case and Yellow Caps and Wooden Spoons will appear on your league leaderboards (if you're new to Superbru, a Yellow Cap icon appears next to the name of player who performed best in your league and the Wooden Spoon is presented next to the player who... did the opposite).
Best of luck in Round 1 and feel free to leave any questions you may still have about how things work in the comments!
Click here to play World Cup Fantasy