The Six Nations returns this weekend
Just like many things in 2020, the Six Nations has been left in a strange way this year. The tournament managed to get almost 4 of the usual 5 rounds completed before the world was thrown into chaos by the ongoing pandemic, but we're now finally in a position to see the remaining games in the tournament played out. That means our games on Superbru, which have been sitting quietly ever since March, will spring back into life this weekend.
Here's a reminder of the current situation in the 2020 Six Nations: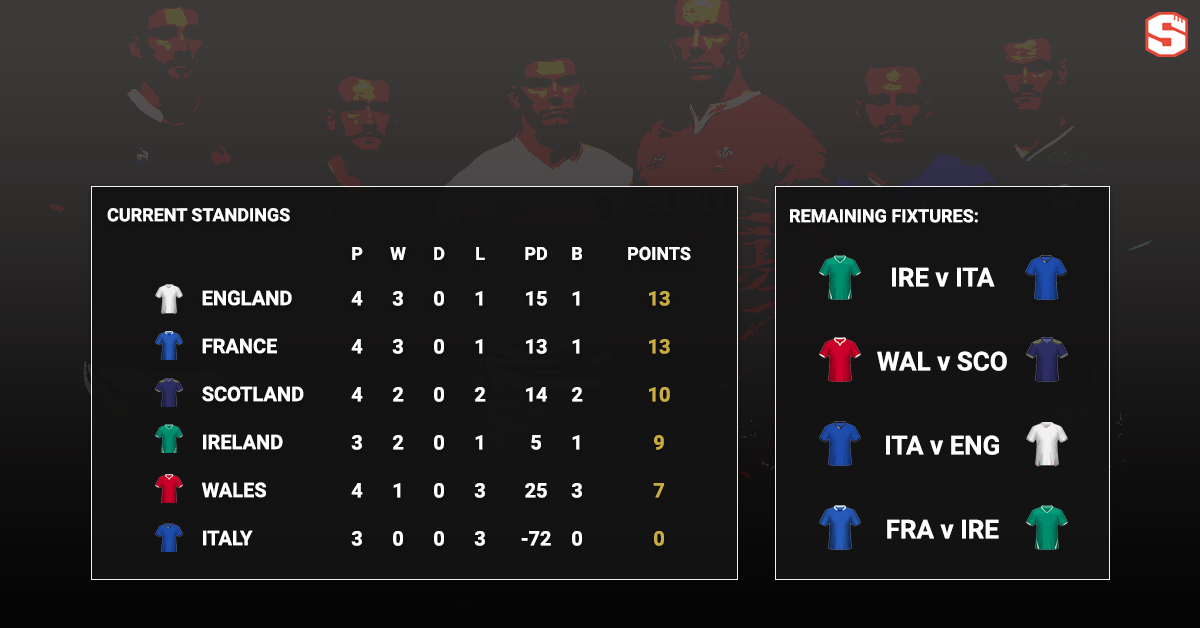 The main effect of the huge pause in this year's Championship midway through 'Round 4' is that we now have an additional round in our fantasy game that features only Ireland v Italy. That fixture now makes up Round 5 on its own before the final round (Round 6) takes place on Saturday 31st October with a full list of three matches.
Predictor
The change to the schedule simply means there is a single fixture to predict this weekend - Ireland v Italy.
Update: Though this match had been appearing as a single-game round 5 like the fantasy game for much of this week, the fixture will now be re-added to Round 4 which took place back in March. This way, those who were on track for a GSP bonus point by predicting all of the correct winners in Round 4 can still pick up a GSP if they correctly pick the winner of Ireland v Italy.
Fantasy
As was the case in Round 4 of our fantasy tournament due to the initial postponement of Ireland v Italy, the team limit in our Six Nations fantasy game will remain at the increased number of
8 players from a single team
and there are
unlimited transfers
in order to ensure everyone can field a full XV in Round 5.
These changes will remain ahead of Round 6 too so that you can change your squad back from focusing on this weekend's single game. Squad changes are of course inevitable from each country after such a long period of time between Rounds 4 and 5 and we are adding new players to the game as teams are announced where required.
Daily Fantasy
Given the daily nature of this tournament, it's the least affected of our games. The tournament will continue with its daily format and picks for this weekend will open as soon as Italy have named their lineup.