T20 World Cup Predictor and Fantasy games begin on Saturday
As the keen cricket fans among you will already know, the opening 'qualifying' round of the T20 World Cup has begun in the UAE and Oman this week with 8 nations battling it out to qualify for the main Super 12 stage of the competition. While they're doing so, the 8 nations that have already got their places in the Super 12 have been playing some warm-up matches and we're now just a few days away from
Australia vs. South Africa this Saturday
which is the opening Super 12 match of the tournament.
On Superbru, our T20 World Cup Predictor and our T20 World Cup Fantasy game both start with the Super 12 stage meaning now is the perfect time to join the games and get some pools setup to take on your friends.
In our Predictor game, you pick the nation you think will win each T20 World Cup match as well as how comfortably you believe they will win. As you can see in the screenshot below, you can select from 'Narrow', 'Comfortable', 'Easy' and 'Thrashing' as the margins of victory with these margins based on the number of runs a team wins by or, if chasing, a calculation based on both how many wickets a team wins by but also how many balls are remaining when they reach their target.
The table below shows our finely-tuned numbers behind each margin and you can also see these when making your picks on either our website or app.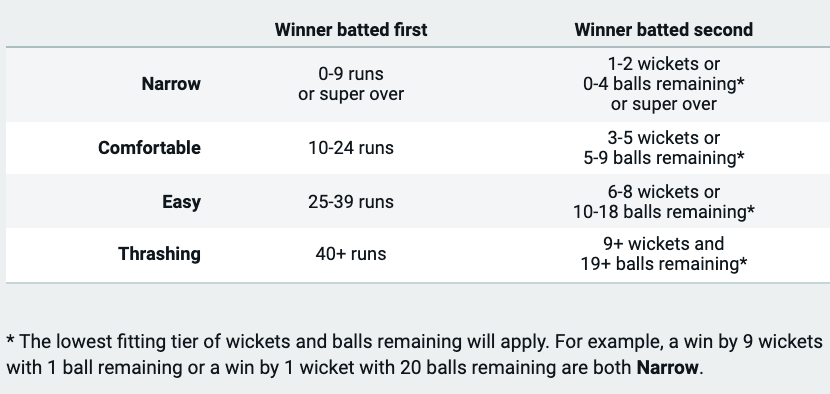 As the explainer beneath the table says, when a chasing team wins a match, the lowest fitting tier of wickets remaining/balls remaining will apply. Since a team can win by 10 wickets but will sometimes only do so with a boundary off the final ball of the game, we obviously consider this a 'narrow' victory rather than a 'thrashing'.
Keeping these margins in mind once you've made your pick and you're watching the game can make things even more tense in the final overs!
In fantasy, the schedule is a little different as this is a 'daily fantasy' tournament as we think it's good to have the chance to pick players involved in every match throughout the tournament to further increase your enjoyment when watching. For each day of action you'll select 4 players - 2 batsmen, an all-rounder and a bowler, though all 4 can receive points for scoring actions across batting, bowling and fielding.
Whereas in the Predictor Round 1 consists of 5 matches between Saturday and Monday, you'll notice that each Fantasy round is named 'Day 1', 'Day 2' and so on because in the opening round you'll only be selecting from players who will feature on Saturday. Australia v South Africa and England v West Indies are the two Saturday games meaning you can go all in on players from one of those nations if you wish or you might spread your picks out a bit as shown in the example below: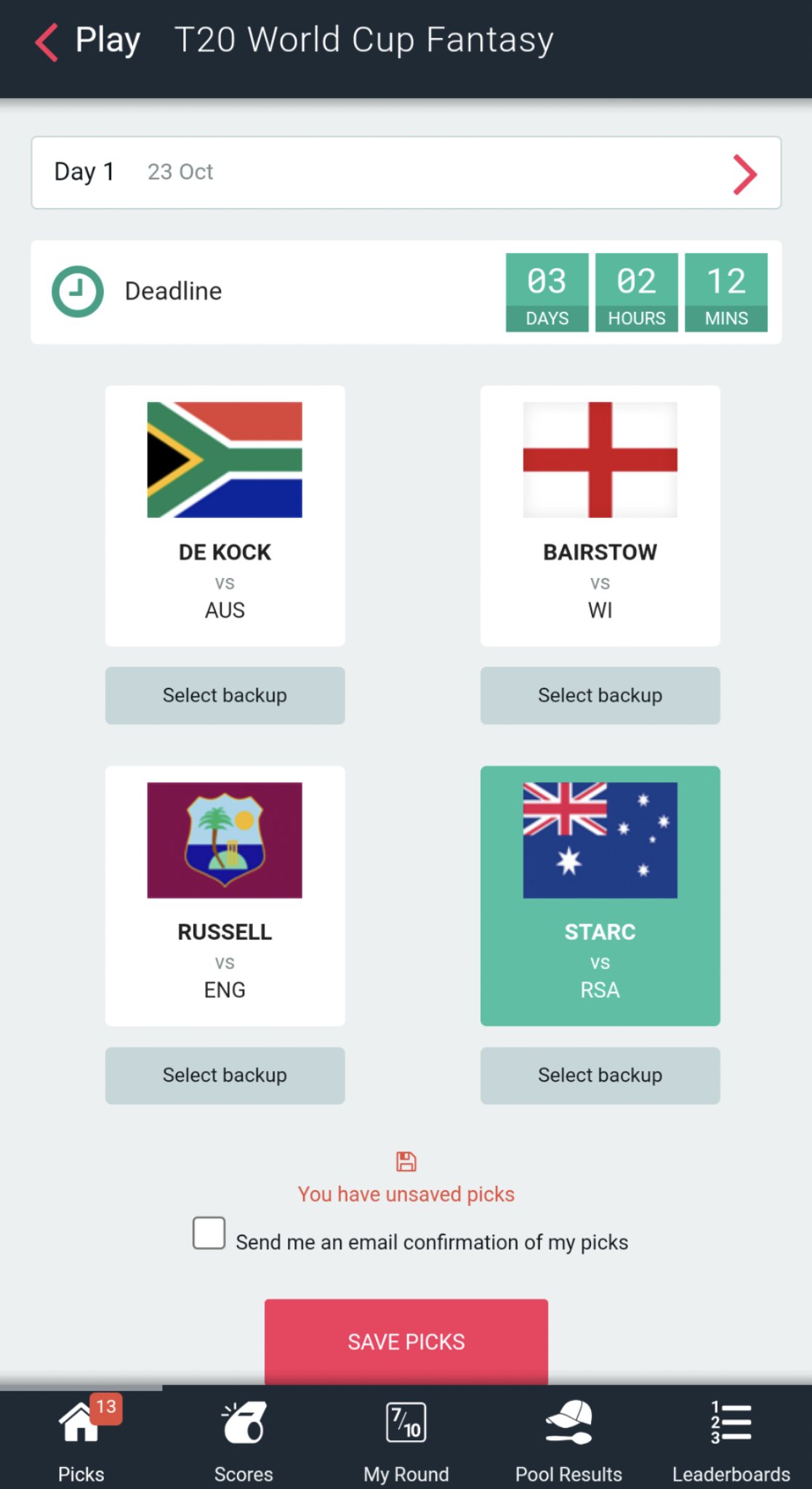 Players receive points for various scoring actions including runs, strike rate, sixes hit, wickets taken, catches, run-outs and bowling economy rates. You can find the full scoring system on our
scoring information page
.
Given the daily nature of the game, it's often sensible to make picks for a few rounds in advance just so you have some players there as you can then always go back and edit these nearer the start time (after the toss, for example). However, please note that some of the early rounds in this tournament, including Days 2 and 3, cannot be opened until qualifying has been completed since the nations currently fighting for a spot in the Super 12 will feature on those days. As soon as qualifying is complete, we'll be updating the game and getting picks open as soon as possible.
Who's going to win it?
The best/most difficult thing about T20 cricket for Superbru players is that it's incredibly tough to predict. As those of you who played our IPL Predictor will know, matches are often split 50/50 in terms of who the community think will win and I think we'll see quite a few games like that in this World Cup too.
In terms of the outright favourites, this really is a tournament that 6 or 7 teams will feel they have a chance of winning but the current holders West Indies look to have a very good squad, India should be strong given their players and the conditions, while England remain top of the ICC rankings for T20 cricket and have of course already proved themselves in a major white ball tournament having won the 2019 World Cup.
Though considered as 'outsiders', you then also have Pakistan who are notoriously tough to predict but often strong in big tournaments, South Africa who look to have a very strong bowling attack with several players who have been playing in the UAE very recently for the IPL, and then you can never rule out both Australia and New Zealand who have extremely talented players. Many of those headline players are perhaps better suited to longer formats of the game but experience and quality often shines through regardless and there are obviously at least a few T20 specialists in every nation's squad anyway who will be relied upon!
Good luck with your picks and we hope you enjoy the tournament!
If you're a Superbru Premium user, Insights will be available for the T20 World Cup Predictor and will begin to appear on the picks pages from Thursday following the completion of today's warm-up matches.