Super Rugby Round Seventeen Predictions!
Round 16 was a slightly mixed bag of results, with my 4 out of 7 ahead of the community average of just 3.27, resulting in some small green arrows.
Only 4% had the Chiefs to beat the Crusaders, 17% picked the Waratahs to beat the Rebels, and next to nobody predicted the draw between the Blues and the Bulls.

Congratulations to Mark Beynon-Mills who had the Yellow Cap in my
'Challenge Hutch' pool
last weekend. Mark had 5/7 correct picks, missing the Crusaders loss and Blues draw as you'd expect!
Here are my predictions for Round 17: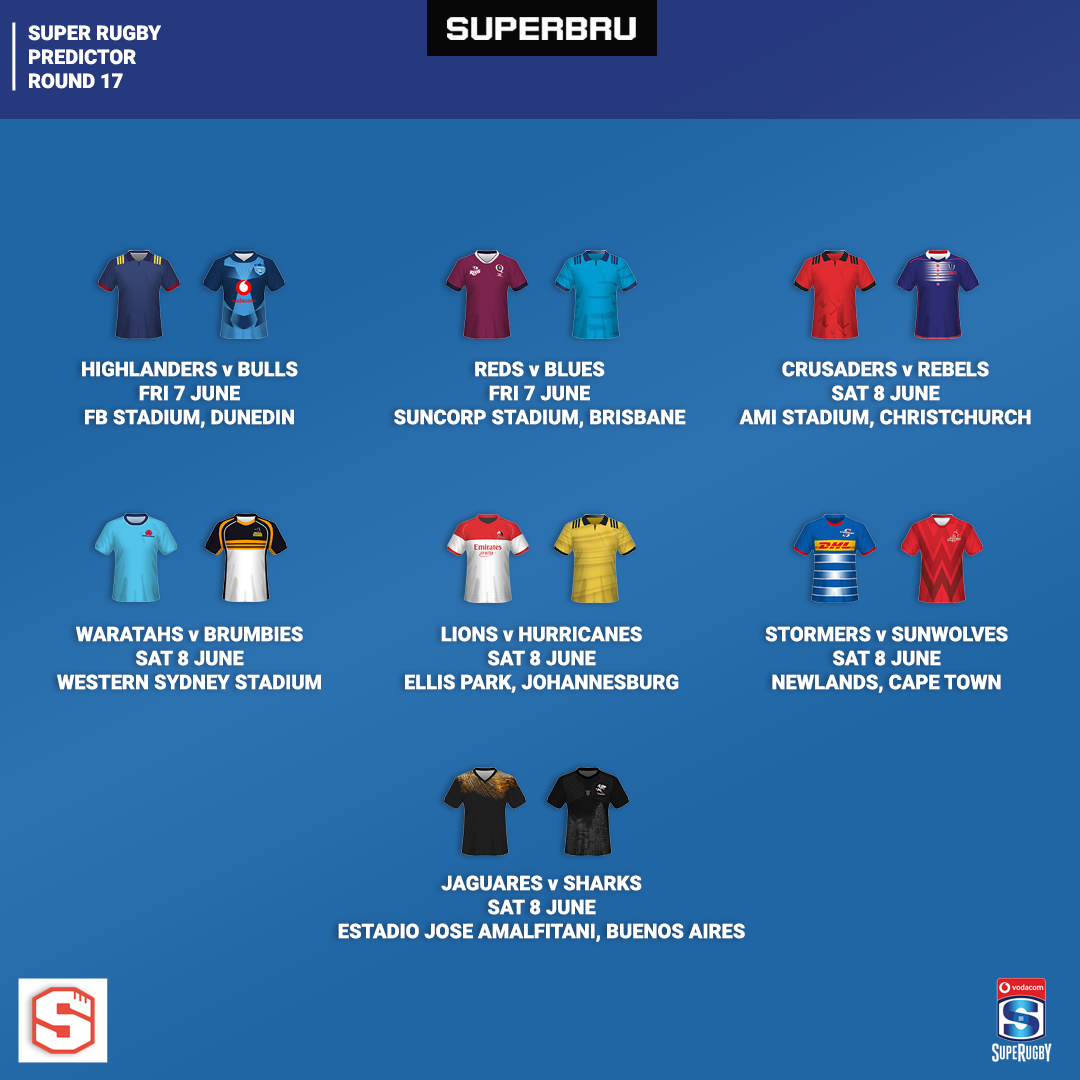 Highlanders v Bulls
Handre Pollard is back for the Bulls, flying to New Zealand for this one match, but I still can't see them winning in Dunedin.
Highlanders by 9
Reds v Blues
The Blues are yet to win away this season, and will be without Rieko Ioane for this one, but yet something is stopping me picking the Reds. Neither team will make the playoffs, and it's quite tricky to pick a colour.
Blues by 7
Crusaders v Rebels
The 'saders may have lost last weekend, but this is still an obvious pick. The Rebels are stuttering towards the knockout stages, and this should be an easy home win.
Crusaders by 23
Waratahs v Brumbies
The Tahs need to win this to keep their qualification hopes alive, and whilst the Brumbies have been impressive in winning 6 of their last 7 games, I'm leaning towards the home team for this one.
Waratahs by 4
Lions v Hurricanes
The Lions have a dreadful record against the Hurricanes, winning just one of the last 10 matches against the men from Wellington. Home advantage is significant, but instinct is telling me to pick the Hurricanes.
Hurricanes by 4
Stormers v Sunwolves
Some light relief from the trickier picks, as the Stormers will thrash the Sunwolves.
Stormers by 28
Jaguares v Sharks
The Jaguares thrashed the Sharks in Durban in the reverse fixture in April, and so surely they'll win this one too? They look like being well-seeded in the playoffs.
Jaguares by 13
Follow Superbru on Twitter: @Superbru
for regular info and updates.