'Super Rugby AU' fixtures confirmed for our Super Rugby Restart Game
Rugby Australia have today confirmed their plans for 'Super Rugby AU' a new domestic competition that will involve Australia's 4 Super Rugby sides and the Western Force. This tournament is essentially the Australian version of New Zealand's 'Super Rugby Aotearoa' and we are combining the two events to form one 'Super Rugby Restart' predictor on Superbru.
Simply put, Super Rugby Aotearoa + Super Rugby AU = Super Rugby Restart on Superbru.
Our predictor game begins this Saturday when the Highlanders face the Chiefs in Dunedin. As usual, team lineups will be visible on our picks page when they become available. Superbru Insights will also be available for Premium users.
How to join
To join the Super Rugby restart predictor, close this article, then click the app menu button (top left on your screen) and choose Join a Tournament. Good luck!

The first three rounds of our predictor game will consist of just two fixtures each as the only action will be from New Zealand. However, by the time we reach Round 4, we'll be back to making picks for rounds that feel far more 'Super Rugbyish' as the Australian teams will join the fun: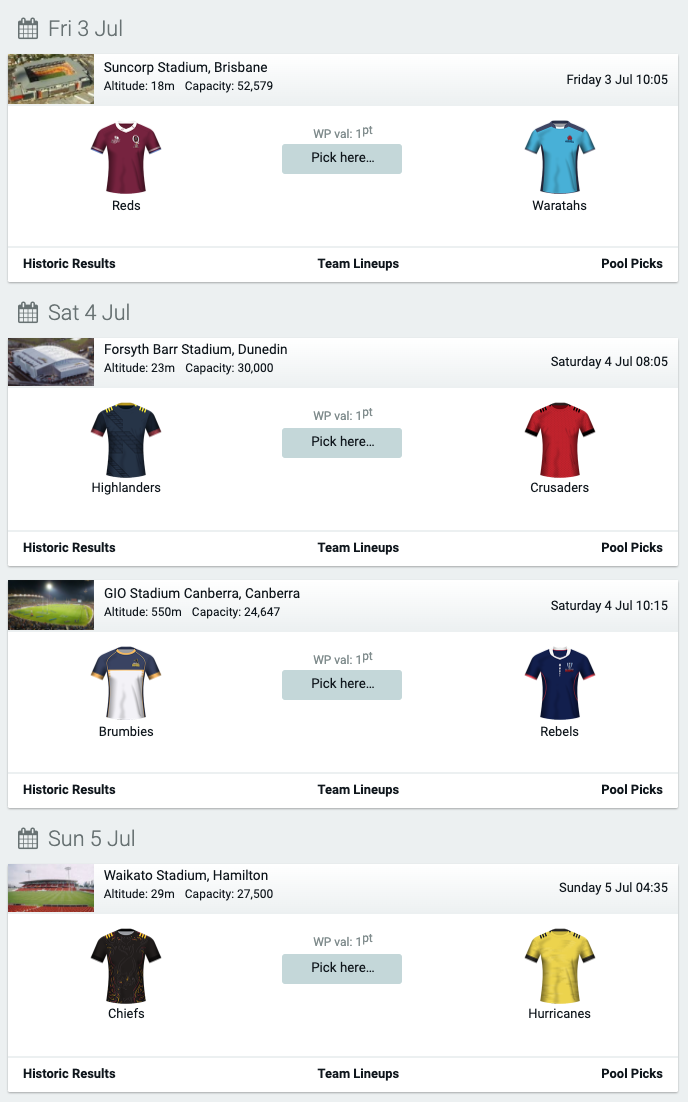 Super Rugby AU
The fixtures shown in the above image are the only matches we're currently aware of ahead of the full draw being published tomorrow. As you can see,
Super Rugby AU will begin on July 3rd
and Rugby Australia are scheduling their matches to ensure there won't be a clash with the NZ fixtures.
Though the Australian tournament will consist of a 10-week round robin just like NZ, a key difference is that there will be finals in AU with a qualifying final set to take place on September 12th and then a final on September 19th.
We therefore currently expect our Super Rugby Restart tournament to end on September 19th but if a competition is also formed in South Africa involving their Super Rugby teams (some reports suggest this might be possible), we will also add those fixtures.
Three-conference Super Rugby competition abandoned
Today's release from Rugby Australia also confirmed what everyone already expected - the original 2020 Super Rugby competition has been abandoned. This is also the case at Superbru. Our original predictor, fantasy and daily fantasy games have all been marked 'defunct' and we will not be finalising honours and standings since only 7 out of 18 group stage rounds were completed.
Pool captains are of course free to discuss what happens next with those in their pool - like sports administrators around the world, you have a 'take current standings as final or null and void' decision of your own to make! However, there's also the option of combining your points across the two tournaments. Though this isn't a feature that will be possible directly on Superbru, you can of course simply add the original SR Predictor points to the standings you end up with at the end of the Super Rugby Restart game.
For those of you who compete across various Superbru tournaments in Clubs, we
can
help assign Club points for those who wish to go with the 'take current standings as final' option. If members agree that they'd like medal points assigned for the rounds that took place in any of our original 2020 Super Rugby games, then Club Presidents can get in touch via support@superbru.com with details of the Club/pools they are in charge of. Though those tournaments will not be finalised as mentioned, the Superbru staff members who are far better at IT than I can assign Club points for you on a case-by-case basis for those who would like them.