Rugby World Cup 2023: Round 3 Predictions
A couple of exact picks made Round 2 pretty decent, although I wasn't brave enough to pick Fiji to beat Australia.
Round 3 has an early start, so don't be caught out with your picks! It's also an extra challenge in the Fantasy game where not all of the lineups will be announced before the deadline - we know the teams for the Italy and France games, South Africa, and likely Argentina v Samoa, while Ireland, Wales, Australia and Scotland should all be at full-strength, so it's really just whether you take a risk on England's second-string against Chile.
I don't think I will based on their attacking showcase so far, and they might be at full-strength anyway given they have a week off after this one.
Here are my
Rugby World Cup
predictions for Round 3.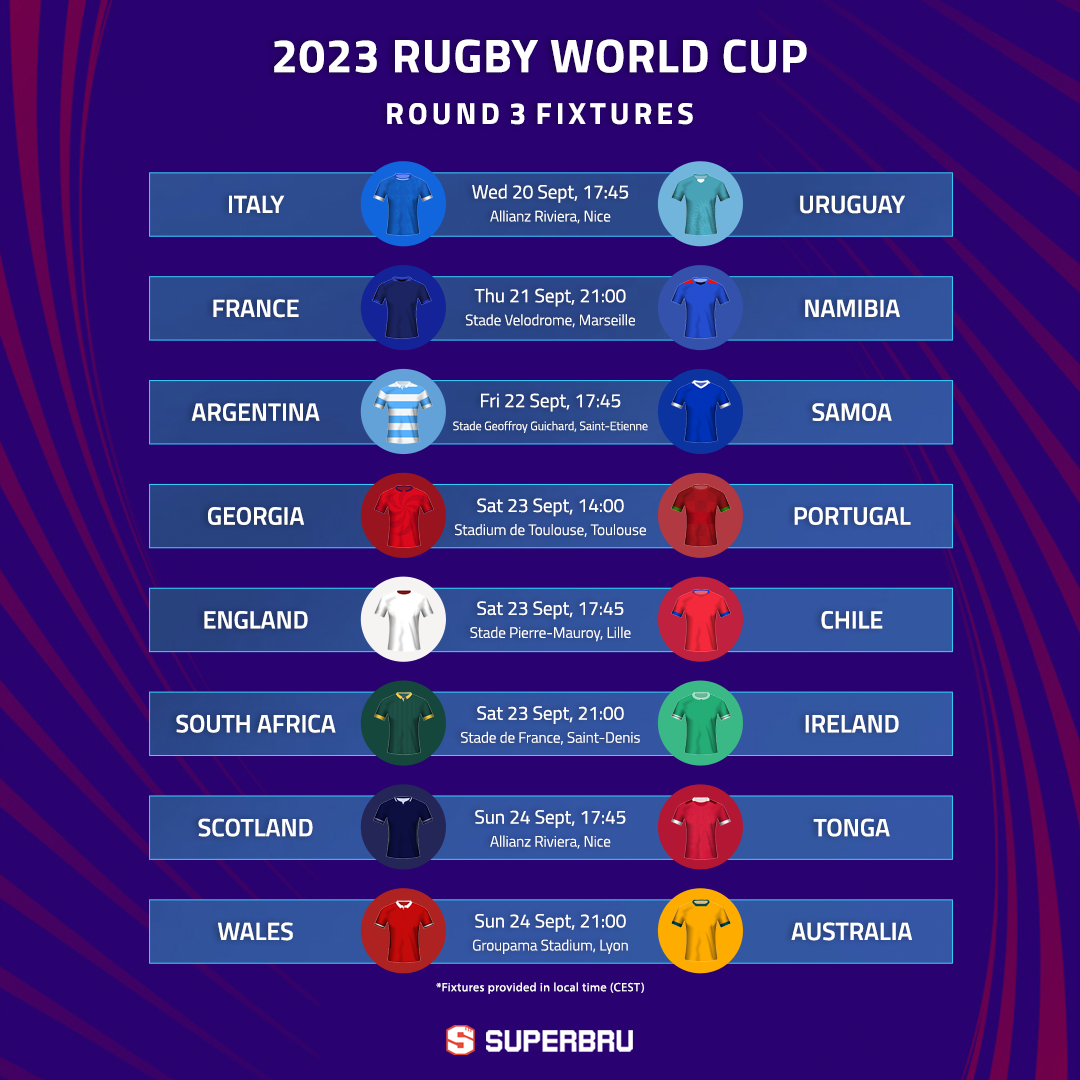 Italy v Uruguay
The Azzurri are looking good as they continue to warm-up for their crucial games with New Zealand and France, and although they should beat Uruguay, it might not be a cricket score.
Italy by 18
France v Namibia
Namibia's tournament doesn't show any signs of getting easier here, and the French will try to be a little more fluent than they were against Uruguay last week.
France by 58
Argentina v Samoa
This is a crucial game for the Pumas having lost their opener to England, and Samoa will not be easy to beat. Don't rule out an upset here, but I expect Argentina to come through this test.
Argentina by 9
Georgia v Portugal
This is a crucial game to determine who will finish bottom of Pool C. My money is on Portugal coming 5th.
Georgia by 13
England v Chile
England should now go on and win Pool D and this ought to be a bonus point win - whether they can get their attack into better shape remains to be seen, however, and if they continue to hoof the ball away, they might not score too many tries.
England by 33
South Africa v Ireland
This is a tough pick with plenty at stake - the loser will likely play tournament hosts France in the quarter-finals, whilst the winners get the pleasure of facing the All Blacks. They should give it everything, and from what I've seen so far, the Springboks are looking very difficult to beat.
South Africa by 4
Scotland v Tonga
Tonga were well-beaten by Ireland in their opening match last week, and whilst they'll be a physical threat to the Scots, they are unlikely to match them on the scoreboard.
Scotland by 18
Wales v Australia
This is a great fixture with the Wallabies in danger of crashing out in the group stages. My hunch is that they'll come out fighting with that in mind, and I think they'll edge it. Bonus points could be critical here whichever way the game goes.
Australia by 2
How do your predictions compare? Let us know in the comments!