Rugby World Cup 2023: Round 1 Predictions
It has been a busy week here are Superbru HQ and we're set to host the biggest-ever Superbru tournament when the
World Cup
kicks off on Friday. New players are arriving all the time, but it's also great to see plenty of people reactivating their accounts, having not played since before the pandemic. Welcome and welcome back.
We hope you like the various new features and design, and that you'll (re)discover the love for Superbru and come and join us for the various annual tournaments like the URC, Premiership Rugby, Super Rugby etc. etc.
Check out our new
Superbru Rugby app
if you haven't already - it will be a great companion throughout the
World Cup
, and it's rising quickly up the app store charts - please do us a favour by installing it and perhaps even giving it a 5-star rating.
Can you tell that I'm stalling a little before committing to my Superbru picks? There are several tough ones to contend with, but without further ado, here are my
Rugby World Cup
predictions for Round 1.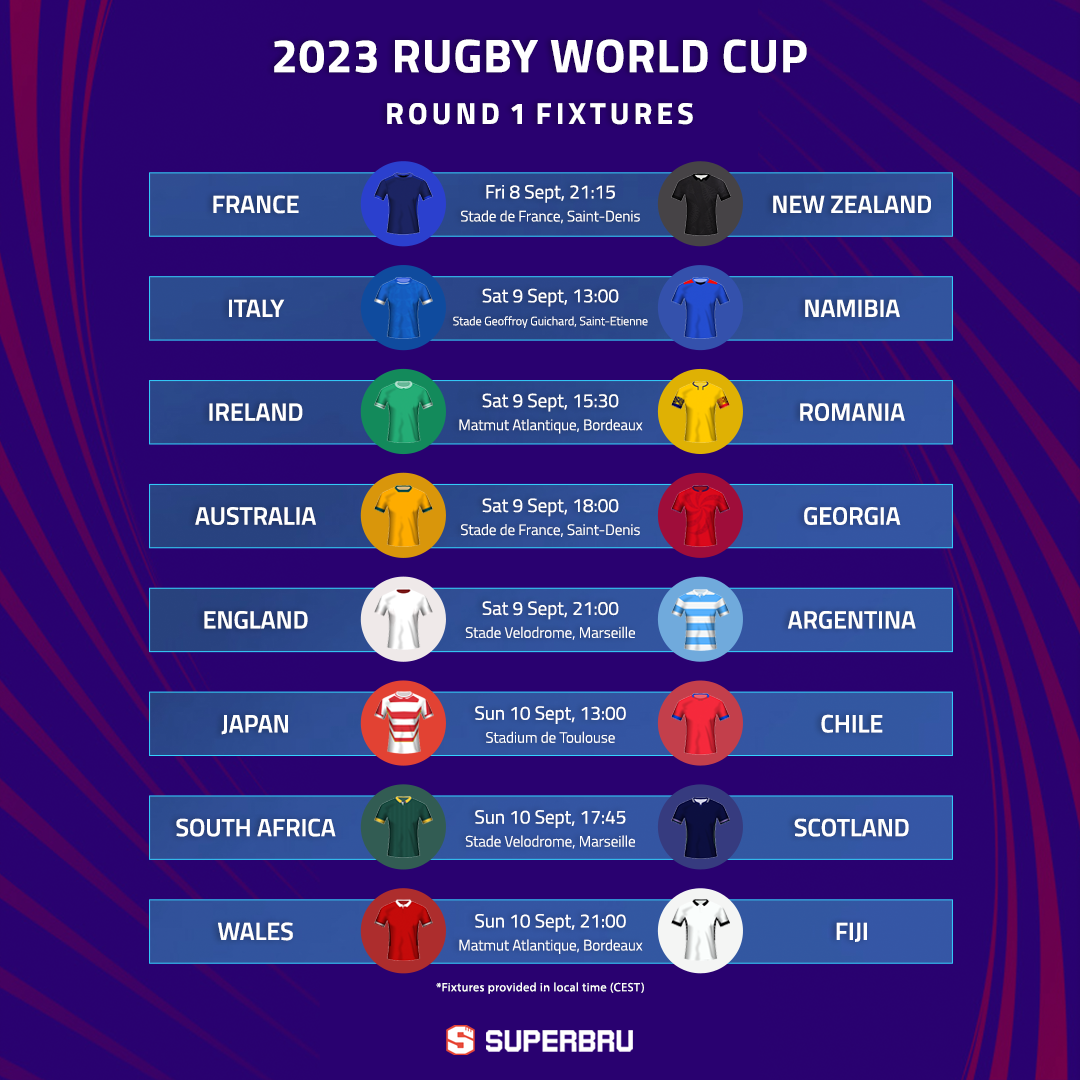 France v New Zealand
Hats off to the tournament organisers who have made this the opening fixture, and what a way to kick things off. It will divide the Superbru community in terms of picks, and there will be bragging rights on the line from day 1. I'd love to see France win their own tournament, but I actually think they might get stage fright in this first game, as they adjust to playing without key man Romain Ntamack, and adjust to being favourites in a fixture against the All Blacks. The visitors will relish underdog status, and the opportunity to crash the French party and lay down a marker to everyone else.
New Zealand by 2
Italy v Namibia
There should only be one winner here, and the more I have seen of Italy in the last year or so, the more unfortunate it seems that they share a pool with the All Blacks and France. A winning start here, potentially taking their foot off the gas in the heat.
Italy by 23
Ireland v Romania
This is due to be played in 35 degree heat in the South of France, and whilst there's no chance of an upset, it seems unlikely that it will be a high-octane try-fest. A professional get-the-job-done bonus point win for the World Number 1 team.
Ireland by 43
Australia v Georgia
Some people seem to be expecting a comfortable Wallaby win here, but I think Georgia could make life difficult for them. They beat Wales last November, and will be targeting another upset here against this underperforming Aussie side. I'm not brave enough to pick it, but I'm expecting it to be closer than some.
Australia by 9
England v Argentina
This is a head over heart pick, but I've seen absolutely nothing to suggest that England can put together a coherent attacking game, nor keep their defence tight enough to squeeze out an ugly win. An ugly defeat looks most likely, although I'll live in hope that this World Cup is not a total disaster for England given their favourable draw.
Argentina by 4
Japan v Chile
I'm looking forward to Chile's Rugby World Cup debut on Sunday, and although expectations are generally quite low, hopefully they'll play some entertaining rugby. Japan should win, but the newcomers have made it clear that they aren't just in France to take photos and they should give a reasonable account of themselves.
Japan by 18
South Africa v Scotland
The Springboks are looking like serious contenders for this World Cup, and for all the talk of knowing what to expect from them, it doesn't mean anyone can do anything about it. Scotland look a little underpowered by comparison, and I suspect this will end up being relatively comfortable for the Springboks.
South Africa by 11
Wales v Fiji
I am extremely tempted to pick Fiji here, but their win over England will make everyone take them seriously, and with their fly-half ruled out of the tournament, the Fijians may have peaked too early. I think we're more likely to see Wales take control of the game and refuse to let it get loose.
Wales by 9
How do your predictions compare? Let us know in the comments!