Preview: 2020 IPL on Superbru
Almost 6 months later than planned, the IPL is finally set to get underway in 2020! As you can imagine, such a long delay has led to a few changes, most notably the location of the tournament, but all cricket fans will of course just be grateful that the world's biggest T20 league can take place at all.
Here on Superbru, there are once again two games for you to play.
Our predictor tournament
allows you to take on your friends in predicting the winning team and margin of victory in each of the 60 matches that will take place. Then,
in our fantasy tournament
you pick 4 players for each day of action - two batsmen, an all-rounder and a bowler. Points are scored for runs, catches, wickets and lots of other things and you're always spoiled for choice in this tournament due to so many of the world's best players being in action.
The rescheduled 2020 tournament
Due to the ongoing pandemic, it wasn't possible to begin the IPL back in March as planned and even now India itself is not ready to host the highlight of its annual sporting calendar. Instead, the IPL will be played overseas for the first time since 2014 with the UAE hosting all of the matches. Three cities (and venues) will between them host all 60 games - Dubai, Abu Dhabi and Sharjah.
Matches will take place on a daily basis at 6pm local time which is 7:30pm India time, 4pm in South Africa, 3pm in the UK and midnight AEST (Sydney). Once we reach October, weekends will see double-fixture Saturdays and Sundays with an earlier game taking place at 2pm local time.
Can we expect a different IPL in the UAE?
As all cricket fans will know, even the conditions of each different stadium can have a big impact on how a match goes let alone each different country. IPL coaches and analysts have spent months researching the three host venues in order to gain a greater understanding of how their respective teams should approach their matches and there are lots of good articles around since journalists have been doing the same!
For instance, as in India, the 'dew factor' is expected to be key in the UAE. Since games will be played at night, as dew forms on the grass in late evenings, teams often prefer to chase since it is harder for bowlers to contain batsmen when bowling with a wet ball. A factor more specific to this tournament is the low number of venues involved - in the recent Caribbean Premier League, we have seen bowlers thrive in many matches and a potential reason for this is the lower amount of pitch recovery time each venue has when hosting so many games. Like the IPL, the CPL was not able to take place with the usual home and away matches meaning all games were played at just 2 different venues.
The teams
As always, the IPL is again set to feature a ridiculous number of quality players. The graphics below show you all of the overseas players that will be playing for each team and there of course lots of very talented Indians in each side too!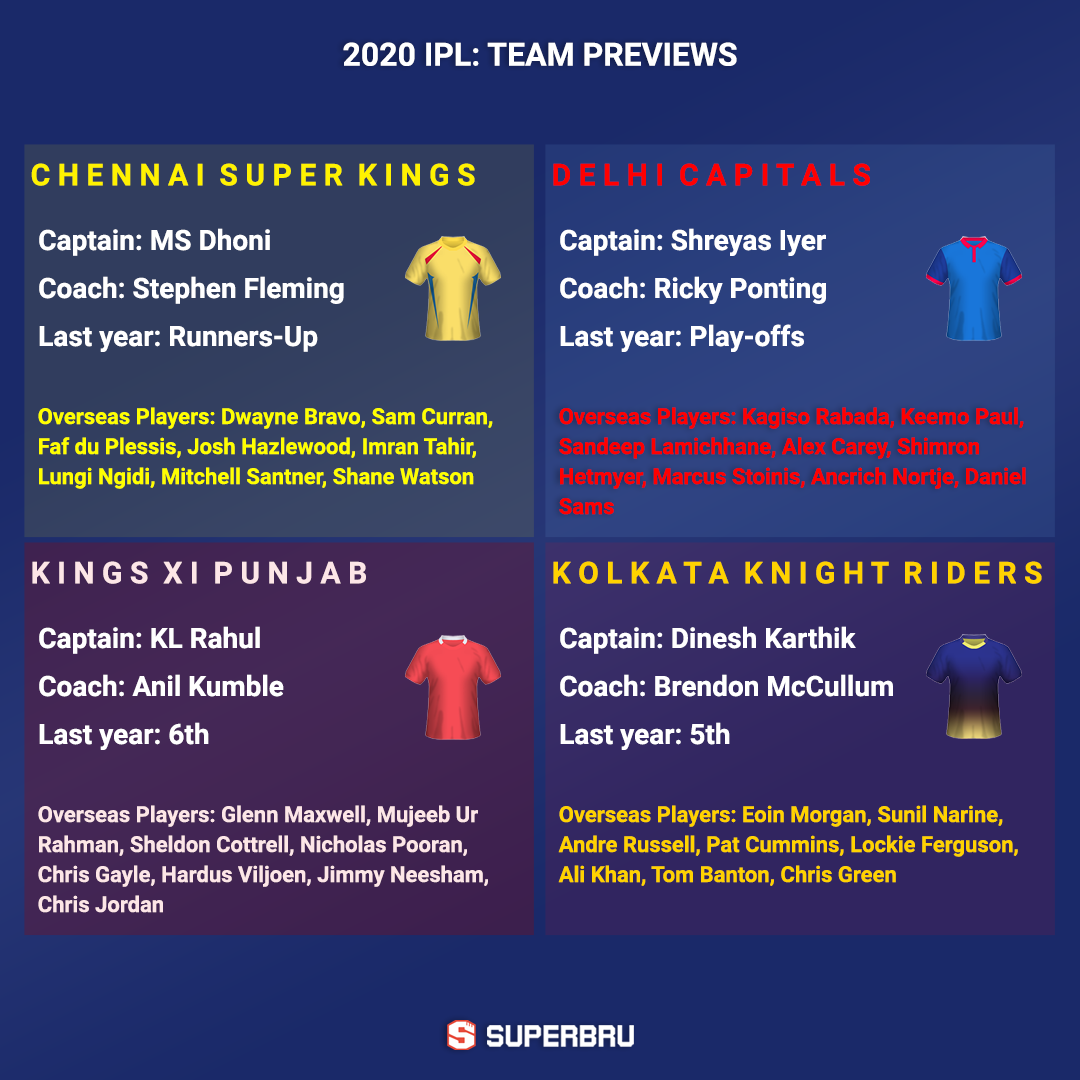 Last year, Mumbai Indians won their fourth IPL title in an incredibly dramatic 1-run win over the Chennai Super Kings. That win means they are officially the most successful team in IPL history as CSK have won the second largest number of titles (3).
Perhaps based on that (and their massive middle order), Mumbai are the slight bookies favourites for this year's tournament too but as you'll see if you check out the odds, it really could be anyone's year! As well as the usual factors to consider when making your picks such as the weather, lineups and toss, we'll have to just wait and see which team can adapt best to the foreign conditions and lack of crowds.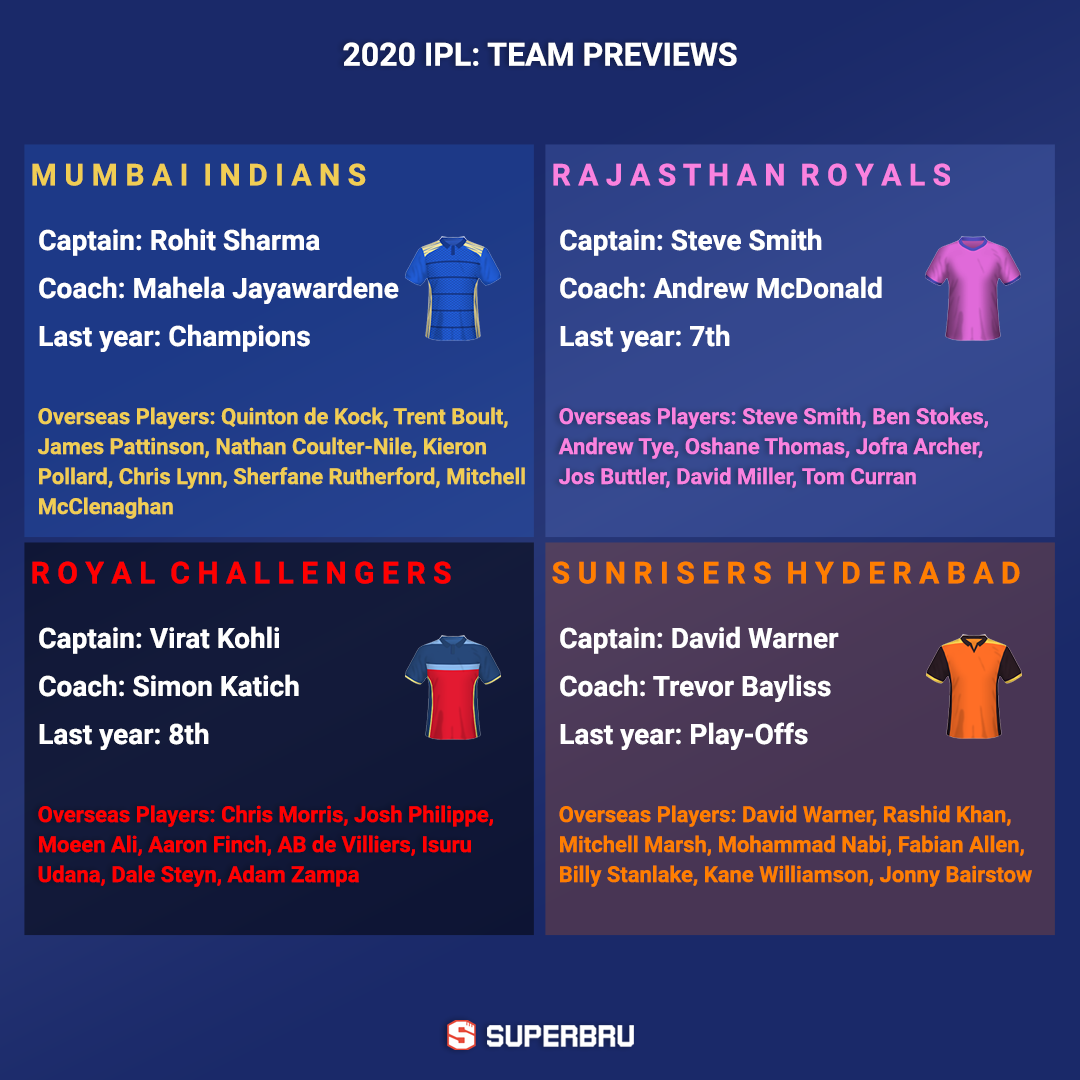 The auction for the 2020 IPL (which feels a long time ago now!) saw Pat Cummins become the highest-paid foreigner in the IPL ever as Kolkata Knight Riders have forked out $3.17 million for his services. Fellow Aussie Glenn Maxwell was the second most expensive buy as he's set to return to Kings XI Punjab (who he played for between 2014 and 2017) for $2.2 million.
Join our games now
We had a lot of you join our games way back in March before the tournament was postponed relatively last-minute so if you were one such bru you might well already be in our games for this event but if not, make sure you get signed up now! As with all Superbru tournaments, you can play in up to 10 pools (private leagues) in each game meaning now is the time to invite your friends and see who comes out on top following the final on November 10th. Good luck!