Premier League: Round 19 Predictions
Round 18 was a fairly difficult one for Superbru players and the 5/10 I managed was only slightly above the community average. Manchester City, Newcastle, Tottenham and Chelsea all failed to win meaning they'll be looking for a response in this round...
There's a very quick turnaround with Brentford v Liverpool already taking place tonight. Here are my picks for Round 19 of the
Premier League Predictor
. Feel free to leave your own in the comments.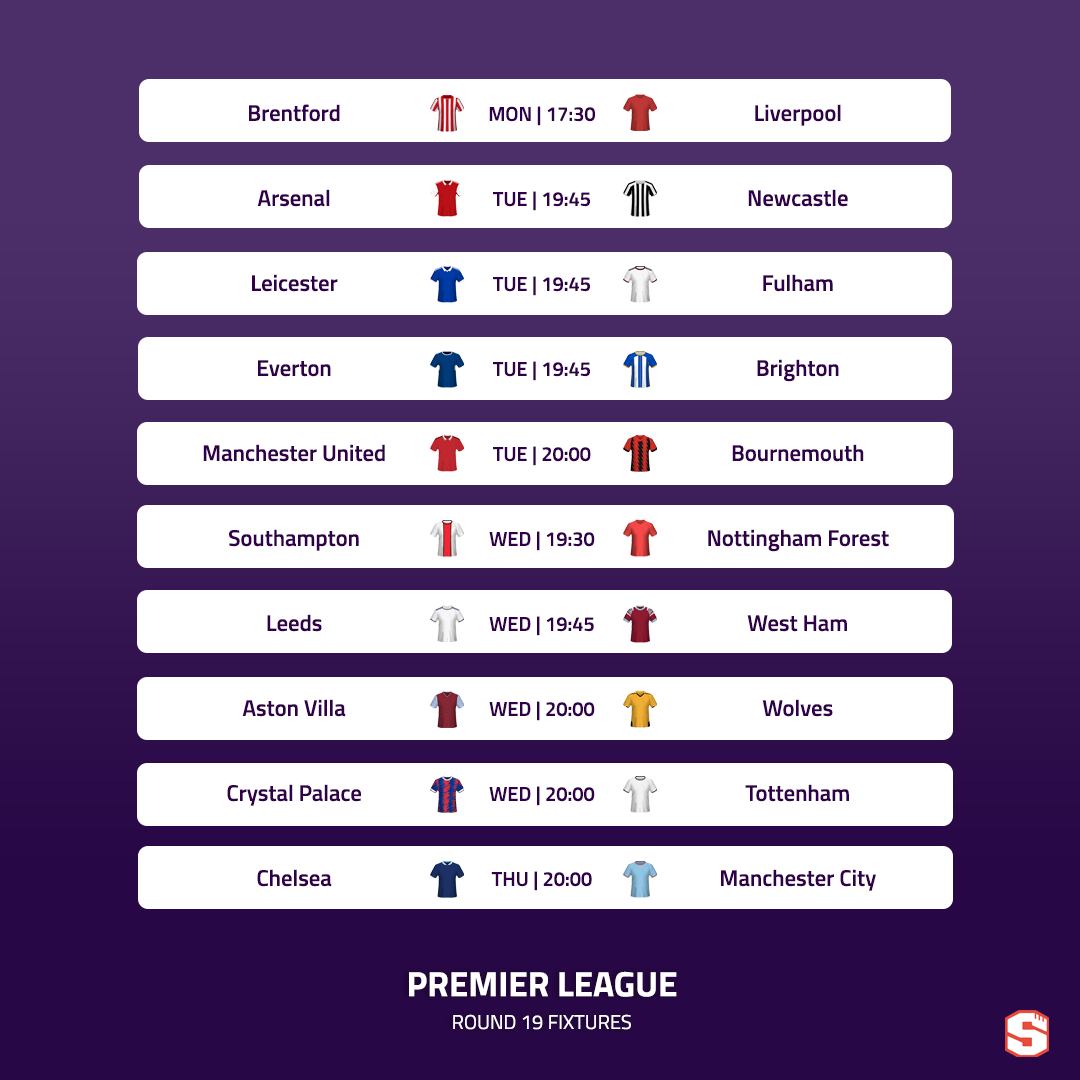 Brentford vs. Liverpool
I've backed Brentford to avoid defeat in each of their two games since the World Cup but I think this might be where there unbeaten run comes to an end? They certainly have a chance of a result but Liverpool have also looked strong of late and with Toney a doubt, I think I have to go with the Reds.
Prediction: Brentford 1-2 Liverpool
Arsenal vs. Newcastle
I've been looking forward to this one and had felt as if Newcastle stood a great chance of ending Arsenal's win streak but after their respective results in the last round, it's hard to go against Arsenal isn't it? Ødegaard has been fantastic and the Gunners just look so capable of scoring goals.
Prediction: Arsenal 2-1 Newcastle
Leicester vs. Fulham
This is a tricky one as there's certainly not much for Fulham to fear but I feel Leicester might be due a win. There's no doubt the visitors have been the stronger side this season but Leicester were competitive at Anfield last time out and should be picking up points in a home fixture like this.
Prediction: Leicester 1-0 Fulham
Everton vs. Brighton
Fair play to Everton - very, very few of us saw them getting a point at the Etihad! I'm still far from convinced they can back it up with a result here though, as their recent performances at Goodison have been surprisingly poor. Brighton are the stronger side and I think they can manage at least a point.
Prediction: Everton 1-1 Brighton
Manchester United vs. Bournemouth
This should be a fairly comfortable home. United continue to improve whereas Bournemouth have started falling away.
Prediction: Manchester United 3-0 Bournemouth
Southampton vs. Nottingham Forest
Forest managed another great result at home on Sunday but they've been dreadful away all season meaning this is an absolute must win for Saints. They *should* pick up 3 points but it's very hard to have faith in them given recent results. I'm picking a home win because of Forest's away form but feel as if I'm quite reliant on Ward-Prowse scoring another free-kick!
Prediction: Southampton 2-1 Nottingham Forest
Leeds vs. West Ham
Both of these teams are in need of a win but after that 0-0 draw at Newcastle in the last round, it's probably Leeds who appear the more likely to come out on top? West Ham fans will be growing impatient after another home defeat last time out and I think Leeds should be able to pick up 3 points in front of their own fans.
Prediction: Leeds 3-1 West Ham
Aston Villa vs. Wolves
I'm frustrated I only had them to draw at Spurs rather than win, but Aston Villa continue to impress under Emery and I think they'll be OK here. Wolves still aren't looking too threatening in attack and Villa will get better and better defensively with Emery. Kamara and Luiz were excellent in midfield in that Spurs win.
Prediction: Aston Villa 2-0 Wolves
Crystal Palace vs. Tottenham
Tough pick. Palace will take the game to Tottenham knowing how badly Conte's side are struggling to start games. Conceding the first goal in 10 matches in a row really is a shocking stat for Spurs and it feels like confidence is very low after another pessimistic press conference from Conte. Selhurst Park isn't really where you want to go in such circumstances and I'm going for a draw.
Prediction: Crystal Palace 1-1 Tottenham
Chelsea vs. Manchester City
Chelsea aren't completely out of this because City have been dropping points but given how much the hosts have been struggling without Reece James, I can only really see a City win. Chelsea are still yet to really settle into a system under Potter which is partly because of so many injuries, but it means they're very unlikely to be able to win against a side as settled as City.
Prediction: Chelsea 0-2 Manchester City
Following that game at Stamford Bridge, the FA Cup third round takes place but there is then also a rearranged Chelsea fixture where they face Fulham away from home on Thursday 12th January. Since that match takes place before the next full round of fixtures, it's been added to Round 19.
I won't be committing to a pick for that game just yet but based on Chelsea's recent away performances, I think Fulham will have a real chance. Let's see how Chelsea get on with their back-to-back matches against City for the time being!
On Superbru, our FA Cup Predictor begins with the fourth round, meaning a game will be live and available for you to join shortly after the third round is complete.
Keen to continue talking football and Superbru? Join our new Facebook group for Superbru Football Fans here.