Premier League: Round 9 Predictions
Having had an international break to recover, we're now set for another hectic few weeks until the next internationals with plenty of Premier League and European rounds coming up.
The PL returns with quite a Saturday as there are 8 matches taking place, some of which are very tasty indeed.
Here are my thoughts on each Round 9 game.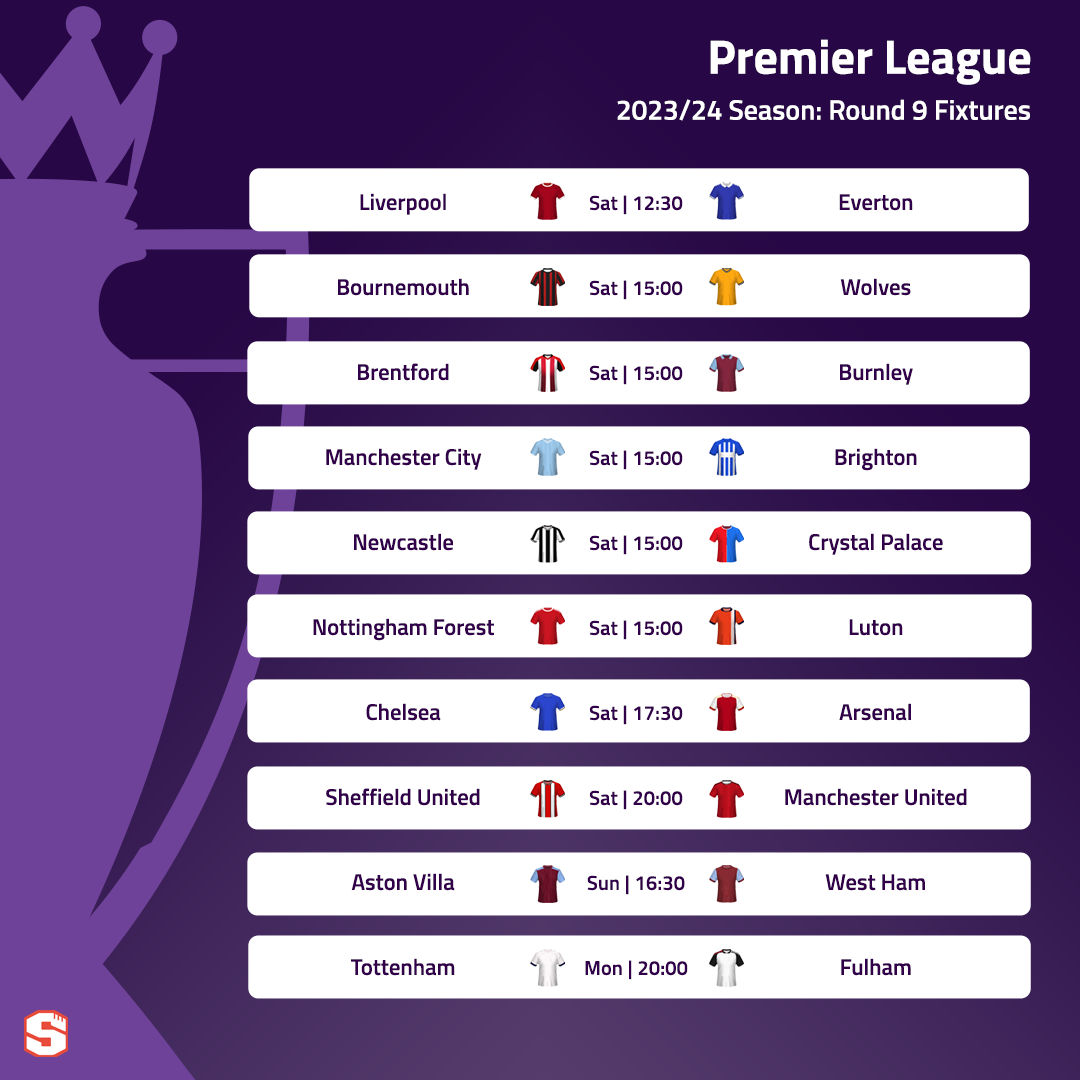 Liverpool vs. Everton
We all know Jurgen Klopp hates this kick-off time and he's mentioned how far many of his key players have to travel in international breaks plenty of times too, but you have to go with Liverpool when it's a Merseyside derby at Anfield. I'd be very surprised if Everton come away with anything.
Liverpool 2-0 Everton
Bournemouth vs. Wolves
This is a difficult one because Wolves have been the stronger looking side in recent weeks but now that Bournemouth finally have a fairly winnable home game, I think they might take their opportunity to get off the mark. It's definitely a risk, because I said this about them at Everton before the international break where they let me down badly, but let's see if home advantage helps them out!
Bournemouth 2-1 Wolves
Brentford vs. Burnley
Brentford are another team that's due a home win and though they're still missing so many players because of injury, I think they should be able to beat Burnley. I'm certainly not 100% confident, but since Burnley's only victory so far was at Luton, I'm going to need a bit more convincing before backing them to win a match like this.
Brentford 2-0 Burnley
Manchester City vs. Brighton
City's recent defeats are perhaps a slight concern, but they're also pretty explainable considering the context that they were missing their best two midfielders. One of them is now back from suspension (Rodri) and though De Bruyne remains a big miss, I think City will return to winning ways now that they're back at home. Brighton are of course a quality side but I can see them conceding a few goals here.
Manchester City 3-1 Brighton
Newcastle vs. Crystal Palace
This is another one where I have slight doubts because of a few injury concerns for Newcastle as well as the issues surrounding Sandro Tonali that have been well publicised, but you'd still be brave to go against the Magpies at home. Palace have managed really impressive results on the road so far this season which is why I'm tempted by a draw but let's go with a narrow home win.
Newcastle 2-1 Crystal Palace
Nottingham Forest vs. Luton
Forest don't tend to ever pick up comfortable wins so I'm not sure you want to get too carried away with your winning margin here but the hosts are certainly favourites. Luton deserve credit for making themselves difficult to play against in recent rounds too but it's still a stretch to pick them to win a game.
Nottingham Forest 1-0 Luton
Chelsea vs. Arsenal
Arsenal have begun to really enjoy this fixture in recent years and it certainly feels as if they're the more likely to win this meeting too as Chelsea will probably remain inconsistent given the age of their squad and the number of injuries that they have. Arsenal still have a few fitness concerns of their own but I expect Saliba and Saka to both play and if they do, the Gunners should win. If they aren't available, I think I'll switch to a draw.
Chelsea 1-2 Arsenal
Sheffield United vs. Manchester United
Man Utd's win over Brentford was of course a dramatic and important one but it certainly doesn't make things seem any less chaotic at Old Trafford so they're fortunate to have this fairly kind fixture that should see them return to action with a win. Sheffield United have looked well, well short of what's required to stay in this league so far.
Sheffield United 0-3 Manchester United
Aston Villa vs. West Ham
This is the only Sunday fixture this week and it's very tough to call so it should be an interesting watch. I'm going with a draw, partly because of West Ham's record at Villa Park, but also because only City and Liverpool have managed to beat them so far this season. I'd say Villa are favourites because of their home form, but West Ham can cause them a few problems I think - I'm sure Emery would love to have had Mings available for this one given his aerial presence.
Aston Villa 1-1 West Ham
Tottenham vs. Fulham
Finally, I think you have to go with Spurs here as they're yet to put a foot wrong really. Postecoglou's team will look to attack just as they have in every game this season but there also isn't too much for them to worry about in response from Fulham based on what we've seen so far this season.
Tottenham 2-0 Fulham
Good luck with your own Round 9 predictions and feel free to leave your own thoughts in the comments!