Premier League: Round 7 Predictions
I had a very average 5/10 in Round 6 so could do with an improved weekend here, and it's set to be a very busy Saturday with 8 of the 10 matches taking place tomorrow.
Many of you will have already noticed that there's also an 11th fixture in Round 7 which is Luton vs. Burnley on Tuesday night - that game has been rescheduled following a postponement in Round 2 because Luton's stadium wasn't ready. I won't be making my prediction for that until the weekend's games have been played but it's set to be a very important one for both teams!
Here are my thoughts on each of the other Round 7 Premier League games.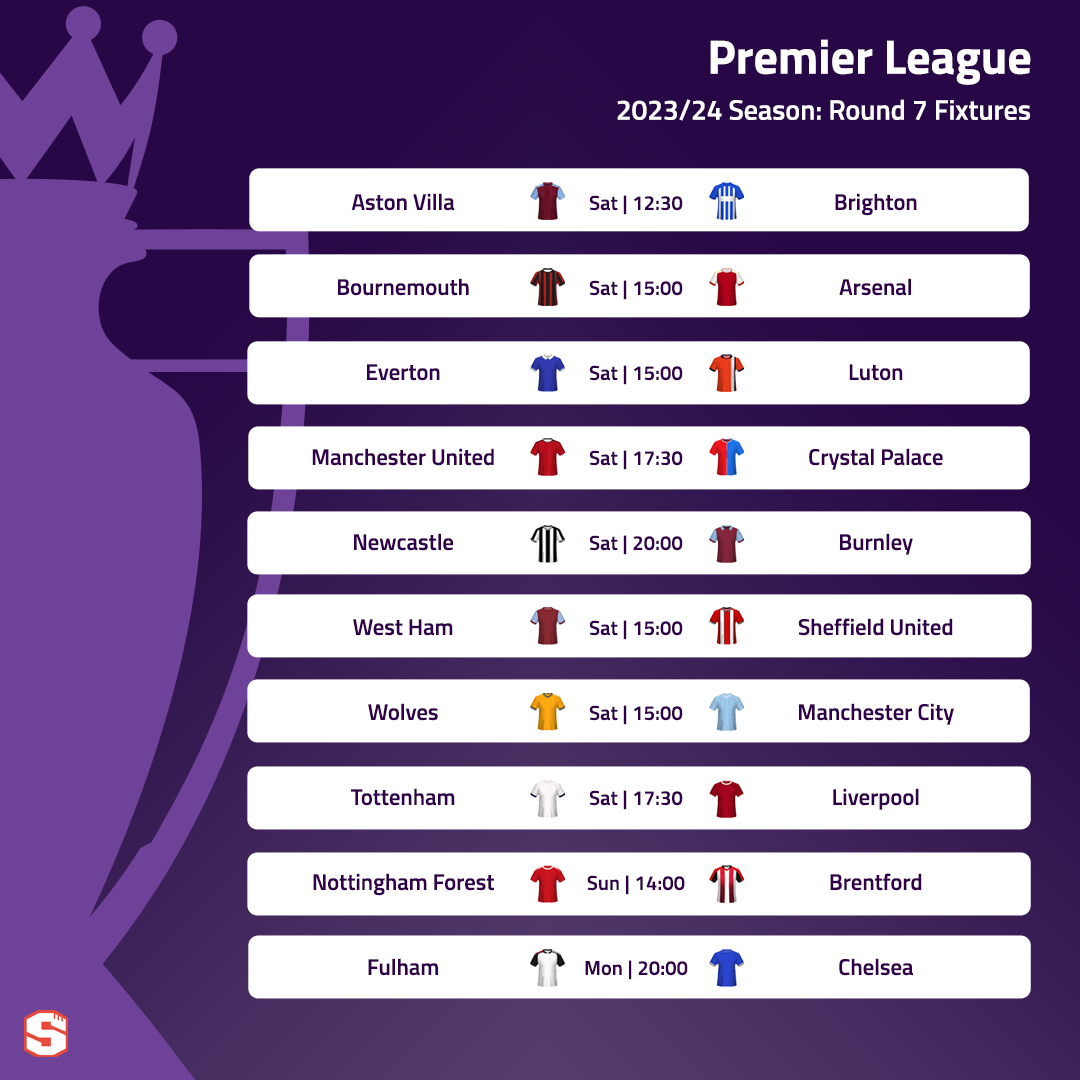 Aston Villa vs. Brighton
There's no messing about this week, we're straight in with a very difficult prediction. These two are both good teams and I'm ignoring their League Cup exits as I don't think either manager will mind considering their European schedules. I'd usually say Villa should win at home but Brighton have arguably been the more impressive so far this season. One thing that is for sure when you look at these teams' form streaks is that they're due a draw so let's go with that.
Aston Villa 1-1 Brighton
Bournemouth vs. Arsenal
Arsenal have half of their first XI as injury doubts which does make you think twice about this pick, but it's still a brave call to go against them since Bournemouth are yet to win. I think it'll be relatively close, but the Gunners should come through.
Bournemouth 1-2 Arsenal
Everton vs. Luton Town
After I said last week that there was no sign at all of Everton winning even one game any time soon, they have of course picked up two wins since in difficult away games so you're welcome for that, Toffees fans. This is now their most winnable home game of the season on paper, and with Calvert-Lewin back fit and scoring goals, Everton are the team to pick.
Everton 2-0 Luton Town
Manchester United vs. Crystal Palace
This should be more competitive than the League Cup tie was between these two sides in midweek, but I think United will just about find another win. Defensively there are still a few concerns, particularly now that Lisandro Martinez is out for a while, but in midfield they should be much stronger with Amrabat and Mount fit.
Manchester United 2-1 Crystal Palace
Newcastle vs. Burnley
Newcastle are growing into the season really nicely now (it doesn't get much better than last week!) and so while they'll naturally have one eye on their huge Champions League game in midweek, I think this will be comfortable for them. Burnley weren't terrible in their only away game of the season so far at Forest but they also have a big game to think about in a few days' time as that match at Luton is vital.
Newcastle 3-0 Burnley
West Ham vs. Sheffield United
This one feels similarly straightforward, as it's obviously hard to pick Sheffield United after a 0-8 defeat. West Ham have been strong all season and I think they'll have too much.
West Ham 2-0 Sheffield United
Wolves vs. Manchester City
It's difficult for anybody to beat Manchester City, but those that do tend to need to be very clinical in front of goal with the few chances they get, which isn't this Wolves side from what we've seen so far this season. City are without quite a few key players, including Rodri now of course, but I'd still expect them to win by a couple of goals at Molineux.
Wolves 0-2 Manchester City
Tottenham vs. Liverpool
This should be almost as much fun to watch as the North London derby last week, as we know both teams will go for it. It's hard to look past Liverpool's record in this fixture though - they so rarely lose to Tottenham. It sounds as if Maddison will play but question marks over his fitness are another reason to avoid risking a home win prediction in my opinion.
Tottenham 1-2 Liverpool
Nottingham Forest vs. Brentford
I think Nottingham Forest can win this, as it's been a concerning few weeks for Brentford. I really didn't expect such a poor performance from the Bees against Everton but now that they have further injury issues too, it does feel like a lot of things are going wrong which might make for an awkward couple of months. I'm wary that they have the quality to bounce back and prove me very wrong here but Forest are strong at home and I think their front four will do some damage in most of their home games.
Nottingham Forest 2-1 Brentford
Fulham vs. Chelsea
Another awkward one to finish with. Both teams look very short of goals so I think I'm going to be brave and risk my first goalless pick of the season. Chelsea are without so many of their strongest players including the only player who has scored a goal for them in weeks in Nicolas Jackson due to suspension, while Fulham are also short of a quality striker. Obvioulsy an early goal could blow this wide open and prove me completely wrong but that's always the risk and part of the fun.
Fulham 0-0 Chelsea
Good luck with your own Round 7 predictions and feel free to leave your own thoughts in the comments!