Premier League: Round 6 Predictions
I was fairly pleased with 8/10 in Round 5, including the win that Brighton got at Old Trafford. Bournemouth's draw with Chelsea and Forest's draw with Burnley were the ones I missed - I'm a little bit annoyed about the Bournemouth one as I nearly picked that.
This week, we have 5 games on Saturday and 5 games on Sunday as lots of teams need the extra day following their European fixtures. Added fatigue will start to come into play as a result of that, though not quite yet I don't think so I'm not going to read too much into the tiredness side of things for such teams, more just their performances/results.
Here are my thoughts on each of the Round 6 Premier League games.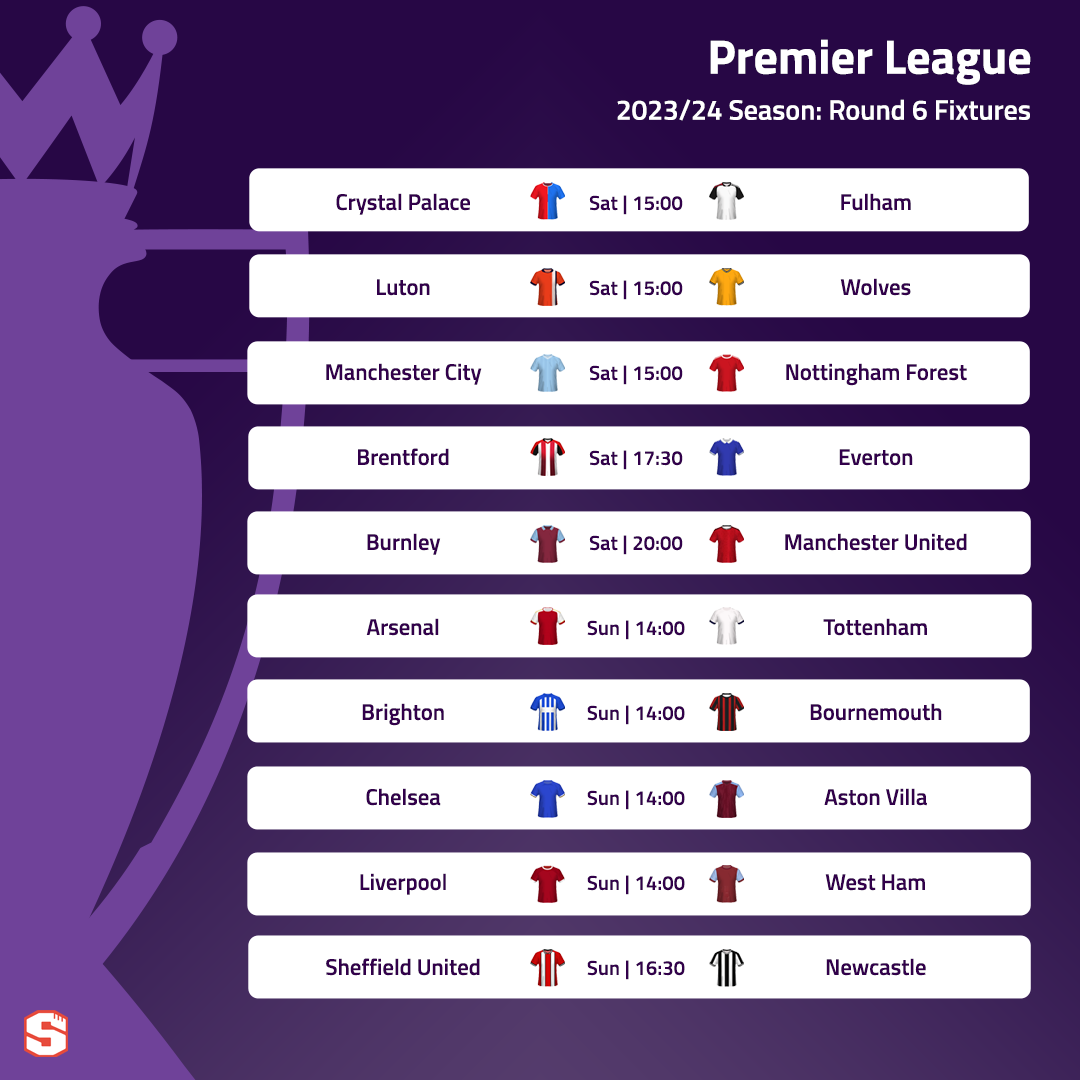 Crystal Palace vs. Fulham
Palace nearly won at Villa last week and it's been a fairly decent start for them overall so I think they're the more likely winners here, though it should be close. Fulham look as if they'll score far fewer goals than they did last season (which is obviously understandable without Mitrovic) and this is the kind of game where they may well miss having that quality centre forward. Maybe Carlos Vinicius or Raul Jimenez will prove me wrong!
Crystal Palace 2-1 Fulham
Luton Town vs. Wolves
I really hope Wolves start converting their chances soon. Partly because they deserve a lot more goals than they're scoring, and partly so that I don't have to keep saying the same thing about them every single week. They're a far better side than Luton, so let's back them to show it on the day, but it does feel as if this becomes a great opportunity for the Hatters if they're still in the game after an hour or so.
Luton 0-2 Wolves
Manchester City vs. Nottingham Forest
I'm obviously picking City here like everyone else, but I am interested to see if Forest can cause a little damage on the counter as they have the right kind of players to do so in my opinion. There's a few things they need to worry about at the other end of the pitch, though.
Manchester City 3-1 Nottingham Forest
Brentford vs. Everton
I think Brentford are the team to pick here; I'd be pretty worried right now if I was an Everton fan. Reports surrounding the proposed takeover don't sound great, and there' aren't many signs on the pitch to suggest the Toffees are about to starting winning a run of games (or just a single game to be fair) any time soon.
Brentford 3-0 Everton
Burnley vs. Manchester United
I've been impressed with certain passages of play from Burnley, particularly on Monday night at Forest, but it does feel as if they're going to concede quite a few goals this season and I'm not sure they have the firepower to outscore teams in high scoring matches. There are clearly a lot of fires to put out at Manchester United at the moment but they should be strong enough to win this game as I think they'll score at least a couple.
Burnley 1-3 Manchester United
Arsenal vs. Tottenham
I'm excited for this one as both teams are looking great in attack, but the golden rule remains firmly in place for me despite Arsenal's win at Spurs last season: Don't pick an away win in the North London derby. It's been 13 years since Tottenham won at Arsenal and I don't see that changing this year given the quality of this Gunners team and how positive the mood is at the Emirates at the moment.
Arsenal 2-1 Tottenham
Brighton vs. Bournemouth
Brighton's defeat against AEK yesterday has made me hesitate a little on this one, though it's probably unfair to write off their league form so far based on that one result. Bournemouth will compete and I think it'll be quite even for much of the match but a home win is definitely the most likely result, you'd think.
Brighton 2-0 Bournemouth
Chelsea vs. Aston Villa
I think Chelsea games are going to be a nightmare to predict all season really as they have some quality but they're far too young to be seriously challenging where we're used to seeing them so inconsistency should be expected. I was ready to pick Villa here but the fact that they played on Thursday and surprisingly lost in Warsaw with a fairly strong lineup has made me think twice. Perhaps now that they have a rare opportunity to be the team that isn't playing in Europe and can just focus on the Premier League, Chelsea might sneak this?
Chelsea 2-1 Aston Villa
Liverpool vs. West Ham
If this match plays out how most of Liverpool's games have this season, we'll see West Ham score a goal before being out-gunned by the Reds' pretty outrageous array of attacking talent. Both teams played on Thursday night so there's no advantage to be had there and I think Liverpool will be too strong.
Liverpool 3-1 West Ham
Sheffield United vs. Newcastle
I'm not sure this will be the most exciting match to finish with but Newcastle should win it, even though I think the hosts will keep themselves in the match for a while. The four teams currently at the bottom of the table are quite a lot weaker than the rest of the league in my opinion and my view is obviously unlikely to change until a couple of them actually string some results together.
Sheffield United 0-1 Newcastle
Good luck with your own Round 6 predictions and feel free to leave your own thoughts in the comments!