Premier League: Round 5 Predictions
Round 4 feels a long time ago now as we've had the international break but I've had a reasonable start to the Predictor season, currently sitting on 42.5 points and inside the top 20% of players.
Obviously the aim is to improve on that so let's see how we go this week! Don't forget we also have the European competitions starting next week with the
Champions League
and
Europa League
group stages getting underway so make sure you've joined our Predictor games for those.
Here are my thoughts on each of the Round 5 Premier League games.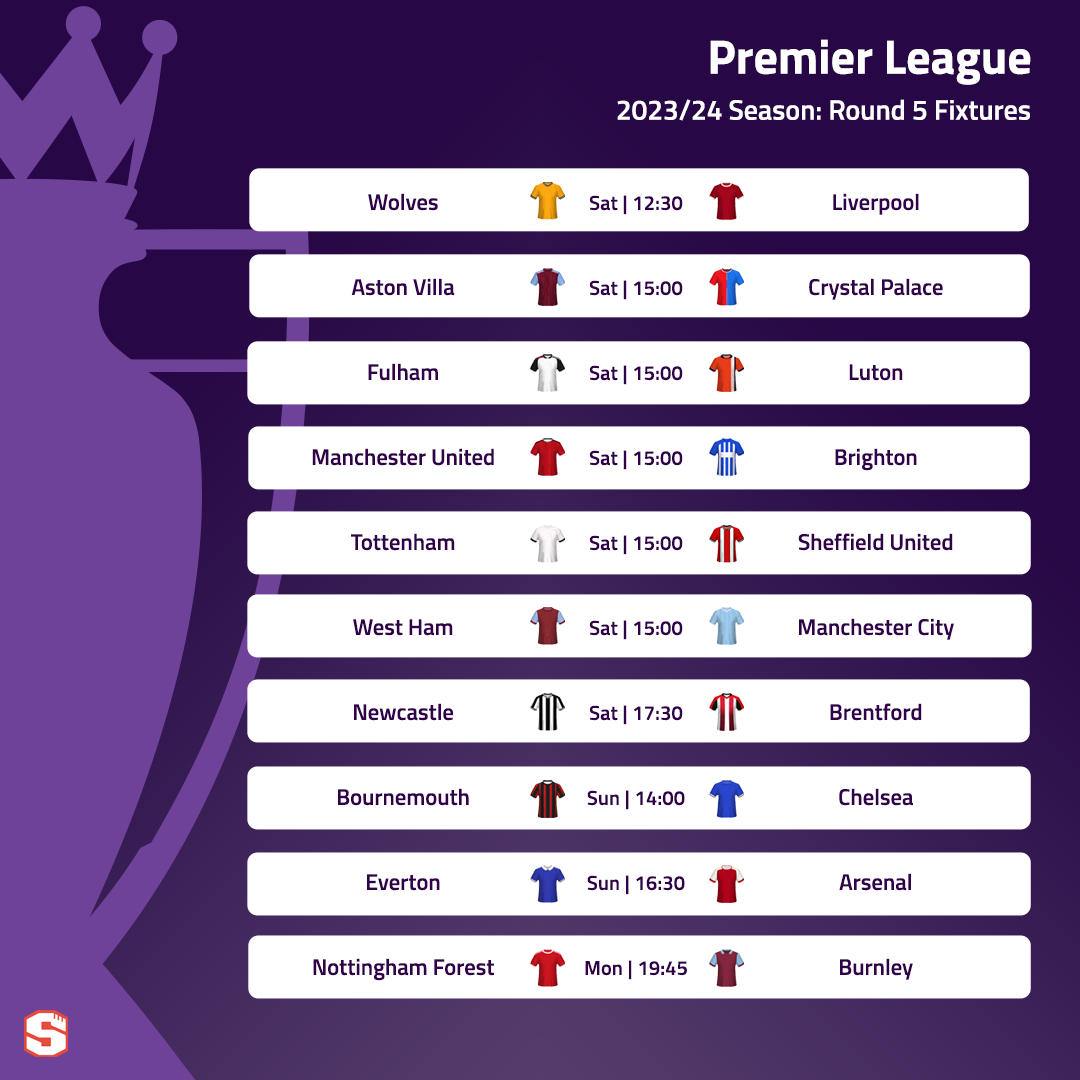 Wolves vs. Liverpool
I've watched a fair bit of Wolves in these first few weeks and it does feel as if there's something there in terms of potential for results to improve, but they definitely lack a clinical finisher and they're also conceding too many goals so it's a big ask for them to get a point or three here. Liverpool look sharp in attack and I think they'll have too much.
Wolves 0-2 Liverpool
Aston Villa vs. Crystal Palace
Palace have given everyone they've faced so far this season a game so this should be competitive but you'd think Villa will come out on top at home. We rarely see away wins in this fixture and Emery will want a response from this team after a second pretty disappointing away showing in the space of 4 games.
Aston Villa 3-1 Crystal Palace
Fulham vs. Luton
This should be a routine home win - I can't see myself picking Luton until they pick up a result or two. Fulham don't necessarily have the attacking quality to absolutely hammer teams but this should be fairly comfortable.
Fulham 2-0 Luton
Manchester United vs. Brighton
A difficult one. I think Brighton are the more likely team to win this game, but much depends on United's eventual lineup. The number of club statements United have released in the past few weeks shows the amount of different problems they are facing at the moment, but while the absence of Antony and Sancho does create a few headaches for ten Hag, I think Bruno Fernandes and Mason Mount can perform well on that right side and United's bigger problem remains central defence if Raphael Varane and Lisandro Martinez aren't available. United finished the defeat to Arsenal with Jonny Evans and Harry Maguire at centre back.
Brighton are a very good side and I think they can get at least a point here. The fact that United actually have an available centre forward in Hojlund means they could cause some problems but the Seagulls will create plenty of chances themselves and they've won the last 3 meetings between these two. I'm going with a Brighton win and will only switch to a draw if United's back four looks strong enough.
Manchester United 1-2 Brighton
Tottenham vs. Sheffield United
This one is a bit more straightforward as Spurs have started very well. I'd be surprised to see Sheffield United cause them many problems.
Tottenham 3-0 Sheffield United
West Ham vs. Manchester City
This has the potential to be an awkward fixture for City so I'm excited to see what happens after West Ham's excellent start to the season, but City very often just make such fixtures look routine anyway and they are of course far better than any other opponent the Hammers have faced so far. Guardiola has built a team that is dominant in pretty much all aspects of the game so they should be able to cope with the set-piece threat West Ham will throw at them as well as dominating the ball and creating chances as usual.
West Ham 0-2 Manchester City
Newcastle vs. Brentford
Newcastle should get the win here as they really need one after a string of three defeats, but they're another team that look a bit fragile defensively. It sounds as if Botman will be back fit which is very important as the makeshift centre back partnership at Brighton wasn't strong enough. Brentford are always a tricky opponent but at St James' Park I think Newcastle will pick up three points.
Newcastle 3-1 Brentford
Bournemouth vs. Chelsea
Bournemouth clearly have a chance here since Forest beat this Chelsea side at Stamford Bridge before the international break. For Mauricio Pochettino, that's a really concerning result so it'll be very interesting to see if he can get the Blues to respond here. I'm tempted by the draw but I think Chelsea may just edge it - they managed to win this fixture last season despite being that being such an awful campaign for them.
Bournemouth 1-2 Chelsea
Everton vs. Arsenal
This is one of those classic Premier League fixtures where you're torn between picking what
should
happen and what
actually
happens every time Arsenal go to Goodison Park. The Gunners haven't won away at Everton since 2017, so can we expect the 'curse' to end this time around? Personally, I think there's good reason to as Declan Rice makes a considerable difference for Arsenal in terms of the control he provides and Everton seem to only be getting worse with each passing season. It wouldn't shock me one bit if Arsenal slip up but I think it's more likely that they finally win at Goodison again.
Everton 0-2 Arsenal
Nottingham Forest vs. Burnley
There's a recent EFL Cup tie to go off when making this pick that suggests Burnley shouldn't be discounted but I'm still leaning towards Forest after their win at Chelsea and because of their solid home Premier League form. Burnley have had a really tough start fixtures wise and this is another difficult one at the City Ground under the lights.
Nottingham Forest 2-1 Burnley
Good luck with your own Round 5 predictions and feel free to leave your own thoughts in the comments!