Premier League: Round 4 Predictions
I had an average 5/10 in Round 3. I feel like I should have perhaps picked Wolves but the others I had wrong weren't results I really considered - Fulham and West Ham managed great results!
This week we have the final round before the first international break of the season. The summer transfer window also finally ends today which is great news so that everything can settle down and we can (hopefully) analyse teams slightly more easily with settled squads.
Here are my thoughts on each of the Round 4 games.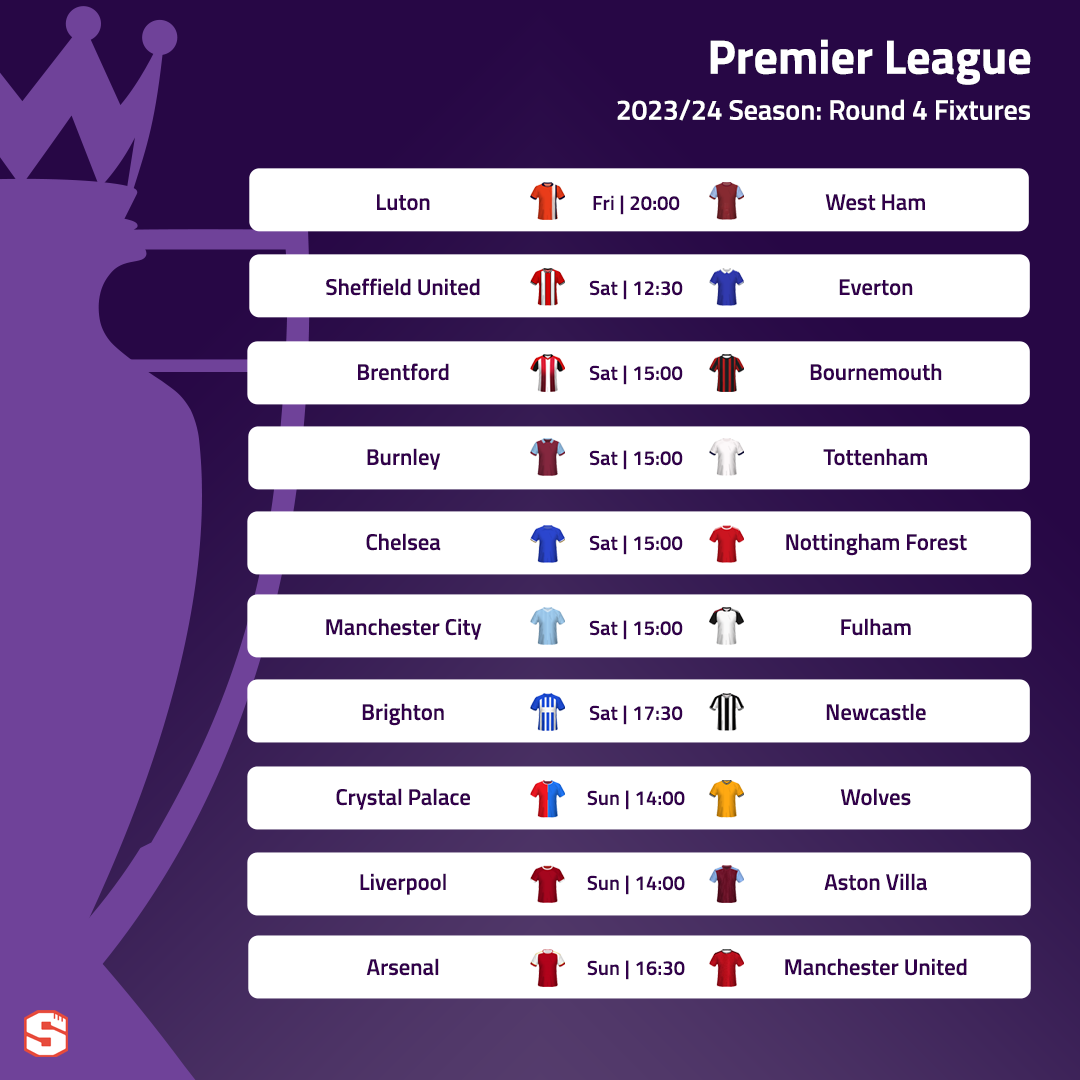 Luton vs. West Ham
This will be a very memorable evening for Luton as Premier League football is played at Kenilworth Road for the first time. I think it should a fairly entertaining game and you'd think Luton will give West Ham a real test in front of their own fans but it's hard to pick against the Hammers after their last two results. After starting the season with plenty of concerns following Rice's sale and no incomings, things are suddenly looking quite rosy for West Ham.
Luton 1-2 West Ham
Sheffield United vs. Everton
Jeez. I thought last week was a tough enough pick between two struggling sides in Everton v Wolves but this one is even worse, especially after their respective displays in the League Cup this week. A bit like in midweek against Doncaster, perhaps Everton will just about sneak a win? Their new striker Beto managed a goal in that game and they really are going to need him to score a fair few this season by the looks of things. The Toffees have probably carry more attacking threat than Sheffield United though which is quite damning for the Blades.
Sheffield United 0-1 Everton
Brentford vs. Bournemouth
This should be a fairly comfortable home win. I'm repeating myself each week but Bournemouth definitely need time to get their injured players back (including two new key signings) and adapt to Iraola so it's certainly not panic stations for them at this early stage. Getting so many difficult fixtures out the way early on might not be the worst thing for the Cherries anyway.
Brentford 2-0 Bournemouth
Burnley vs. Tottenham
I feel like there's potential for an upset here? Burnley have had two very tough opening games and this is now a third but they've shown a few promising signs and will surely be growing into the campaign. Spurs look good and will score plenty of goals this season but may also leave a few chances for the other team and we've seen Burnley are keen to try and play and create chances under Kompany. Spurs are obviously favourites but I have a feeling Burnley might get something so let's risk a draw.
Burnley 1-1 Tottenham
Chelsea vs. Nottingham Forest
Now that they have a win on the board, Chelsea really should win this one as well at Stamford Bridge given Forest's away record. I think Forest may score, as the Blues still look a fair way off where they want to be overall, but Raheem Sterling is looking very good and Chelsea should manage at least a couple themselves.
Chelsea 2-1 Nottingham Forest
Manchester City vs. Fulham
City are the team to back here. I'm quite worried for Fulham now that Joao Palhinha might be Bayern bound. They obviously had a great result at Arsenal but he was a massive part of that and will arguably be an even bigger loss than Mitrovic. Losing two such important players could well end in a difficult campaign for Marco Silva and his team.
Manchester City 3-0 Fulham
Brighton vs. Newcastle
I'm looking forward to this one and it's a very tough pick as on their day, both teams can be so good. I think I'm leaning slightly towards Newcastle, as they should be able to dominate midfield. Brighton have plenty of attacking flair and I can't believe we're going to get to see Ansu Fati playing for them this season - an attack consisting of him, Kaoru Mitoma and Joao Pedro really is fun. However, I feel Newcastle might be a little too strong in this fixture and it will then be interesting to see how they both cope after the international break having been drawn intro tricky European groups.
Brighton 1-2 Newcastle
Crystal Palace vs. Wolves
Palace have a great recent home record against Wolves and I don't think there's too much reason to pick against that continuing here. It's been a solid start to the season for the Eagles and with home advantage I think they're favourites.
Crystal Palace 2-1 Wolves
Liverpool vs. Aston Villa
Another interesting game (and we haven't even reached the headline fixture yet!) because Liverpool will be on a massive high after such a remarkable win at Newcastle, yet slight concerns over their openness defensively remain (particularly without van Dijk and Konate) and Villa aren't a side you want to give lots of counter attacking opportunities too. I think Villa are well placed to cause some serious damage here but it's been a long time since they've won at Anfield and Liverpool should be able to find the net a few times themselves.
Liverpool 3-1 Aston Villa
Arsenal vs. Manchester United
It's always a big game whenever these sides meet but it does look like a very challenging task for Man Utd without Shaw and Varane. Like many, I've been surprised with Arteta's decision to break up what was a very strong formula throughout last season to accomodate Kai Havertz by playing Thomas Partey in a midfield/right-back hybrid role. It seems very strange that Gabriel hasn't been playing for the Gunners and if he's brought back in for this one with White at right-back and Partey in midfield with Rice and Odegaard then I can't see United getting a result.
Even if Arteta sticks with what he has been doing this season, the hosts are favourites, although the news that Rasmus Hojlund is ready to make his debut for United does add a little bit of extra intrigue given how often we see debutants shine. I'm going with an Arsenal win but will feel a bit unsure if the team isn't changed back to the 2022/23 type Arsenal that I've outlined above.
Arsenal 3-1 Manchester United
Good luck with your own Round 4 predictions and feel free to leave your own thoughts in the comments!