Premier League: Round 3 Predictions
I had 6/9 in Round 2 of the Premier League Predictor, getting the relatively predictable ones correct but failing to pick any of the 'upsets' - I'm annoyed I didn't back Brentford!
We're back to the usual 10 matches this week and there are a couple of matches that look particularly tricky to call at Goodison Park and St James' Park.
Here are my thoughts on each of the Round 3 games.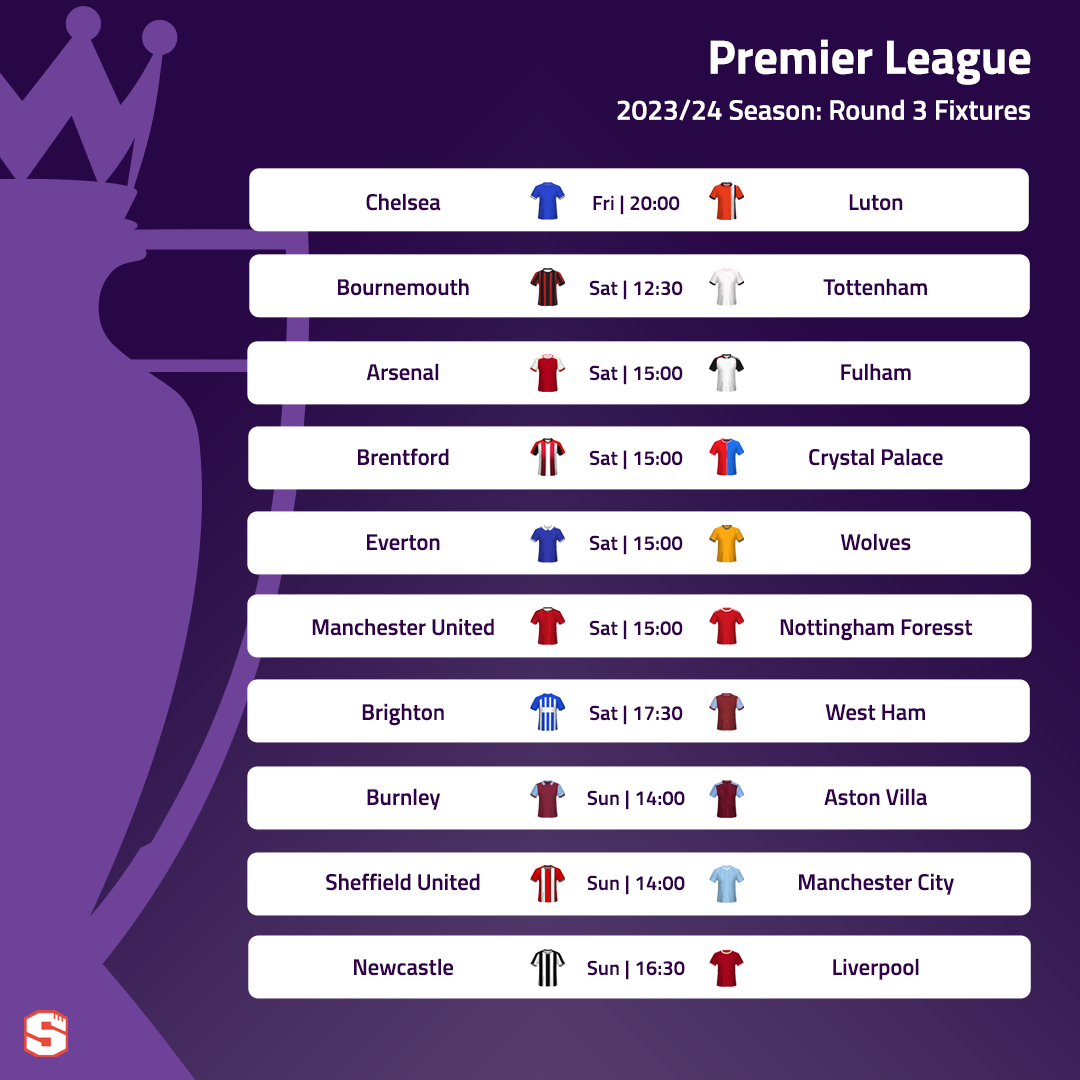 Chelsea vs. Luton
After a fairly promising opening game against Liverpool, Chelsea's defeat at West Ham felt very last season so Mauricio Pochettino needs his side to respond with not only a victory here but a very comfortable one in my opinion. Luton have had a long time to prepare having not played in Round 2 but Chelsea really shouldn't be having trouble in this fixture. I'd still be surprised to see them score too many though, so I'm going with 2-0.
Chelsea 2-0 Luton
Bournemouth vs. Tottenham
Fair play to Tottenham and Postecoglou - last weekend was a real statement result against Man Utd. They now need to back it up with a win on the road of course, but I think they'll just about to manage to do so as I'm not sure we'll see Bournemouth hit their stride for a little while yet (even their new signings are unavailable with injuries!). It feels like we'll get quite a few goals in Spurs games this year.
Bournemouth 1-3 Tottenham
Arsenal vs. Fulham
This one looks fairly routine, particularly after their respective results in Round 2. Fulham need to move to try and replace even half of what Mitrovic offered now that he's gone but it won't be easy in this market. Arsenal should beat them fairly comfortably.
Arsenal 3-0 Fulham
Brentford vs. Crystal Palace
I'm going with Brentford here but I think it will be reasonably close as Palace should give most teams a game this season. As I said in Round 1, I rarely go against Brentford at home and they beat Fulham with ease last week on the road.
Brentford 2-1 Crystal Palace
Everton vs. Wolves
A tricky one as both of these teams were outplayed last weekend. You have to feel for Dominic Calvert-Lewin who is so ridiculously injury prone that Everton have no option but to bring in another senior centre forward but until they actually manage to do that (if they do at all), it's so hard to predict the Toffees will score more than once in a game at best. Wolves are of course also unlikely to find the net too many times so I think I'm going for a draw. It's hard to have enough faith in either team to pick a winner?
Everton 1-1 Wolves
Manchester United vs. Nottingham Forest
Based on the opening two rounds, I don't have a very long list of reasons to pick Manchester United here but the fact remains that they don't often lose at home and Nottingham Forest very rarely win away. I'm going with a home win as a result but United need to show serious improvement if they're to stand any chance at all at Arsenal next week.
Manchester United 2-0 Nottingham Forest
Brighton vs. West Ham
8 goals in 2 games is quite the start from Brighton and they should win again here, even though I'll often be handing West Ham at least a goal in my predictions now that Ward-Prowse is there to either set up a huge chance from a free-kick/corner or just score directly himself. You can tell De Zerbi has coached an excellent system when Brighton seem to create so many chances regardless of which players are on the pitch. They appear to have picked up right where they left off in 2022/23.
Brighton 3-1 West Ham
Burnley vs. Aston Villa
This is a fairly intriguing one as Villa need to put in a far better away showing than they did at Newcastle while Burnley play in their first game of the season where they actually have a reasonable chance of a result (I know they're still underdogs). I'm going with a narrow away win for Villa because they have just so many more attacking threats than the hosts but I'm interested to see how this goes.
Burnley 1-2 Aston Villa
Sheffield United vs. Manchester City
Like the rest of you, I'll be backing City here. I feel like last Saturday was a big result for them to get the better of Newcastle and play really nicely so soon after the Super Cup. They're going to take some stopping yet again.
Sheffield United 0-3 Manchester City
Newcastle vs. Liverpool
A really difficult one to finish with - Newcastle are probably slight favourites in my opinion but Liverpool have a great record in this fixture. Newcastle are going to be very hard to stop at St James' Park and I don't think Liverpool will be keeping a clean sheet but the Reds are as well equipped as anyone to compete in an open end-to-end game if this match just becomes a goal fest. It's been a long time since Newcastle have beaten Liverpool so I'm going with an entertaining draw.
Newcastle 2-2 Liverpool
Good luck with your own Round 3 predictions and feel free to leave your own thoughts in the comments!