Premier League: Round 12 Predictions
Round 11 was probably the toughest of the season so far, with the community average just 3/10! I didn't manage any Exacts but Chelsea coming out on top in that crazy game at Spurs after I'd backed them for the upset helped me to 4/10 which ensured I didn't slip down too many leaderboards.
Let's hope for a more normal round ahead of the international break...
Here are my picks for each Round 12 fixture.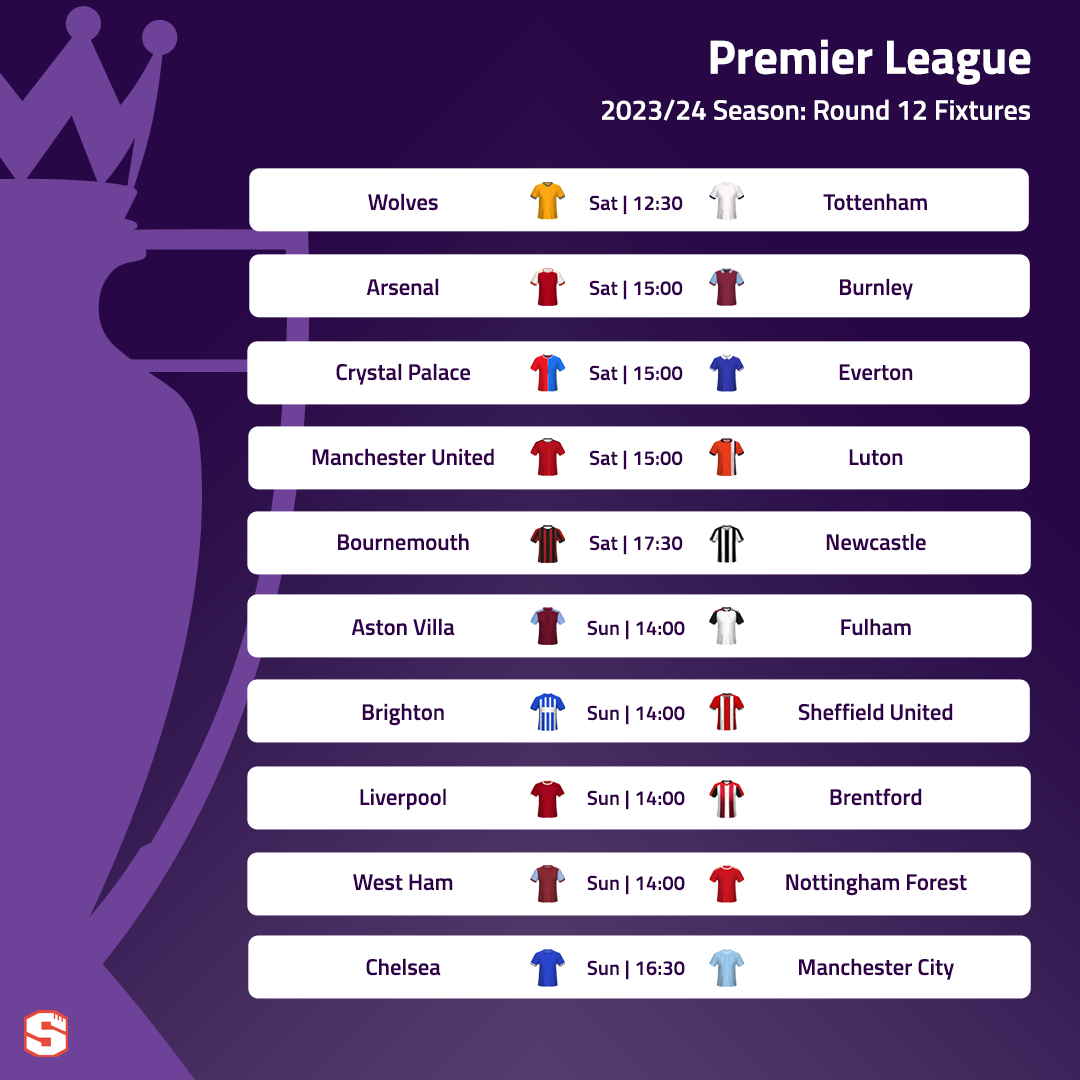 Wolves vs. Tottenham
A really interesting one to begin with. Spurs have somehow come out of that 1-4 defeat to Chelsea with praise from lots of people which I personally don't really understand. Crazy indiscipline cost them the match, because they looked set to batter Chelsea before Udogie's first wild challenge, and then whilst the ridiculous high line with nine men was quite funny and entertaining, it also guaranteed Chelsea a win.
Even more costly than the dropped points is the number of unavailable players they now have, because in addition to the suspensions they've lost both van de Ven and Maddison to serious injuries and the latter is a particularly huge miss. With that in mind, can Wolves spring an upset in the early kick-off? I don't have enough faith in the hosts' finishing to pick them for a win but I reckon they can manage a draw at Molineux where they're hard to beat.
Wolves 1-1 Tottenham
Arsenal vs. Burnley
This should be a routine home win for Arsenal. Much has been made about their need for a clinical centre forward but they'll probably be able to afford to miss quite a few chances in this game and still score at least a couple.
Arsenal 3-0 Burnley
Crystal Palace vs. Everton
I'm quite torn on this one because Everton have really improved of late, but Eberechi Eze's return from injury has me leaning towards Palace I think. The Eagles are always fairly steady and hard to beat at Selhurst Park and Eze may well be the man to provide that bit of quality in attack to ensure a home win, he's an excellent player.
Crystal Palace 1-0 Everton
Manchester United vs. Luton Town
I watched United's game against Copenhagen where they once again found impressive ways to lose a match but surely, surely they can win this one and go into the international break with half a smile. I didn't pick Luton's draw last week as you all know but I mentioned that Kenilworth Road will be a tough visit for the big teams. United shouldn't be struggling against them at Old Trafford, though.
Manchester United 2-0 Luton
Bournemouth vs. Newcastle
Newcastle weren't great on Tuesday night in Dortmund as it looks as if their injuries are catching up with them a bit, but I still think they'll come through this game. It's easier to get a result at the Vitality than it is at Signal Iduna Park after all. Bournemouth have suffered a big injury blow themselves with Alex Scott back on the sidelines and though I think they'll give Newcastle a game here, I'm not sure they can get a result.
Bournemouth 1-3 Newcastle
Aston Villa vs. Fulham
You can't really pick against Villa at home at the moment. I certainly won't be until they face a team with a lot more of an attacking threat than Fulham have got.
Aston Villa 3-0 Fulham
Brighton vs. Sheffield United
Even in spite of Ajax's terrible season so far, Brighton's win in Amsterdam on Thursday was impressive and though they seem to be struggling in the league because of their European calendar, this is a kind fixture that they should win off the back of the momentum gained in the Netherlands. Sheffield United finally have a win on the board but it's a stretch to say that means they'll get a result at the Amex.
Brighton 3-1 Sheffield United
Liverpool vs. Brentford
As with Villa, you can't go against Liverpool at home at the moment, even though their away form is very questionable. I think Brentford can find a goal but they're unlikely to be able to cope with the attacking force of Salah, Diaz, Nunez and co.
Liverpool 3-1 Brentford
West Ham vs. Nottingham Forest
This is probably my bravest pick of the week but I think Forest can win this, based on how poor West Ham's league form has been while they've been performing well in Europe/the League Cup. There were a lot of positives for Forest in that win over Villa last week and having had more time than West Ham to prepare for this one, I think it's a good opportunity. West Ham may well respond after being beaten by Everton in their last home game, but based on their recent results and their league form last season, I'm not convinced.
West Ham 1-2 Nottingham Forest
Chelsea vs. Manchester City
Chelsea rewarded my upset pick last week as I mentioned in the intro, but it's safe to say I won't be backing them to win here. City are a cut above everyone else in this league in my opinion and Chelsea don't have the home form, quality or experience to trouble them I don't think.
Chelsea 0-2 Manchester City
Good luck with your own Round 12 predictions and feel free to let me know which ones you think I've got wrong in the comments!