Premier League: Round 11 Predictions
7/10 in Round 10 brought me quite a few green arrows, so let's hopefully build on that this week!
Since there was no European football in the week, we have a packed Saturday schedule and then the big match of the round is Spurs v Chelsea on Monday night.
Here are my thoughts on each Round 11 game.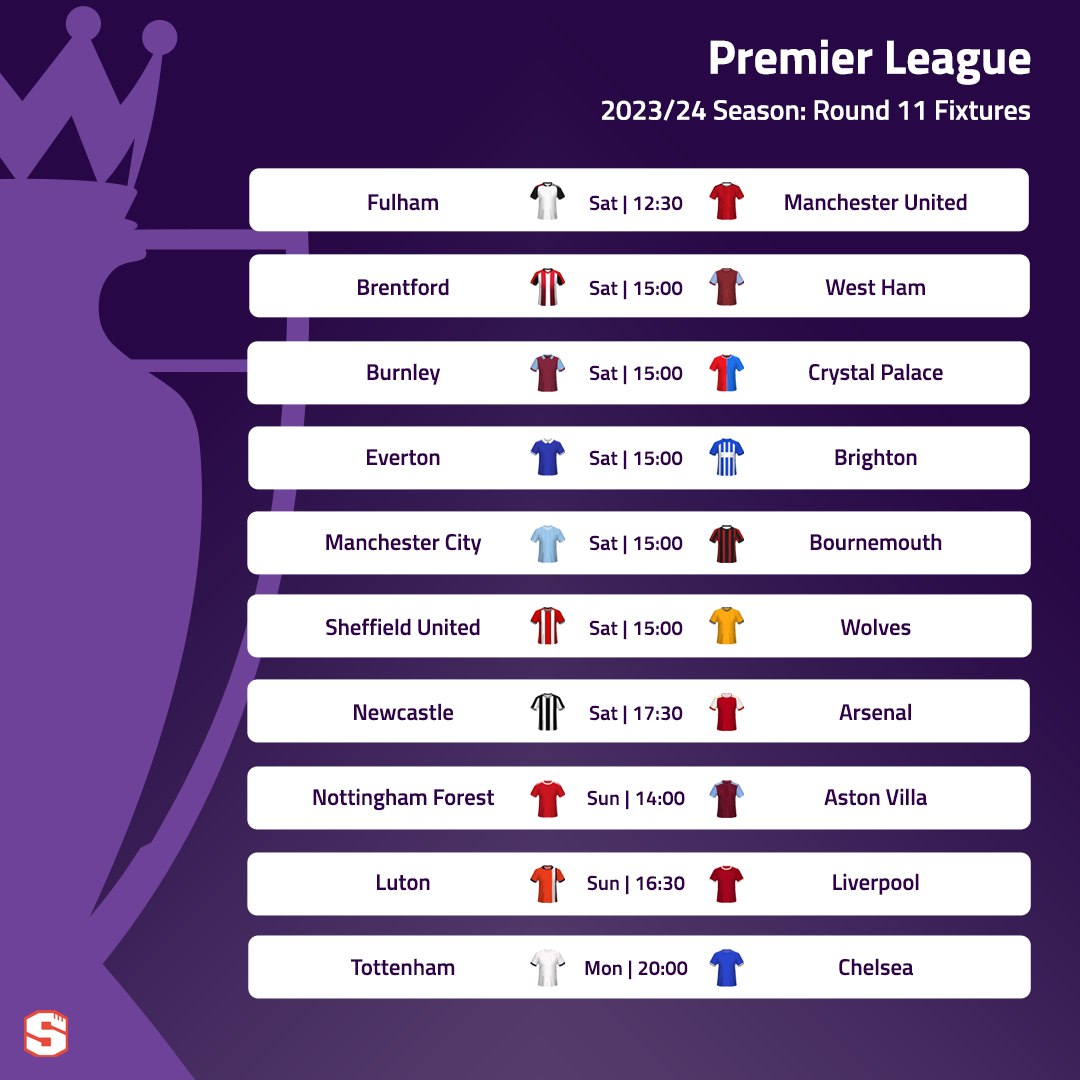 Fulham vs. Manchester United
A horrible game to start with because predicting Manchester United games is about as fun as watching them at the moment. I'll be honest and say I've no idea what will happen. I can't see United playing well, but they didn't against Brentford or Sheffield United and still somehow managed wins. That could easily happen here too because Fulham don't have many goals in them, but I'll go for a draw and back the hosts to score once.
Fulham 1-1 Manchester United
Brentford vs. West Ham
It looks like this might be another season where West Ham are an excellent Cup side but that their league form may suffer once more as a result. Brentford look to be getting back to themselves after a rough start to the season and after that win at Chelsea I think they can probably manage a home victory here as well.
Brentford 2-1 West Ham
Burnley vs. Crystal Palace
Lots more people are talking about Vincent Kompany's need to change approach as Burnley continue to lose games but I'm not sure he'll do so, especially for this game. The Clarets have a chance here but I'm going with Palace who are likely to be far more pragmatic. It doesn't sound as if Eze or Olise will be back but the Eagles should get some chances handed to them regardless and so far in their 5 games on the road this season they've only lost at Villa and Newcastle which are very tough places to go.
Burnley 1-2 Crystal Palace
Everton vs. Brighton
I'm interested to see this game because it's obviously a big contrast in styles but Everton are actually the form team coming into the game which is a surprise. The Toffees have become tricky to score against again which is exactly what Sean Dyche will have been aiming for but there's plenty of quality in the Brighton team and they've had a couple of good results at Goodison in recent years.
Everton 1-3 Brighton
Manchester City vs. Bournemouth
Only one team to pick here and it isn't Bournemouth, grateful though I am that the Cherries finally repaid my faith in them last week!
Manchester City 4-0 Bournemouth
Sheffield United vs. Wolves
This will be another interesting one because like everyone else I've been very impressed with Gary O'Neil at Wolves, but being able to call upon Pedro Neto in attack has been a massive help. Now that Neto is back to being injured again (which is a massive shame as he's great to watch), it will be interesting to see if Wolves can remain as sharp going forward. This is a favourable fixture for them and I'm going to give Wolves the benefit of the doubt.
Sheffield United 1-2 Wolves
Newcastle vs. Arsenal
All three potential outcomes are very possible here, but Arsenal tend to do better than most at St James' Park and I think they might win this. There's no doubt it'll be difficult and Newcastle showed in midweek how well coached even their second string is with that League Cup win over Man Utd, but Arsenal tend to bounce back from poor performances quickly which is what we saw from them at West Ham in midweek.
Newcastle 1-2 Arsenal
Nottingham Forest vs. Aston Villa
Villa are favourites here and I think I'm going with them, but they aren't as strong on the road as they are at Villa Park and not many teams go to the City Ground and win. It feels like we need to start seeing more from Forest though, as their current shape doesn't seem to get the best out of attacking players like Morgan Gibbs-White and Anthony Elanga? I think that'll happen before too long as Steve Cooper has been doing excellently with Forest, but I'm not sure they're strong enough at the moment to get anything against Villa.
Nottingham Forest 1-3 Aston Villa
Luton vs. Liverpool
I'm noticing that I'm predicting quite a few away wins this week but this one really is likely to be a struggle for the hosts! Part of me wonders if Luton end up doing OK in their home matches against the really big guns because their fans will be so up for the rare fixtures against the likes of Liverpool but this should obviously be a win for the Reds. Luton need to be careful if they go a goal behind early as well because Liverpool can be very ruthless once they smell blood.
Luton 0-3 Liverpool
Tottenham vs. Chelsea
The headline match to finish, and I think I'm going for the upset with yet another away win (I appreciate they're unlikely to all be correct but I just pick each game individually!). Spurs are flying and they're undoubtedly favourites but I just can't see them remaining unbeaten forever and Chelsea very often beat Spurs. With the Pochettino return factor thrown in as well, I just wonder if this ends up being one of those games that seems to go with narrative rather than form. Very unusually for the Blues, they seem much better away than at Stamford Bridge at the moment.
Tottenham 0-1 Chelsea
Good luck with your own Round 11 predictions and feel free to leave your own thoughts in the comments!