Premier League: Round 10 Predictions
Round 9 wasn't a great one for me as I had a fairly ordinary 6/10 - picking Bournemouth to win and West Ham to draw didn't pay off!
This week we have a Friday night start so make sure you've made your prediction in time for kick-off.
Here are my thoughts on each Round 10 game.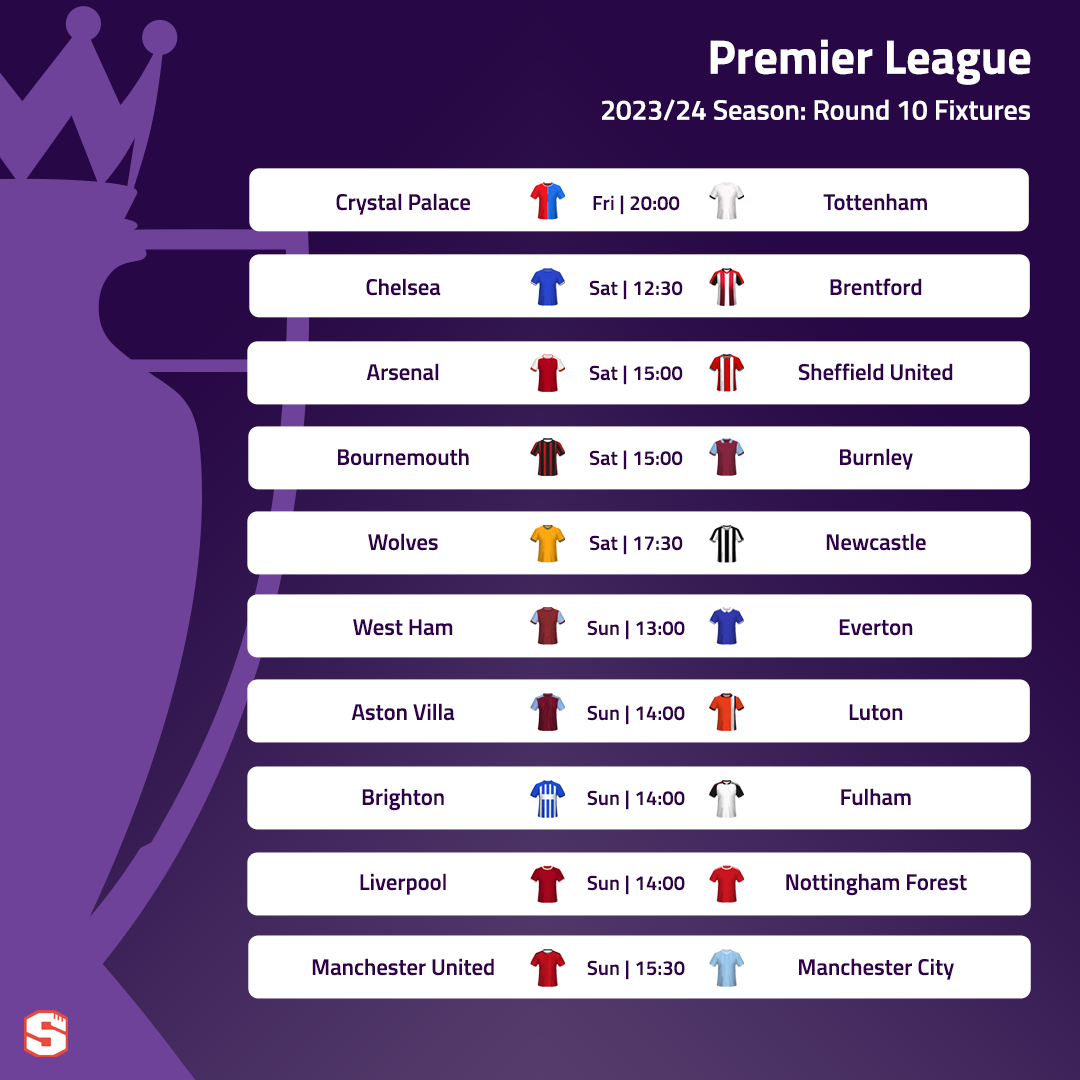 Crystal Palace vs. Tottenham
I've seen some criticism of Roy Hodgson for Palace returning to a fairly dull style of play in recent weeks but I think he deserves a bit of slack because the injuries to Michael Olise and Eberechi Eze are a big problem - they're two incredibly creative players who would make a huge difference. As things stand at the moment though, Tottenham shouldn't have a problem this evening.
Crystal Palace 0-2 Tottenham
Chelsea vs. Brentford
Chelsea always struggle with Brentford so I'm a bit torn on this one. The Blues are looking better but there was a real lack of game management against Arsenal as they should have won comfortably last weekend. However, the fact that they got themselves in a position to beat a team like Arsenal bodes well, and you'd think they're the more likely winners of this game given Brentford's recent results.
Chelsea 2-1 Brentford
Bournemouth vs. Burnley
A really tough pick. I've backed Bournemouth in each of the last two rounds because they're due a first win of the season, so do I go again for third time lucky? Or is it time to stop!? Burnley are the weakest team they'll have faced, but this is obviously a great opportunity for the Clarets to win as well because Andoni Iraola is under considerable pressure. I'm sticking with the Cherries, just because I'll be very frustrated if I go against them and they finally win.
Bournemouth 2-1 Burnley
Arsenal vs. Sheffield United
This is less difficult, as Arsenal should ease past Sheffield United. The Gunners had an impressive win in Seville in midweek and this is a much easier game than that on paper.
Arsenal 4-0 Sheffield United
Wolves vs. Newcastle
I'm looking forward to this one as I think it'll be even and both sides have been playing well lately. Wolves' last two home displays have been encouraging as they've taken four points against Man City and Villa, so I think they can probably manage a point considering Newcastle's only away win was at Sheffield United. There are a few things Newcastle are battling with off the field with a couple more injuries now as well as the Sandro Tonali issue, but it's hard to tell if that will fire them up for this game or have a more negative impact on performance.
Wolves 1-1 Newcastle
West Ham vs. Everton
I'm slightly hesitant on this one because of West Ham's recent performances and the fact that they were in Greece on Thursday night but I don't think I'm brave enough to pick Everton. If the Hammers are close to their best, then they have more than enough quality to win this game.
West Ham 2-0 Everton
Aston Villa vs. Luton
I know Luton managed a point last week, but you're a very brave bru if you're picking them here. Villa look very strong at home.
Aston Villa 3-0 Luton
Brighton vs. Fulham
I'm not too worried about Brighton's form streak considering the teams they've been playing against. If they fail to win here there's perhaps a little more to worry about but they were good on Thursday night against Ajax.
Brighton 2-0 Fulham
Liverpool vs. Nottingham Forest
Like Villa, you can't really go against Liverpool at home at the minute and they should have far too much in attack for Forest to cope with. The Anfield season ticket holders are certainly getting attacking entertainment for their money this season.
Liverpool 3-1 Nottingham Forest
Manchester United vs. Manchester City
It's often different in derbies and I expect United to make a game of this, but if they play like they have in their recent matches (even though they've been winning) City should win this comfortably. A home win wouldn't really surprise me, because like last season we could just see United manage a couple of brilliant moments despite being second best otherwise, but it feels like City could do with a statement win at the moment so I'd be a bit worried if I was a United fan.
Manchester United 0-3 Manchester City
Good luck with your own Round 10 predictions and feel free to leave your own thoughts in the comments!