Premier League Predictor: Round 9 Predictions
Round 8 was another fairly average one for me as I failed to pick any of the six upsets that were each only predicted by less than 22% of the community.
Chelsea held on for their 0-1 win at Brentford which got me an Exact so a big thank you to Edouard Mendy for that! Let's hope things are a little more predictable this weekend but that's rarely the case in the Premier League...
Here are my picks for Round 9.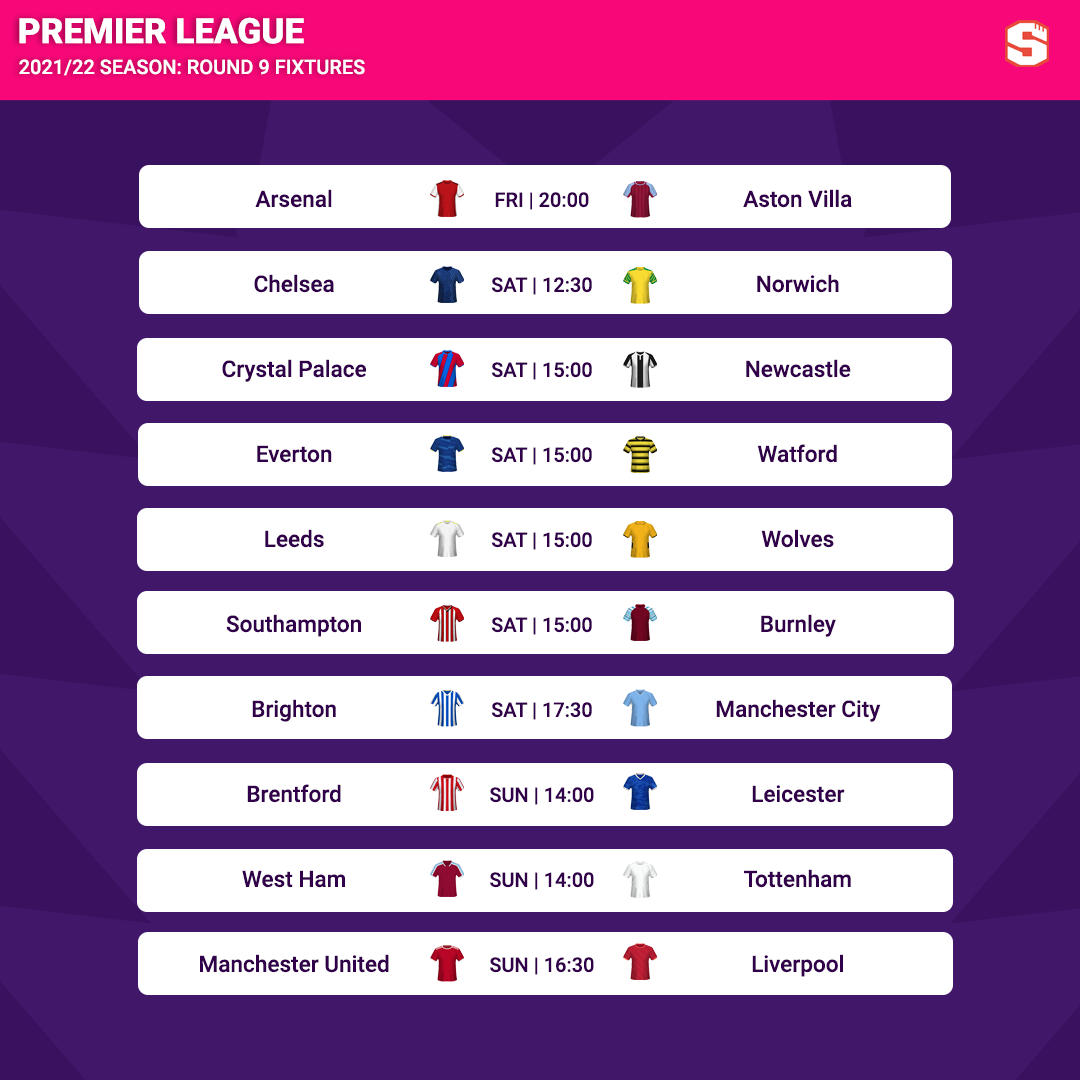 Arsenal vs. Aston Villa
Arsenal games are just horrible to predict at the moment because they have periods where they look really good in attack meaning they will win games but then every game also features spells where they look vulnerable and less organised than many of their opponents. They didn't deserve anything from the Palace game on Monday so Arteta will have been pleased with the point they snatched but this is an equally tough game. Villa are a good side but it's hard to know how they'll respond to that awful 15-minute period against Wolves that cost them the game? I think Dean Smith will have done all he can to ensure that never happens again and I think they can get at least a point.
Prediction: Arsenal 1-1 Aston Villa
Chelsea vs. Norwich
This obviously should be routine for Chelsea but I'm very interested to see how Thomas Tuchel sets them up without Werner and Lukaku. Kai Havertz is excellent but perhaps isn't the player you want playing as a lone striker for 3/4/5 games on the bounce which might have to be what happens. This should be a winnable match regardless but it'll be worth watching how Chelsea play in order to help judge how they'll get on in future rounds.
Prediction: Chelsea 2-0 Norwich
Crystal Palace vs. Newcastle
I'm glad Newcastle have decided to actually hurry up and remove Steve Bruce as it was getting quite cruel just acting as if the decision may or may not come while they've blatantly been searching for their new head coach. Graeme Jones is in temporary charge for this game but last week against Spurs was a harsh reminder of just how tough it will be for Newcastle until they can bring some new faces in during the January window and I think Crystal Palace have been very impressive for weeks. A bit like Brighton last season, there's a concern that Palace are playing well but rarely actually winning but this should be a game where they can get the result to match.
Prediction: Crystal Palace 3-1 Newcastle
Everton vs. Watford
In a similar way to Chelsea, it'll be interesting to see how Everton go in this game because while they should win regardless, they'll have to cope without another key player as Abdoulaye Doucoure is out for a while. Since Calvert-Lewin has also suffered a setback, Everton fans will really hope Richarlison can at least return but Watford were just so bad in Ranieri's first game against Liverpool last week that I don't think you can back anything other than a home win.
Prediction: Everton 2-0 Watford
Leeds vs. Wolves
This is a bit of a coin flip but Leeds are another side struggling with injuries and Wolves should be absolutely buzzing after that comeback at Villa Park last week? That's now 3 wins on the bounce for Bruno Lage and since they've been travelling well let's go with an away win.
Prediction: Leeds 0-1 Wolves
Southampton vs. Burnley
Burnley are surely finding that first win soon and this is the kind of game where we could see them pick up 3 points but after pretty uninspiring recent performances it's hard to side with them. Saints managed their first victory last time out and I think Hasenhuttl will see this as a great chance to string two together despite the continued absence of Ward-Prowse. Southampton have been tough to score against at St Mary's and Burnley aren't exactly full of goals.
Prediction: Southampton 2-1 Burnley
Brighton vs. Manchester City
This will be a test for City but they were absolutely excellent in Brugge in midweek and I think Brighton's recent goalless draws make us all feel extra comfortable in just picking an away win. The Seagulls will have to be at 110% and more clinical than ever to stand a chance.
Prediction: Brighton 0-2 Manchester City
Brentford vs. Leicester
Tough pick! Brentford have been so impressive this season and will feel very disappointed they couldn't take a point (or more) from the Chelsea game. Given Leicester's recent results, you'd definitely think Brentford can score goals in this match but the Foxes are obviously very capable in attack themselves. I think I'm going for a score draw.
Prediction: Brentford 2-2 Leicester
West Ham vs. Tottenham
Tottenham ended up fairly comfortable at Newcastle last week which you'd expect because Newcastle aren't a very good side but even in that clash, you could see Spurs can be got at and I think West Ham will cause them some problems. Both played on Thursday night so there's no massive advantage either way there really other than Spurs were away from home and lost which you'd expect will fatigue players slightly more than the comfortable home win West Ham enjoyed but Nuno did rest his key players. In the PL, West Ham have been better away than they have at home but I think they can win the midfield battle in this one and Spurs will struggle to cope with Antonio.
Prediction: West Ham 2-1 Tottenham
Manchester United vs. Liverpool
The big one to finish with then and I honestly have a feeling that Manchester United will win this game but I just don't think I'm brave enough to pick them because I'll feel so stupid if the more logical result happens which would be a Liverpool win. Mohamed Salah just looks so good at the moment. They often raise their game for this match, and that could well happen again, but Manchester United have faced three teams who are pretty organised and well coached in their last three league games and that's resulted in 2 losses and a draw. The dramatic comeback against Atalanta on Wednesday will provide some encouragement but Atalanta are a team that always give you a chance because of how open they are defensively - something you can't say about Liverpool.
I'm convinced this will be close and a Rashford or Ronaldo opening goal will lead to United actually showing some good shape themselves for once as they aim to protect the lead but recent form suggests Liverpool will just run the midfield and then United won't be able to cope with their front three. The lack of clean sheets United have managed so far this season is a real problem for Solskjaer.
Prediction: Manchester United 1-2 Liverpool
Best of luck to you all with your own Round 9 predictions!