Premier League Predictor: Round 8 Predictions
We may have just had the international break, but there's been no shortage of big Premier League news throughout the last week and I think we're set for a very interesting Round 8 this weekend!
Since a ball was last kicked in the PL, Watford have hired a new manager in Claudio Ranieri and Newcastle United finally have new owners following the completion of the controversial Saudi-led takeover which has made them one of if not the richest club in world football.
Those big changes are definitely important to keep in mind when making your picks this week and we could all do with a decent round after the challenging Round 7. I matched the community average with just 4/10 last time out as my upset picks for Palace and Villa didn't pay off (though Palace were close!) but I did at least manage to predict the draws for Brighton v Arsenal and Liverpool v City. The latter was an absolute treat to watch wasn't it? What a game and what a title race we're set to have this season.
Here are my picks for each match in Round 8. As usual, feel free to tell me which ones I have wrong in the comments.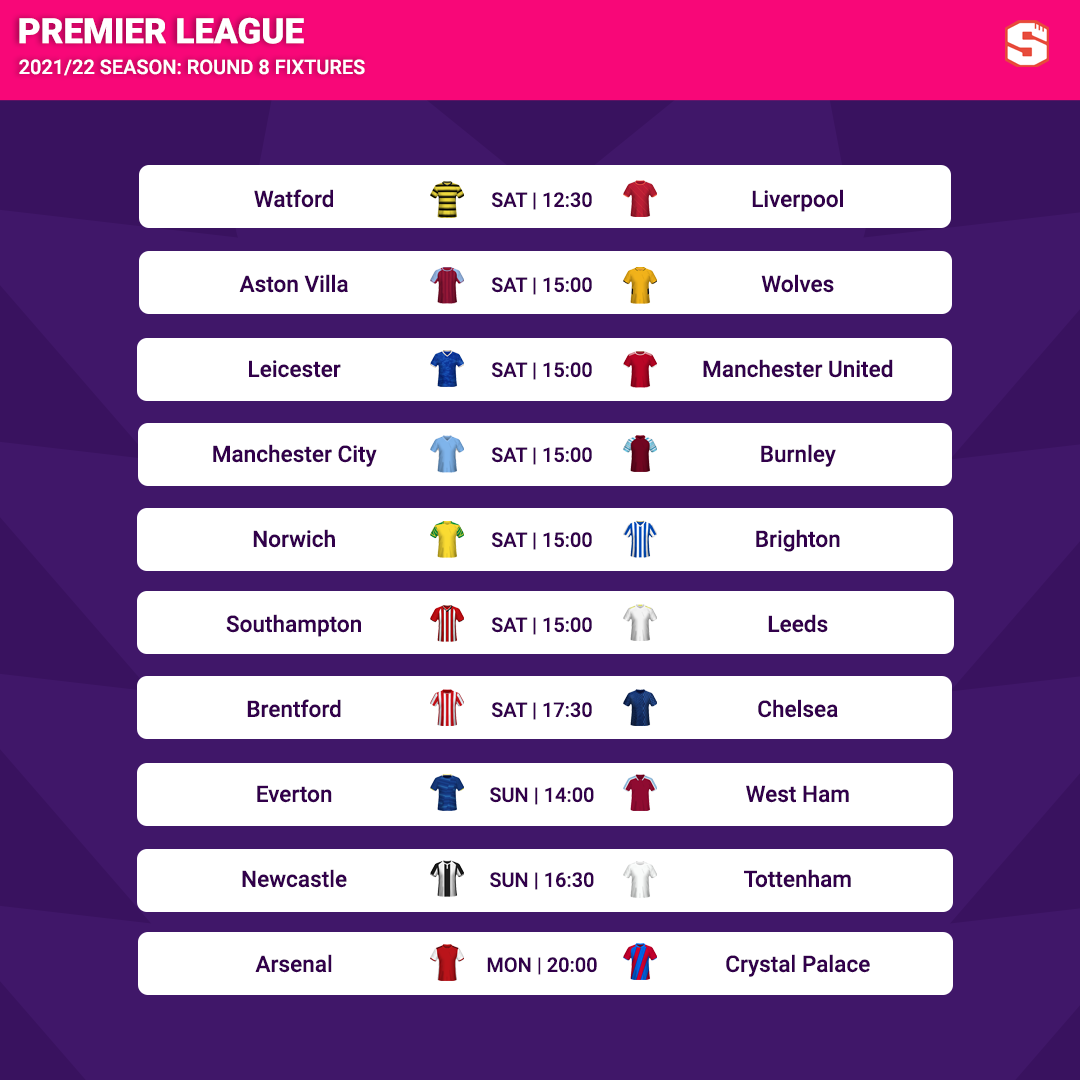 Just like the last international break, there's a chance some key players will be absent in this first round back so that's another thing to keep an eye on. The World Cup qualification games involving Argentina, Peru, Chile, Venezuela, Brazil and Uruguay all take place at around 1am on Friday morning UK time with many PL fixtures then taking place on Saturday so the players involved in those international matches are naturally very unlikely to feature for their clubs this weekend.
Watford vs. Liverpool
Watford's chances of a result in this game have increased with the appointment of Ranieri and the 'new manager' bounce we often see but you'd still have to be brave to go against Liverpool given their form in front of goal (particularly Mo Salah). Watford fans seem to think it was the right decision to get rid of Xisco Munoz despite a half decent start results wise and I actually think they might have the players to fit the 4-4-2 formation Ranieri tends to opt for. He's obviously a hugely likeable manager so I hope he does well but he has a very tough run of fixtures to begin with so it won't be easy to make an immediate impact with the Hornets which perhaps isn't ideal for him given the speed with which they go through managers.
Prediction: Watford 1-3 Liverpool
Aston Villa vs. Wolves
An interesting derby here between Villa who I think are a very good side and Wolves who have started winning matches so this will be awkward for the hosts. Wolves have done well on their recent trips to Villa Park and I think this will be fairly tight and low scoring but it's Villa who are the more likely winners this time around in my opinion. Raul Jimenez showing signs of his pre-injury self is very encouraging for Wolves for games like this where you'll likely need to be clinical but he's been away with Mexico during the break and Villa have two excellent goalscorers themselves in Ings and Watkins.
Prediction: Aston Villa 1-0 Wolves
Leicester vs. Manchester United
This is a really interesting one between two decent sides who are both struggling for form at the moment. Though an improvement on the two defeats that came before, back-to-back 2-2 draws for Leicester against teams they should be beating will be a big concern for Brendan Rodgers, especially since they were 0-2 up in the second one. In fairness, they have had some injuries and that's something Manchester United will also be battling this weekend as they're set to be without both first-choice centre backs Harry Maguire and Raphael Varane for this game as well as potentially Fred and Cavani who are in South America.
With other tough matches following this one, this next month or so is going to be a real test for Ole Gunnar Solskjaer but I think they can find a win at the King Power. Potentially being forced to play more defensively to protect second choice defenders might actually help Solskjaer in the short term as United often look best when on the counter. Plus, though I'm surprised he needed the lesson, I trust he'll have learned from Round 7 to not bench Cristiano Ronaldo, too.
Prediction: Leicester 1-3 Manchester United
Manchester City vs. Burnley
This fixture is literally just always 5-0 to City. Burnley turn up at the Etihad and get pumped on an annual basis and though their recent 2-2 draw at Leicester suggested they might be finding their feet this season, the 0-0 against Norwich they followed up with in Round 7 was a really poor result. Ederson and Jesus are unlikely to feature for the hosts because of Brazil duty and realistically I think this might be 2 or 3 nil rather than 5 but it would be pretty cool to see the impressive streak continue. They've already had two 5-0 wins at home this season and I'd be very surprised to see Burnley match the 0-0 Southampton managed.
Prediction: Manchester City 5-0 Burnley
Norwich vs. Brighton
After finding a first point of the season at Turf Moor before the international break, this is another game where Norwich will feel they have a chance of a result but Brighton have been excellent so far in this campaign and as long as they take the chances they'll create, they should win fairly comfortably. The 0-0 with Arsenal that Brighton had in Round 7 felt like a game from last season in that they dominated but failed to capitalise and actually take the points. Graham Potter will be very eager to ensure they don't fall back to those old ways by picking up a win here.
Prediction: Norwich 0-2 Brighton
Southampton vs. Leeds
Tough pick. Southampton are still yet to win this season and Leeds only found their first victory of the campaign last time out against Watford. I think Leeds are the slightly more likely winners but Raphinha's availability is doubtful and I think Saints can manage a point as they've been competitive in almost all of their games this season despite not winning yet. They already have 4 draws to their name and were holding Chelsea at Stamford Bridge up until James Ward-Prowse's red card (he'll be a big miss in this game too).
Prediction: Southampton 1-1 Leeds
Brentford vs. Chelsea
I'm not sure how long I can keep picking against Brentford but they're facing such quality teams! The Bees' victory at West Ham was an excellent result and Thomas Frank deserves huge credit for the start they have made to their first ever PL campaign. Given the 3-3 home draw with Liverpool they've also recently managed, there's no doubt whatsoever that this is a very tough fixture for Chelsea but there has been some encouraging news during the international break for the Blues that both N'Golo Kante and Reece James are back available. With Kante ready to feature and so long as Romelu Lukaku is fit (he's had minor fitness issues while with the Belgium national team), I think Chelsea should just have enough but I certainly wouldn't be surprised if Brentford manage to ruin another pick for me.
Prediction: Brentford 0-1 Chelsea
Everton vs. West Ham
It's probably wise to wait for a fitness update ahead of this game before committing to a pick but I would guess both Calvert-Lewin and Richarlison should be ready again for Everton following their injuries, which would obviously strengthen them considerably. Even without that duo, the Toffees managed a really good point at Old Trafford in Round 7 and are just 2 points off the top of the table. That makes West Ham narrow underdogs in this match in my opinion, especially since they've only won 1 of their last 5 despite playing fairly well in most of those. Everton have looked strong at Goodison so far this season.
Prediction: Everton 2-1 West Ham
Newcastle vs. Tottenham
Well then, where to start here? It's no exaggeration to say that the takeover of Newcastle changes everything for the club. Of course, squad improvements, playing style changes and facility upgrades are all things that will take a while but even in the immediate short-term, the atmosphere and buzz around St James' Park has flipped completely and there may well even be a new (perhaps caretaker) manager in charge for this match. There should definitely be questions about the new owners and whether or not they actually are a good thing for Newcastle and indeed football generally, but there's absolutely no denying that Newcastle fans have the right to celebrate the end of the Ashley era and the stadium will understandably be bouncing for this match as there is a feeling of hope and ambition for the first time in a long time.
So how is the game going to go? I've honestly no idea. Lots of reports suggest Steve Bruce will be sacked ahead of this game as I say so it would make sense to review this pick once I actually know who's going to be in charge for Newcastle, but for now where I can only assume it'll be Bruce or an assistant in temporary charge, you'd have to say Spurs should still get the job done. I think there's the potential for a really strong first 30 minutes or so for Newcastle with loud home support and Callum Wilson back in the team but this is still the same side that hasn't won so far this season and Spurs tend to do okay in this fixture. There's certainly potential for an upset but I expect Newcastle's improvement to really begin when they hire a new permanent manager given the quality of the names they're being linked with all of a sudden.
Prediction: Newcastle 1-2 Tottenham
Arsenal vs. Crystal Palace
Quite a fun game to finish with as Patrick Vieira returns to Arsenal with his Crystal Palace team who are looking exciting. I think there could be goals in this and I'm still not quite sure what to make of Arsenal but they should be winning this match. I'd be packing Palace for at least a point if this was at Selhurst Park but Arsenal are much more comfortable at home and Palace weren't really able to trouble either Chelsea or Liverpool on the road (those are far tougher places to go, mind). Saka, Ødegaard, Smith Rowe and Aubameyang should cause Palace some problems and I think it's safest to pick a home win.
Prediction: Arsenal 2-1 Crystal Palace
Best of luck to you all with your own Round 8 predictions!