Premier League Predictor: Round 7 Predictions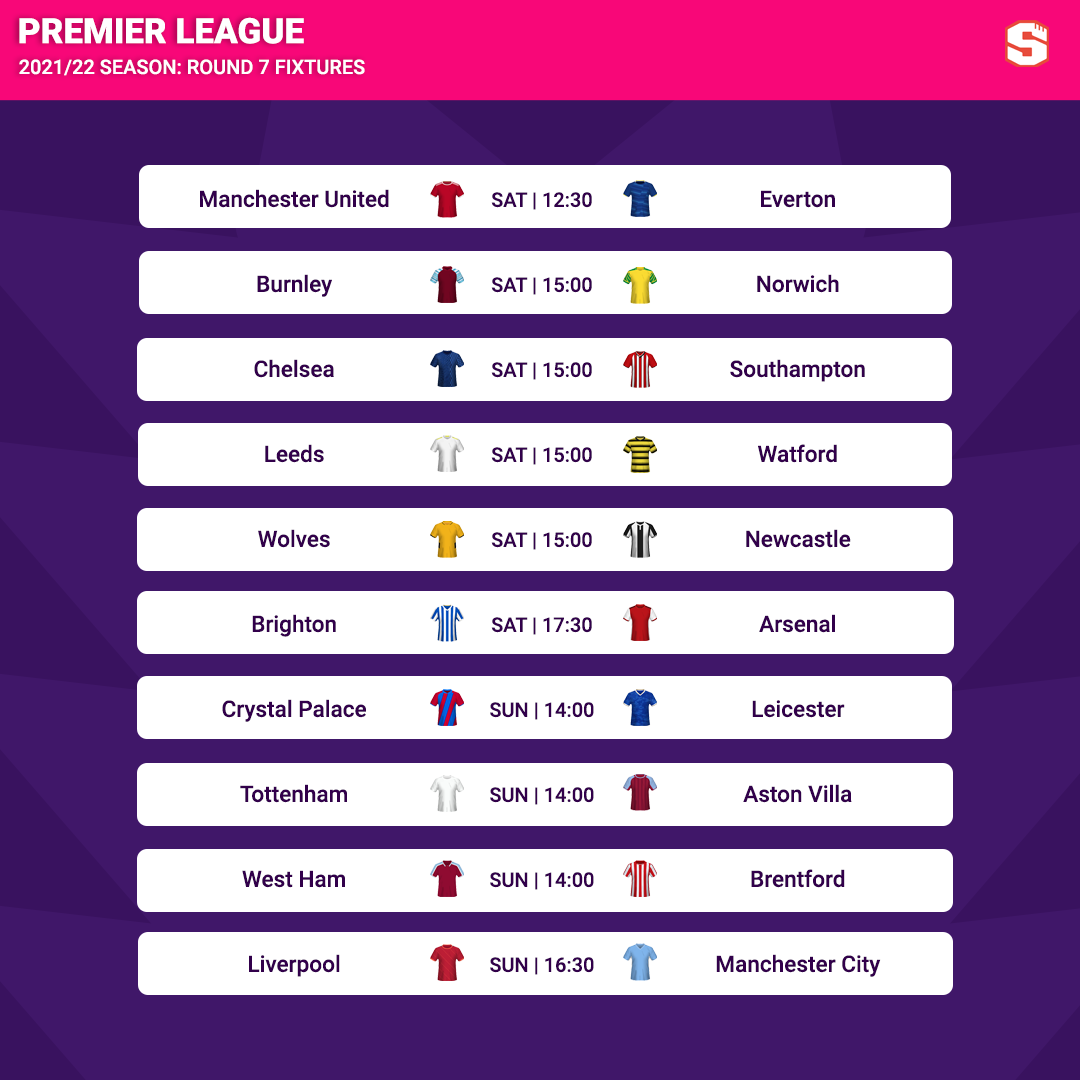 Prediction: Chelsea 3-0 Southampton
Leeds vs. Watford
Similar to Burnley, this is a big chance for Leeds to finally find a win but it certainly won't be easy as Watford have been fairly strong and Patrick Bamford is still sidelined with injury. As we know, Leeds like to open the game up but that could be risky without Bamford to convert their chances and when you consider that Watford have some players who can be very damaging on the counter in Ismaila Sarr and Emannuel Dennis. The home side are favourites but I'm still not quite convinced by them yet. West Ham needed a late winner at Elland Road last week but they had a lot of shots on goal and I think Watford might manage a point.
Prediction: Leeds 2-2 Watford
Wolves vs. Newcastle
It's hard to have much faith in either of these two but after Wolves responded to their poor defeat against Brentford with a decent away win at Saints, they seem the more logical pick. Newcastle are yet another side that hasn't won any of their first six and with Callum Wilson likely to only return after the international break that follows this round, I think they may have to wait til then for a victory.
Prediction: Wolves 1-0 Newcastle
Brighton vs. Arsenal
We should have quite an entertaining game here as Brighton have been good all season and Arsenal have found some form and will be high on confidence after winning the North London derby. The talent shown in attack on Sunday by Saka, Smith Rowe, Odegaard and Aubameyang makes it very tempting to pick an away win but I don't think we should be getting too carried away with Arsenal - it'll be interesting to see how they perform here in what is a tough fixture. I'll be a little more tempted to pick against Brighton if Bissouma remains out but assuming he's back, I think they can get at least a point.
Prediction: Brighton 1-1 Arsenal
Crystal Palace vs. Leicester
This is another one that could go either way in my opinion. Leicester looked shaky against Burnley and have had a Thursday Europa League game to deal with too which they lost in Poland. Palace are looking quite good under Patrick Vieira as his project takes shape in my opinion and after a decent display against Brighton (other than the very disappointing late equaliser against them) there's a chance they could sneak a result here I think. It's obviously a gamble but I'm hoping that at least one of this/my draw picks come off!
Prediction: Crystal Palace 2-1 Leicester
Tottenham vs. Aston Villa
The tough picks keep coming! Tottenham were absolutely woeful in the derby last weekend and Villa are looking very sharp at the moment so is it worth going for another 'upset' here and backing the visitors? Quite possibly. Villa are really well drilled under Dean Smith and have an underrated midfield in my opinion which will cause Spurs problems since theirs was essentially just Pierre-Emile Hojbjerg at the Emirates. I feel like I'm asking for trouble going against the community with quite a few of my picks but I really do feel Villa are the more likely winners. This was also going to be a very tough job for Nuno since it's obvious he wasn't first choice to replace Mourinho and I'm pretty doubtful about his chances of turning things around. Harry Kane's hat-trick in the Europa Conference League makes me a little nervous but we haven't seen him show anything close to good form in the Premier League this season (yet!).
Prediction: Tottenham 1-2 Aston Villa
West Ham vs. Brentford
It feels really harsh to be going against Brentford again after the two results they've just had but West Ham are a strong side and should get the job done. The addition of Kurt Zouma is a really good one and means the Hammers' entire spine is now very solid. Brentford showed last weekend that they're capable of a result against anyone in this league but I think away from home this will be tricky.
Prediction: West Ham 2-0 Brentford
Liverpool vs. Manchester City
We finish with the headline game and as usual for this fixture, the Superbru community will be very evenly split. Liverpool look full of goals at the moment so are obviously going to be dangerous but I was so impressed with Manchester City at Chelsea and they played well in Paris in midweek too where they probably should have got something from the game. This is all going to be about whether City can press Liverpool effectively. If they do, Salah and Mane will be starved of the ball for a lot of the game but if it becomes one of those games where they don't quite nail the press, Salah will end up with 3 or 4 one on ones with Ederson where he'll likely score a couple.
If I'd have picked this match shortly after Chelsea's trip to Anfield I'd have had no hesitation in picking City but Liverpool have scored at least 3 goals in every single one of the 6 matches they've had since. I think City will have the upper hand for much of the game but it feels as if Liverpool will score at least once and I'm going for a draw as a result.
Prediction: Liverpool 1-1 Manchester City
Best of luck to you all with your own Round 7 predictions!