Premier League Predictor: Round 6 Predictions
Last weekend's round was the toughest of the season so far in terms of predictability for Superbru players and I'm definitely keen to move on quickly from my 3/10! My Exact for Liverpool's win over Palace limited the damage slightly but like many others, my 0-2 pick for Tottenham v Chelsea was ruined by that late Rudiger goal!
This week we have what looks set to be a really good Round 6 with some massive fixtures. The quality of the teams at the top continues to look very high so this weekend's opener at Stamford Bridge really should be a cracker.
As usual, here are my picks. Feel free to tell me which ones I've got wrong in the comments.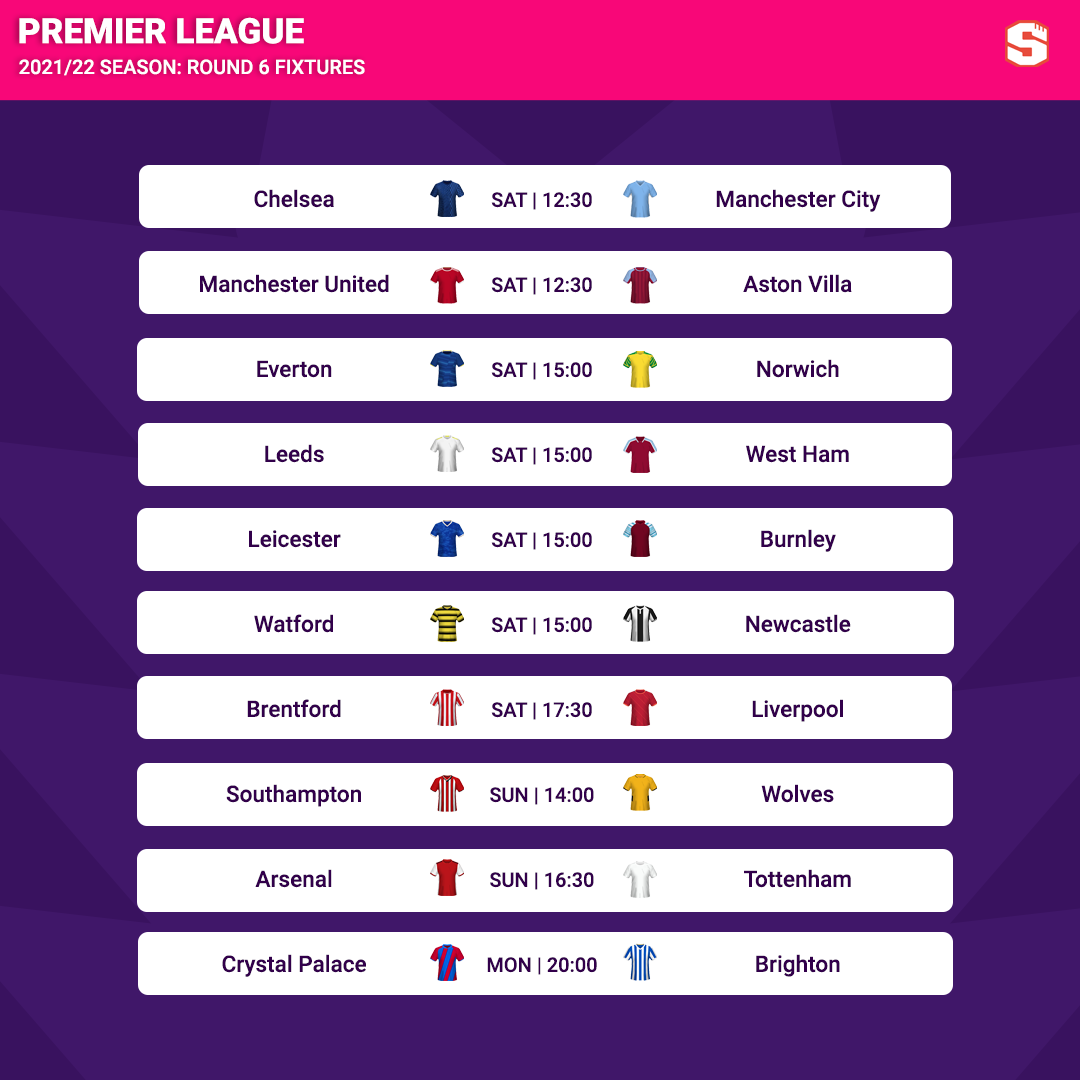 Chelsea vs. Manchester City
What a game to start us off. Chelsea were excellent yet again last week and despite having a tough fixture list, have looked as good as anyone (if not better) in these early rounds. This is obviously another really tough game but if the Blues do manage a win, they're in an excellent position after six rounds. City, on the other hand, dropped points at home to Southampton last week which I wouldn't necessarily label 'concerning' but it may have raised a couple of doubts which isn't what you want ahead of a game as big as this one.
So, who's going to win? I think Chelsea look the more likely. Not only have Tuchel's side looked stronger so far this season but they've had the better of City in recent meetings too - most notably in the Champions League final of course. I'd be less confident of a Chelsea win if Edouard Mendy isn't passed fit as he's been excellent but it sounds as if he's in with a chance of playing and I'm sure Chelsea will do all they can to ensure that's the case.
Prediction: Chelsea 1-0 Manchester City
Manchester United vs. Aston Villa
This is another early game on Saturday which is very unusual (moved from 3pm due to an oversight when originally scheduling) so it might go under the radar a bit while everyone is watching Chelsea v City but you'd expect Manchester United to win. United have a great record in this fixture and have looked very comfortable in their home games so far this season meaning I think they'll have too much for Villa despite the visitors' win last week and respectable recent performances at Chelsea in both the League and Cup.
Prediction: Manchester United 3-1 Aston Villa
Everton vs. Norwich
Everton are in a bit of trouble injury wise with lots of key players either ruled out or doubts but fortunately for the Toffees, they're playing Norwich. After that defeat against Watford last week, it's hard to imagine the Canaries will be favourites in any of their remaining games this season so it's looking pretty bleak for Farke's team despite only being 5 rounds in to the campaign. Drawing Liverpool in the Carabao Cup was unfortunate but being beaten by their second string in midweek won't have helped things and I can only really see Everton winning - I wouldn't recommend going too crazy on your margin though with Richarlison and Calvert-Lewin both major doubts.
Prediction: Everton 2-1 Norwich
Leeds vs. West Ham
West Ham were only a penalty being scored away from a point against Manchester United last week even without Michail Antonio (and then they beat United in the League Cup) so I don't think they'll be too low on confidence despite their last 3 league results and you have to consider them favourites against Leeds who haven't won yet. I'm very wary of a run of positive results for Leeds being likely to emerge sooner or later but after letting me down last week at Newcastle (an easier fixture than this), I don't really fancy picking them again in this round, particularly without Bamford.
Prediction: Leeds 1-2 West Ham
Leicester vs. Burnley
Leicester have already had 3 defeats this season but the only one I would judge them quite harshly on would be that loss at West Ham as it's obviously understandable to be beaten by City and then they were unlucky against Brighton (who are also a good team!). This should be where they return to winning ways, although like Leeds, Burnley will start winning matches soon enough because they just always do end up finding the results that ensure they avoid a relegation battle. Leicester tend to do fine against the Clarets at the King Power though.
Prediction: Leicester 2-0 Burnley
Watford vs. Newcastle
This is a really tough one and it's probably best to wait and see if Callum Wilson is fit again for Newcastle. Wilson would be the man who could easily score 1 or 2 in a fixture like this which might be enough for Newcastle to get a result, but without him, I'll feel far more comfortable backing a home win after Watford's victory at Norwich last time out. Ismaila Sarr is a real talent and the Hornets have some pretty experienced heads in midfield as well.
Prediction: Watford 2-1 Newcastle
Brentford vs. Liverpool
Brentford fully deserved their win at Wolves last week and have done incredibly well to avoid defeat in all but 1 of their opening 5 games in their first ever Premier League season. This will be an exciting game for their fans which many will have put on the calendar as soon as the fixtures were announced as it's the first time a genuine title contender will be visiting the Bees in the PL. That excitement can lead to big results (in a similar way to their win over Arsenal on the opening night) but I expect Liverpool to be too professional and too good in this game for an upset to take place.
Prediction: Brentford 0-3 Liverpool
Southampton vs. Wolves
Southampton's run of draws has now stretched to 4 matches and the most recent was the most impressive as they managed a 0-0 at the Etihad. That's the kind of result that you think could lead to a run of getting more points on the board but I'd say it's Wolves' loss to Brentford which is the more significant factor behind my decision to back Saints here. We definitely shouldn't rule out a third 0-0 on the bounce for Southampton as Wolves are very short of goals but I think the home side can score. James Ward-Prowse's set-piece delivery is always a threat and I think Armando Broja could still prove useful for Saints this season despite a fairly uninspiring showing in the League Cup on Tuesday.
Prediction: Southampton 1-0 Wolves
Arsenal vs. Tottenham
The North London derby is always great but neither Arsenal nor Tottenham are at the moment and this feels like the points are up for grabs for whichever big player decides to actually turn up and take them. Harry Kane is often that guy in this derby but he just looks so unsettled and unthreatening at the moment. You also have to remember that Spurs just don't tend to beat Arsenal away. Based on the small amount of football we've seen this season, I think Aubameyang is the marginally more likely big name to turn up and win this game for his team while in Smith Rowe, Odegaard and Saka you have some strong attacking players behind him that can trouble this Spurs defence who seem to lose all confidence as soon as they concede once. It feels a bit mad to be backing Arsenal to win this game after the start to the season they had but here we are.
Prediction: Arsenal 2-1 Tottenham
Crystal Palace vs. Brighton
Another big rivalry to finish with and this is quite a difficult pick. Both sides are showing promise but it's Brighton who are the stronger team and the more likely winners. However, I feel like the hosts might just manage a point. Brighton have been finding the results their performances merit which is a huge contrast to last season and that makes them very dangerous but I think Palace have enough quality of their own to battle their way to a draw in front of what will be loud home support.
Prediction: Crystal Palace 1-1 Brighton
Best of luck to you all with your own Round 6 predictions!