Premier League Predictor: Round 5 Predictions
I was fairly pleased with 7/10 in Round 4 despite the lack of any Exacts. My doubts about Spurs going to Palace proved reasonable, though I wasn't brave enough to even pick Palace let alone go 3-0!
This week is the first round where we have the impact of fatigue from midweek European games to consider, though this early in the season that should still be fairly minimal for now. With the exception of Manchester United, English clubs did pretty well in the opening round of the European competitions against fairly strong opposition in most cases.
On to Round 5 then and here are my thoughts on each game.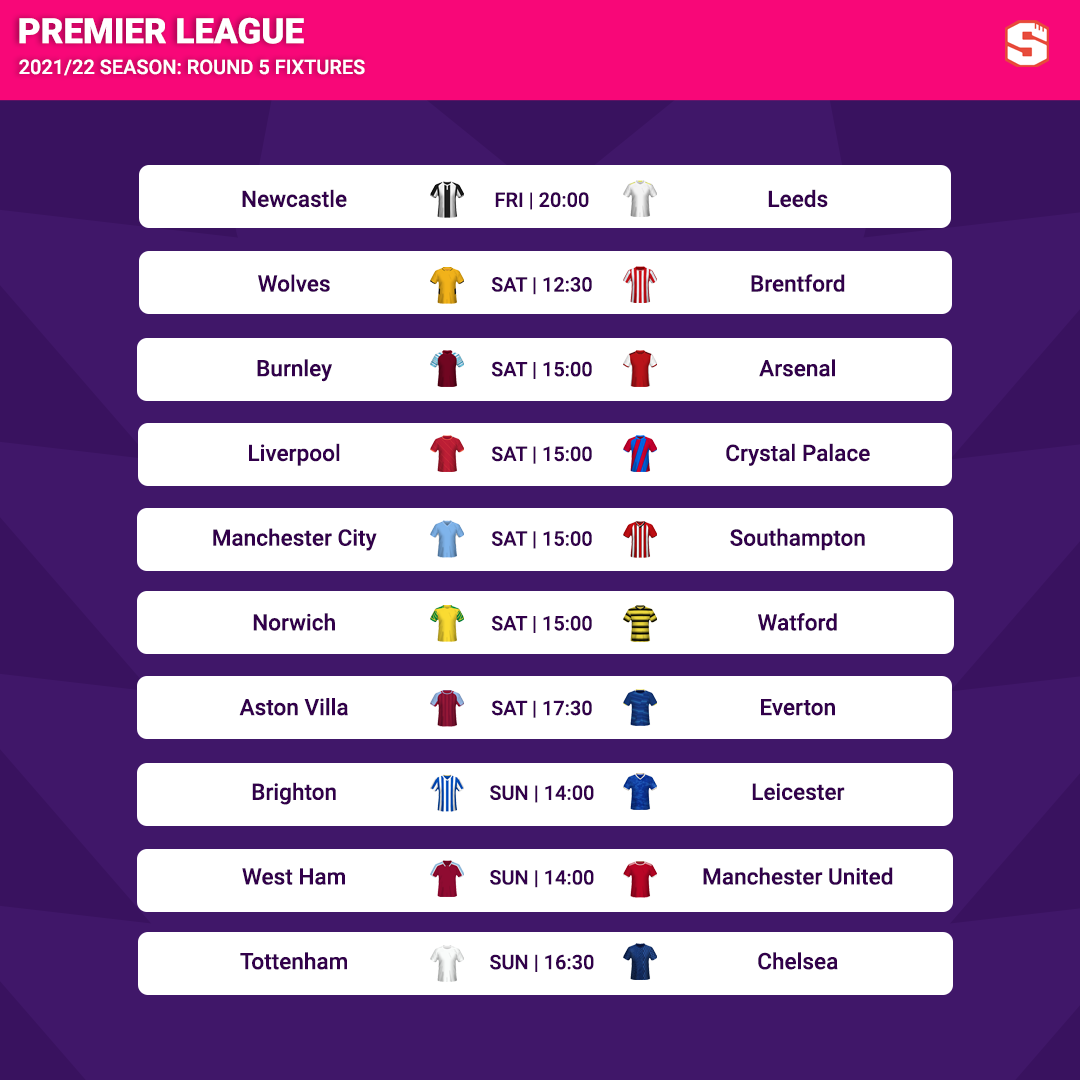 Newcastle vs. Leeds
I know it's been the case for quite a while but things really do just seem miserable around Newcastle at the moment, don't they? Lots of their fans want Bruce out, Bruce himself doesn't seem overly happy but won't quit and there's little chance of him being sacked unless they continue to lose a lot more games. Considering how often this is the general mood around Newcastle, they have actually picked up a surprising number of half decent results in previous seasons but they're yet to win in this campaign and without Wilson it's hard to see that changing. Leeds have gone back to looking very, very naive defensively but in this game, they'll probably outscore Newcastle even if it does end up like another basketball match.
Prediction: Newcastle 1-3 Leeds
Wolves vs. Brentford
This isn't the easiest pick but I think after getting that win (and some goals!) last weekend, Wolves are the safe option? Brentford still look very competitive and got a harsh lesson from Brighton last week but aren't quite testing opposition goalkeepers enough just yet. I think Wolves should keep improving as their attacking players gel throughout the season - Podence, Trincao, Hwang and Neto (when fit) are all serious talents alongside Adama and Jimenez.
Prediction: Wolves 1-0 Brentford
Burnley vs. Arsenal
This is a big test for Arsenal to prove that after picking up the win that they were expected to get against Norwich, they can win away from home as well and start to build some consistency. Will they manage to do so? I'm not sure. Burnley have been playing OK but throwing away leads which Sean Dyche spoke about after the Everton game and I can't imagine it'll keep happening for much longer. Arsenal have only managed draws in their last couple of trips to Turf Moor and I think that pattern might continue.
Prediction: Burnley 1-1 Arsenal
Liverpool vs. Crystal Palace
Palace were good to watch in that London derby against Spurs last week and there were glimpses that this could be the young and exciting attacking side that many are hoping for following some decent recruitment in the summer. Conor Gallagher (on loan from Chelsea) has looked excellent, Marc Guehi has started well and things couldn't have gone any better for Odsonne Edouard on his debut. This remains a game that is almost certainly beyond them though as Liverpool are obviously very strong and have been scoring plenty of goals.
Prediction: Liverpool 3-0 Crystal Palace
Manchester City vs. Southampton
This is another very one-sided game on paper and you'd be brave to pick anything other than a City win. The amount of attacking options each Manchester club now has is just crazy and I struggle to see how Saints will cope. City have a run of three extremely difficult games coming up at the end of this month and that's when we'll truly see exactly where they're at.
Prediction: Manchester City 3-0 Southampton
Norwich vs. Watford
Very tough to call. Neither of these teams will win many games this season so this is huge and while I think Watford are slightly better, after planning on picking them for most of the week I suddenly have a feeling Norwich might win. Home advantage is key - I'd definitely pick Watford if this was at Vicarage Road - and Norwich did OK against Leicester at Carrow Road in Round 3 which is encouraging. This is also one of very few home games they'll have where their fans will expect 3 points which changes things a bit too. Billy Gilmour was rested for the Arsenal game so if he's now presumably fully fit and sharp for this one then he might just run the game.
Prediction: Norwich 2-1 Watford
Aston Villa vs. Everton
I'm struggling to split these two. Villa have had the better of Everton in recent meetings but the Toffees continue to look good this season so this should be a really good game to watch. If I had to pick a winner, I'd probably go Everton but I'm always wary of going against Villa in this kind of game because Ings and Watkins are so sharp up front and can always score a goal or two.
Prediction: Aston Villa 2-2 Everton
Brighton vs. Leicester
I'm tempted by another draw for this one but Leicester's record against Brighton has led me to go for an away win I think. It was interesting to see Vardy rested against Napoli so he'll presumably be leading the line again here and as much as I like Brighton and the way they play, I can picture Vardy pouncing on a loose ball at some point in the opposition half.
Prediction: Brighton 1-2 Leicester
West Ham vs. Manchester United
If Antonio was fit, I think West Ham would have had a great chance of a result in this game but it will be really difficult for the Hammers to replace the threat he poses. Jarrod Bowen may well be the man who leads the line instead and I think Bowen is a decent player but at a time where Man Utd might feel fragile after that Young Boys defeat, I think there'll be a sense of relief and increased confidence because Antonio is missing. Going forward, Manchester United are going to be a problem every game this season because of the talent they have and even if West Ham do manage a goal, I think Ronaldo and co. will outscore them.
Prediction: West Ham 1-3 Manchester United
Tottenham vs. Chelsea
There are plenty of injury doubts for Spurs, including Heung-min Son, so keeping an eye on their team will be important before settling on a score prediction but for me, whether or not Son plays will likely just affect the margin I go for as Chelsea should win this game regardless. Tuchel's team look very strong in my opinion and play with great confidence when both on and off the ball whereas Nuno's Spurs still look like they almost prefer not to have the ball a lot of the time. If Son isn't fit, Kane will likely be very isolated in this match and at the other end, Romelu Lukaku is incredibly difficult to stop.
Prediction: Tottenham 0-2 Chelsea
Best of luck to you all with your own Round 5 predictions!