Premier League Predictor: Round 4 Predictions
It feels like a while ago now as we've had the international break but Round 3 was an average one for me with 5/10 and just the one Exact for Liverpool's 1-1 draw with Chelsea.
We go again this Saturday though with a very busy day of 8 fixtures which will be followed by a Sunday game, a Monday game and then the start of the Champions League group stages next week! In case you haven't already seen, we're also running a
Champions League Predictor game
, a
Champions League Odds-based Fantasy game
and a
Europa League Predictor
that you can play as well as the Premier League throughout this season.
Those competitions mean the schedules of many Premier League teams are about to get very busy over the next few weeks which is always important to keep in mind when making your picks but for now the main issue clubs are facing in terms of fatigue and player availability are injuries and politics from the international break...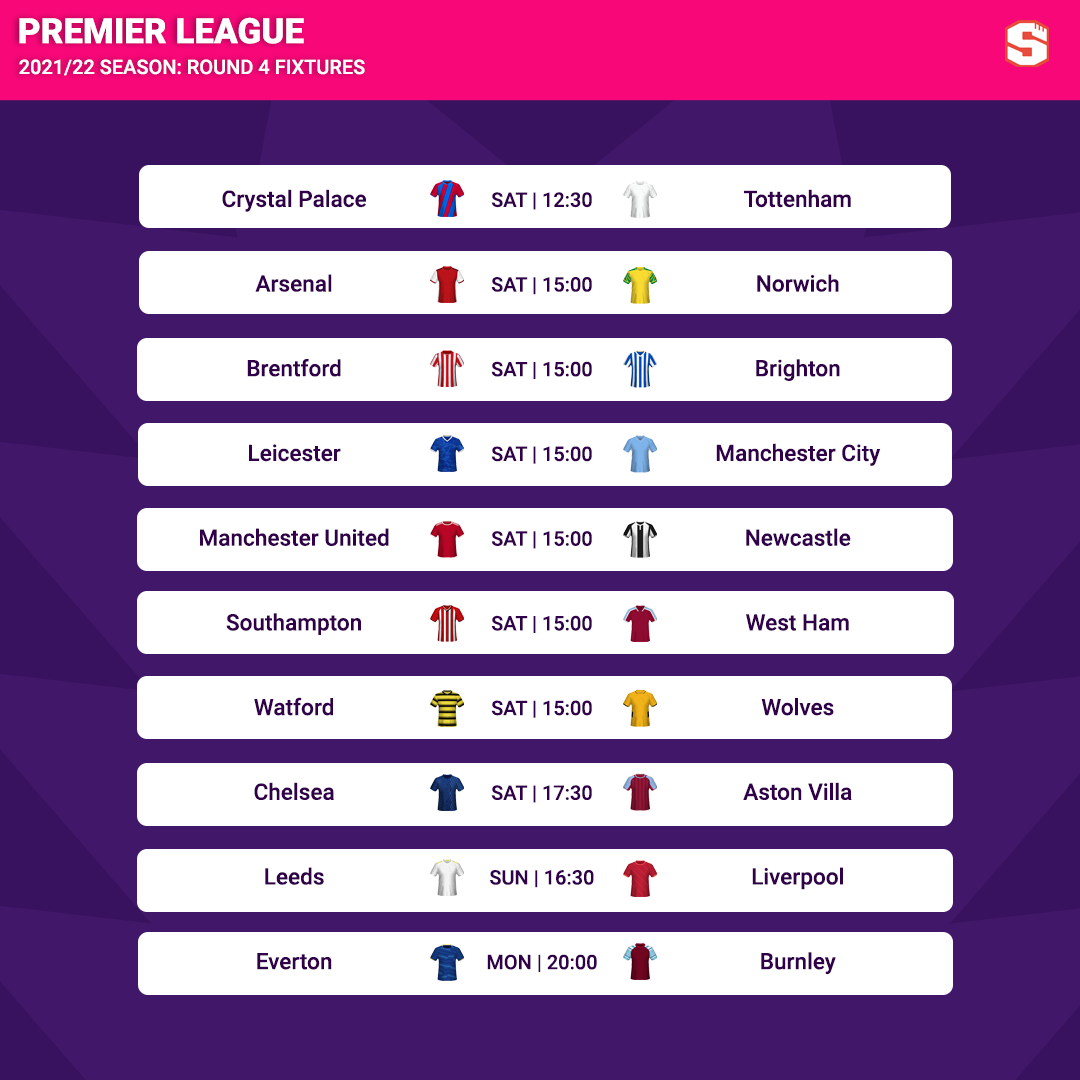 Just to provide more detail on that before I get into my picks - South American players who were either involved or supposed to be involved in World Cup qualifiers over the past fortnight are in a particularly complicated situation as the PL returns. You may have seen the
madness that unfolded in Sao Paulo with Brazil v Argentina abandoned
when health officials took to the pitch to try and detain 4 Argentinian PL players, and since then there have now been
reports that Brazilian PL players will be blocked from competing in this round
as their clubs wouldn't release them to compete in a country that is on the UK's 'red list'. Things are changing all the time so it's worth keeping a particularly close eye on team news!
Crystal Palace vs. Tottenham
I don't think this pick is quite as straightforward as the form guides on the picks page would suggest, though Spurs are still favourites. We saw a few good signs from Palace against West Ham, most notably more evidence of how good Conor Gallagher is, and I think the Eagles will keep improving as players return from injury and they've also brought in striker Odssone Edouard now as well. Spurs, on the other hand, have had excellent results but haven't been quite as good as those 3 wins suggest? That's not to disrespect them or Nuno at all as I think he has done really well in a tough situation since arriving to calm the environment and find some wins. They should also keep improving now that Kane has stayed and I think they'll win again but it could be very tight.
Prediction: Crystal Palace 1-2 Tottenham
Arsenal vs. Norwich
20th vs. 19th! This is obviously a massive game for Arsenal. Having not managed a point or even a goal so far, this really is an absolute must win. If they don't, Arteta will be dealing with a very difficult atmosphere at the Emirates. Norwich did OK last week against Leicester and certainly don't have anything to be afraid of in this game but I just feel Arsenal will surely manage 3 points? I know there's been literally no real reason for encouragement from their first 3 games but there are no excuses here - they should be scoring at least a couple of goals against the Canaries.
Prediction: Arsenal 3-1 Norwich
Brentford vs. Brighton
Two teams that have started the season well. Brentford have drawn their last two to remain unbeaten so far this season but they've been more than competitive in both and I think we could be looking at another draw here. Brighton made the exciting signing of left wing-back/midfielder Marc Cucurella from Getafe at the end of the transfer window and I'm very excited to see how he gets on but it sounds as if he might not quite but ready for this game and the same may well be true for Tariq Lamptey who is recovering from injury but will be an excellent partner for Cucurella on the opposite flank. I think the Seagulls should still have enough to get at least a point in this game though - the only concern is if the goals dry up following their Round 3 defeat as they did for much of last season.
Prediction: Brentford 1-1 Brighton
Leicester vs. Manchester City
Despite having the same number of points as City, Leicester haven't had the most convincing start in my opinion and that's not ideal preparation when you're about to face a team as good as this. Much of that can be explained by injuries as Brendan Rodgers has had a lot of defenders out in these early weeks and we can perhaps expect the Foxes to improve once either Evans or Vestergaard have settled in as Fofana's replacement to help form a consistent backline. City are the likely winners this weekend though after their back-to-back 5-0 wins before the international break and they're also set to have Phil Foden and Kevin De Bruyne back available now.
Prediction: Leicester 1-3 Manchester City
Manchester United vs. Newcastle
I have slightly mixed feelings about the return of Ronaldo to Manchester United in terms of whether or not he's actually what they
need
to start winning the league again, but if you're a United fan there's no doubt this is an overwhelmingly positive thing with very little down side, even if United's only real motivation for signing him was to stop City doing so. The lack of a good defensive midfielder is what is often hurting United - Ronaldo is clearly not one of those. However, in games like this one against Newcastle, he is just going to provide such a sharp edge in attack with his movement and finishing which will mean he'll score even more regularly than Cavani was when played last season and that will often make the odd goal United concede against lower to mid-table teams less costly.
There's going to be a party atmosphere at Old Trafford for the full afternoon and I'd be amazed if we see anything other than a home win. I think Ronaldo makes it quite likely Man Utd will pick up a trophy this season but will he lead them to challenge for the title? I have my doubts and looking at their fixtures it will be October and November that give us an idea rather than this month.
Prediction: Manchester United 4-0 Newcastle
Southampton vs. West Ham
West Ham have started really well and Southampton are yet to win so the safest pick here is definitely an away win in my opinion. David Moyes might be a little concerned about throwing away a lead twice against Palace, and could probably have done without Michail Antonio deciding to play for Jamaica ahead of the international break that has just passed, but as long as his star striker has remained fit he'll feel confident they can score goals against this Saints team. I quite like Southampton and Ralph Hasenhuttl but it feels like they're going to need to be at close to 100% in terms of both performance and player availability in order to win games this season and that's going to make it tricky to string victories together.
Prediction: Southampton 1-2 West Ham
Watford vs. Wolves
Watford have looked pretty good in 2 of their 3 opening games but surely Wolves get some luck and start scoring soon? 57 attempts on goal this season without a single one going in so far! They should have taken at least a point from Manchester United before the break and I feel now might be a good time to back Bruno Lage to find his first points as Wolves boss. That said, Raul Jimenez is one of many players with a question mark over his availability following internationals so that's worth watching. That might give Hwang Hee-chan an early debut opportunity though after arriving from Leipzig and I'm intrigued to see how he gets on.
Prediction: Watford 1-2 Wolves
Chelsea vs. Aston Villa
Villa look like they could be stung more than most by the issue with South American players as two of their key men - Emiliano Martinez and Emiliano Buendia - were among the 4 involved in that circus in Sao Paulo last week. Even at full strength, this would obviously be a very tough fixture for Villa and you'd be brave to go against Chelsea. The Blues have started well, picked up what I thought was a really impressive point at Anfield with 10 men, and tend to get the better of Villa at Stamford Bridge.
Prediction: Chelsea 2-0 Aston Villa
Leeds vs. Liverpool
If the Brazil players are indeed banned from playing this weekend then Raphinha, Alisson, Fabinho and Firmino will all be missing from this game so it's Liverpool who would be missing the greater number of players and in front of their home crowd Leeds might fancy their chances of an upset. The hosts managed a 1-1 draw in this fixture last season but after a fairly average start to this campaign, I think it's sensible to back Liverpool even if they are without their first choice goalkeeper. The Reds struggled in that second half against Chelsea and will have been disappointed but they've looked threatening outside of that 45-minute period and are solid defensively with van Dijk back.
Prediction: Leeds 0-2 Liverpool
Everton vs. Burnley
Rafa Benitez has done what he needed to after controversially taking the Everton job - pick up results immediately. The Toffees have been impressive so far and this is a great opportunity for another 3 points. Unlike other clubs, Everton will also reportedly be exempt from the ban on Brazilian players and will be allowed to select Richarlison as usual having released the forward in the summer to play in the Tokyo Olympics when they technically didn't have to.
Prediction: Everton 2-0 Burnley
Best of luck to you all with your own Round 4 predictions!