Premier League Predictor: Round 37 Predictions
We've reached the penultimate round of Premier League action and Round 37 is a slightly weird one with the FA Cup semi-finals also taking place. It means the schedule only features a few games this weekend before picking up on Monday through to Wednesday.
Fresh off 3 exacts and a 7/10 round in Round 36, here are my thoughts on this next batch of games. The least important matches in terms of what's at stake will be the most important ones on Superbru in my opinion as picks will be very evenly split for fixtures such as Brighton v Newcastle so calling those games correctly could be key to making a last-minute surge up the leaderboard!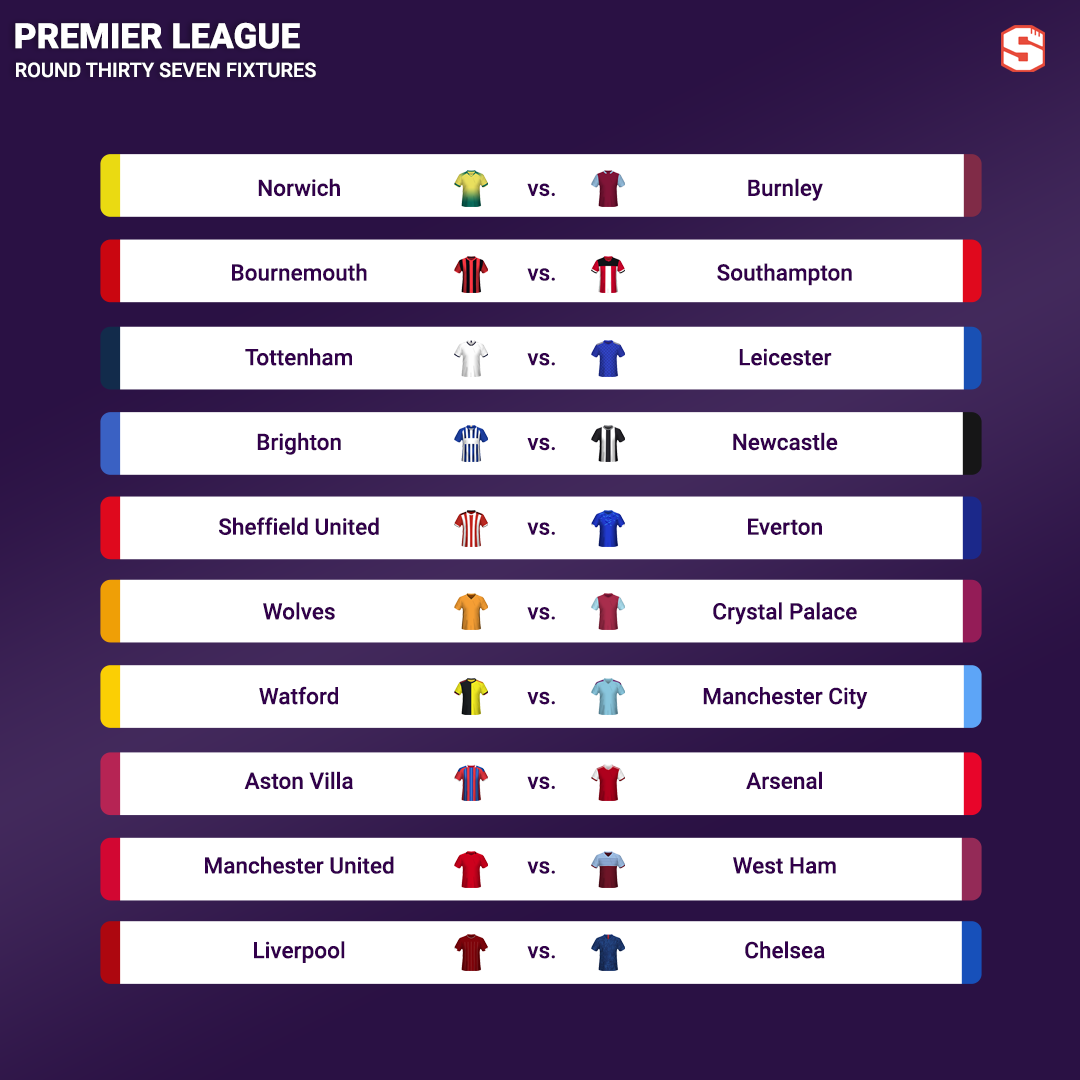 Norwich vs. Burnley
It's probably best to continue not picking Norwich here unless you really are in need of a miracle on your Superbru leaderboard despite the fact they put in a fairly respectable performance at Chelsea. Burnley have been solid since the Etihad and Dyche should ensure they put in another professional display to kick us off.
Prediction: Norwich 0-2 Burnley
Bournemouth vs. Southampton
This is a must-win for Bournemouth and they were good against City but I still doubt whether they can manage three points given how strong Saints have been in recent weeks. I can't see Southampton easing off from their recent momentum and Danny Ings is still eagerly chasing that Golden Boot.
Prediction: Bournemouth 1-2 Southampton
Tottenham vs. Leicester
Massive game, particularly for Leicester. This is a real test for the Foxes but if they manage to win, they'll put themselves up to third and have a real chance on the final day to seal Champions League qualification. Tottenham come into this off the back of two wins though and I think they'll fancy themselves, especially given Leicester's injuries. Team news will be important to see for both sides but I'm going for a draw and expecting things to be quite cagey.
Prediction: Tottenham 1-1 Leicester
Brighton vs. Newcastle
A bit of a nothing game and there isn't much to go on as both sides have had pretty similar form patterns since the restart. I think Brighton are the stronger side on their day but if they aren't at it, Newcastle can hurt them through the likes of Saint-Maximin. I'm tempted to go for another draw but think Brighton might just shade this to finish their home season with a victory.
Prediction: Brighton 2-1 Newcastle
Sheffield United vs. Everton
I've said for a few rounds now just how bad Everton are looking at the moment and though Sheffield United let me down against Leicester, I'm fairly confident they'll bounce back and win this match. Everton just look so lacklustre and it's clear a lot of the team won't be there next season with Ancelotti yet to bring in any players of his own choosing. Sheffield United are the opposite and have had a great season because of their balance/cohesion.
Prediction: Sheffield United 2-0 Everton
Wolves vs. Crystal Palace
Palace did OK against Manchester United but you can't overlook the fact they've now lost six on the bounce. Wolves are obviously strong and I struggle to see Palace threatening such a good defence.
Prediction: Wolves 2-0 Crystal Palace
Watford vs. Manchester City
Open up the Historic Results tab before making your pick for this one and you'll see that on paper this is just a question of how many. If you're conceding that many goals against West Ham, it doesn't bode well for when you face this City team.
Prediction: Watford 0-4 Manchester City
Aston Villa vs. Arsenal
Villa will still be kicking themselves about dropping 2 points at Everton and probably need at least something in this game before beating West Ham on the final day to stand a chance of survival. Arsenal are far from invincible nowadays but have a strong record against Villa and whilst I think this will be close, I'd be surprised to see Villa manage more than a point. I can see the hosts pushing hard for a winner with the match in the balance before Arsenal take advantage of the fragile defence on the counter which has been a problem for Dean Smith all season.
Prediction: Aston Villa 0-1 Arsenal
Manchester United vs. West Ham
West Ham should be safe after their win over Watford but even if they weren't, I can't see them fighting their way to anything at Old Trafford. United are far stronger than the Hammers and obviously have a lot to play for as they continue to aim for top four.
Prediction: Manchester United 2-0 West Ham
Liverpool vs. Chelsea
Liverpool will receive the Premier League trophy after this game for the incredible season they've had but their recent results have of course been average and it's hard to tell if they'll decide to turn up for this match or if they'll make as many mistakes as they did against Arsenal. Chelsea will desperately need a result if Leicester and Man Utd win ahead of this fixture and whilst they've been poor on the road of late, they've performed well against Liverpool in each of their three fixtures against them so far this season. I'll be waiting for more context before making this pick but for now I'm going for a draw which I'm sure the Blues would take ahead of the final day.
Prediction: Liverpool 1-1 Chelsea
Best of luck to you all with your picks!