Premier League Predictor: Round 36 Predictions
It wasn't as strong as Round 34 but I was still fairly pleased with 3 Exacts and 6/10 overall in Round 35 which was in line with the community average.
We now have a big 16-game round as there are plenty of rescheduled fixtures taking place in midweek. Here are my thoughts on each game. Feel free to leave your own in the comments!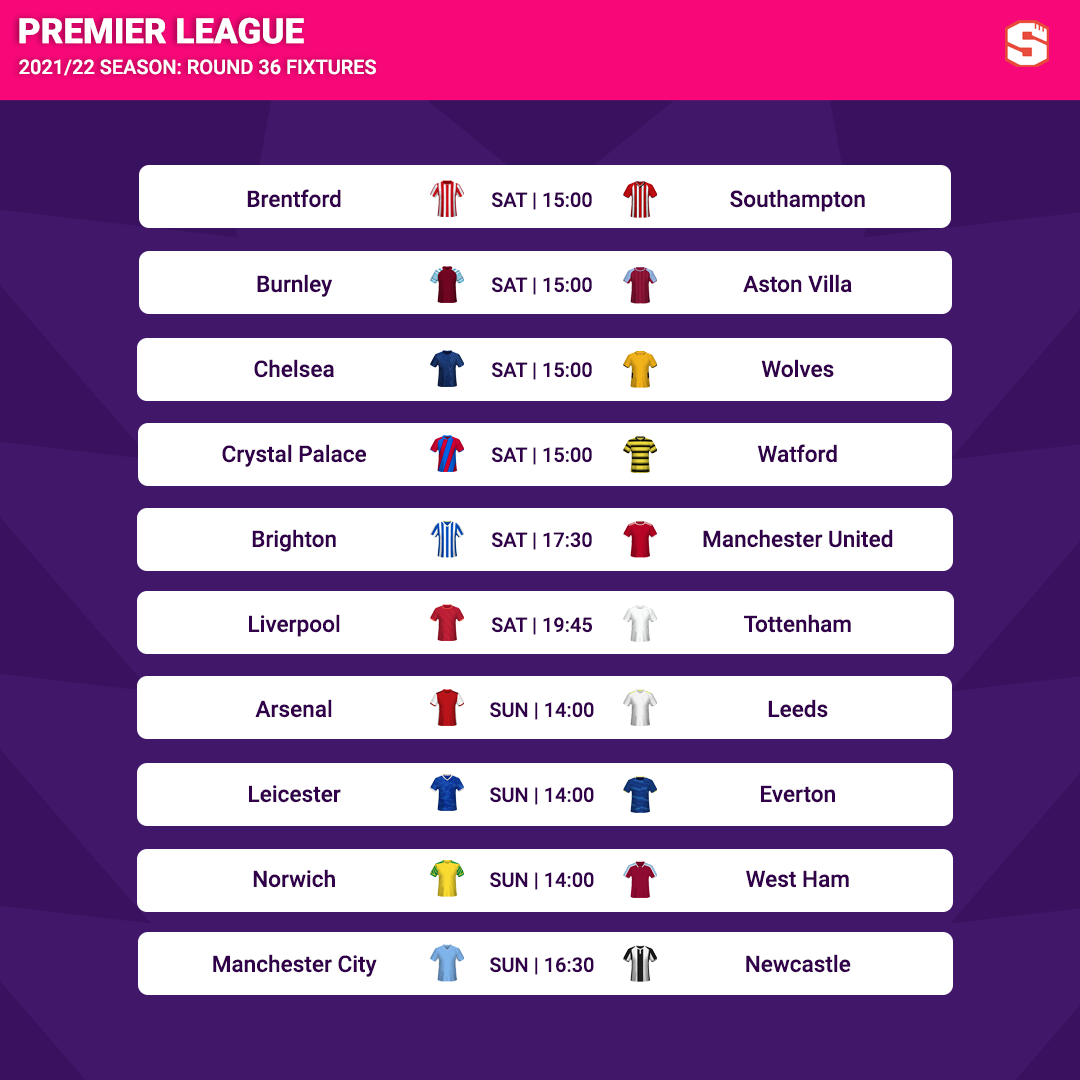 Brentford vs. Southampton
Not the easiest game to begin with. Brentford have been good lately but were poor at United where I backed them to grab a point. Let's keep the faith though as they should probably win this looking at their recent home form.
Prediction: Brentford 2-1 Southampton
Burnley vs. Aston Villa
10 points in 4 games is incredible for Burnley but they're still far from safe and could really do with another win here. I think they're probably slight favourites given the turn in their results following Dyche's departure but Villa are much stronger on paper so let's go with a draw.
Prediction: Burnley 1-1 Aston Villa
Chelsea vs. Wolves
Chelsea's loss at Everton means they're really getting dragged into this top 4 scrap now and Thomas Tuchel will be frustrated with both the lack of a cutting edge his team are showing and the poor individual errors the back that are ultimately costing the Blues points. Surely they can win this game and essentially seal top 4? Wolves are unlikely to offer too much in attack so I think it's all about whether or not Chelsea can find the back of the net.
Prediction: Chelsea 1-0 Wolves
Crystal Palace vs. Watford
Watford's fate is likely to be sealed here as I can't see them winning. Recent results have been atrocious and I doubt they'll be able to get anything from a pretty strong Palace side.
Prediction: Crystal Palace 2-0 Watford
Brighton vs. Manchester United
Tricky one. United finally put in a fairly good display in that win over Brentford in their final game of the season at Old Trafford but will they be back to looking quite lacklustre in their final two games on the road? I think Brighton will more than match them but that doesn't necessarily mean they'll win and with Ronaldo probably still chasing the golden boot let's go with a narrow away win.
Prediction: Brighton 1-2 Manchester United
Liverpool vs. Tottenham
Spurs almost never win at Liverpool and I can't see that changing here. Liverpool were bound to 'wobble' at some point and it looks as if they may have even got that out the way without any harm in Villarreal thanks to that second half comeback. I think this will be a fairly comfortable home win.
Prediction: Liverpool 3-1 Tottenham
Arsenal vs. Leeds
Assuming Spurs do lose at Liverpool, this is then a chance for Arsenal to move 5 points clear of them ahead of the North London derby which would be absolutely huge for them. Given that's what is at stake, you'd think the Gunners can get the job done. Leeds are obviously also absolutely desperate for points but I'm not sure they'll cope defensively here.
Prediction: Arsenal 3-1 Leeds
Leicester vs. Everton
Everton are going to have to win an away game at some point if they're to stay up but they've just shown no sign of being able to do so. This is a fairly good opportunity given Leicester are in Rome tonight (Thursday) but they needed an injury time equaliser against the Foxes at home just to get a point not too long ago. I think a draw is probably the best they can manage this time too but Leicester are the more likely to win in my opinion.
Prediction: Leicester 1-1 Everton
Norwich vs. West Ham
With Norwich already down, this should be 3 points for West Ham even though they're also away in Europe this evening. The Canaries just lack any real threat going forward.
Prediction: Norwich 0-2 West Ham
Manchester City vs. Newcastle
As they did against Liverpool, there's a chance Newcastle make a game of this but at the Etihad you'd think City will win quite comfortably. Obviously last night will have been incredibly tough to take for Guardiola and his team but it's difficult to judge how they'll respond so I'm just going to take this as I usually would and stick with the usual prediction of a routine home win.
Prediction: Manchester City 2-0 Newcastle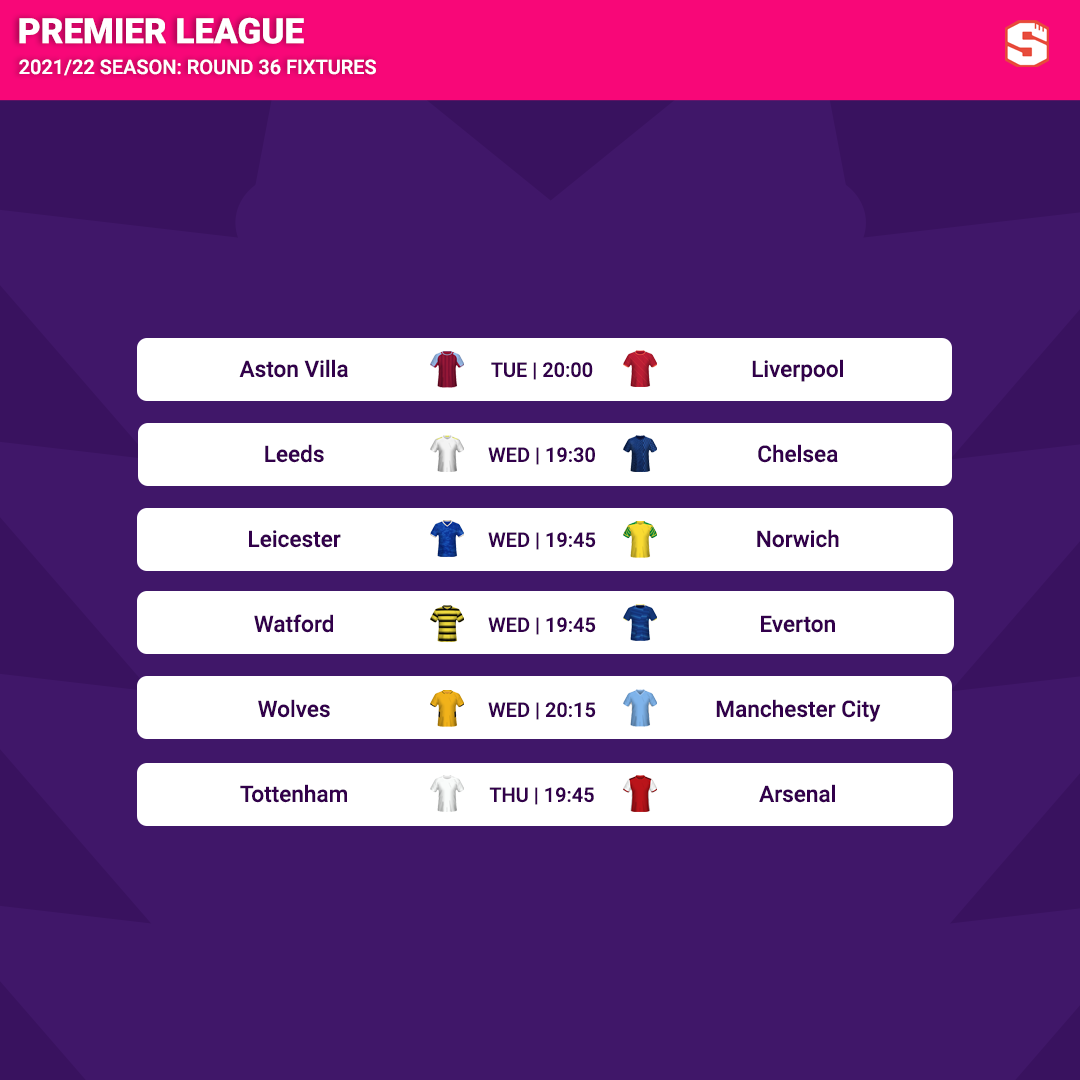 These remaining 6 matches take place in midweek so with an excuse in place that I'm having to get my crystal ball out slightly early, here are my picks for them...
Aston Villa vs. Liverpool
Playing away from home means this might be slightly tricky for Liverpool but you'd still have to be very brave to pick against them.
Prediction: Aston Villa 0-2 Liverpool
Leeds vs. Chelsea
Both teams should be well up for this as we saw there's still a rivalry there in the reverse game at Stamford Bridge. I think that should just about see Chelsea through as they'll need to be at it although Leeds will certainly feel they can frustrate the Blues given their recent form. I'm going for a narrow away win.
Prediction: Leeds 1-2 Chelsea
Leicester vs. Norwich
Just as for their game against West Ham, I won't be picking Norwich.
Prediction: Leicester 2-0 Norwich
Watford vs. Everton
A truly massive game for Everton. Both Leeds and Burnley have won at Watford recently so they can't miss this opportunity to also pick up 3 points. I'll be very interested to see how they get on at Leicester but surely the Toffees can win this game with Watford likely to already be down? Watford's home form is almost as bad as Everton's away record this season.
Prediction: Watford 1-2 Everton
Wolves vs. Manchester City
This has been a fixture that has troubled Manchester City in previous seasons so I think they'll be slightly nervous about this one and their fans certainly will. Wolves are likely to look to frustrate City for the full 90 minutes but the safe pick is still that the visitors will find a way through.
Prediction: Wolves 0-1 Manchester City
Tottenham vs. Arsenal
The home team very rarely loses in this derby and Tottenham will need that to remain the case here as if the weekend results go as I expect, they will have to win this game and then hope Arsenal slip up in one of their final two fixtures as well. I think Spurs will win this game but I'm not sure it will be enough for top four.
Prediction: Tottenham 3-1 Arsenal
Best of luck to you all with your own picks.