Premier League Predictor: Round 35 Predictions
I didn't quite manage any Exacts but I was pleased with 8/11 in Round 34. Palace and Chelsea let me down in the final two games - Chelsea should have won 4 or 5-1 let alone the 3-1 I picked!
This weekend we have a rare, regular 10-match round that has quite a few tricky picks. Here are my thoughts on each game.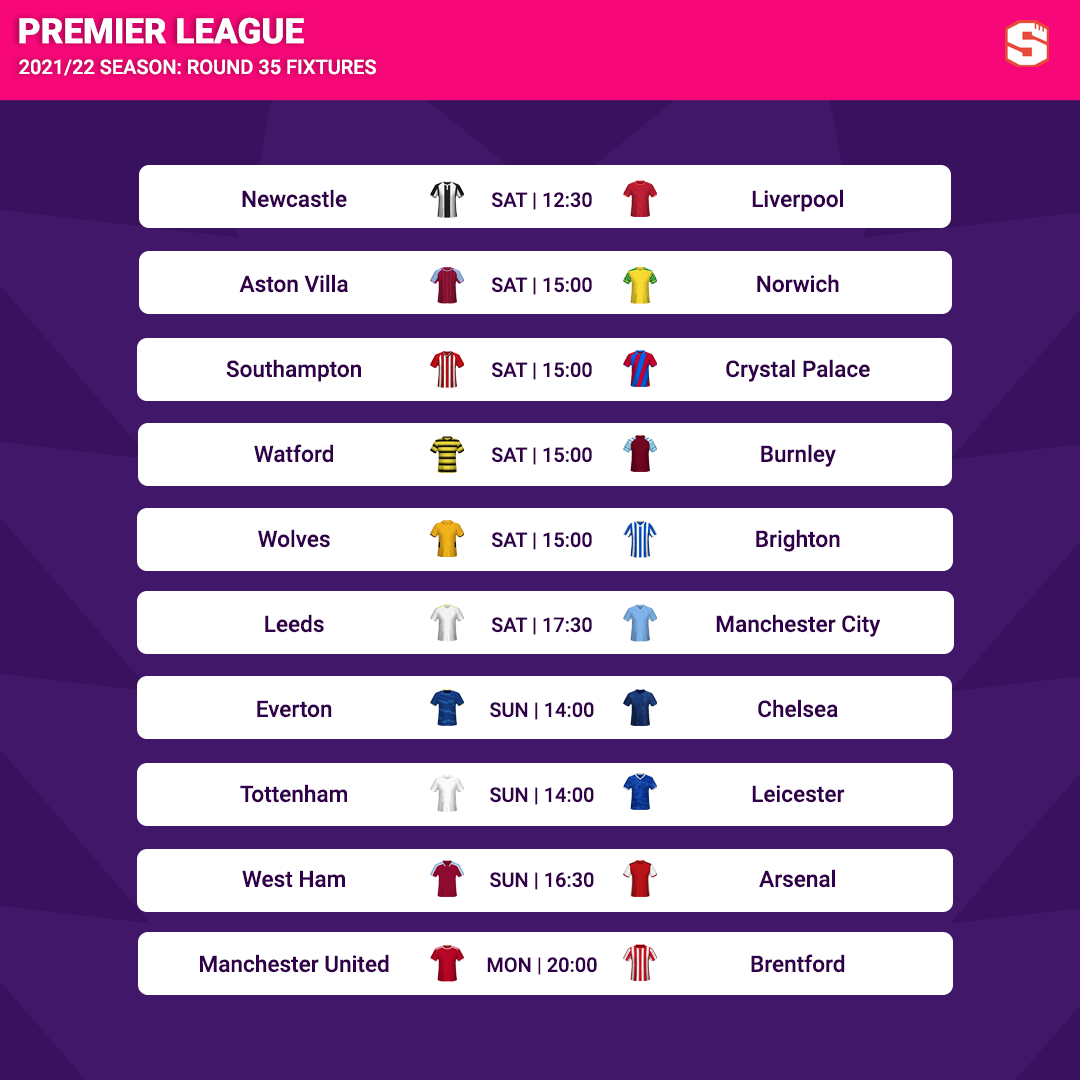 Newcastle vs. Liverpool
Of Liverpool's remaining games, this might just be the most likely to cost them points in my opinion? That doesn't necessarily mean I think they will of course. Newcastle have been great lately, particularly at home, and this isn't really a fixture you want in between Champions League semi-finals legs. That said, I'm not brave enough to pick against Liverpool. I can see a similar game to Newcastle's loss at Chelsea where they compete throughout before narrowly losing.
Prediction: Newcastle 1-2 Liverpool
Aston Villa vs. Norwich
Villa haven't been good in recent weeks but they should still have enough to win this. Anything other than a defeat would probably start raising some questions about Gerrard and the team since they could well end up finishing far closer to the relegation zone than they should.
Prediction: Aston Villa 2-0 Norwich
Southampton vs. Crystal Palace
Very tricky one. Southampton haven't looked great (other than when James Ward-Prowse is stood over a set-piece) but Palace are also struggling for results despite some fairly good performances. Let's go with a draw.
Prediction: Southampton 1-1 Crystal Palace
Watford vs. Burnley
Watford desperately need to win this, not just to stand a slim chance of staying up but to give their home fans at least something after so many bad results! I kind of hope they do because it would make the relegation scrap quite a lot more interesting between Burnley and Everton but I think a Burnley win is far more likely. Surprisingly, removing Dyche seems to have done the trick and they've been much more like the Burnley we are used to in terms of grinding out results while being difficult to play against in recent weeks.
Prediction: Watford 1-2 Burnley
Wolves vs. Brighton
This just looks like a draw to me. I may have picked Wolves if Neves was fit but I'm not sure either team is going to be too threatening in front of goal.
Prediction: Wolves 0-0 Brighton
Leeds vs. Manchester City
Similar to Liverpool with Newcastle, this isn't really a fixture you want if you're Manchester City and midway through a UCL tie against Real Madrid. However, just as they did against Madrid, City should create far more chances than Leeds and Guardiola will just be praying his team can take 2 or 3 of them early on to make things nice and calm in the second half. Leeds gave them a real game at Elland Road last season but I don't think they're as equipped to do that this time around.
Prediction: Leeds 0-3 Manchester City
Everton vs. Chelsea
Chelsea often struggle at Goodison and Everton have had fairly good home results under Lampard but it's still very hard to see him getting any points from this game against his former team. It's clear Chelsea need to improve their conversion in front of goal, and that might keep the scoreline close, but the visitors are certainly more likely winners in my opinion.
Prediction: Everton 1-2 Chelsea
Tottenham vs. Leicester
I'm going Tottenham here just because it feels like they'll want to win this game far more than Leicester who have the second leg against Roma to worry about. You'd expect Spurs to edge it regardless, but given the circumstances it should be fairly comfortable.
Prediction: Tottenham 2-0 Leicester
West Ham vs. Arsenal
For very similar reasons, Arsenal should win this but it is a more difficult game on paper and we saw West Ham give Chelsea a game last weekend despite playing a weak team. With this Arsenal's sole focus, it makes sense to pick the Gunners but it wouldn't surprise me if they somehow messed it up!
Prediction: West Ham 1-2 Arsenal
Manchester United vs. Brentford
How has it become this difficult to pick Manchester United to win a Premier League match? Even when they were in contention for top four, it felt like they weren't really trying, and now with nothing to play for it's hard to see them suddenly playing with intensity against Brentford after such a poor performance vs. Chelsea. Brentford are a good team, in decent form, so let's back them for a point.
Prediction: Manchester United 1-1 Brentford
Best of luck to you all with your own picks.