Premier League Predictor: Round 34 Predictions
Most teams are now just 5 or 6 games away from the end of the season now so it's great to still have plenty of drama in the three main areas of interest on the table - the title race, fight for european places, and of course the battle for survival.
Round 33 wasn't a good one for me as I took a chunky red arrow on the global leaderboard for the first time in a few weeks. Despite thinking of switching to Newcastle and Burnley wins in midweek, I stuck with draws for both games which proved costly!
On to Round 34 then where I'll look to bounce back. Feel free to share your own picks in the comments.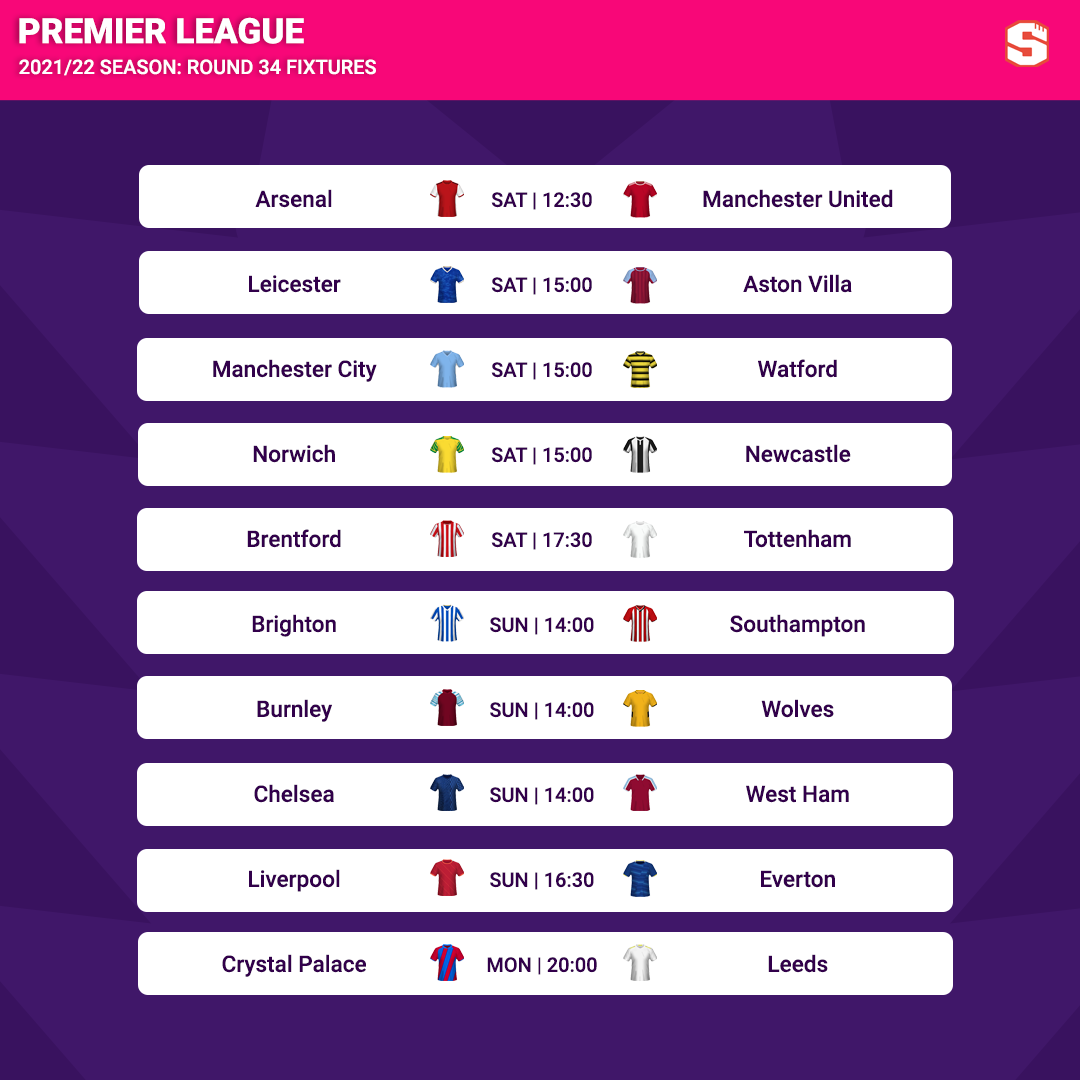 Arsenal vs. Manchester United
As Mikel Arteta practically admitted himself in his press conference, Arsenal are basically impossible to predict at the moment and the fact that they really should win this match makes you think they won't. I don't think I can side with United though, they've been absolutely awful for weeks now. Ronaldo, Varane and McTominay being back will help but the Gunners seem far more motivated.
Prediction: Arsenal 2-1 Manchester United
Leicester vs. Aston Villa
This is one of a few fixtures in this round where one team hasn't played for a fortnight which makes predicting quite tricky. Villa have had so much more time to prepare for this match than Leicester but is that an advantage or would they have rather had some opportunities to end what has been a poor run of results for them? Leicester will have an eye on the Roma game so let's go with a draw.
Prediction: Leicester 1-1 Aston Villa
Manchester City vs. Watford
City never have any trouble with Watford and I can't see that changing here, despite the Real Madrid first leg coming on Tuesday.
Prediction: Manchester City 3-0 Watford
Norwich vs. Newcastle
Newcastle's excellent results have been coming at home rather than away but after 3 on the bounce at St James' Park you'd think they'd have enough momentum and confidence to win at Norwich. It hasn't taken Bruno Guimaraes long to show his quality now that he's starting every game - what a player.
Prediction: Norwich 1-2 Newcastle
Brentford vs. Tottenham
Just as Spurs finally started looking consistent under Conte, they go and lose to Brighton at home. This is now a really awkward fixture for them at Brentford who have been excellent lately with Eriksen playing a big part in that. I'm quite torn on this pick as I feel like Brentford can get at least a point but with so much at stake for Spurs they might just nick it? We've seen them bounce back quite well from other recent defeats so let's go with that.
Prediction: Brentford 1-2 Tottenham
Brighton vs. Southampton
I think Brighton are favourites here so we're back to the classic question of 'can they actually score some goals while dominating possession at the Amex?'. Saints were really ordinary at Burnley on Thursday but have quite a good record away at Brighton. Let's go with another draw.
Prediction: Brighton 1-1 Southampton
Burnley vs. Wolves
After 4 points in their last 2 games, Burnley should stay up in my opinion as pretty much all of their remaining matches are fixtures they have a good chance of taking points from. This will be tight and is unlikely to be one for the neutrals but I think we might see another win for the Clarets which would really put Everton in trouble.
Prediction: Burnley 2-1 Wolves
Chelsea vs. West Ham
Very difficult. Chelsea have been awful defensively at Stamford Bridge in their last 3 games but when so many of the goals they have conceded have been down to individual errors, it feels like their fortunes could also change quite quickly? West Ham are obviously a very good side though and I think Bowen is the sort of player Chelsea could really do without facing at the moment with Rudiger injured now as well as Chilwell on that left side. I think there'll be goals in this and Chelsea should edge it since West Ham are also short of defenders but it'll be interesting to see West Ham's lineup ahead of their big semi-final against Frankfurt.
Prediction: Chelsea 3-2 West Ham
Liverpool vs. Everton
Everton need to hope Liverpool decide to rotate a few ahead of their Champions League semi-final as otherwise this could be a cricket score. I'm sure Toffees fans are dreading this. While there's always that feeling that they could raise their game for the derby and make things difficult for Liverpool, it just doesn't feel like reality when you look at Liverpool's form and Everton's away results. The Reds should find this as easy as their win over United was on Tuesday.
Prediction: Liverpool 4-0 Everton
Crystal Palace vs. Leeds
Leeds aren't safe yet despite some good recent results under Marsch as they have some tough matches to come. This one won't be easy either and I think Palace are favourites as they'll likely be that little bit more balanced and less frantic than the visitors. Of course, as we've seen at Wolves and on many other occasions from Leeds, that chaos can lead to great results and I wouldn't be surprised to see them win but I feel Palace is a slightly safer pick.
Prediction: Crystal Palace 2-0 Leeds
Manchester United vs. Chelsea
This one obviously isn't until Thursday but I'll almost certainly be backing Chelsea who have been very good on the road lately. If they lose at Arsenal on Saturday, United really will have very little to play for here and they already look as if they just want the season over.
Prediction: Manchester United 1-3 Chelsea
Best of luck to you all with your own picks.