Premier League Predictor: Round 34 Picks
Once again we have a very tight turnaround between rounds with less than 24 hours between Tottenham v Everton and Crystal Palace v Chelsea!
We saw a couple of upsets in Round 33, notably Southampton's win over City, but it does look as though the patterns of results have stayed fairly consistent. At this rate, Watford will stay up even if they don't manage another point!
Nevertheless, I'm sure they'll see Norwich as an absolute must-win in this round. Here are my thoughts on that game and lots of other crucial fixtures that make up Round 34.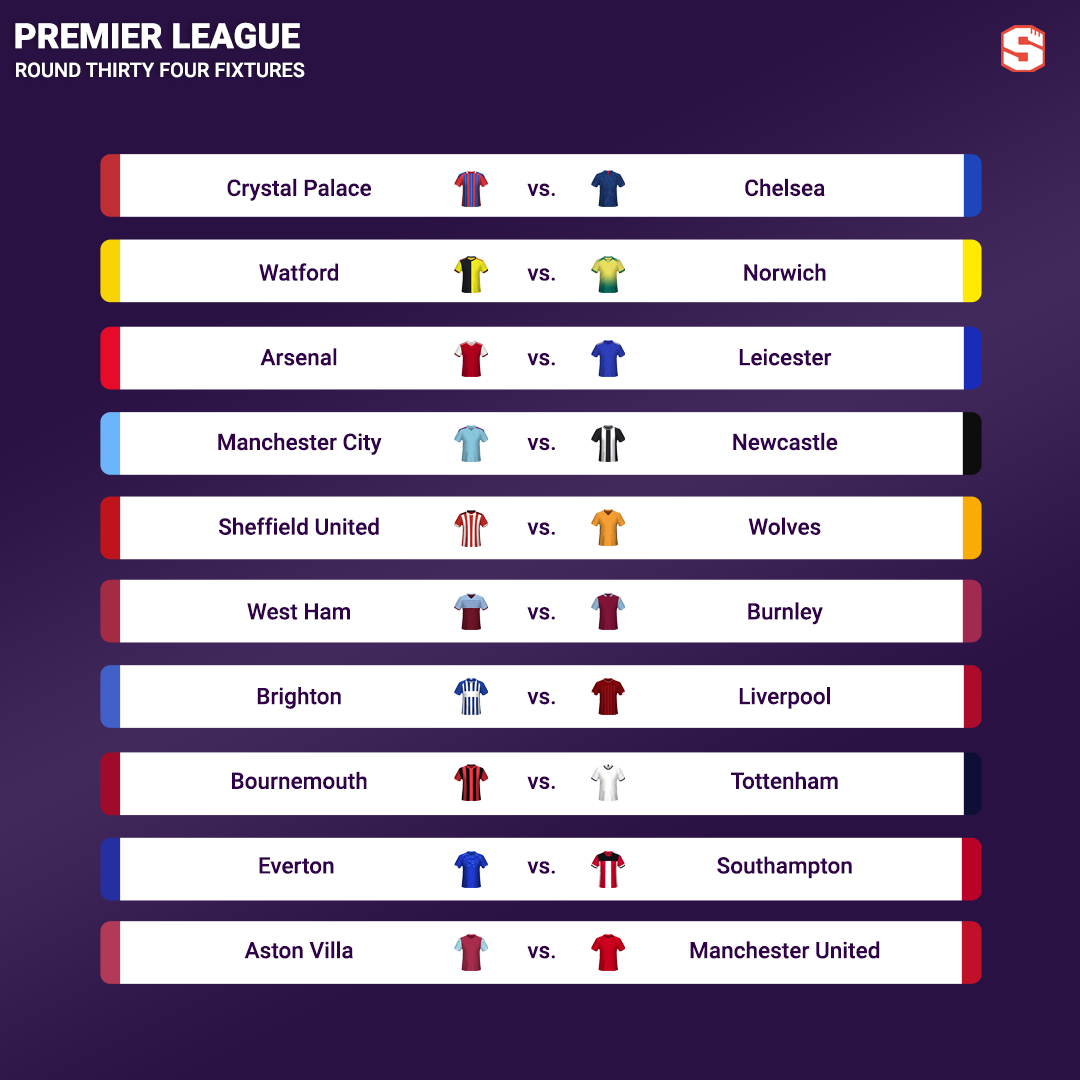 Crystal Palace vs. Chelsea
This is a big test for Chelsea after their away performance at West Ham and it's made more difficult by the absence of two important midfielders in Mateo Kovacic and N'Golo Kante. However, Palace aren't in great form and I expect the Blues to just about manage a win. The likes of Benteke and former Chelsea player Gary Cahill will be a threat to Lampard's team from set pieces but after the Eagles' performance at Leicester you'd have to back Chelsea to score a few goals of their own.
Prediction: Crystal Palace 1-2 Chelsea
Watford vs. Norwich
Intro jokes aside, Watford have to win this game. They're extremely fortunate to still be above the relegation zone after their recent results and with all due respect to Norwich, this is the fixture any Premier League team would choose to have when needing a win. I expect there to be some nerves given the pressure but Norwich are without Todd Cantwell who is always important in creating attacks and that should help hand Watford to be bold and attack more since they've been looking so blunt when going forward. You have to expect them to win. If they don't, they deserve to go down.
Prediction: Watford 2-0 Norwich
Arsenal vs. Leicester
This is a more difficult pick after both sides managed to win at the weekend! Leicester finally turned things around by playing 2 strikers as I predicted but I certainly didn't see Arsenal winning at Wolves. That victory shows Arteta has still got plenty of belief within his side and I think they can win again here. This match should show us whether Leicester are actually back on track and it won't be easy for them without Chilwell and Maddison who are both doubts.
Prediction: Arsenal 2-1 Leicester
Manchester City vs. Newcastle
City have obviously lost far too many games this season which is why they're miles off Liverpool but their performance against Southampton was good and they could easily have scored quite a few goals. I think they'll do exactly that here. Newcastle have been strong but it sounds as if Steve Bruce might use this as a chance to rotate and rest some of his big players like Allan Saint-Maximin.
Prediction: Manchester City 4-0 Newcastle
Sheffield United vs. Wolves
Not the easiest game to pick but again, injury news is quite important. John Fleck and John Lundstram will again be absent for Sheffield United and they're big losses, especially when playing against a team as strong as Wolves. That loss to Arsenal will have hurt the visitors and I expect them to bounce back.
Prediction: Sheffield United 0-1 Wolves
West Ham vs. Burnley
West Ham are actually creating chances and scoring goals now which means they certainly have a chance of a result here, and are probably in greater need than Burnley, but I'm still leaning more towards the visitors. Chris Wood returned from injury last time out and it seems the Clarets' squad situation is gradually improving. West Ham have managed good results in their last two matches now but should have won at Newcastle rather than drawing and they won't get as many chances to score against Burnley.
Prediction: West Ham 1-2 Burnley
Brighton vs. Liverpool
I thought Liverpool would batter Villa on Sunday but as against City they looked very poor for 90% of the match, particularly before Firmino came on. That definitely means Brighton have a chance of a result but it still feels brave to pick against the Reds. I'm not sure this will be a great game, especially since Brighton are probably already safe and I think we'll see a narrow Liverpool victory since there's a good chance at least one of their players will bring a special moment to the match at some point.
Prediction: Brighton 0-1 Liverpool
Bournemouth vs. Tottenham
It's incredibly difficult to provide a reason to pick Bournemouth to win any match at the moment, let alone why they might stay in the Premier League. Unless Eddie Howe can suddenly trigger a dramatic turnaround in the next couple of rounds, the Cherries will be going down and so it makes sense to pick Spurs despite their shaky away display at Sheffield United and unconvincing win vs. Everton.
Prediction: Bournemouth 1-3 Tottenham
Everton vs. Southampton
Everton are solid enough as a team but you just never feel that comfortable picking them because they seem to lack control/creativity in the middle of the park. The Tottenham game was a good example of that and I feel Carlo Ancelotti will be eager to improve his midfield options in the summer. Southampton obviously come into this after a very impressive win over City. Saints look strong at the moment and I think they can get a point at Goodison.
Prediction: Everton 1-1 Southampton
Aston Villa vs. Manchester United
Villa look more competitive than relegation rivals Bournemouth but they still often have defensive errors that let them down and after conceding as many goals as they have this season, this Manchester United side is not an opponent you want to face at the moment. United's front three are absolutely flying right now and Bruno Fernandes has been excellent ever since he arrived in England. Fernandes is just so direct, always looking to provide an assist or hit one at goal himself when he gets the ball and I can't see Villa coping.
Prediction: Aston Villa 0-2 Manchester United
Best of luck to you all with your picks!