Premier League Predictor: Round 33 Predictions
Given the results, 5/10 wasn't too bad for me in Round 32 and an Exact for the 2-2 in the big game at the Etihad was certainly a nice way to end the round.
Now that we've all had our Predictor confidence ruined by the Champions League quarter-final second legs, it's time to get back to the Prem!
Round 33 has a slightly unusual schedule because the FA Cup semi-finals also take place this weekend. So here are my picks split into 2 separate parts with the second half likely to include lots of ifs and maybes based on the weekend.
As for the FA Cup, I think the final might end up as a League Cup final rematch between Liverpool and Chelsea? As usual (and perhaps understandably), Klopp hasn't missed an opportunity to moan about the schedule but his team will surely be far better prepared than City who had that scrap with Atleti in Spain this week, where some key players picked up injuries, while the Reds were busy fielding a B team against Benfica at home.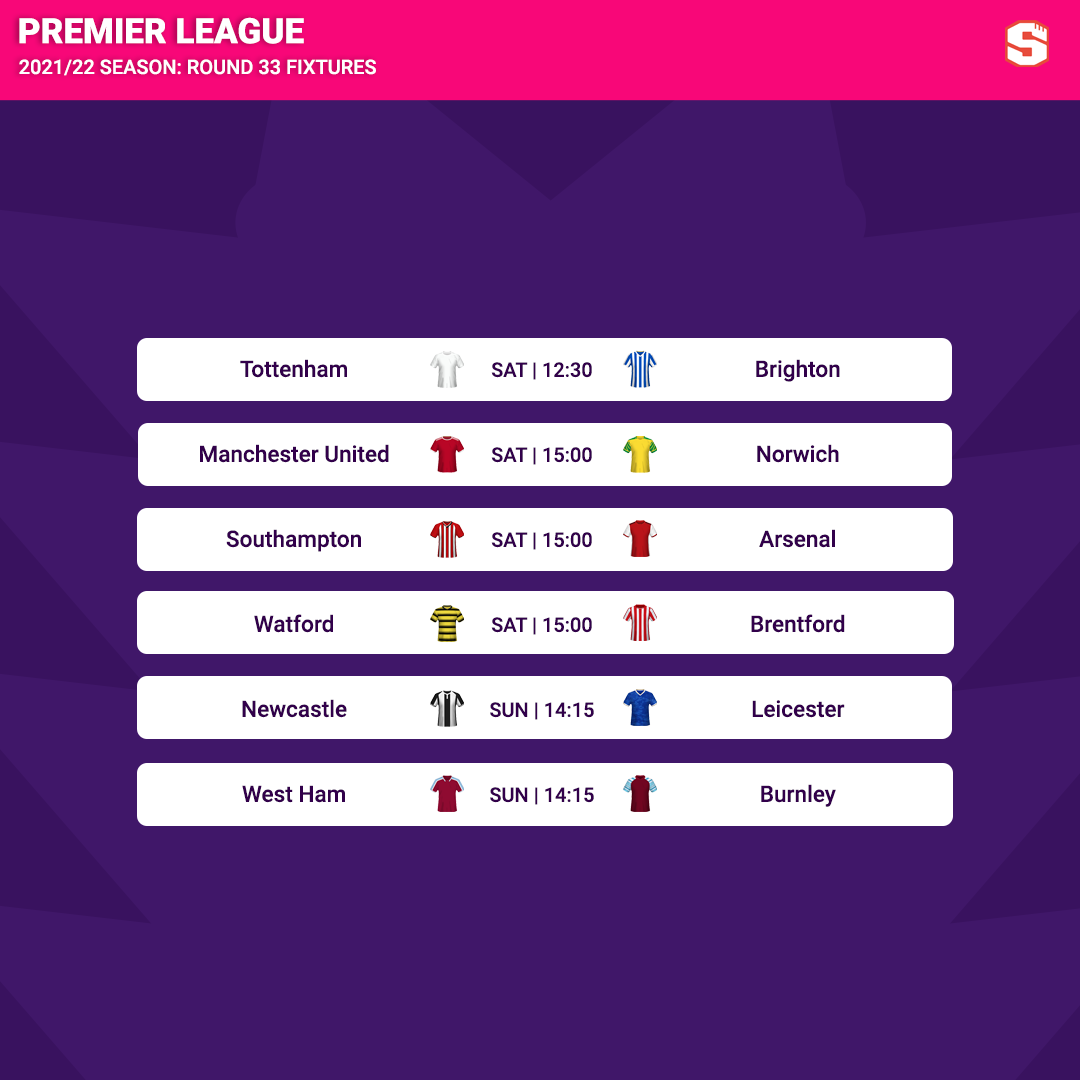 Tottenham vs. Brighton
This pick has been made slightly more challenging by Brighton's impressive result at Arsenal last week which reminded us that they are capable of winning. Spurs seem to be on a roll though and I'd be surprised to see the Seagulls win back-to-back games in North London.
Prediction: Tottenham 2-0 Brighton
Manchester United vs. Norwich
I correctly predicted United would fail to win at Everton last week so it was very annoying that I wasn't brave enough to go all out and pick a home win rather than a draw. Surely United aren't capable of losing this one as well though? Even when they're playing as badly as they are, anything other than a home win would be a considerable upset.
Prediction: Manchester United 2-0 Norwich
Southampton vs. Arsenal
Saints were absolutely dreadful against Chelsea last week so they need to respond here and I think both teams will probably feel as if they have a chance simply because of last weekend's results. I don't think I'm going to go against Arsenal though. They should definitely create chances against this Southampton side and the 0-6 against Chelsea wasn't the only bad result we've seen Saints suffer at St Mary's recently.
Prediction: Southampton 1-2 Arsenal
Watford vs. Brentford
Brentford are in a really good place at the moment and Watford continue to look terrible at home. So an away win is the way to go here I think.
Prediction: Watford 0-2 Brentford
Newcastle vs. Leicester
A difficult one. Newcastle got back to winning ways last time out but it wasn't the most inspiring performance. Leicester are going OK but you have to consider their schedule and I'm thinking this might be a draw with Newcastle the slightly more likely side to win.
Prediction: Newcastle 1-1 Leicester
West Ham vs. Burnley
You also have to consider the schedule here as well with West Ham in Lyon on Thursday night. That loss at Norwich was such a bad result for Burnley after they had beaten Everton in midweek. This is another winnable game for them on the road because of West Ham's Europa League focus but I don't have much faith after a 2-0 loss at Carrow Road.
Prediction: West Ham 1-0 Burnley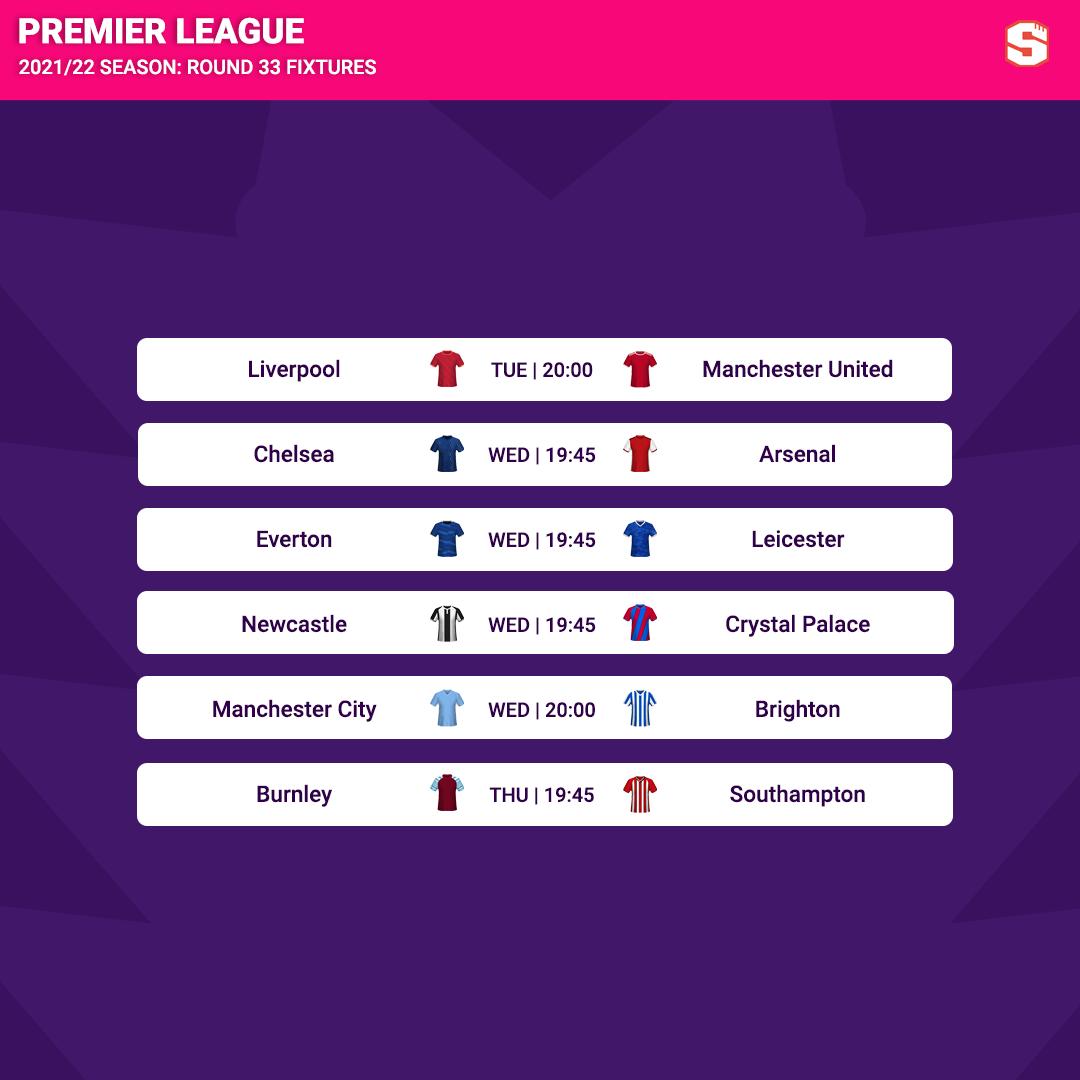 Liverpool vs. Manchester United
Into the second half of the round with these midweek games then. This is usually a standout game on the football calendar around the world but it just seems so one-sided on paper doesn't it? Especially when compared with the Liverpool v City game we saw last week and will see again on Saturday. In previous seasons I've backed United to get a point at Anfield because of how much this game means to them but I honestly don't think they have a chance at the moment.
Prediction: Liverpool 3-0 Manchester United
Everton vs. Leicester
As they did against United, Everton have to make these home matches count if they're to stay up and I think they can get at least another point here. They'll have had a very long time to prepare in comparison to Leicester and if Vardy remains sidelined with injury, I think they can win this.
Prediction: Everton 2-1 Leicester
Chelsea vs. Arsenal
This is Arsenal's only remaining game in hand on Tottenham in the top 4 race which is why the Gunners are suddenly looking as if they're in trouble. Chelsea should have too much for them. After a post-international break wobble, the Blues' performances at Southampton and then in the Bernabeu against Real Madrid were very impressive.
Prediction: Chelsea 3-1 Arsenal
Newcastle vs. Crystal Palace
This is another tricky one and I think my pick will depend on how Newcastle do against Leicester (and to a lesser extent, how Palace get on in the Cup). I think I'm probably leaning more towards Newcastle at the moment but could well end up picking a draw, particularly with a fresh Conor Gallagher likely to be involved since he can't play in the Cup semi-final. How good has he been this season?
Prediction: Newcastle 1-1 Crystal Palace
(for now)
Manchester City vs. Brighton
City will almost certainly win this one. Quite a tough week coming up for Brighton!
Prediction: Manchester City 2-0 Brighton
Burnley vs. Southampton
I'm definitely waiting for other results before considering my pick for this game. It's going to be a huge match for Burnley regardless of what happens between now and kick-off, so let's see if Saints can show any signs of form before they head to Turf Moor.
Best of luck to you all with your own picks.