Premier League Predictor: Round 32 Predictions
I managed 6/11 with 1 Exact in Round 31 of the Premier League Predictor so 1 above the community average thanks to Burnley's win over Everton in midweek.
That result means things really are getting tight at the bottom of the table now and I'd be feeling rather anxious if I was a Toffees fan! This week, in addition to that drama, we have the one everyone has been waiting for in the title race - Manchester City vs. Liverpool.
Here are my picks for Round 32.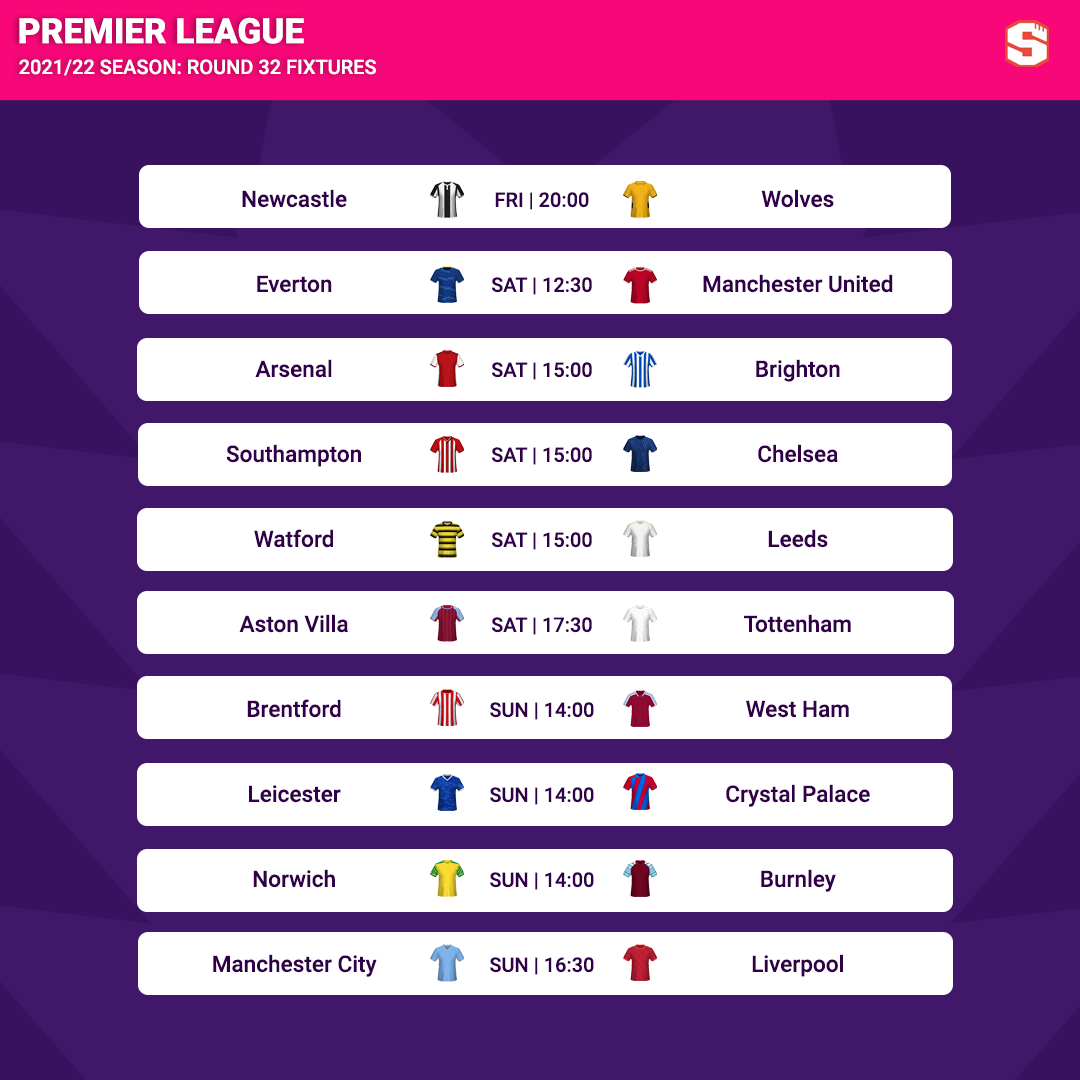 Newcastle vs. Wolves
Not the easiest pick to begin the round. I was planning on going Newcastle but they aren't in great form (admittedly they've been playing away every week recently though) and Wolves surprised me with that win over Villa last time out given their absentees. Let's go with a draw.
Prediction: Newcastle 1-1 Wolves
Everton vs. Manchester United
Maybe I'm crazy, but I feel like Everton might get something here!? There isn't much logic to it aside from the fact Everton have been a million times better at home than away, as I'm definitely still concerned that they're terrible defensively, but the Toffees are absolutely desperate for points and United have been so ordinary recently. It'll probably backfire massively with Ronaldo scoring a hat-trick or something, but let's gamble on a classic early kick-off upset and back Everton to get a point.
Prediction: Everton 1-1 Manchester United
Arsenal vs. Brighton
Arsenal got played off the park by Palace on Monday night which was a clear reminder that the race for top four isn't over yet but they should return to winning ways here back at the Emirates. Brighton still can't find a win despite playing Norwich at home last weekend.
Prediction: Arsenal 2-0 Brighton
Southampton vs. Chelsea
There's definitely a chance of an upset here as well given how Chelsea have played since the international break - this has suddenly become an absolutely crucial match for the Blues and Tuchel. Another defeat here would not only kill momentum further ahead of their second leg vs. Real Madrid but also drag them into the top 4 battle potentially so I'm going with an unconvincing but vital away win. Saints have been beaten at home by 2 far weaker sides recently and won't have Broja.
Prediction: Southampton 1-2 Chelsea
Watford vs. Leeds
Watford pretty much need to win this game but they're the opposite of Everton - competitive away yet absolutely awful at home. Leeds give everyone a chance of beating them so I expect the Hornets to score but I just don't really have faith in them to prevent goals at the other end.
Prediction: Watford 1-2 Leeds
Aston Villa vs. Tottenham
This was one of the upcoming games that I thought Spurs might struggle with but Villa have been really average lately and it definitely seems sensible to pick an away win. Conte will be hopeful he can keep this winning run going for a few more weeks yet and then there's what should be a very interesting North London derby next month!
Prediction: Aston Villa 1-3 Tottenham
Brentford vs. West Ham
Interesting one. Given Brentford's good recent form and the fact that this falls between West Ham's crucial matches against Lyon in the Europa League, is there room for an upset here? I think so. Christian Eriksen has made a huge impact at Brentford and the intensity they play with anyway means this isn't the fixture you want between two legs of a European knockout tie. I was going to go for a draw but let's go all out and back the home side for 3 points.
Prediction: Brentford 2-1 West Ham
Leicester vs. Crystal Palace
Leicester are in the same position as West Ham in that they're in the middle of a Europa Conference League tie with PSV so that plays in to Palace's hands slightly and the Eagles have been excellent recently. Leicester have been fairly solid at home in recent games but Palace are yet to lose on the road in the PL in 2022 so let's go with a draw.
Prediction: Leicester 1-1 Crystal Palace
Norwich vs. Burnley
Burnley's win over Everton was such a massive result for them as there's no doubt that they also now have a far better run-in fixtures wise than the Toffees. The Clarets have only won 1 away match all season but this looks like a great opportunity for 3 points and if they can indeed make it back-to-back wins, the chances of them staying in the Premier League will increase massively.
Prediction: Norwich 0-1 Burnley
Manchester City vs. Liverpool
Here we go then. The best two teams in Europe meeting one another in the Premier League in April with just a point between them. Massive. Liverpool are the side in superior form (you can't get much better than 10 wins in a row) but I think City will be very confident as well having won their other recent big home games in the derby and against Atleti. The great thing about this game is that you know both sides will go for it.
However, with everyone saying that the winner of this wins the title, I wonder if we'll see a draw that means we then just continue as we are with huge pressure on both teams to win every single remaining game until the end of the season? I don't think either team will play for a draw as I say, but just as we saw at Anfield in the reverse fixture, they may well just match each other. It's also a nice option as a Superbru pick because I simply have no idea who's going to win but very much look forward to watching it on Sunday.
Prediction: Manchester City 2-2 Liverpool
Best of luck to you all with your own picks.