Premier League Predictor: Round 32 Picks
First of all, congratulations to Liverpool and those of you who support them! They're deserved Premier League winners and it has of course been a very long wait. You have to have huge respect for what Jurgen Klopp has achieved since arriving at Anfield and they'll no doubt be competitive again next season.
Round 32 will be a slightly strange one after the hectic week we've just had as the fixtures will come quite gradually during the FA Cup weekend before picking up in midweek. Given that I followed up my strong Round 30 performance with a very average Round 31, the gradual start is probably a good thing so I can take things one game at a time!
It's not easy when writing so far in advance of some of these games but here are my thoughts on each fixture. As for the FA Cup, I'm not sure there'll be any surprises, unless you count an Arsenal win as an upset. My expected semi-finals would be very interesting with Man Utd, Arsenal, Chelsea and Man City the teams to progress.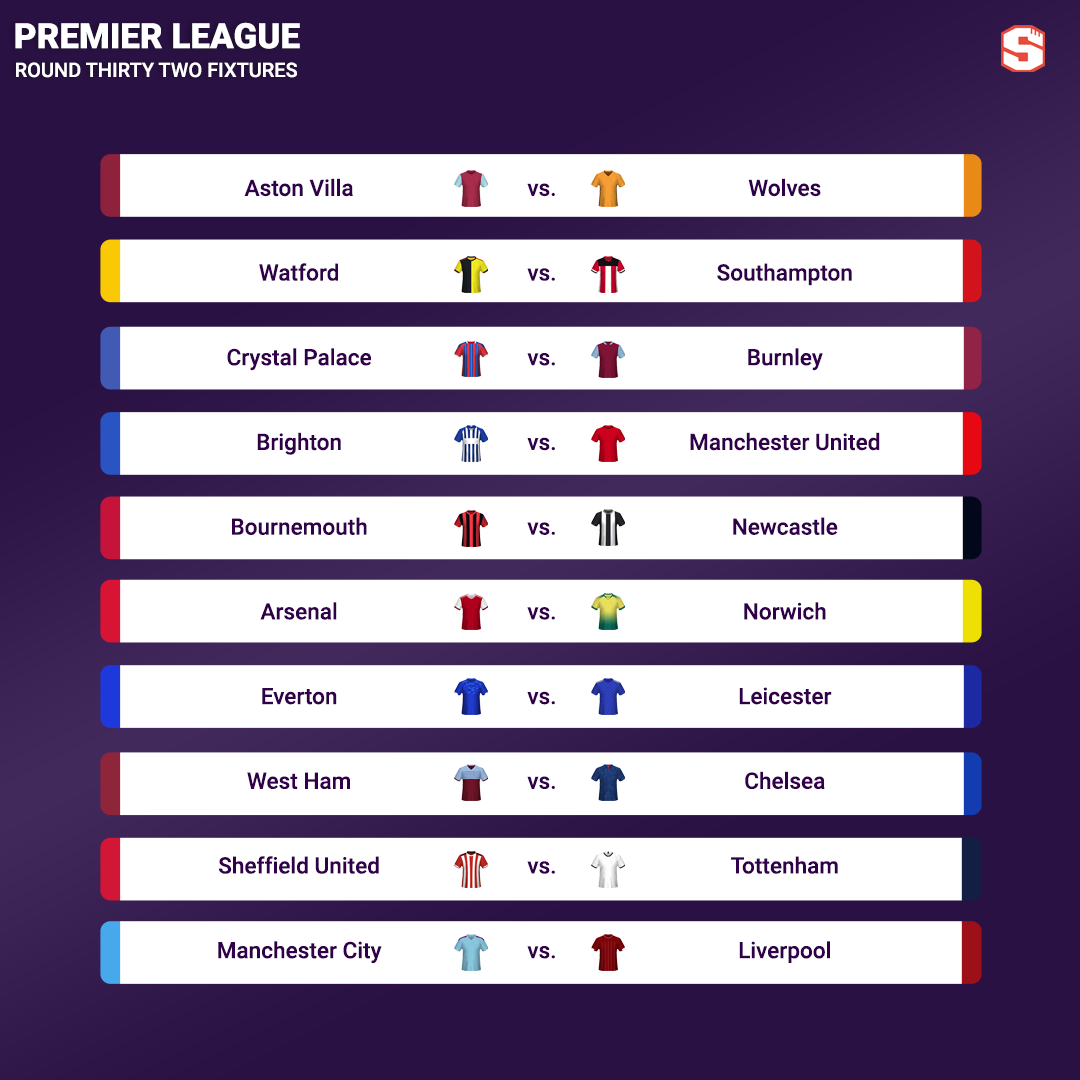 Aston Villa vs. Wolves
A big match for both teams with lots at stake. I was hoping Villa would either win or lose at Newcastle to make predicting their games a little easier but the draw they had means it's still hard to judge whether or not they have a resurgence in them. The safe pick here is obviously Wolves and I think it's too much of a gamble to go for anything else. Nuno's team have been rock solid defensively and Villa struggle for goals.
Prediction: Aston Villa 0-1 Wolves
Watford vs. Southampton
I'm struggling with this one. Watford's loss at Burnley was a really poor result when they had a golden chance to distance themselves from the bottom three. Southampton have looked OK and were a little unlucky to lose against Arsenal in my opinion but they'll now be without the suspended Stephens while Hojbjerg is also a doubt. That could hand the midfield advantage firmly Watford's way but I think a draw is the pick I'll end up going with. If Watford are to start winning games, they'll need the front three to start looking far more threatening.
Prediction: Watford 1-1 Southampton
Crystal Palace vs. Burnley
This looks a bit of a nothing game but both sides will be motivated to try and achieve what could still be their highest league finishes for a while. Palace were absolutely battered at Liverpool but then Burnley suffered the same at City before beating Watford so I'm not sure how much we can look into that. Burnley are still well short in terms of numbers and I'm leaning towards Palace. I'll be more confident if Zaha is passed fit but will probably pick them even if not.
Prediction: Crystal Palace 2-1 Burnley
Brighton vs. Manchester United
I was really worried for Brighton ahead of the restart but they've done really well so far with two cracking results. This will be a big test for Manchester United and they can't afford to drop any more points if they want fourth after Chelsea's win over City. This game is also made more interesting by the fact that United have lost on both of their PL trips to Brighton previously. I expect a tight match with Brighton holding their own but it's hard to pick against United at the moment now that they have a fully fit squad. They looked great against Sheffield United and so long as there are no high profile injuries in the FA Cup, they should get the job done on the South coast.
Prediction: Brighton 1-3 Manchester United
Bournemouth vs. Newcastle
Look at Bournemouth's fixtures after this. They have to win this game! I haven't seen too much to encourage me, but I'm going to back them to manage a vital win that gives them a slight chance of survival. Newcastle have been fairly solid without being too impressive and they're certainly beatable if Bournemouth show enough fight on Wednesday. The last two matches between these two at the Vitality have finished 2-2, I'm going to hope that Newcastle don't manage their second goal this time.
Prediction: Bournemouth 2-1 Newcastle
Arsenal vs. Norwich
Arsenal weren't too convincing at Southampton but they got the win and that's what mattered. When you've won less than a third of your matches, you can't be too picky about the style in which they have come. Surely, they can win this match pretty comfortably though. Norwich are struggling to even score let alone find a point or two and as has been the case all season, injuries at the back mean they appear quite fragile heading into this match.
Prediction: Arsenal 3-0 Norwich
Everton vs. Leicester
I've been very disappointed with Leicester since the start of 2020 really and they now look more likely than Chelsea to drop out of the UCL qualification places. This Sunday's FA Cup game against Chelsea will be a interesting sign as to how this fixture might go a few days later. Since the Foxes have only played 'lesser' teams so far, I'm keen to see how they fare against a good side on Sunday before making this pick as Everton will be quite strong. I think the hosts can win this as things stand but may well change.
Prediction: Everton 2-1 Leicester
West Ham vs. Chelsea
As expected, West Ham really struggled again last time out and without fans laying into Chelsea and Frank Lampard in this game, I can't see things improving. Chelsea pulled off a massive result against City which I didn't see coming. Now, they should build on that though concerns remain about their ability to break down teams that will park the bus.
Prediction: West Ham 0-1 Chelsea
Sheffield United vs. Tottenham
Again, it'll be interesting to see how Sheffield United go in the FA Cup but based on their league form since the restart, Tottenham will win this match. Spurs can enjoy plenty of rest before the fixture since they're out of the cup and I think Mourinho's side will be ready both in terms of fitness and a game plan.
Prediction: Sheffield United 0-2 Tottenham
Manchester City vs. Liverpool
The 'big' game of the round that actually may not be as exciting as hoped due to the lack of a title race, match fitness and fans. City can still consider their season to be a huge success if they win the Champions League so it feels like everything until then is about getting their players as sharp as possible for August. However, Guardiola will try and make sure they win the FA Cup too and make no mistake, there's a rivalry here and City will be very eager to avoid defeat.
Who knows how Liverpool will play for the rest of this season but after winning the league while off the field which is always slightly anti-climatic, they'll want to put in a huge display to beat their rivals and celebrate in style. They'll have the advantage in terms of rest time though I doubt they'll be training for the next few days! I'm going to go with an entertaining draw.
Prediction: Manchester City 2-2 Liverpool
Best of luck to you all with your picks!