Premier League Predictor: Round 31 Picks
I managed to restart the Premier League season in fairly good predictor form with 8/12 in Round 30 including 3 exacts. I'd like to thank Craig Dawson for his particularly helpful contribution.
There isn't much time to reflect though as we move straight into Round 31 tonight! My main takeaways from the opening round of games have pretty much re-affirmed the theories I had when making my opening picks - with a busy schedule consisting of games behind closed doors, the teams with the better player quality and squad depths are more likely than ever to win games.
Manchester City are obviously a great example of this, just look at the bench they had for last night's win over Burnley! Matches will feel like training games to many players and it's when playing freely that the likes of Riyad Mahrez and Kevin de Bruyne are so dangerous. The factor of how much teams have to play for will likely grow as we get closer to the season end but for now, I think the teams at the bottom will continue to really struggle.
Here are my thoughts on each Round 31 match: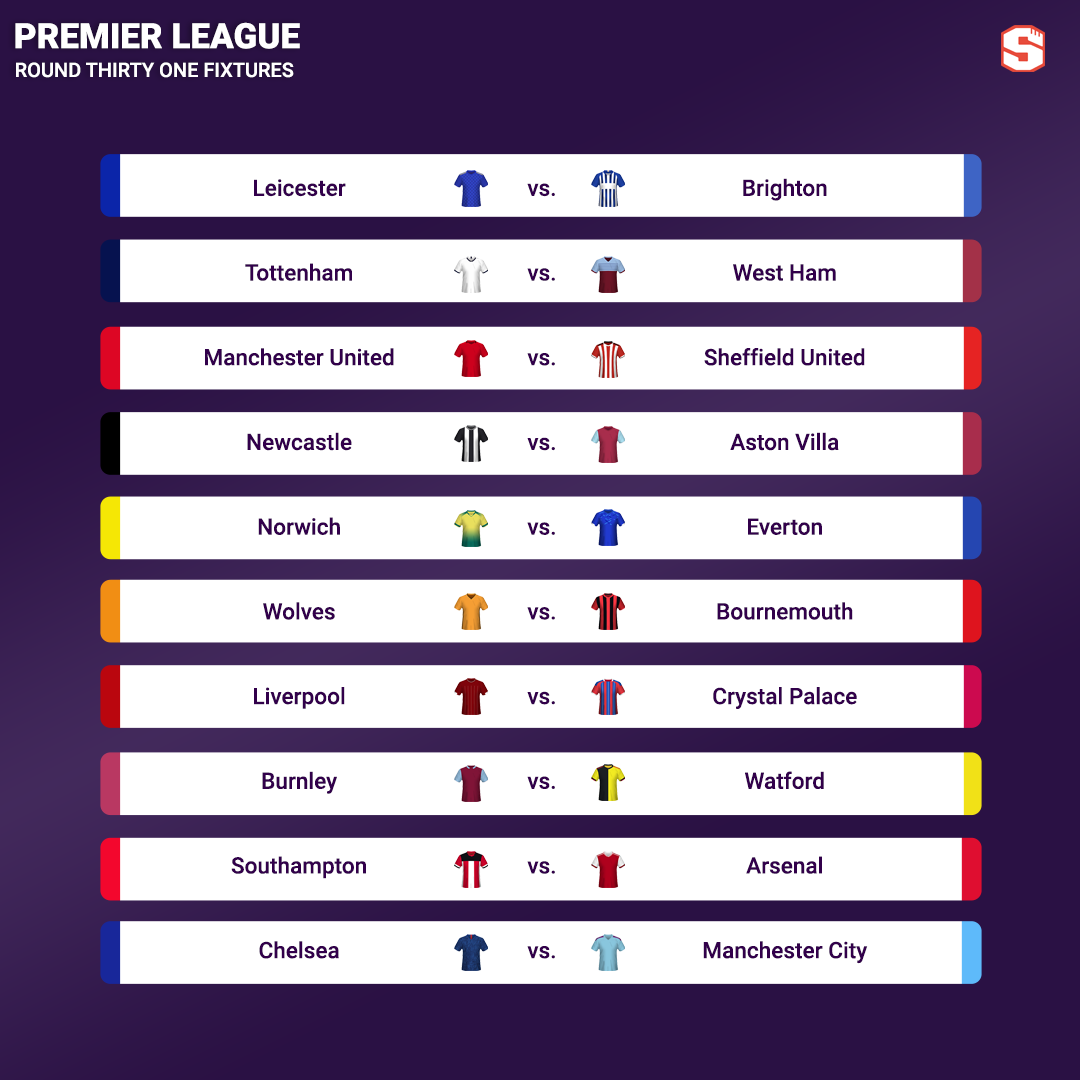 Leicester vs. Brighton
Brighton picked up an absolutely massive result over Arsenal which has made them far, far less likely to be relegated now. They've been playing neatly all season without scoring enough goals so that last-minute Maupay winner really was crucial. I'd be surprised to see them follow it up with anything at Leicester though. The Foxes looked solid enough for most of their match at Watford and should see out a win this time. Teams will surely learn very quickly that the final 10 minutes of every match will be far more intense now that 5 subs are permitted.
Prediction: Leicester 2-0 Brighton
Tottenham vs. West Ham
I think Jose Mourinho's comments on the United game were pretty fair to be honest. Spurs looked really good first half, defensively solid but then very threatening on the break. However, once Son, Kane and Bergwijn were cooked by about 60 minutes, they lost all threat and were hanging on for a point by the end. That was a good point though and they now have Alli and Moura back for this fixture. West Ham were dreadful against Wolves and I can't see them causing another upset at Spurs without an atmosphere.
Prediction: Tottenham 3-0 West Ham
Manchester United vs. Sheffield United
Having just given thoughts on that Spurs v United game from a Tottenham perspective, it's now worth saying that United look set to have a very strong end to the season. They have kind fixtures, Rashford looks sharp, Pogba is back and Bruno Fernandes looks like a truly elite player. They should have too much for Sheffield United who haven't looked great in either of their games since the restart. Dean Henderson being unavailable is of course also a big loss for the Blades.
Prediction: Manchester United 2-0 Sheffield United
Newcastle vs. Aston Villa
It's not often you see Newcastle score three goals in a match but what a restart to the season they've had while Villa looked very toothless against both Sheffield and Chelsea. I'm not sure how easy it will be to turn momentum when games are coming this quickly, especially when needing to ignite some attacking sparks. Villa concede far too many goals and I think Newcastle will just try and keep things tight with the knowledge that they should be able to find a goal at some point in the game.
Prediction: Newcastle 1-0 Aston Villa
Norwich vs. Everton
I think Norwich will be tough to predict now since they're almost certainly down but it's then hard to judge how they'll perform. Everton should switch to a far more attacking game plan for this game now after their decent point in the derby and I think they'll probably come out on top given the quality of the likes of Digne, Richarlison and Calvert-Lewin. Norwich can probably find a goal though.
Prediction: Norwich 1-3 Everton
Wolves vs. Bournemouth
Wolves were convincing at West Ham and are genuine contenders for the Champions League spot in my opinion because of their fixtures. They've been used to a busy fixture schedule all season and judging by Bournemouth's display against Palace on Saturday, this shouldn't be an issue.
Prediction: Wolves 2-0 Bournemouth
Liverpool vs. Crystal Palace
This has actually become quite an important game for Liverpool. They can't win the league just yet (though they obviously will) but it feels like they'll want to improve on their form before the big moment comes. Palace have been very competitive at Anfield for years now so this won't be an easy match and I'm only going for a very narrow Liverpool win. If they fail to win this one, they then have to head to the Etihad and another loss there would only delay the inevitable but it would certainly put a dampener on things.
Prediction: Liverpool 2-1 Crystal Palace
Burnley vs. Watford
Burnley already have enough points to survive comfortably but it does look as though they might have quite a bumpy end to the season. Barnes and Wood are both struggling with injuries which is a big issue in itself but now the disputes over short-term contract extensions for a few players has made their squad so light that Dyche couldn't even name 9 subs at Man City, opting instead for the usual 7. Their starting XI is still strong enough to compete in a game like this but how much will the squad issues and the depressing scenes we saw above the field at the Etihad affect performance? I'm a little unsure what to expect so I'm going with a draw.
Prediction: Burnley 1-1 Watford
Southampton vs. Arsenal
Tough pick! Arsenal are in all sorts of bother after recent results and Bernd Leno joining a very long injury list. Southampton, on the other hand, played well at Norwich and seem to heading on the right track following Hasenhuttl's new contract. It's hard to tell just how good Southampton were on Friday since Norwich aren't good at all but they'll know Arsenal are there for the taking. The Saints will get chances and with Danny Ings up top, I think they'll take enough of them to win this match and move level on points with the Gunners.
Prediction: Southampton 2-1 Arsenal
Chelsea vs. Manchester City
If my Liverpool pick is correct, they'll win the league on Thursday if Chelsea get anything here and whilst they certainly have a chance of doing that, I think Man City will just about come out on top. As I said in the intro, City will remain very strong behind closed doors in my opinion and the attacking threat they have even without Aguero is frightening. Chelsea look a little too suspect defensively to cope with that in my opinion, though they will cause City problems at the other end.
Prediction: Chelsea 1-2 Manchester City
Best of luck to you all with your picks!